Someone Else's Simcha Assaf and Moriah's Wedding - Jewish Agency Love
Petah Tikva's Assaf Grumberg was planning on a short trip to small Jewish communities in southern Illinois. Until he met Moriah, that is.
Location: Shorashim ("Roots") reception hall
Time: 7:30 p.m.
In the neighborhood: The combination of flashy new buildings and fraying, ancient-looking factories and workshops that makes up the industrial zone of Yehud, a city located just to the east of Tel Aviv. Across the street, the fenced-in façade of an Israel Aerospace Industry facility towers high above the street, bathed in green light emanating from a nearby gas station. Above the guests' heads, a Hewlett Packard sign attached to a glass and steel building glows with white-hot brightness, nearly outshining the rising full moon.
Venue: An outside decked area, housing a chuppah on one side and a bevy of food counters on the other. A row of young trees barely hides a sign for lamb shawarma joint next door. Indoors, a large space is bathed in purple light, with white-clothed tables dotting the wide floor. An animated image of fireworks exploding over the Las Vegas skyline is projected onto the hall's back wall.
Simcha: Assaf and Moriah Grumberg's (second) wedding reception
Number of guests: 120
A brief history of time: Assaf, 28, and Moriah, 25, met after working together as Jewish Agency shaliach ("envoy") and head of the local Hillel chapter, respectively, among Southern Illinois University's many college campuses. They have been dating for the last two years. Assaf: "We went to a conference together in Chicago, and that's where some kind of a relationship started, slowly, until we started dating."
Originally, Assaf left Israel in the middle of his B.A. studies, wanting to take part in a newfound world of Israeli social awareness. He thought he would just hop over to the United States and return in time to complete his studies. Meeting Moriah, an M.A. student in social work, however, interrupted those plans, causing a mild educational disparity. Moriah: "I'm not allowed to go to school anymore until he has his bachelor's"; Assaf: "Moriah is already thinking about going to law school, but I can't have her having three degrees and none for me."
Israel advocacy: As part of his role as Jewish Agency shaliach, it has also been Assaf's job to sell Israel to the southern Illinois crowd. Assaf: "Israel has become the world's punching bag. Everyone's thinking 'Yeah, we're all OK and Israel is the only evil state around the world.'" Changing hearts and minds? "We know Israel is not perfect, and because we don't say Israel is perfect then people agree to listen to what we say."
How has the reception been? Assaf: "The communities I worked with, both Jewish and non-Jewish, were very pro Israel. People in southern Illinois in general are very pro Israel"; Moriah: "A lot of Evangelical Christians live in Illinois."
Home: Assaf, who's originally from Petah Tikva, and Moriah, who hails from the town of Skokie, Illinois, near Chicago, have been living together in southern Illinois for two years, maintaining a mix between Moriah's progressive Judaism and Assaf's Kosher-keeping Israeli traditionalism (Sister Liat: "I have no idea where it came from. We're Romanian, we eat everything"). However, the two will soon kiss southern Illinois sweet goodbye, with plans to move to Chicago before making the big leap and making aliyah. Moriah: "I've been studying away for some years, and I want to spend that time with my family before we move to Israel."
Family history: Assaf has two older sisters (Liat and Ravit), and is the last to hop on the wedding bandwagon. Moriah, the third of four sisters (Jen, Heidi and Alona) is the first to marry in the family.
Wedding #1: The couple arrived in Israel for symbolic wedding reception, having already married in an Orthodox ceremony held in a Conservative synagogue in St. Louis. Moriah: "Southern Illinois is a very small Jewish community, so it was the closest synagogue with a rabbi. There are no rabbis in southern Illinois." The affair was attended by about 100 people, only a small fraction of whom represented members of their families (Attending were Assaf's mother Hanna and big sister Ravit, along with Moriah's parents Wes and Ruth, as well as her sisters and a few cousins).
Rites: The secular "chuppah" taking place in Israel is orchestrated by the MC/quasi-rabbi/friend named Or, who, along with his wife Noam, were on shlichut to Youngstown, Ohio when they befriended the young couple. After explaining his new position as (not-so-much) religious leader to the crowed ("mostly because I work for free"), Or proceeds to thank those truly responsible for bringing the young couple together - the Jewish Agency (Or: "Thanks Natan Sharansky").
Next, our MC/leader describes the tale of the couple's meeting as one representing Israeli chutzpah at work in the United States, without which, says the friend/clergyman, Assaf would never have asked Moriah out; asked her out again, spun yarns of his IDF bravery, purchased an engagement ring on sale; and, finally, wouldn't have come home, approached his beloved Moriah as she watched TV, and romantically told her to "get off the couch" before proposing.
Following a short check-in with a smiling, yet slightly nervous Moriah, who understands very little of Or's Hebrew address, he recounts the St. Louis wedding, and explains the "exchange of promises" which will now take place. For her part, Moriah asks Assaf to promise to 1) raise their children in the light of Jewish tradition, and 2) let her watch her "bad" TV shows at least once a day. Assaf, smiling: "OK, I guess." The groom, however asks his bride 1) never to go to sleep angry, and always see the good and not the bad, and 2) to believe him that when she'll be fat, he'll tell her, but that until then, she needs to believe him when he says she's gorgeous.
Next, Or recounts a small gaffe that took place in the St. Louis wedding, in which the rabbi forgot to instruct Assaf to recite the psalm prior to breaking the glass, one which, ironically, instructs the groom to never forget Jerusalem. To make up for this deficit, the MC/pal instructs the couple to recite the line (Assaf in Hebrew, Moriah in English) over a glass of whiskey ("because, as everyone knows, whiskey and Jerusalem go together"). Continuing along these quasi-religious lines, Or leads everyone in reciting one of the seven blessings. Finally, the couple's friend announces them married ("by the power vested in me, by no one but you"), as Assaf and Moriah seal the ceremony with a warm embrace, under speakers blaring out Queen's "Crazy Little Thing Called Love."
After entering the hall, Assaf's friends' brand of tradition is revealed, as all of the married couples surround one of the tables and toast the newlyweds with cups filled with whiskey. Following a bout of dancing, everyone sits down to eat their first course, with a slideshow showing the couple's St. Louis wedding.
Music: A hefty mix of Middle-Eastern pop, including Moriah's favorite Israeli song by singer Kobi Peretz, and U.S. dance staples, such as Lady Gaga and Bruno Mars.
Food: Appetizers, comprised almost entirely of miniaturized versions of American staples: a mini hot dog, a mini hamburger, and a mini chicken burrito. Inside, tables are laden with assorted salads and roasted vegetables, with a choice of intermediate course between salmon, tempura chicken and vegetarian eggrolls with noodles. Mains: Spring chicken in mustard and honey, beef bourguignon, and vegetarian pasta.
Drink: Beer, soft drinks, fancy-looking cocktails, as well as, of course, some whiskey.
Word in the ear: Friend Or, on Assaf's bachelor's party extravaganza in St. Louis: "Everything closes super early over there, so it was pretty much him, me, another friend, and a six-pack of beers at the lobby of the St. Louis Hilton."
In my spiritual doggy bag: To think of tradition as something one can choose, pick, and play around with, as opposed to being boxed in by.
Random quote: Middle-aged man to his friend, just after the chuppah: "Two chuppas! Now she doesn't have a chance to get away!"
Want to take part in Someone Else's Simcha? Want to invite Haaretz to your family celebration? Send word to: ron.bent@haaretz.co.il
ICYMI
Ken Burns' Brilliant 'The U.S. and the Holocaust' Has Only One Problem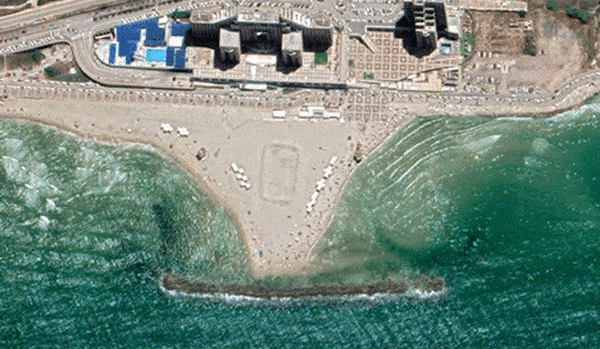 Facing Rapid Rise in Sea Levels, Israel Could Lose Large Parts of Its Coastline by 2050
As Israel Reins in Its Cyberarms Industry, an Ex-intel Officer Is Building a New Empire
How the Queen's Death Changes British Jewry's Most Distinctive Prayer
Chile Community Leaders 'Horrified' by Treatment of Israeli Envoy
Over 120 Countries, but Never Israel: Queen Elizabeth II's Unofficial Boycott