Smiling While He Burned
After a decade of fighting Israel's bureaucracy in anonymity, Moshe Silman was happy to die for the cause.
At the precipice of death, Moshe Silman did not scream. Flames were consuming his flesh. In what he thought would be his last moments, Silman was smiling.
Around him, horrified people were trying to douse the fire using water bottles, waving their hands and calling desperately for help.But Silman was calm and calculated – strangely quiet for a man burning alive.
The entire episode – in which Silman poured gasoline on himself and burned alive in the middle of a protest designed to mark a year since the beginning of the social protest movement in Israel – probably only lasted about 30 seconds. But it might as well have been an hour, it seemed to drag on so long. When it was over and the fire went out, Silman sat up, raised his badly burned hand and shouted two words: "Social justice."
Then he quietly ate a popsicle given to him by someone who thought it might cool him down. His burns were so severe, the doctors later explained, that his nerves had been destroyed and he couldn't feel pain anymore. People who were there that night just assumed he wasn't that badly hurt.
Silman, 57, became the first person to immolate himself since the start of the social justice protests (others have since tried and one remains in hospital). That's quite a historic landmark.
His act was born of a decade of trials, tribulations and Kafkaesque bureaucracy. He turned him from a proud and well-off businessman to a broken, crippled shell of a man and made him a symbol of the protest he spent the last year participating in. It also touched a nerve with Israeli society.
In the week following Silman's self-immolation, at least six separate incidents of people trying or threatening to set themselves on fire because of financial hardships were reported across Israel. Up until Silman's act, people thought things like this only happened in other countries, like Greece or Tunisia. Now many people suspect he's started a trend.
But Silman just wanted to be heard.
Up until mid-July, he was an activist, well-known and loved by members of the "Social Front", the northern Israeli branch of the social protest movement. He would come to meetings, get angry about what he perceived to be the impotence of his fellow protesters and tell his life story over and over again. In recent months, he expressed serious disappointment. He had belonged to the protest movement since first finding shelter in the Haifa tent community last summer. But the movement had seemingly died down, falling victim to a cold and bitter winter – disintegrating into a mess of egotistical quarrels.
In the meantime, Silman's personal life continued a downward spiral that began 12 years ago, when he received notice that he owed the National Insurance Institute NIS 5,000 in pension payments.
Back then, Silman was not poor, depressed or crippled. He owned his own business: a small but successful trucking company. He had his own apartment in Jaffa. Life was good. When he was told about the debt in 2002, he refused to pay – feeling it was unjust – and filed a lawsuit against the NII. Thus began a long legal saga that eventually cost him business, his health and eventually his life.
A string of unfortunate bureaucratic mishaps, including a government strike that prevented him from filing a few documents on time, resulted in his debts growing bigger and bigger and one of his four trucks being repossessed. He paid his debt, but because of another strike, could not save the truck from foreclosure in time. It was eventually auctioned off by the government. As a result, his business collapsed and he lost his house.
Desperate to get back on his feet, Silman moved to Bat Yam, and then to the much-cheaper Haifa, where he worked as a taxi driver. But his debts grew bigger, eventually causing his driver's license to be revoked. He tried to explain that without a license he couldn't work, and therefore couldn't repay his debts – but no one was there to listen. Then a stroke rendered him unable to work anyway.
The courts rejected his claims, as did the clerks and officials at the welfare department. Growing increasingly ill and having trouble standing at times, Silman spent the last few years barely getting by, reliant on medicine and groceries brought to him by his sister and friends. His meager welfare check was too small for him to both pay rent and buy food and drugs, so he usually just paid rent.
After years of protracted legal battles, he was finally granted total disability status, earning him an extra 400 shekels every month. For the past year, he lived rent-free in a friend's apartment. His friends from the protest movement would check in on him and leave him baskets of groceries from time to time. But then he received notice that he had to evacuate the apartment. He could not allow himself to become homeless. He was too proud for that. So he decided to do something.
His activist friends from Haifa say that over the past few months, Silman constantly talked about killing himself. He even called the NII office in Haifa and threatened to set himself on fire.
"Fine, just don't do it here," was the reply from the other end of the line.
As time wore on, Silman felt a growing need to act on his threats, believing that only an extreme, desperate act could spark the popular revolution he desired. Knowing that his mental state was deteriorating and that he was becoming more and more desperate, the activists in Haifa assembled a group to prevent him from harming himself. Silman noticed this and was outraged. "I'm not a child," he said angrily.
The day he set himself on fire, activists were prepared to keep an eye on him at the protest in Haifa. Knowing this, Silman went to the protest in Tel Aviv instead. There, where almost no one knew him, he could take action without interference.
On Friday, after six days of fighting a doomed battle for his life, Moshe Silman finally succumbed to his injuries in the burn unit of Sheba Hospital.
Doctors say his chances for survival had been slim from the start. Given his age, his health problems and the severity of his burns, it seemed unlikely he'd survive his burns. It took two days to get him into the special burn unit, since it only has eight beds and none were available.
Silman has become a symbol for the disenfranchised, an icon of the protest movement and a controversial figure whose life story is dissected and debated from every angle by journalists, pundits and politicians. Even the prime minister spoke about him, referring to his self-immolation as a "personal tragedy". On Facebook, activists are changing their profile picture to his. The small section of the street where he took his own life hosts vigils in his honor. Activists gather to light candles and mourn.
Moments before he set himself on fire, Silman scattered copies of a suicide letter, telling his story and accusing Prime Minister Netanyahu, Finance Minister Yuval Steinitz, the State of Israel and a host of other officials of being cruel to him throughout his ordeal. For a decade, he felt, he had been totally alone, completely isolated, with no one to hear his story. That's probably why, even as he was burning, Moshe Silman was smiling. He knew now, someone would finally hear.
ICYMI
Ken Burns' Brilliant 'The U.S. and the Holocaust' Has Only One Problem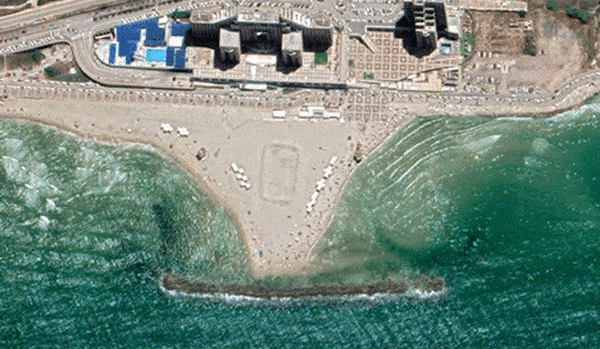 Facing Rapid Rise in Sea Levels, Israel Could Lose Large Parts of Its Coastline by 2050
As Israel Reins in Its Cyberarms Industry, an Ex-intel Officer Is Building a New Empire
How the Queen's Death Changes British Jewry's Most Distinctive Prayer
Chile Community Leaders 'Horrified' by Treatment of Israeli Envoy
Over 120 Countries, but Never Israel: Queen Elizabeth II's Unofficial Boycott