What Rabbi Elyashiv's Eulogies Didn't Say
Rabbi Elyashiv, who died last week, held back Haredi modernization.
Haredi Jews are not given to calling up the Guinness Book of Records offices in London and claiming a place in its annals. But if they had been of that tendency, Rabbi Yosef Shalom Elyashiv, the spiritual leader of "Lithuanian" ultra-Orthodoxy who passed away on Wednesday at the age of 102, may well have qualified. He was one of the few men or women alive with over 1,000 living descendants (all from monogamous relationships), including a handful of great-great-great-grandchildren. Now that he is dead, it is certain that the new record-holder is another Haredi centenarian living in Jerusalem with a similar number of progeny.
How did he accumulate such a multitude of offspring? Simple: He had twelve children, ten of whom reached adulthood, and nearly all his sons and daughters, along with their children, married very early and each had ten or a dozen children of their own. Do the math in such a family you reach a thousand before the age of ninety.
There is no similar phenomenon in the world. Women have multiple births at a young age in many other cultures, but the only one where they also have the benefits of an ultra-modern health system in which the vast majority are live births, the children surviving childhood and carrying on in the same fashion, is Israel.
While in Haredi circles, siring 1,000 is considered a symbol of immense and unique virtue, outsiders can only see this is a sign of utter backwardness. Talk of family planning and birth control within the Haredi community is tantamount to heresy; how can anyone view zar'a chaya ve'kayama literally, living and existing offspring that do not stop uttering the words of the Torah, as anything but a good thing?
The questions of whether all parents are equipped and able to deal with such huge families, the physical and mental toll of constant child-bearing and child-care on young mothers who never have a chance to live life for themselves, and the broader economic and social viability of a community that multiplies itself at such a breathtaking pace without preparing its younger members to lead productive lives in an advanced society, have not been addressed. Such a community built upon these mega-families is the result of a singular combination of political and sociological factors, coupled with an ultra-conservative religious ideology and the traumas of the Holocaust and the secular revolutions of haskala (enlightenment) and Zionism. It is without historical precedent or contemporary comparison.
This is Rabbi Elyashiv's real legacy. He was not the only architect of this society; other rabbis put the foundations in place and both religious and secular politicians are at fault for having tailor-made Israel's welfare system to cater to the needs of a Haredi sector whose members do not work or partake in any form of national service, save for studying a stultified version of Torah. But it was Elyashiv who for 40 years was venerated as Posek Ha'Dor, the arbiter of a generation who had the final word on any issue of halakha (Jewish religious law); who since the mid-90s wielded ultimate political power over the most influential section of Haredi Jewry; and who bears the responsibility for stifling any internal debate on resolving the tensions between an insular and traditional community and the modern Israeli society within which it exists, and for refusing to come up with solutions to the challenges threatening the sustainability of the Haredi model in the 21st century.
There are many kinds of rabbinical legacies; Elyashiv accomplished none of them. He did not author any landmark religious texts, heralded no breakthrough in philosophical or halakhic teaching, was not the head of a great yeshiva, nor did he lead his flock through times of adversity. Quite the opposite he was the leader of Haredi Jewry in a period of unparalleled growth in Israel and abroad.
There have never been so many yeshivas and kollelim (married men's yeshivas) and hundreds of thousands of boys and men studying day and night. Even in periods centuries ago when most of the Jewish people were religiously observant, there was never more than a tiny minority who could spend their days in study; the rest had to work in order to survive. Up until the 1970s, this remained the reality and most of the yeshiva alumni had to learn professions and get jobs at some stage in their mid-twenties. A few hundred yeshiva students continued studying, living off the largesse of philanthropists, and a handful were lucky enough to get government-appointed rabbinical positions, usually thanks to family connections.
Few of the eulogies for Elyashiv mentioned this, but he was one of those, supporting his family off his salary as official rabbi of Ramle, and then as a dayan, a judge in the rabbinical court, until 1974. Since then he received a government pension.
But in the 35 years since Prime Minister Menachem Begin brought the Haredi parties into the coalition and the ultra-Orthodox education system began receiving significant public funding, the number of yeshivas and students took off and grew exponentially. An arrangement whereby a few hundred men were exempted from army service by David Ben-Gurion a concession to the rabbis who begged to be allowed to rebuild the European yeshivas that had been exterminated became the basis for an entire sector living off government and private grants while not being part of the national workforce.
This was the situation Elyashiv inherited from the previous Haredi leaders. He could have used this unique opportunity to prepare his followers for the inevitable clash with the outside world, but he preferred to stop the clocks and freeze them in time. Any attempt at modernizing the curricula for boys and girls was met with fierce opposition and denunciation for those who sought to sully "the pure education." Likewise, programs for vocational training for the majority of young men who are not fit to spending a life studying ancient texts were blocked.
One of his last public proclamations was against academic courses designed specifically for young Haredi men and women, and it is ironic that his death came at the height of the public debate over the Haredi military draft. Myths of Elyashiv's peerless erudition and wise leadership were already being spun during his lifetime, and his acolytes will try to perpetuate them now that he is gone, but his legacy is an empty one. Thousands are already defying his orders by joining the special Israel Defense Forces units in which Haredi men both serve and learn valuable skills for civilian life, while the academic streams specially tailored for ultra-Orthodox needs are flourishing despite his prohibitions.
His path of paralysis has served to slow down these inevitable developments, damning most of the next Haredi generation to poverty, but despite his dictates, they are beginning to evolve and adapt to modern life. A century from now, Rabbi Elyashiv will not be revered as a Torah giant, but as a reactionary figure by the few who remember him.
ICYMI
Ken Burns' Brilliant 'The U.S. and the Holocaust' Has Only One Problem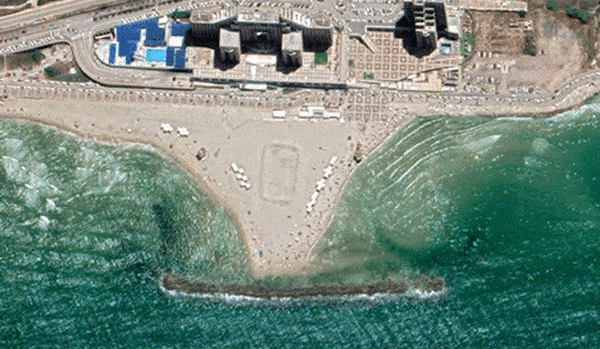 Facing Rapid Rise in Sea Levels, Israel Could Lose Large Parts of Its Coastline by 2050
As Israel Reins in Its Cyberarms Industry, an Ex-intel Officer Is Building a New Empire
How the Queen's Death Changes British Jewry's Most Distinctive Prayer
Chile Community Leaders 'Horrified' by Treatment of Israeli Envoy
Over 120 Countries, but Never Israel: Queen Elizabeth II's Unofficial Boycott