Someone Else's Simcha Amit and Meytar's Henna Celebration
An Ashkenazi family learns how to henna party, with traditional Yemini music, towering headdresses and tears – possibly from the hot sauce.
Location: Moshav Geulei Teiman
Time: 8 p.m.
In the neighborhood: One-story houses topped with red tiles and crowded together along the main street of Geulei Teiman (meaning "those saved from Yemen," founded 1948), about 40 minutes' drive northeast of Tel Aviv and 10 minutes east of the coastal city of Netanya. Ancient trees sway in the breeze and stray cats pop in and out of small, grassy yards.
Venue: Geulei Teiman's outdoor, green-asphalt-topped basketball court, surrounded by a high chain-link fence. A cool breeze washes over a dozen tables. At the far end of the court, Ge'ula, of the henna ceremony company Shoshannat Teiman ("Rose of Yemen") sets up a work area, complete with a golden loveseat, cushions, platters and traditional coffee and spice grinders. A mannequin dressed in Yemenite garb stands near the throne. A decades-old water tower – the bottom of which is decorated with a war monument – is the only blemish on an otherwise uninterrupted view of the evening sky.
Simcha: Amit and Meytar's henna ceremony
Number of guests: 150
Home: Amit Algov (30, construction contractor) was raised in a traditional religious home of Yemenite extraction in the northern city of Karkur. Meytar Lenman (28, saleswoman) was raised in a secular home of mostly Ashkenazi extraction in Hadera, about an hour north of Tel Aviv. The two have been living together in a small house in the Algov's backyard in Karkur.
A brief history of time: The couple met at the wedding party of Meytar's aunt on her father's side in 2003 - Amit was the lighting guy. He called her over, she came over and they started talking. Two days later he gave her a call ("Late at night, couldn't call me at a normal hour") and a platonic friendship ensued, lasting for the next two years. That's until romance came along.
Family history: Amit is the youngest of Rina (70) and Yefet's (75) children and the last to get married (Sister Idit: "We've waited a long time for this"). Meytar is Pini (56) and Nitza's (50) second child. She has an older brother and a younger sister and is the first to get married. Are her parents excited? Meytar: "Excited? They're stressed out. I think my mom's on Ritalin." The couple keeps a semi-secular, semi-traditional home, with Amit recently turning up the religious volume. Amit: "I think she's more and more sympathetic to [religious] strengthening."
Fact #1: Being Ashkenazi, the henna concept is somewhat new to the bride's side of the family, but they say the decision was easy. Meytar: "Amit wanted it, and we just went with the flow. Ours isn't a regular Ashkenazi home. My parent's aren't heavy like that, they're easy." Nitza: "We're definitely different."
Fact#2: Nitza's mother, Viki (82) was born in the historic Galilee village of Peki'in, which is mostly Druze. Her family goes back dozens of generations in the Holy Land. Didn't the family celebrate hennas? Nitza: "I don't think so." Viki: "We did. I was very young when my sister was married, but I know other relatives of ours had hennas."
Fact #3: Viki and her family fled Peki'in in 1936, after Arab s gangs entered the village in a bid to kill all its Jewish inhabitants. They escaped by hiding in a friend of the family's basement after being warned by Arab neighbors and friends.
Rites: The first zafa (ceremonial parade) sets off near the entrance to the basketball court. The young couple is surrounded by family members bearing colorful candles and drums. Amit puts on a galabiya (traditional Yeminite robe) and cap, while Meytar – easily the star of the show – dons the formidable tashbuklulu (a ceremonial headdress) worn by Jews originating from Yemen's capital, Sana'a (courtesy of Ge'ula, Amit's family is actually from the city of Aden). It towers at least a meter above her golden locks (Meytar: "Believe me, it's heavy). The front of Amit's outfit is cramped with heavy-duty metal jewelry and golden beads, and he is wearing traditional golden libas (bridal slacks).
Ge'ula, who also serves as the ceremony's singer, belts out Yemenite songs, accompanied by an eastern-tinged keyboard. How traditional is Meytar's outfit? Ge'ula: "I used to use original fabrics from Yemen, but they were too heavy. Now I use lighter fabrics. The bride doesn't need to suffer on her happy day."
Family arrives near the henna area under the further basketball hoop as the music intensifies and everyone breaks into fierce Yemeni dancing circles (da'asa). Pini enters the inner circle and future son-in-law Amit shows him how to bust a Yemenite move. The couple changes into lighter costumes (down goes the tower-of-Meytar, to the bride's relief), and the dancing resumes. The two sides of the family line up opposite each other a repeatedly dance into each other. Food break!
After some good ol' Yemenite chow (see below), and another costume change, Ge'ula announces the second, and last zafa, with men on the bride's side donning traditional Yemenite caps (complete with fake, curly payot dangling from the sides). Amit and Meytar's brother Aviad blow shofars (actual sounds courtesy of a recording), and the slow-moving zafa gets underway, representing the bride's family's farewell. Ge'ula sings a Yemenite song about the bride's longing for her kin ("When I went to the mountain and remembered you, mother, I cried"). Eventually, everyone makes it the 20 feet to the henna stage, where the couple sits and the ceremony begins.
The two mothers take turns circling a fresh egg over the heads of the bride and groom ("For fertility in your home"), before Ge'ula throws it on the floor for good luck. Henna powder is put into a bowl, and Nizta, wearing disposable gloves, kneads the material while Rina pours in water. Viki then takes over for her daughter, kneading the now-thickened paste until it's done. She applies the paste to the bride and groom's right hands. Viki, and then Pini congratulate the couple in rhyme ("May love and friendship endure between you"), and the bride's family gives presents to the groom (a silver watch and a gold necklace). Rina gets up, adds to the couple's paste and says a few words ("I wish you happiness and understanding"), bestowing gifts on Meytar (gold earrings and a bracelet). And the blessings continue: Amit's brother Shay ("Patience") and Amit's sister Idit ("Welcome to the family") are followed by a string of uncles ("Don't go to sleep angry"; "May you have a lot of money") and friends ("We're even more excited than you are").
Music: Ge'ula reigns supreme over the evening's music, never stopping for a break between MC duties, singing and providing educational lectures to the many henna novices in the crowd.
Food: Yemenite fare, with piles and piles of jachnun (baked rolled and buttered dough) and kubaneh (a traditional, slow-cooked version of challah), served next to grated fresh tomatoes and skhug, hot sauce so hot it's been flagged by the International Atomic Energy Agency. It'll make you cry.
Drink: Orange juice, lemonade and bottles of beer, perspiring in the summer night.
Word in the ear: Amit: "I may not be old and I may be a little bit of a party man, but I still think [the henna ceremony] is important. This authenticity is something that's passing from the world. Everything is modern today. We live in a world where everything's crazy, everything's backwards. This world, it's wrong. It depends on material things in every aspect. Nothing's spiritual anymore. And that's why it's important."
In my spiritual doggy bag: The understanding that being Israeli today means taking in and adopting what used to be the exclusive cultural heritage of others.
Random quote: Meytar's uncle, laughing as he notices his niece's imposing headdress: "Someone hold on to her, she might tip over."
Want to take part in Someone Else's Simcha? Want to invite Haaretz to your family celebration? Send word to: ron.bent@haaretz.co.il
ICYMI
Ken Burns' Brilliant 'The U.S. and the Holocaust' Has Only One Problem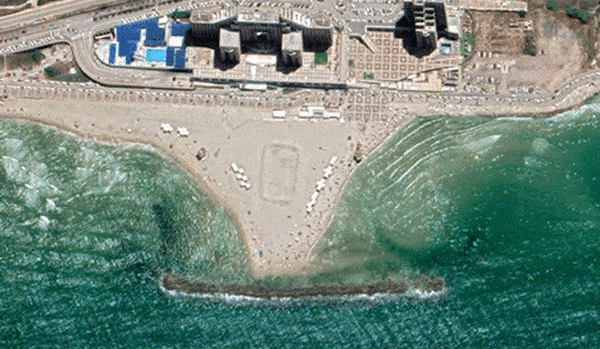 Facing Rapid Rise in Sea Levels, Israel Could Lose Large Parts of Its Coastline by 2050
As Israel Reins in Its Cyberarms Industry, an Ex-intel Officer Is Building a New Empire
How the Queen's Death Changes British Jewry's Most Distinctive Prayer
Chile Community Leaders 'Horrified' by Treatment of Israeli Envoy
Over 120 Countries, but Never Israel: Queen Elizabeth II's Unofficial Boycott