Haredim Who Swap Talmud for Technology
A growing number of ultra-Orthodox men are studying in vocational schools rather than yeshivas. But it may take more than that to get them into the workforce.
Yaakov Klein is not your typical high-tech entrepreneur. After many years studying in the most prestigious yeshivas, Klein (who asked not to use his real name) opened a small start-up company even though he lacked basic English and math skills. To make up for these gaps he spent long hours studying on his own. He now handles his company's management, business development and marketing, and contracts out the software programming.
Klein is one of a growing number of Haredim who no longer spend their days cloistered in yeshivas, in a trend that could profoundly affect the Israeli economy.
"You can loiter around the yeshiva, but if you know you aren't really studying most of the time, you're only fooling yourself," says Yehuda Miller, who left the yeshiva world after being expelled twice and is now the owner of an ad company that targets the Haredi market.
About 90 of Miller's 100 or so employees at Ha'bitzuistim are themselves Haredi. He founded the company in 2009, after working on election campaigns for Haredi political parties. Miller describes Ha'bitzuistim as a guerrilla marketing firm that advertises on the Haredi street, focusing on the message boards, synagogues and street posters that typically dot Haredi neighborhoods.
"Most of my workers are young guys between the ages of 18 and 25, who aren't cut out for the yeshiva life or a similar framework," says Miller, 28. "Some of them work less than 10-hour weeks, so they can spend enough hours in yeshiva to avoid being drafted. Others are exempted from the draft for other reasons. After they reach 22, when they get married and start having children, they really have no choice but to go out and find work. As a matter of principle, I will find a job for any Haredi who tells me he wants work."
In recent years, a growing number of Haredim have sought professional training, leading to a five-percent spike in their participation in the workforce.
But that is still just half the rate of the general population, with only 42 percent of Haredi men working, compared to 80 percent of the rest of Israelis. Because they lack secular education and skills, Haredi men tend to hold jobs that secular students might take, like clerical work or customer service at call centers.
Low employment and low pay mean that Haredim contribute little to the Israeli economy. A statistical simulation run for MarkerWeek by Eran Yashiv, a professor at Tel Aviv University's Economics Department and chairman of the economic policy program at the Taub Center for Social Policy Studies in Israel, shows that Haredi participation in the Israeli workforce accounts for only two percent of the country's GDP – or NIS 15 billion.
But this problem is also an opportunity. For every additional 10,000 Haredim added to the workforce, Israel's GDP would increase by NIS 2.6 billion, according to Yashiv's model.
"Think if we were able to grow another 2 percent per year," says Yashiv. "It's stunning to see how little the government does in the face of these figures. The government's plan to include Haredim in the workforce – like its plan to include Arab women in the workforce – is orders of magnitude smaller than what is needed to address a problem of this size. The government is enacting programs measured in hundreds of people, but we are talking about a problem that affects tens of thousands of people."
Needed: incentives to work
Yashiv says drafting Haredim will help increase their participation in the workforce, because it will eliminate the incentive to stay in yeshivas to avoid military service. But he says the state should also significantly increase the size of the negative income tax, expand vocational training programs for Haredim and give financial incentives to employers who hire Haredim. And, he adds, the government should cut the total benefits given to families of Haredi yeshiva students, decreasing them gradually over time.
"The benefits payments are disincentives for Haredim to enter the workforce," says Yashiv. "For Haredi men it doesn't really pay to work a regular job, because their work income will be less than the income they receive from government benefits."
Some 6,500 ultra-Orthodox students are now enrolled in vocational schools, most of them set up specifically to help Haredim gain skills in professional fields, like law or accounting. Almost all these students have massive educational deficits, having never studied English, math or any other secular subject. To catch up, they must study on their own, even while beginning new careers and supporting their families.
Many of the relative liberals in the Haredi community who support the trend toward employment, say the secular campaign to draft Haredim will likely work against it.
"Change is happening in Haredi society," says a Haredi man who works in the media."But people are doing what they can to slow it down – not just secular Israelis who are trying to force the military draft, but also Haredi leaders. The Haredi power brokers want to retain control of Haredi society, so they have an interest in keeping thousands of poor Haredim in a ghetto. But they are losing control. So it's no surprise that the Haredi press welcomed the recent weekend protests," he said, referring to the 20,000 mainly secular protesters who took to the streets earlier this month to demand that Haredim also serve in the army. "The Haredi power brokers need a secular boogeyman to form a united front. The problem is both sides end up running in place."
How many really want jobs?
Yaacov Loupo, a historian who studies the Haredi community, and Asaf Malchi, head of the Industry, Trade and Labor Ministry's research department, recently asked 17 to 20-year-old bachelors enrolled in yeshivas about their studies and prospects of joining the workforce.
They found that between 25 and 30 percent of those surveyed were interested in finding work. Among young men studying at yeshivas deemed strict or prestigious the rate was as high as 40 percent. Still, 60 percent of survey respondents said they preferred to dedicate their time to religious learning.
The biggest revelation of the research was that Haredi men are looking to work at a younger age than in the past. The desire to work used to be strongest among men who needed to provide for their families. But now unmarried yeshiva students tend to be job-hunting as well – apparently due to the example of other Haredim who are working in increasing numbers.
"The Haredi public wants to work," says Miri Schneerson, the manager of Atid Halakha, a subsidiary company of Atid Human Resources, which helps place Haredim in jobs. "Every job notice in the newspaper draws a huge response from applicants."
The Industry, Trade and Labor Ministry is planning to conduct additional research into the Haredi community's economic situation. This research will use existing figures for the size of the Haredi community, the number who are employed and how much money they are making. But no one is sure how accurate these figures really are.
Most of them come from surveys conducted by the Central Bureau of Statistics. Respondents who say their last educational institution is a recognized yeshiva are considered Haredi. But this standard ignores some Haredim who study outside of yeshivas. In 2011, the Bank of Israel acknowledged that the government's definition of Haredim is inaccurate.
Using these flawed numbers, demographer Eliahu Ben-Moshe of the Industry, Trade and Labor Ministry estimates Haredim will make up 15 percent of the working-age population by 2030 – up from 8.5 percent today. If the Haredim's workforce participation rate remained unchanged, this would drive the national workforce participation rate down 6 percent, from 52 to 46 percent.
But the reality is constantly changing. In recent years, ten academic or post-secondary educational institutions have been founded to serve Haredim. The tuition rates charged by these institutions are one of the biggest barriers to increasing Haredi employment, says Yechezkel Rosenblum, the founder of the Tov movement, which represents working Haredim.
Over the past few years non-profit organizations have been set-up to provide post-secondary education scholarships to Haredim. The Council for Higher Education in Israel has also initiated a plan to provide incentives to Haredi educational institutions. This approach recently bore fruit when the Bezalel Academy of Arts and Design announced it will establish a Haredi campus in Jerusalem for art studies.
A typical Haredi student costs NIS 6,000 more a year than a secular. The additional cost stems from their special religious requirements, like additional classroom space and lecturers to keep genders separate and rabbis to solve halakhic problems as they arise.
No pork in the microwave please
Once they are ready for the work force, other challenges await Haredi employees who are likely to find jobs in a secular milieu. How, for instance, will a Haredi employee react to the exposed arms of a young female coworker or to the lack of kosher options at the coffee shop down the street?
Some Haredim say the secular public will have to make concessions to Haredim if they hope to integrate them as workers.
"I don't tell anyone to dress like a Haredi, but secular society needs to understand that if they want Haredim to join the labor market, there needs to be appropriate conditions at work, like not warming up pork in the microwave," says Rosenblum of the Tov movement.
"The question of the role of women in the IDF is a perfect example," he continues. "Does the IDF need to change some of its liberal secular values? It's a simple question, but it needs to be asked aloud and to receive a direct response. On the other hand, Haredi society needs to understand that as time goes by, it will need to take greater responsibility for what occurs here and not to cling to a narrow communal perspective."
Schneerson of Atid Halakha says there are reasonable ways to accommodate Haredim at secular companies.
"For a Haredi girl, a mixed-gender customer service center is an alarming experience. To sit next to a man, to be exposed to a different dress code – these are shocking experiences. There are companies that have addressed this problem by employing an entirely female Haredi staff. Partner Communications [which does business in Israel under the name Orange] has a unique customer service center in Jerusalem where Haredi women work the morning to noon shift, while the afternoon to evening shift is staffed entirely by male Haredim."
But such accommodations are rare, and many Haredim feel discriminated against by secular society.
"There is a horrible situation where qualified people who have a degree, or will soon receive one, are not being integrated into the workplace because of their community affiliation," says a young Haredi man. "They overcome the gaps in their education, but they don't succeed in breaking through the glass ceiling."
Shlomo Brilliant, the head of the Association of Haredi Yeshivas agrees.
"I have a friend who finished an accounting degree with honors and couldn't find a place to do an internship," he says. "Praised be the companies who employ Haredim, but some of them employ Haredi women at bargain prices. The women hire babysitters, but not a single one receives a leased vehicle from their company like workers in the high-tech world in Tel Aviv."
Some 60 percent of Haredi women – a considerably higher proportion than Haredi men -- are employed. But most of these jobs are in teaching or on the margins of the high-tech world.
"It's true that a lot of Haredi women work, but they don't work where they would like to," says Shulamit Almog, a law professor at Haifa University who has researched the issue. "Beyond this, they don't receive the kind of training that would allow them to make optimal career decisions, like young secular women who have studied for a similar number of years. A change in employment habits among Haredi men could also help Haredi women in the workforce."
Giti Weisfeld, 30, sees things a bit differently. Weisfeld, a graduate of the Belz Hasidic educational establishment, owns a mortgage consulting company with her husband, Akiva.
"In my class, there were 27 girls, 26 of whom are employed today," says Weisfeld. "Despite what people in the secular media say, Haredim aren't parasites."
ICYMI
Ken Burns' Brilliant 'The U.S. and the Holocaust' Has Only One Problem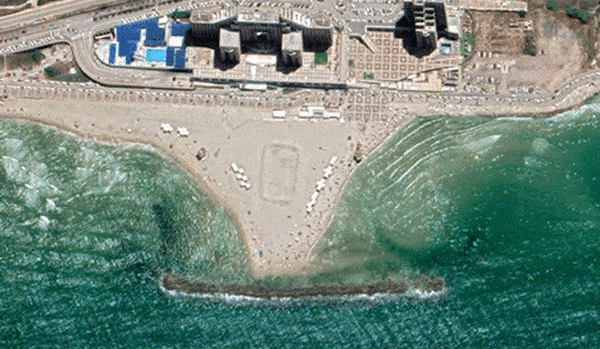 Facing Rapid Rise in Sea Levels, Israel Could Lose Large Parts of Its Coastline by 2050
As Israel Reins in Its Cyberarms Industry, an Ex-intel Officer Is Building a New Empire
How the Queen's Death Changes British Jewry's Most Distinctive Prayer
Chile Community Leaders 'Horrified' by Treatment of Israeli Envoy
Over 120 Countries, but Never Israel: Queen Elizabeth II's Unofficial Boycott