Tycoons Turning Israeli Media Into Hasbara Tools
Wealthy foreigners are drawn to local news outlets despite slim hope of profit.
Foreign investors have been drawn to Israeli media for years, but over the last few weeks it has become clear that the local audience isn't enough for them.
U.S. billionaire Ronald Lauder and French millionaire Patrick Drahi have both announced that they plan to extend the reach of their Israeli media enterprises around the world.
Lauder, a co-owner of Channel 10, is buying Nana 10, a Hebrew-language news and entertainment website that was partly owned by the television station, and says he wants to transform it into an English-language site with international appeal. And Drahi, the controlling shareholder of Israel's HOT cable television company, has announced plans to launch an international TV station featuring news from the Middle East from an Israeli perspective. U.S. casino mogul Sheldon Adelson, the billionaire who owns the pro-Netanyahu free newspaper Israel Hayom, has already begun publishing an English version of the paper online.
Is there a connection among these projects? That's not certain, but what is clear is that foreign businesspeople who have been in the Israeli media business for years seem to have suddenly grasped that they control platforms they can use to achieve their goals, outside of Israel as well as within. As with the Israeli media industry, the primary goals are not about the bottom line. It's quite possible that these projects could end up costing a lot of money, and cannot boast high income potential.
So what are the goals here?
"You have to understand the balance of power in the Jewish organizations around the world to identify Lauder's interest, and that of other businessmen, in controling information through the media," said a highly placed source in Israel's foreign media industry. "They're not looking for business, simply because there is no business in this. It's being done for two reasons - either to achieve political influence or to promote values that are important to them."
Like Adelson, Lauder - an heir to the Estee Lauder cosmetics fortune, founder of the philanthropic Ronald S. Lauder Foundation and president of the World Jewish Congress - is considered an ally of Prime Minister Benjamin Netanyahu, and recently sponsored an ad in the Wall Street Journal expressing support for Netanyahu and his position on the Israeli-Palestinian conflict. For Lauder, having his own media outlet represents an opportunity to gain power and wield greater influence.
Jewish answer to Al Jazeera
There is no single target audience for all the Israeli media being published in languages other than Hebrew. Drahi wants his new television station, which will first air in French for an audience in France and then be adapted to an English-speaking North American audience, to serve as a Jewish answer to pro-Arab television station Al Jazeera and change the prevailing attitude toward Israel. Lauder, though, is expected to focus on a more narrow target audience with his English-language website: Jews and former Israelis interested in strengthening their connection with Israeli culture.
After saving Channel 10 with an injection of NIS 8 million in June, following speculation that the debt-ridden station could shut down altogether, Lauder swooped in last week to save one of its relatives, Nana 10. The website has bled tens of millions of shekels over several years and its owners have repeatedly tried to sell it, but found no takers - until now.
The acquisition deal calls for Lauder to buy 50 percent of the site from Cellcom-Netvision for an estimated NIS 10 million. The purchase will be made through Lauder's JCS, which operates the private television production company Jerusalem Capital Studios. Channel 10, in which Lauder has a 24 percent share, will continue to own the other half of the site, for now at least.
It remains to be seen what form the site will take once Lauder takes over and to what extent he will capitalize on the news provided by Channel 10. "Several options are being examined, including cooperation with other media outlets, which will be looked into after the deal is complete," said JCS chairman Avi Balashnikov, who is also the deputy chairman of Channel 10's board of directors.
As for Adelson, the tens of millions of shekels he has put into Israel Hayom since founding it in 2007 have gone partly into hiring a staff to put out the stories in a digital English-language newsletter, which focuses on diplomatic and security affairs and has a broad distribution list. There are also iPhone and Android apps for the English version of the paper, as well as a Facebook page and Twitter account.
Drahi, for his part, has explicitly said he is not launching the TV station for business reasons.
"Drahi is contributing to the station out of a frank and genuine Zionist motivation to help improve Israel's image by showing Israelis' vibrant, modern and youthful lifestyle," his office said in a statement. "Drahi believes that a balanced and level-headed depiction of life in Israel will help strengthen the country's image."
The media map
Israeli media outlets catering to English speakers have been crowding the market in recent years. The longest-standing such publication is The Jerusalem Post, which is currently owned by local businessman Eli Azur, who also owns the Charlton media company. Azur bought the Jerusalem Post Group in 2004 based on a valuation of $12 million.
The Jerusalem Post Group includes the monthly Jerusalem Report magazine as well as the local and international editions of The Jerusalem Post and its website.
Haaretz began publishing an English edition in 1997, which is printed with the International Herald Tribune, and has a website as well as iPhone, Android and soon-to-be-launched iPad apps. Some media industry sources say part of the reason Adelson, Lauder and Drahi have joined the fray is to create a counterbalance to Haaretz, long considered a liberal paper.
Two months ago Haaretz put some of its English content behind a paywall, an unusual move for Israel. Haaretz is hoping that U.S. readers will be more willing than Israeli ones to pay for full access to the site.
The English-language news site The Times of Israel was launched in February, in a partnership between founding editor David Horovitz, a former Jerusalem Post editor-in-chief, and prominent value investor Seth Klarman.
"I founded the site because I thought there was room for a site that reports on what's happening in the Jewish world and doesn't have any political leanings," said Horovitz. "The goal is to highlight the shared interests of Jews in Israel and abroad. That was apparently in demand, because the site is succeeding - from week to week we see an increase in site traffic, even though we launched it with no advertising budget."
The Times of Israel wants to be seen as apolitical, unlike Haaretz and the right-leaning Israel National News, better known in Israel as Arutz Sheva. The Arutz Sheva English-language website is particularly popular among U.S. religious Jews.
"There are already several players in the market, but there's room for everyone and we don't need someone to shut down so that we can grow," said Horovitz. "My partner has announced that if the site makes money, he will donate it to help Israeli citizens. He isn't interested in making money here. I have an interest in putting out good, fair journalism, and I believe that there is a business model from which we will be able to make money and expand."
One of the most well-developed English-language niches is media geared toward religious Jews, including the ultra-Orthodox, in Israel and abroad. The most popular of these is Mishpacha magazine, which has a circulation of 35,000 in the United States and Europe.
"Religious leaders abroad are interested in security issues connected to Israel," said Eli Paley, the magazine's publisher. "In addition, they are also interested in matters of religion and state and in the struggles between the ultra-Orthodox and the secular that are taking place here."
Paley said Israeli leaders want to make a connection with Jewish communities in the United States. "The Prime Minister's Office is in regular contact with our paper and sees it as a vehicle to transmit messages, as does Jerusalem Mayor Nir Barkat."
Other players include the English versions of Israeli news sites like Ynet, the website of the Yedioth Ahronoth daily, and Globes, a business publication. There are also some independent news and blog sites, including Jerusalem Online, the left-wing +972 Magazine and Israel 21C, which focuses on science and technology news.
The Israeli news websites with the most viewers are Haaretz and The Jerusalem Post, each of which has between 2 million and 3 million unique users a month. They are followed by Ynet and Arutz 7. Shortly after the Times of Israel first launched, it had more readers than Ynet and Arutz 7, but has dropped below them.
The target audience
"The people abroad who subscribe to Israeli newspapers are generally those who are more connected and involved in what's going on in Israel," said Gidon Katz, who owns Israeli advertising company IMP Media, which specializes in advertising abroad. "It will never be the only newspaper they subscribe to, and they will also be interested in a local paper. In the U.S. there are unlimited newspapers that are geared toward a Jewish audience - religious, secular, Israeli - but all their content comes from abroad, unlike media outlets like The Jerusalem Post and Haaretz."
Israeli media outlets seeking readers abroad could encounter difficulties if they plan to target a broad readership with varied needs, because that makes it hard to solicit more targeted advertising. Also, ads promoting Israeli goods and services aren't necessarily relevant for foreign readers - but some industries, like real estate, are eager to reach audiences abroad.
"There isn't a tower on Rothschild Boulevard or in Tel Aviv, more generally, that hasn't advertised in newspapers targeted for readers abroad," said Katz. "Foreign residents are major buyers of Israeli real estate, and we reach them through our media."
In addition to real estate, tourism and car rental services, other popular ads in Israeli papers with readers abroad are those raising money for Israel and those promoting courses of study in the country.
"We just began a campaign calling on young people abroad to study at the Technion in Haifa," said Katz. "If you invest money and put out good content, there's some good business out there."
ICYMI
Ken Burns' Brilliant 'The U.S. and the Holocaust' Has Only One Problem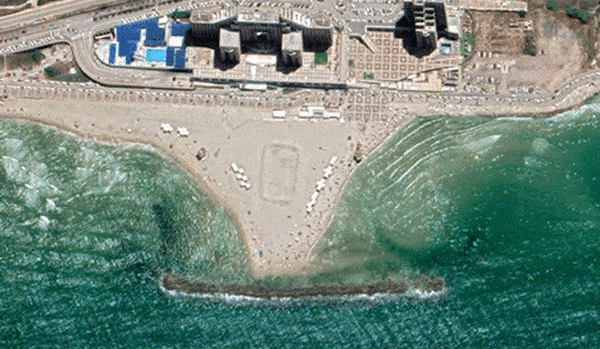 Facing Rapid Rise in Sea Levels, Israel Could Lose Large Parts of Its Coastline by 2050
Lapid to Haaretz: 'I Have Learned to Respect the Left'
The Mossad's Fateful 48 Hours Before the Yom Kippur War
As Israel Reins in Its Cyberarms Industry, an Ex-intel Officer Is Building a New Empire
How the Queen's Death Changes British Jewry's Most Distinctive Prayer