Netanyahu and Barak's Operation to Save Private Shaul Mofaz
The Kadima leader had insisted he wouldn't join the Netanyahu government. So let's see if he flip-flops on getting the ultra-Orthodox to join the army or changing the system of government.
Benjamin Netanyahu, Shaul Mofaz and Ehud Barak huddled for hours on Monday night in the cozy study at the Prime Minister's Residence in Jerusalem. In the Knesset the debate over early elections proceeded lethargically. Telephone calls came in from the compound on Balfour Street to the Kadima and Likud factions in the Knesset: Keep stalling, keep killing time.
When Barak realized that the foundations had been firmly laid between Netanyahu and Mofaz, he left the room. When the Netanyahu family lawyer, David Shimron, showed up to go over the draft coalition agreement, he found Barak playing the piano on the patio. Someone present captured the moment on his cell phone. The next day, someone asked Barak what he was playing. "Liszt's 'Dream of Love,'" he replied.
Barak is a big winner after the postponement of the election. It's unlikely his Atzmaut party would have received enough votes to enter the Knesset if the elections were held on September 4. And there was no guarantee he would remain defense minister in a new coalition. (Other than the prime minister, a cabinet member does not have to be an MK. )
Barak's involvement in forging the grand coalition this week was more intense than has been reported. Last week he was asked by Kadima people to sound out Netanyahu on the possibility of canceling the early elections. He and Netanyahu spoke several times. Netanyahu was very suspicious of Mofaz's aides, especially his adviser Lior Horev.
Horev worked with Barak in the campaign to oust Netanyahu in 1999 and with Ariel Sharon a decade ago. He tops Netanyahu's target list. Barak, who also has accounts to settle with Horev, doesn't mind such trifles. He spoke again with Netanyahu last Saturday night and heard another no from him.
On Sunday evening, after the seven-day mourning period for his late father, Netanyahu arrived at the Likud convention and walked into an ambush set by the settlers. He had planned to be unanimously elected president of the convention, but was forced to beat an undignified retreat. He had a few words with certain people.
On Monday morning, the day the Knesset was set to dissolve itself, Barak's bureau chief, Yoni Koren, woke the defense minister. Koren and Horev are old friends. Koren and his boss talked the whole morning. Koren asked Barak to try one last time to persuade Netanyahu not to call an early election.
"Check with Natan [Eshel] if it's possible," Barak told him, referring to Netanyahu's former adviser who recently resigned under a cloud of alleged sexual harassment. "If so, I'll talk to the prime minister."
Koren checked. A meeting was arranged between Horev and Eshel, at Eshel's home. Koren joined them. Barak was informed that all options were open. At around noon, as the Knesset was preparing for a marathon session on getting the election process underway, Barak called Netanyahu and urged him to reconsider. "I want to talk to Mofaz," Netanyahu said.
The first two meetings between the two were private. Barak joined them in the evening and contributed a few creative ideas. In the meantime, the High Court of Justice confirmed its earlier ruling that the evacuation of the Ulpana neighborhood in the Beit El settlement had to be completed by July 1. Netanyahu realized he would be caught in a battle against the rule of law with the whole world watching, two months before the elections.
This wasn't the first time Barak acted to get Kadima into the government. He had tried to bring together Netanyahu and Kadima's former leader, Tzipi Livni, but found that the resentment and lack of trust were unbridgeable. Livni also made demands that Mofaz dared not make. Her situation in the polls was far better than her successor's.
On the face of it, Netanyahu cannot be toppled. He now has in his pocket 60 MKs who have no interest in elections: 27 Likud, 28 Kadima, 5 Atzmaut. The ultra-Orthodox parties will now agree to eat lots more humble pie than when the coalition consisted of 66 MKs and was dependent on them.
Barak believes that postponing the elections and expanding the coalition to 94 MKs allows Netanyahu to do things that were hitherto almost unthinkable: drafting the ultra-Orthodox into the Israel Defense Forces, changing the system of government, even forging a breakthrough with the Palestinians.
This week Barak was overheard saying that with his broad coalition, Netanyahu can implement Ben-Gurion- or Sharon-like moves (though with different motives than Sharon, Barak notes ). According to Barak, Netanyahu has received a rare second chance in the final third of his term. The question is what he will do with it.
Will the Likud-Kadima coalition, with Atzmaut on the fringes, trigger a Big Bang, as people described it when Sharon formed Kadima? Will there be a merger of all three parties? Or, more accurately, will Likud absorb the other two?
Barak is the only person capable of creating such an entity. He brought Labor into the Netanyahu government during overtime in the March 2009 coalition talks. He defected from Labor with four other MKs in January 2011, the kind of secret operation he used to pull off in the Sayeret Matkal commando unit. That gave him and Netanyahu another year and a half in power. And now, after his last dazzling coup - saving Private Shaul - Barak has one mission left.
Kadima's famous filibuster
It's a night the MKs will never forget. On Monday the Knesset was about to dissolve itself. No fewer than 109 MKs voted for a dissolution on the bill's first reading (one MK, Labor's Raleb Majadele, voted against ). The members of the House Committee went downstairs to their conference room to prepare the bill for its second and third readings, a technical matter that wouldn't take more than an hour.
The chairman of the House Committee, MK Yariv Levin (Likud ), is usually quite efficient. But he presided over the committee's proceedings slowly. MK Isaac Herzog (Labor ) suddenly noticed that the list of speakers had bloated to 13 from 3. He went over to Netanyahu's parliamentary adviser, Perach Lerner, and asked her, "What's going on? Don't you people want to get this over with quickly?"
"We sent the prime minister home to bed for a few hours," she told him. Herzog replied, "Are you kidding me?" Lerner smiled and went on her way. Herzog sent a text messag to Labor Party leader Shelly Yacimovich. She checked and messaged him back that everything was fine, the final vote would soon be taken and the 18th Knesset would be history.
Later, he called her. "All of Kadima is here," he told Yacimovich. "They're doing a filibuster." "You're being paranoid," she snapped back. "Check again," he advised her. She checked and called back, telling him, "The word is that Netanyahu and Mofaz are huddling. They're talking about a unity government."
Yacimovich saw the 18 or 19 seats the polls were predicting for her slipping through her fingers. Well, at least now she's opposition leader.
Yair Lapid, who is not in the Knesset, will have to work hard to keep the spotlight on himself until the next election (which doesn't have to be held before November 2013 ). This week the former TV anchorman spoke at a gathering of Conservative rabbis in Atlanta. To the laughter of the audience, he said the last time a coalition of this size existed, it belonged to Nicolae Ceausescu.
Lapid, the self-appointed leader of the fledgling party Yesh Atid (There is a Future), whose rules guarantee him the party chairmanship until 2020, should start by doing his homework. The unity government of 1984-1988 had 97 MKs, and the one after it had 91 MKs.
It's clear that Lapid will be an integral part of the next government Netanyahu forms, no matter what its size. Yacimovich and Lapid - who together were projected by the polls to win 30 seats in the now-cancelled election, most of them from center-left voters - are the reason Mofaz capitulated.
So now Mofaz is a minister without portfolio in the Prime Minister's Office; in return he gets a hastily written and vaguely worded coalition agreement. He will ensconce himself there alongside the country's most dignified taskless ministers - Moshe Ya'alon, Benny Begin and Dan Meridor - and wait for Netanyahu to invite him to meetings of the forum of nine senior ministers (formerly eight).
That's the whole story. If the polls had forecast more than 20 seats for Kadima under Mofaz, drafting the Haredim and changing the system of government would have been of no interest to him. With the same conviction he showed in his press conference with Netanyahu, he would have explained that elections were necessary so that the next government, under him, could implement those wishes, for the benefit of the people and democracy.
"What did people expect us to do? Fall on our sword and let Lapid take our seats?" Kadima MK Yohanan Plesner asked this week. Plesner is due to head the committee of experts charged with preparing the government-sponsored bill to draft the ultra-Orthodox.
"We took a real drubbing this week because of our flip-flopping," Plesner told Mofaz on Wednesday. "We mustn't flip-flop on these two issues: the Tal Law and changing the system of government."
Plesner, a reserve officer in the Sayeret Matkal commando unit, switched to air force jargon to illustrate Kadima's situation. "We went into a negative tailspin. Joining the government reduces the tailspin. Now we're flying at ground altitude. What can make us take off again is an alternative Tal Law and a change in the system of government," he said.
"Mofaz understands this completely. He understands that without that he has nothing; that this is his true commitment, his only commitment. If we come up with something vague, general and ambiguous on a universal draft, we can donate the rest of our term to charity."
Plesner believes that the Haredim are ripe for this compromise. "I talked to [Shas MK Ariel] Atias, and with [United Torah Judaism MK Moshe] Gafni. I don't know how they'll behave; whether they'll leave the government or vote against and stay. I assume that if they vote for the product we present, it will be worthless."
Mofaz's motives
On Wednesday night, Mofaz spoke to Haaretz in his car on the way home from the Knesset. "I'm not saying the criticism leaves me unfazed," he said. "I'm not shrugging it off. But I think I did a big thing. Part of the media criticism is due to the fact that they weren't involved in the process."
Do you really believe that? Maybe the media expects politicians to keep their promises? Until the last minute, you insisted you wouldn't join a government you described as the worst ever.
"When you're in the opposition, you're in the opposition. When I said that, I meant it. The conditions weren't yet ripe. Now we're going in and spearheading the process on the two issues most important to us: equality in the [military] burden and changing the system of government."
Kadima's Roni Bar-On has threatened to leave the coalition if those two conditions - the universal draft and a change in the system of government - aren't met in full by the deadlines set - July and December respectively. Are you making that threat as well?
"Roni said this because he understood it from me. But I don't think I have to threaten to resign on my first day as vice prime minister."
You've said some terrible things about Netanyahu in the past two years. So how, in one day after a few meetings, did the two of you manage to put all that behind you?
"Don't forget that we have a common basis. We worked together in the past. I was appointed chief of staff during his first term as prime minister. I think we'll be able to work together. And now, with a coalition of 94 MKs, he can make meaningful decisions."
How will we be able to believe you in the future? You've created a very serious credibility problem for yourself.
"Look, everything you say is true for the moment in which you say it."
Mofaz shares a trait with Barak and Netanyahu. He acts tough - this lets him get through the media hell. His entry into the Netanyahu government, the way he did it, has eliminated any prospect he'll have an alternative in government. The people are capable of forgiving a lot, but not zero credibility.
Mofaz's move reminded one Likud minister this week of something Menachem Begin said during the 1981 election campaign. It was during Begin's famous speech in Kings of Israel Square, now Rabin Square, in Tel Aviv, a few days before the vote.
Begin tore into the head of the Labor Alignment, Shimon Peres. "You complained that you were being subjected to character assassination," the senior Likud minister quoted Begin. "You think you're being subjected to character assassination? What you're doing to yourself is character suicide."
Proud achievement
It's a routine that has been part of the Knesset for decades. When a coalition is formed or changed, someone from the opposition asks the prime minister, minutes before the vote, whether there is a secret appendix, an informal agreement or an additional agreement on top of the coalition agreement that has been presented to the MKs.
How do you prepare for that inevitable scenario? The prime minister is briefed in advance on how to respond. That's why he has a team of advisers.
But not Netanyahu. He's good at the big things, but he trips over the little ones. Over the past two weeks he devised a secret move with coalition partner Avigdor Lieberman for early elections. He got the date he wanted. But he was humiliated at the Likud convention, where he blundered like a blind man into a mine field.
This week he spared himself early elections by bringing Kadima into the coalition - a masterstroke. Two days later, he was unprepared for an expected question, asked by Labor's Herzog and National Union's Uri Ariel: Are there additional agreements? Ariel also quoted from an interview with Kadima MK Meir Sheetrit, who said there was a secret appendix in the coalition agreement that promised Kadima more ministries.
The Knesset waited for Netanyahu to respond. He said something. No one heard. Speaker Reuven Rivlin asked for a microphone to be brought to the prime minister. An usher ran over to Netanyahu with a mike, and the prime minister announced that the coalition agreement that was submitted to the Knesset was "the only one signed."
That, of course, didn't satisfy the MKs. Oral agreements are agreements, too. Netanyahu took the microphone again and repeated his remark. The MKs demanded a 24-hour break before voting. Netanyahu turned to his jurist ministers, Gideon Sa'ar and Gilad Erdan, and asked them, what does the law say? They answered. Netanyahu picked up the microphone and asked Rivlin to call a break in the proceedings for consultations.
The debate was suspended. Netanyahu and his people went downstairs to the prime minister's office, on the second floor of the Knesset.
Almost an hour later, proceedings were resumed. Netanyahu entered the chamber and announced what was already known: In his conversations with Mofaz the possibility was raised that in the future Kadima would receive additional portfolios, but that this hadn't ripened to the point of an agreement. Rivlin made do with that. The Knesset voted, Mofaz was appointed, the coalition expanded.
"There you go, we proved that we're capable of doing something even as a small opposition, and that we won't be this government's patsies," Herzog said proudly afterward.
ICYMI
Ken Burns' Brilliant 'The U.S. and the Holocaust' Has Only One Problem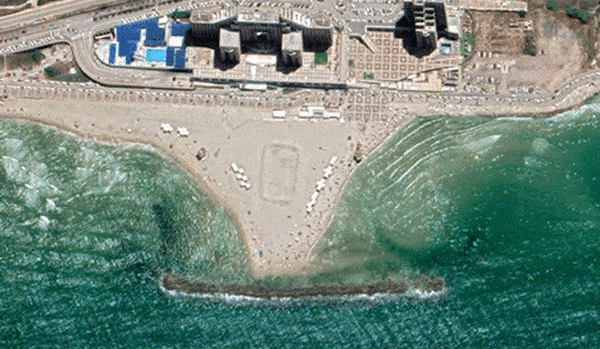 Facing Rapid Rise in Sea Levels, Israel Could Lose Large Parts of Its Coastline by 2050
As Israel Reins in Its Cyberarms Industry, an Ex-intel Officer Is Building a New Empire
How the Queen's Death Changes British Jewry's Most Distinctive Prayer
Chile Community Leaders 'Horrified' by Treatment of Israeli Envoy
Over 120 Countries, but Never Israel: Queen Elizabeth II's Unofficial Boycott