Putin on a Brave Face
Sunday's presidential election in Russia will bear little resemblance to its American equivalent.
In Dulles Airport, on my way from Washington to Moscow, I scan the souvenir magnets tourists buy to stick on the refrigerator. This year there was no chance to escape "Obama for former president" and "Mitt happens," but the one that caught my eye was: "I love my country. It's the government I'm afraid of."
What do you think of this article? Visit Haaretz.com on Facebook and share your views.
Russia's opposition could certainly adopt this one. This year's presidential elections could not be more different in these two countries. The Republicans complain that the Obama administration ignores the constitution when imposing his healthcare reform. How about the candidate for president who plans his return for a third term, after briefly ceding the presidency to Mr. Medvedev, who never posed a threat to his power?
The Republicans in the U.S. claim their freedoms are limited as the government grows bigger - but it stands nowhere near the fear of some of my Russian friends that these elections, if the protests escalate, might end up with tanks on the streets of Moscow and a serious bloodbath. The same day U.S. President Barack Obama will open AIPAC's annual policy conference in Washington with Israeli President Shimon Peres, talking about the Iranian threat, the changing Middle East and the peace process, Russians - including those Jews who stayed there, and even some Israelis who returned, nostalgic or looking for economic opportunities - will vote for their president. One fifth of the population of Israel, Russian speakers will probably anxiously follow the events.
No surprises are expected at the elections - three major Russian sociological centers predict victory for Vladimir Putin. It's the day after that Putin's supporters and haters are preparing for. Pro-Putin youth movements are planning demonstrations of support of the old-new president, while the opposition is planning extended protests, with ideas of tent cities floating around.
Two 31-year-old Russians find themselves these days on different sides of the barricade. One is Oleg Kashin, a reporter for the "Kommersant" newspaper who miraculously survived an attempt to kill him. The second is Nikita Borovikov, leader of the "Nashi" movement, created in 2005 by the Kremlin to counter the "Orange" revolution and its likes.
Kashin says he is not sure yet if he'll vote. "Even if I do, it's hard to decide what to do. It's not [fair] elections for sure - it's an action that aims to reappoint Putin as president, and I don't see much reason to take part in it."
Kashin has a personal painful score with the system - on November 6, 2010, he was attacked at the entrance of his house in Moscow by two men who ambushed him. One of them held him down while the other beat him with a metal rod he hid in a bouquet. Kashin's life was likely saved by the neighbor who appeared at the scene. He was taken to hospital with concussion, a broken jaw, fractures in both legs and broken fingers, and spent a long month trying to get over his injuries. Some of his rehabilitation process was spent in an Israeli hospital.
When Russian President Dmitry Medvedev visited the Palestinian territories (his visit to Israel was thwarted by the Israeli Interior Ministry workers' strike ), Kashin met him in Jericho - and Medvedev, who wished him a speedy recovery, promised to "tear the heads" off those who attacked him. But, despite the president's personal request for the attorney general to oversee the investigation, until now nothing has happened, like in the other cases of attacks against journalists and activists.
Kashin and some media outlets questioned the involvement of the pro-Kremlin youth movements that prior to the attack tagged him as an enemy. One movement's website called to "punish" him. But when Kashin mentioned in his blog the name of Nashi's former leader Vasily Yakemenko, Yakemenko sued him, another reporter and a news website.
Today, Kashin doesn't want to mention any names. The case against him was rejected in court, but he says he "didn't like to be the accused." What he can say is that "when the investigation of the attack got to the pro-Kremlin youth movements, suddenly they decided to 'refresh' the team and got a new group of investigators who for three months have been gathering information about the details. I have a feeling they will keep 'gathering information' for a while."
Frustrated optimist
His encounter with one of the movement's spokespeople, 19-year-old Masha Drokova, whom he says he helped to turn away from this "sect," as he calls them, became one of the main themes of the documentary "Putin's kiss," dedicated to some of the regime's proponents and opponents. From time to time there are rumors that the Kremlin decided to withdraw its support of the movements, since they seem to do more damage to the regime's image than benefit, but they remain functional.
Kashin says he will continue to participate in protests, but admits he is frustrated. "The atmosphere created at the December demonstration is gone. It's hard to admit, but the same thing we saw as an advantage back then - lack of a clear leadership, lack of a clear agenda - turned into a catastrophe, if one thinks of the smooth return of Putin to the Kremlin as a catastrophe. It's quite an absurd situation: The opposition protests in places approved by the authorities. Protest, another protest - it's a dead end, unless there'll be some escalation."
So how does he depict his future in a country with Putin as president for another six, 12, or even more years - admitting that he is aware he is blacklisted?
"What will we have after the elections?" he repeats the question. "More Putin. In December I thought Putin was embarrassed and scared, and because he experienced these feelings, I think he might take revenge. They might dismantle some newspapers. Some journalists will have a hard time working in their profession. Activists might get arrested. That's pretty much what I expect. And Putin won't leave power unless he makes some mistake that will lead to bloodshed."
'A stronger and effective country'
When I ask Nashi leader Borovikov about claims of the movement's activists' involvement in assaults against journalists and activists, he denies the accusation. "We have nothing to do with it. We work in the political-social realm within the law. Why would we beat a journalist? Even from a rational perspective - it's laughable and idiotic. Besides, we got used to people writing bad things about us. We look at it with sadness, but sort-of got used to it."
What can he tell about the claims that pro-Putin demonstrators are brought to events by bus and even train, paid or forced to come? Borovikov is convinced it is all "myths" invented by jealous people who cannot recreate the success of Nashi and other youth movements. "Their leaders are dull, their ideas are not attractive, but they don't want to admit their failure," he says. "So the only thing they can say is that we are buying people. They are even sending people to our events, to 'prove' that they were 'bought.' We treat such claims with humor."
"Are you sure," I ask him, "that Putin will win these elections?"
"Certainly," he replies.
"So why are you planning mass actions after the elections?"
"Because we cannot deny people the right to rejoice with their elected leader," he says.
And why does he think Putin is the best candidate for Russia?
"Because among all the candidates, he has the most experience in governing the country."
"What about the third term? Isn't it unconstitutional?"
"The constitution says there may not be three consecutive terms. After he took a pause, he can run for presidency, as can any other candidate."
When I ask him if these youth movements can survive without Putin, he lectures: "I want to remind you that the president of the Russian Federation is Dmitry Medvedev. We support a way, not a personality. There is no dependency on Putin, but on ideas that reverberate in people's hearts."
He also insists there is a big difference between the "real opposition" - parties other than "United Russia" that were elected to parliament - and the "pseudo-opposition" that caused the recent turmoil in the streets. "Foreign correspondents", he says, "prefer to ignore the fact that so many public figures and politicians criticize Putin's government, but their criticism is reasonable, unlike the laughable and destructive pseudo-opposition."
He is most irritated by Alexei Navalny, a lawyer and blogger who became the central figure of the anti-government protests. "Who is Navalny? He's a media bubble," he says. "He presents results of his 'anti-corruption investigative reports,' but there is nothing in it once you bother to check. He is trying to manipulate Muscovites. He didn't do anything positive for his country. He has no positive vision, only waging war against Putin. He claims political leadership - but gets his instructions from another country."
From where exactly does he gets his instructions?
Borovikov says he doesn't want to talk much about Navalny, who is "insignificant," but says "his meetings with officials in the U.S. speak for themselves."
Thanks to Putin, Borovikov says, Russia today is "a much stronger and effective country than in the 1990s, and it also manages to protect its interests and maintain stability, such as in the case with Syria, where Russia is preventing the U.S. from repeating the Libyan and Yugoslavian scenarios."
Borovikov says Russia still has plenty of problems, but everything is going to be fine if Russians will "work and work."
ICYMI
Ken Burns' Brilliant 'The U.S. and the Holocaust' Has Only One Problem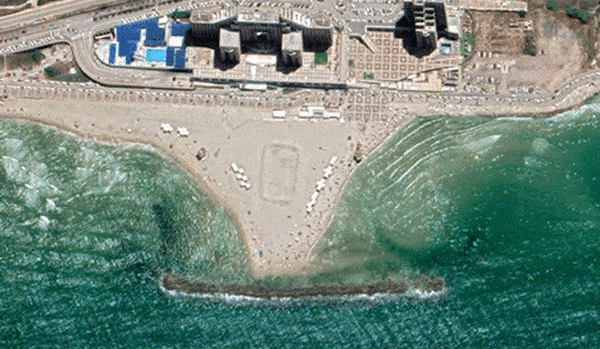 Facing Rapid Rise in Sea Levels, Israel Could Lose Large Parts of Its Coastline by 2050
As Israel Reins in Its Cyberarms Industry, an Ex-intel Officer Is Building a New Empire
How the Queen's Death Changes British Jewry's Most Distinctive Prayer
Chile Community Leaders 'Horrified' by Treatment of Israeli Envoy
Over 120 Countries, but Never Israel: Queen Elizabeth II's Unofficial Boycott