Closer Ties Between Conservative Evangelicals and Catholics May Distance U.S. Jews
The overwhelming majority of American Jews are liberal on social issues and consequently not great fans of the overtly-theological Republican approach to 'family values.'
Almost 50 years ago to the day, renowned Christian evangelist and preacher Billy Graham convened a secret meeting of Protestant leaders in Montreux, Switzerland, to discuss what was, for them, the most burning issue of the day: how to prevent the election of a Catholic, John F. Kennedy, as president of the United States.
Half a century later, the direct successors of that Protestant group are slated to meet at the end of the week in Texas to try and unite behind a conservative alternative to Republican front-runner Mitt Romney. Two of three possible choices – arguably the only realistic options – are Rick Santorum and Newt Gingrich, and both of them are Catholic.
The Texas meeting comes a few days after one of Americas top Evangelical spokesmen, Gary Bauer – a founding member of the staunchly right wing and pro-Israel Emergency Committee for Israel – openly endorsed Santorum, citing his commitment to defending American families and defending the sanctity of life and describing the former senator from Pennsylvania as one who personifies the Reagan-inspired conservatism that unites the GOP.
Generations of staunchly Protestant American clergymen must be collectively turning in their graves. Bauers endorsement of a devoutly Catholic candidate is surely a significant landmark in the annals of American anti-Catholicism, which historian Arthur Schlesinger famously described as the most deeply-seated bias in the history of the American people. With a U.S. Vice President, the present and former Speakers of the House of Representatives, six of the nine U.S. Supreme Court justices and several presidential contenders being Catholic, perhaps Schlesingers observation can now be tagged as outdated, at least in the corridors of American power.
But while the new outreach of devout Protestants to devout Catholics may forge a new political axis that transcends historical animosities – it probably wont find much favor with most American Jews. Indeed, if the Evangelical-Catholic alliance does succeed in anointing an alternative to the much-too-moderate and much-too-Mormon Romney – and it is an enormous if – many Jews who are now determined to vote against Barack Obama in November 2012 may ultimately be deterred from doing so.
Most Orthodox and ultra-Orthodox Jewish voters will see eye to eye with the conservative Republicans, not only in their strong criticism of Obamas policies towards Israel but, no less importantly, on many issues relating to family values and the role of religion in conducting the countrys affairs. But Orthodox Jews comprise no more than 15% of American Jewish voters, and the overwhelming majority of the remainder are liberal on social issues and consequently not great fans of the overtly-theological Republican approach to family values.
Of much greater concern to American Jews, moreover, is the growing tendency of leaders of the Christian Right to describe America as a Christian nation, to condemn the socialist-secular liberal infiltration engineered by Barack Obama and to challenge the Jeffersonian concept of a wall of separation between Church and State. Thus, when Santorum made his clear pitch to devout Protestants and Catholics last week by saying that America always needs a Jesus candidate he was immediately and roundly criticized by Jewish groups, including Abe Foxman of the Anti-Defamation League who said the remarks were inappropriate and exclusionary.
But Romney himself, along with Santorum, Gingrich and Rick Perry have all railed against what they describe as the attempt to secularize American government. Gingrich has declared that he is running for president in order to combat the steady encroachment of secularism through the courts to redefine America as a non-religious country and Romney lambasted those who want to take God out of everything that exists in this country.
The historical irony of these Republican protestations is that they are trying to reverse what has come to be considered as the definitive statement on church-state relations, delivered by Kennedy in 1960 – in response to the widespread claims of most conservative Protestant clergymen at the time that a Catholic president would be beholden to the Pope rather than to the American Constitution. I believe in an America where the separation of church and state is absolute, Kennedy said in September 1960 in an unequivocal declaration that may have given him the extra boost he needed in order to eke out his narrow victory over Richard Nixon.
Inflamed by the widespread Protestant objections to Kennedys candidacy – only a third of Protestants voted for him - record numbers of Catholics came out to vote for the Democrats in November, 1960, in what was then viewed as a revival of Franklin Roosevelts New Deal Coalition, which also included most American Jews. Indeed, for many years Jews and Catholics found common ground in their mutual effort to offset Protestant discrimination. Unlike the Jews, however, who have remained steadfastly Democratic and liberal no matter what, Catholics have become a classic swing vote and in the past nine presidential elections have voted for the candidate who ultimately won the elections.
Another rich irony of the church-state debate going on today is that while many conservative Republicans, including Catholics, maintain that America is a Christian nation as the Texas Republican party platform declared in 2004, and that the Founding Fathers intended America to be at least a religious, if not an outright Christian country - the historical record is that from its inception, America was profoundly anti-Catholic. The original Puritan and Anglican settlers enacted laws ensuring the exclusion of Catholics from public life, Catholics were the victims of widespread discrimination and harassment, deadly riots and even lynch mobs until the late 19th and early 20th centuries, they were still being described as Papist and foreign as late as the 1950s and 60s and it was only a little more than two decades ago that a chancellor of the staunchly Protestant and highly influential Bob Jones University – located in South Carolina, where the Republican primaries will be held next week – said that both Catholicism and Mormonism were dangerous cults and described Pope Paul VI, immediately after his death, as the archpriest of Satan, a deceiver and an anti-Christ.
But in todays cultural war, social conservatism and the place of Christian values in government, as Texas Governor Rick Perry has phrased it, have eclipsed and overshadowed historical enmities and have forged a common bond – which one might even describe as a fledgling new religion – uniting conservative Protestants and Catholics against their common foes: the liberal, moderate and secular elites as well as any and all supporters of President Obama. And such is their dedication and their desperation, that even pious Protestant preachers are willing to consider what not too long ago would have been tantamount to blasphemous sin: crowning a Catholic to be their standard-bearer, their candidate and, if possible, their next president.
Most American Jews will be hard put to find their place in this new interdenominational Christian alliance. If Romney emerges as the Republican candidate, he has a good chance of picking up both new and traditional Jewish votes, but if the proponents of the new Christian alliance succeed in upending Romneys candidacy, even resolute Obama-disappointed Jewish voters may uncharacteristically decide to stay out the November 2012 elections, or go into the ballot booths, hold their noses, and once again vote for the Democratic candidate.
ICYMI
Ken Burns' Brilliant 'The U.S. and the Holocaust' Has Only One Problem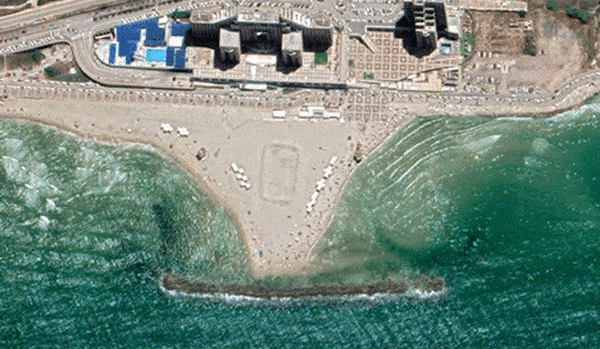 Facing Rapid Rise in Sea Levels, Israel Could Lose Large Parts of Its Coastline by 2050
As Israel Reins in Its Cyberarms Industry, an Ex-intel Officer Is Building a New Empire
How the Queen's Death Changes British Jewry's Most Distinctive Prayer
Chile Community Leaders 'Horrified' by Treatment of Israeli Envoy
Over 120 Countries, but Never Israel: Queen Elizabeth II's Unofficial Boycott