Is Israel Witnessing the Rise of a Kinder, Gentler Hamas?
Hamas' declaration of a cessation of terror activities against Israel seems serious. Does this mean a strategic change on the part of the organization? Not necessarily.
Despite the severe drubbing Hamas took in Operation Cast Lead three years ago, the Gaza-based organization remains Israel's bitter foe. In many senses - particularly its military potential - Hamas is even more dangerous now than it was then. But there is little resemblance between Hamas of 2008, with its almost-nonstop rocket fire on Israel, and the Islamist group now, which is not only not firing missiles but is arresting militants from other factions who try to do so.
Additional proof of Hamas' dramatic transformation in recent years, particularly since the advent of the so-called Arab Spring, came from the head of the organization's political bureau Khaled Meshal a few days ago. Hamas will henceforth focus on a popular struggle in the form of mass demonstrations and the like, he said. Hamas and Fatah have agreed on a joint mode of activity as well as on the establishment of a Palestinian state within the 1967 borders, with Jerusalem as its capital, he said.
Meshal made these remarks following another round of talks in Cairo with Palestinian President Mahmoud Abbas and the Fatah leadership on the two groups' brewing reconciliation. Unusually, Meshal made no attempt to hide those understandings; he explained them in several interviews with leading Palestinian and Arab media outlets. His message was aimed at Hamas activists, Fatah and the Israeli government.
For senior officials in the Palestinian Authority, this did not come as a great surprise. A month ago, after the conclusion of a first round of talks, Abbas and Meshal agreed on a transition to "popular resistance" and on a cease-fire with Israel in the West Bank and Gaza. Haaretz learned this week that in the wake of that meeting, Meshal ordered the military wing of Hamas, Iz al-Din al-Qassam, to desist from armed activity against Israel. Among those surprised by this announcement, issued in Cairo on December 23, were senior Hamas personnel in the Gaza Strip. They were taken aback by the departure from the official Hamas line, which until then held that the jihad and armed operations against Israel would continue indefinitely (other than in periods of hudna, cease-fire ).
The announcement of the new mode of struggle sparked a series of angry reactions by senior figures in Hamas' political wing in Gaza; they, who had been considered more pragmatic, perhaps even moderate in their approach, endorsed a much tougher approach than Meshal's. However, this was not a case of a conservative ideology flying in the face of the new line articulated by Meshal: What really irked the Gaza officials, including Prime Minister Ismail Haniyeh, Interior Minister Fathi Hamad, Hamas leader Mahmoud al-Zahar and others, was that they were not consulted before the announcement of the new policy was made.
This also explains Egypt's invitation to Haniyeh to visit Cairo, where he hasn't set foot for five years (because the Egyptians forbade it ). Egyptian intelligence, which initiated the intra-Palestinian reconciliation and is close to achieving that goal, wants to avoid last-minute obstacles and surprises.
The new-old power struggles in the top ranks of Hamas between those who are "inside" and those who are "outside" Palestine signify the second, dramatic metamorphosis the organization has undergone in the past few months. The Hamas leadership abroad - those who are described as being ensconced in Damascus and Tehran - has lost some of its status (and also some of its assets ) in the wake of the palpable crisis it finds itself in vis-a-vis the Syrian and Iranian regimes. Politically, Meshal, his deputy Mousa Abu Marzook, senior official Izzat Rishak and their colleagues have been weakened, as compared to the weight of the Gaza group. The "outside" leaders are currently trying to find new premises to rent across the Arab world, after the organization decided to leave Syria (which in turn led to a decision by Iran to cut its aid to Hamas ); within just a few weeks, they lost their political, military and financial mainstays.
Still, Meshal remains the organization's "big boss." He did not hesitate this week to emphasize that the decision to switch to popular resistance was approved by all the senior officials of the organization, not by him alone. For those seeking clarifications of Haniyeh's reactions, Meshal's close aides have explained that the prime minister is above all apprehensive about losing his position. Haniyeh's anger probably intensified when he learned that for now, at least, Hamas does not intend to run a candidate in the Palestinian presidential elections next May.
The historical decision to modify the character of the Palestinian struggle - alongside Hamas' agreement to join the Palestine Liberation Organization (and in large measure to accept the written agreements with Israel ) - does not necessarily attest to a strategic shift in terms of goals. It's possible that Meshal and his aides realize that for now they need to forgo terrorist attacks in favor of new and more effective ways of achieving their goals: Indeed, Meshal and his colleagues admit that they have not completely abandoned the armed struggle and that they reserve the right to resist the Israeli occupation "using all means." Meshal also emphasized that Hamas does not intend to disarm or to stop the organization's huge arms buildup in Gaza.
Jibril Rajoub, one of the Fatah leaders who took part in the Cairo talks with Hamas, told Haaretz that he sees the new developments in Hamas as a strategic change. "I am convinced that Hamas is adopting a very pragmatic line and has agreed to a hudna in the West Bank and Gaza. Your prime minister, Netanyahu, needs to recognize the facts on the ground, and to reconsider his position regarding Palestinian unity, which will be a boon to all sides."
One of the leaders of Hamas in Gaza, Ramzi Hammad, told Haaretz yesterday that the change in the organizations' views is part and parcel of the effort to attain national unity with Fatah. He sidestepped the question if the change is a matter of strategy or of tactics, and said: "We have to decide together on the best way to end the Israeli occupation, and the PA thinks, as we do, that the diplomatic efforts vis-a-vis the Israeli government lead nowhere. The resistance will continue, but the timetable and means remain to be seen."
Effects of 'Islamic Winter'
At almost every opportunity, Hamas' senior officials boast that the "Islamic Winter" we are currently witnessing really began with the organization's sweeping victory in the elections to the Palestinian parliament in January 2006. In their view, this was the first significant achievement for political Islam in the Arab world, and it was followed by the victories of the Islamic Ennahda party in Tunisia, Justice and Development in Morocco and, of course, by the dramatic inroads made by Hamas' umbrella organization, the Muslim Brotherhood, in Egypt.
However, Hamas policy did not change one iota after January 2006. The after-effects of the Arab Spring and the Islamic Winter that followed it have played the most significant role in the organization's policy shift at this time. First, the move away from longtime patron Syria and toward the new Egypt has pushed Hamas to adopt a more pragmatic line. Second, the search for an Arab state that will agree to accommodate the Hamas leadership instead of Damascus also played a significant role in inducing them to become more flexible. Third, the huge wave of protest sweeping the Middle East has made it clear to Hamas that it cannot continue to rely solely on its bayonets to maintain control over Gaza - particularly in view of the fact that its situation has deteriorated in terms of public opinion. With the economic distress in the Strip worsening, not even completion of the deal for the return of hundreds of its prisoners from Israel in return for the release of Gilad Shalit can guarantee immunity from another revolution.
Indeed, Hamas' financial situation in recent months has become increasingly dire: Tehran has slashed cash payments to Gaza, and revenues from smuggling activity via the Strip's tunnels have fallen off, due to the lifting of the Israeli siege of Gaza. The changed economic situation compelled Hamas to take a number of drastic steps, such as firing several hundred members of the organization's security apparatus in Gaza. (The official Hamas version states that 150 members of the security forces were dismissed on account of "moral problems." ) In addition, Hamas forces seized control of several bank branches (of the Palestine Bank and the Palestinian Islamic Bank ) in Gaza and "withdrew" money from them by force. The third step being taken to keep the Hamas coffers full is to raise taxes.
Hamas' ostensibly "clean" image is also not what it used to be: More and more senior figures in the movement have become entangled in corruption scandals, though these are rarely reported in the media. The most prominent person involved is Ayman Taha, one of the leaders of Hamas in the Strip, who was exiled to Cairo because of his involvement in one scandal, and continues to operate from there.
Of late, a few less-senior figures in Hamas - some of whom were suspected of corruption, and others of whom tried to report such affairs - have undergone peculiar accidents. For example, Ahmed al-Mamluk was killed two weeks ago, according to Hamas, "while carrying out a jihad mission." His family says he was supposed to be meeting with a senior Hamas official to discuss a number of corruption cases. A similar "accident" befell Ali Nayef al-Haj, who was killed in an "internal explosion" in November; Mohammed Zaki al-Hams, who died in a road accident in early November; Mohammed al-Mahamoum, who died last June from electrocution in a Hamas outpost; and Ashraf Faraj Abu Hana, who drowned in a swimming pool last March. Hamas says this is a chance series of accidents, but the families have radically different versions.
Another challenge faced by Hamas in recent months is the activity of Islamic Jihad. The fact that Hamas has been observing a cease-fire on the Israeli front has sparked considerable domestic criticism in Gaza, and many activists have recently left and joined Islamic Jihad. Amazingly, Jihad is able to spot the "rebels" and recruit them even from Hamas-controlled mosques. It seems safe to say that Hamas' new policy will only heighten such challenges and further weaken its ability to exercise full control over events in Gaza.
Displays of unity
Various people who met with Meshal during his latest visit to Cairo are convinced that he wants reconciliation with Abbas and Fatah. The same holds for the organization's other top figures. Visitors in the City Stars InterContinental Hotel in Cairo during the recent meetings reported seeing unusual displays of unity there: senior Fatah and Hamas officials (mainly from the outside leadership ) sitting together, smoking a nargilleh, laughing, drinking and eating. Plenty of jokes were told about the Gazans, about the residents of Hebron and about Israel, of course. Meshal sounded enthusiastic about the Tunisian model of Ennahda - the party that won the parliamentary elections, but is looking to link up with secular parties. Ennahda has declared that it does not intend to impose sharia law in the country or to fight against women wearing bikinis on the beach. Meshal and his colleagues already know that in Palestinian society, which is considered more religious than that of Tunisia, no bikini-like problems are likely to arise.
On the other side, Mahmoud Abbas also appears more determined than ever to achieve reconciliation immediately after January 26, which will be exactly three months after the Quartet put forward its proposal for the renewal of Palestinian-Israeli talks (in which the sides were asked to refrain from taking unilateral steps - including establishment of a unity government with Hamas ). Abbas insists that he will not run in the May elections. Without him, Fatah's chances look dim, according to the latest poll conducted by Khalil Shikaki's Palestinian Center for Policy and Survey Research. However, Hamas' decision not to field a candidate for the presidency (which may change by May ) might spare Fatah a defeat.
Shikaki's survey, conducted jointly with the Hebrew University of Jerusalem, showed growing support among Israelis (58 percent ) and Palestinians (50 percent ) for a two-state solution that more or less follows the contours of the Geneva Initiative. At the same time, according to the poll, most Israelis (53 percent ) and Palestinians (61 percent ) think there is no majority on the other side that would support an agreement along those lines.
For his part, Abbas understands that at present peace negotiations have been buried, at least until the U.S. presidential elections next November, so he won't hesitate to hook up with Hamas. He has no true ideological disputes with Hamas. In fact, in the wake of the recent agreements, there is hardly any difference between the policy platform of the Islamist organization and that of Fatah.
Still, despite the moving manifestations of unity, a few question marks continue to hover above the cigarette smoke in the lobby of the Cairo hotel. It's doubtful if the elections will be held by May, in part because of the Palestinian demand to allow voting in East Jerusalem, a move Israel will almost certainly object to. In addition, Meshal and Abbas have decided that elections to the PLO's Palestinian National Council will also be held in May, with the participation of Palestinians from around the world - an unrealistic objective, as things stand now.
In the meantime, Abbas and Meshal are discovering the difficulties inherent in changing the modes of operation of their security forces, which have become used to being in a state of combat with one another. Hamas' security forces in Gaza are continuing to arrest Fatah personnel, while Fatah forces are doing the same to Hamas figures in the West Bank. Sometimes it even seems as though elements within the security forces on both sides are trying to derail their leaders' decisions by taking steps of their own on the ground. Even that, however, is unlikely to prevent Abbas and Meshal from walking, arm in arm, into the sunset.
ICYMI
Ken Burns' Brilliant 'The U.S. and the Holocaust' Has Only One Problem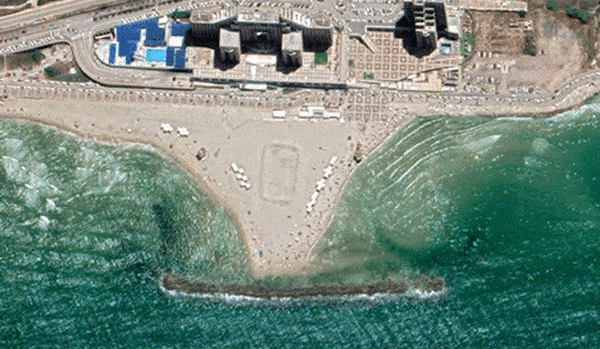 Facing Rapid Rise in Sea Levels, Israel Could Lose Large Parts of Its Coastline by 2050
As Israel Reins in Its Cyberarms Industry, an Ex-intel Officer Is Building a New Empire
How the Queen's Death Changes British Jewry's Most Distinctive Prayer
Chile Community Leaders 'Horrified' by Treatment of Israeli Envoy
Over 120 Countries, but Never Israel: Queen Elizabeth II's Unofficial Boycott