The Quiet Man Who's Making a Storm in Israel's Supreme Court Scene: Justice Asher Grunis
Dubbed a conservative and the darling of the right wing, Justice Asher Grunis has nonetheless handed down some liberal decisions in his time. If he succeeds in becoming the next president of the Supreme Court, which way will he turn?
For many years, Supreme Court Justice Asher Grunis has evaded the media. Little is known about him beyond a minimalist resume on the court's website. Nor is it clear whether he is bothered by the brouhaha surrounding his candidacy for president of the Supreme Court.
Colleagues and acquaintances say he is conservative, lacks charisma and is devoid of courage, but others see him as a judge of conscience, honest and fair, who will be the court's savior. Some lawyers describe him as simply boring. However, his close friends portray him as amusing, witty and fond of outings. They say he was a quiet boy who liked newspapers and soccer and always wanted to be a judge. Work, they say, remains the center of his life. They add that the so-called "Grunis law" (see box ) is not to his liking, but that some people (including his wife ) will not let him pass up the presidency of the court.
Grunis himself remains silent, both on the legislation that is calculated to make him the next president of the Supreme Court and about the recent wave of right-wing lawmaking. He also declined to comment on the findings of this article.
The "Grunis law" has passed its first reading in the Knesset and been approved for second and third readings. If it is passed, Grunis will become the court's president in another three months. In the meantime, neither the wrangling over the appointment nor the curiosity about his plans has abated.
Some Supreme Court justices believe that his appointment as president is important both in order to preserve the seniority custom and because he is the right person for the job. They say Grunis is a figure of stability, ramrod straight, who espouses a conservative worldview and is against the judicial activism of former Supreme Court president Aharon Barak. They call him a professional judge who specializes in civil law and possesses a republican, constitutional approach.
What is important, these justices maintain, is that he is honest and fair and does not bring in extraneous considerations. They urge us to remember that he is not alone on the Supreme Court and does not rule like a yeshiva head. They say they expect he will rescue the Supreme Court from its present unjustified poor image.
Others, though, disagree with this analysis. A veteran lawyer is apprehensive that the Supreme Court under Grunis as president "will experience an internal shock in the direction of inexhaustible boredom, an absence of judicial charisma. The court will pass judgment and he will manage it and will not intervene too much in the legislation of the government and its branches. He is a quiet person, modest in regard to the media, which is a positive quality. He's a hard worker who gets the job done. He is not a presidential figure, and that will be felt. He is not a natural leader."
Another Tel Aviv lawyer was more scathing. Grunis, he said, "is drier than bread that has been lying in the desert for a month. He is a man without a shadow. A man without qualities."
The fictional masterpiece by the Austrian writer Robert Musil, "The Man without Qualities," is about a brilliant intellectual whose mission is to prevent the moral decline of the empire. A retired judge grumbled to me that the comparison between Grunis and Ulrich, the hero of Musil's trilogy, is groundless.
Nonintervention policy
What, then, are the qualities with which Grunis is blessed? Is courage one of them? Not according to his court colleagues. For example, he refrained from sitting on the High Court of Justice panel that heard the petitions submitted by bereaved families against the Gilad Shalit deal. Nor was he on the panel that made the decision of principle about whether hundreds of medical residents had the right to resign.
But is this really a question of courage? Possibly, says a Supreme Court source, but not only that. Grunis preferred not to hear those cases because he advocates judicial restraint; in his view, the Supreme Court has neither the judicial authority nor the tools to intervene in decisions of the executive branch. Supreme Court President Dorit Beinisch asked him to be part of the panel in the Shalit case, but he maintained that the issue was not justiciable.
Beinisch in fact represents the opposite approach to Grunis. She holds that the Supreme Court is the citizen's last resort against the executive branch and, as such, must allow the families who have lost members to terrorist attacks to express their grief, even if the petitions are destined to be rejected on the grounds of "moral non-justiciability."
"As president, Grunis will rebuff petitions like that, and they will not be heard," the same source says.
The attempt by politicians to undercut the Supreme Court and the judicial system as a whole is apparent in the legislative initiatives of coalition chairman MK Zeev Elkin (Likud ), Kneset Constitution, Law and Justice Committee chairman MK David Rotem (Yisrael Beiteinu ), MK Robert Ilatov (Yisrael Beiteinu ) and others. They are eagerly awaiting Grunis' appointment as president because of his espousal of judicial minimalism, the opposite of the "everything is justiciable" approach.
"From Grunis' viewpoint, the idea that 'everything is justiciable' is completely unacceptable - the term horrifies him," a Supreme Court source says. "As a result, he was often in the minority in judgments. He perceives the decentralization of powers in a very conservative way. Even if the Knesset or the government is running wild, he doesn't think intervention is necessary unless minority rights are being infringed."
A former Supreme Court justice reinforces this analysis. "It is no secret," he says, "that Grunis holds rigidly to the idea of reducing the powers of the Supreme Court, and that is why 'wild weeds' on the right want him as president. He is their 'favorite son.'"
For this reason alone, a prominent lawyer says, Grunis as court president will be a disaster. "He will wield the greatest influence on the Judicial Appointments Committee, whose members already include right-wing MKs and the justice minister, and they are fighting tooth and nail to do what they did in the army: to introduce religiously observant settlers into the middle ranks of the courts," the lawyer says. "Not only in the district courts but in the Supreme Court as well. They expect Grunis to help them. I am not sure they can count on that - let's hope he will surprise us. He is not a great hero and not one for doing battle. He is certainly not brave."
As president, the lawyer adds, "he will not influence Supreme Court decisions the way presidents like [Meir] Shamgar and Barak did. Grunis is not a weighty or highly regarded judicial personality. Israel is functioning under difficult circumstances, and the government intends to do harsh things in the future, so we need a Supreme Court that will be determined, liberal and independent, one that will not hesitate to confront the government. The court's role is not to be part of the consensus. Its duty is to balance the executive branch."
Both colleagues and lawyers who have appeared before Grunis assail him for being a conservative; for not advocating everyone's right to standing; for being a pedantic bureaucrat. He is described as being "a poor man's Shlomo Levin," referring to a former Supreme Court justice. "He does not have Levin's intellectual heft and broad education," a veteran lawyer says, adding, "Levin handed down deep and splendid decisions on civil matters. Grunis has nothing. He has not set any important legal precedents."
"Like Shlomo Levin, who was deputy president of the Supreme Court, Grunis will quickly sweep away civil cases that have been awaiting their fate for years," another lawyer maintains. "What he and Levin have in common is a preoccupation with procedural matters. Grunis is a procedural formalist. Before getting to the essence there is a series of obstacles: date of submission, length of the affidavit, rules of civil procedure. Grunis is an expert in bankruptcies and tort contracts. There is no vision there, only details and more details. He does not have the ability to see things from above, to identify what transcends the verbal."
Despite all this, those who consider Grunis a judge of conscience expected him to voice at least a faint protest against the overt incitement against the Supreme Court. Maybe he froze with tense anticipation to hear how Beinisch would respond, as she did last week. "This is a campaign of delegitimization led by a number of politicians, Knesset members and even cabinet ministers, who exploit their [parliamentary] immunity and give the general public false and misleading information ...This is a campaign of deception by its very nature, and its character is earthshaking and poisonous," Beinisch said.
Supreme Court Justice Miriam Naor remarked last Saturday on the "new trend ... of categorizing judges and their verdicts as belonging to one camp or another." A judge who is appointed to the Supreme Court must be completely free of commitment to anyone, she emphasized.
Grunis, though, is mute. He is not political, say his Supreme Court colleagues. They add, jocularly, that even if Grunis had considered forgoing the presidency, there is no chance that his wife, Rina Meshel, a retired judge, would agree. "Since coming under Rina's sway, his life has changed. Is she going to forgo the status? They are such different types," a retired judge says with a smile. Meshel does not give interviews ("Anyway, the paper is used to wrap fish in the market the next day" ), but in a very brief telephone conversation, she made it clear that she does not intervene in her husband's decisions.
Fondness for Japanese restaurants
It's no secret that Grunis' judicial temperament is controversial. He is impatient and raises his voice at lawyers. As he sees it, time is short and there is so much work to be done. He has a good grasp of the legal material and is in a hurry. "He often enters the courtroom with a preset opinion. In this sense he resembles Shlomo Levin, who at the outset of the deliberations would broadcast his decision to the parties," a veteran lawyer says. "Industriousness is fine and right, no one disputes that, but Levin was capable of writing a decision that would be studied in the universities. I don't know of any decision by Grunis that is studied at university." Levin, one of the people closest to Grunis, declined to comment on Grunis' verdicts.
People in Grunis' milieu claim he is an introvert who is devoted to his work and not "sociable." But many of those who were interviewed for this article described him as "affable." His friends outside the courts say he is witty, funny and convivial. David Luria, an engineer and a childhood friend of Grunis, says that his privacy is important to him and that work holds first place. "We go hiking at least once a month, and after an outing like that, which sometimes includes intensive walking, he goes home to write judgments," Luria relates. "He is not dry at all. He has a sense of humor and is bubbling with life. Grunis is aware of his unjust image, but has decided not to refute it. When I ask him why he doesn't get the court spokesmen to respond to misleading articles, he replies that he doesn't want to deal with it. On the outings he voices his opinions and his thoughts, but everyone in the group is determined not to let it get out."
Once a month, Grunis and his wife spend the weekend at the home of friends in Migdal, a village near Tiberias. According to a female acquaintance, "he doesn't smoke or drink and is incapable of losing control, but he is a glutton and loves restaurants - Japanese, if possible."
In the social scene of the judicial world, it is said that Rina Meshel is very critical of others, and that she takes great care of her appearance. Her women friends confirm that she is indeed well groomed and looks terrific. They add that her image as a "critical" person is due only to the fact that she is sharp-tongued and sometimes direct to the point of bluntness. On a positive note, they speak of her kindheartedness and her loyalty as a friend. In the year or so since she and Asher have been together, they say, Grunis has been relaxed, goodhearted and far more open to the world and to other people. Still, he has not given up his habits, and devotes every spare moment to work. Meshel has long had subscriptions to the opera and donates NIS 11,500 a year in memory of her first husband, Meir Meshel. She does not miss a concert of the Israel Philharmonic, going on her own.
Asher Grunis was determined to become a Supreme Court justice and takes great pride in his accomplishment. Early on, says Esther Grunis, his ex-wife and the mother of their three daughters, Grunis was imbued with a passion to serve on the Supreme Court. "He is an amazing person and an excellent judge," she says. "From our first meeting, in 1976, he talked about his dream of becoming a judge and said he hoped to make it to the Supreme Court. He considered it an important mission and the realization of his powerful desire to serve the state."
A retired judge confirms that from his initial steps in the legal world, Grunis was bent on becoming a judge. "You are not born a judge, but you quickly understand from your work as a lawyer that you are suited to be a judge," he says. "Grunis liked the system, he liked the judgments. He used to come to my chambers and say, 'You know, there is a new judgment,' like he had really fallen in love with it, as though he had just been given an expensive toy. He was endlessly curious and industrious. He has no interest in politics or in receptions and he is not one who likes power for career purposes. The Knesset likes him because he will not butt into its work. He's not interested in the Knesset. He doesn't know who the MKs are or how they will react. He doesn't talk to journalists and I don't think he reads newspapers. In our conversations he never talked about public affairs. He is not drawn to intervening. That's his authentic way.
"It's not true that he is a conservative," the retired judge continues. "He is innovative, but on issues the public is not aware of. Innovations in the laws of evidence and procedure. He revises the law in his area of expertise, which is civil procedure. With him as president, there will be no camps or gangs in the Supreme Court. He will examine everything substantively."
Another retired judge adds, "Shlomo Levin was Grunis' spiritual mentor. Grunis clerked for him and cowrote a book about bankruptcies with him. Grunis went on sabbatical and worked on the book in New York for half a year. In the end, they both got credit. Grunis gave Levin his due respect. Asher is very loyal to Levin, who brought him into the Supreme Court."
A type of sadness
Asher Dan Grunis was born in 1945, in Tel Aviv, and was named for his grandfather, who was the rabbi of Cardiff, Wales. Grandfather Grunis was born in 1873, in Piotrkow, Poland. He was descended from a line of famous rabbis on his mother's side, among them Yitzhak Meir Alter, the founder of the Ger (Gur ) Hasidic dynasty. Rabbi Grunis fathered seven sons and a daughter. One of them was Yonah, who would become Justice Grunis' father. Yonah immigrated to Mandatory Palestine in the mid-1930s. He married a Jerusalem woman, Bilha, the daughter of Yitzhak Yoel Margalit (a descendant of the fathers of Hasidism, including Rabbi Pinchas of Koritz ). Grunis' acquaintances relate that he enjoys reminiscing about his childhood in Tel Aviv. The Grunis family - the parents and their children, Asher and Hanna - lived in a small apartment in the center of the city, two floors above the two-room flat in which Aliza and Menachem Begin lived for 30 years. Yonah, Grunis' father, was a senior official in an insurance company.
One of the children's favorite places to play was the site on which the Habima Theater now stands, which was surrounded by trees. Grunis is remembered as a quiet child with a sense of humor and cleanly dressed. The Grunis home was tidy and pleasant, and the family's economic situation was salutary. Hasia Milo, Menachem Begin's daughter, was a friend of Hanna, Asher's sister. "They were a traditionalist family, charming and lovely," she recalls.
Daniel Alexandrovich, who is two years older than Grunis, lived down the street from him and was a good friend of Benny Begin, Menachem Begin's son, now a cabinet minister. "Asher Grunis was younger than us but we could already see that he was a serious guy," Alexandrovich says. "The family was religious and his parents were identified with the General Zionist party. They were introverted and quiet, and so were Asher and Hanna. There was a kind of sadness in the family. Asher was a bit submissive, humble and insular."
Friends recall that in the neighborhood, Yonah Grunis was considered a respectable and decent man. According to David Luria, Grunis' longtime friend, "His mother was an extraordinary person, warm, someone you wanted to hug. She was a woman of great stature in terms of knowledge and education, and, above all, feeling. After Asher's father died she provided for the children, working as a librarian in the Jabotinsky Institute." She did not remarry. Her son visited her regularly in her final years, when she was confined to a geriatric department in a Jerusalem institution, and cared for her devotedly and lovingly. January 2012 will be the 10th anniversary of her death.
The first case
As a boy, Grunis "spent a few hours every day in the store and read all the papers," Luria says. "There was censorship at the time, and white spaces showed the censors' deletions. But when a paper wanted to inform readers about the censored material, an item related to the censored report would be placed next to it, and from the context it was possible to form a full picture. Asher made this a daily challenge and would figure out what was being kept from the public."
Grunis attended Bilu, a state-religious school on Rothschild Boulevard. "We were made to pray in the morning in the synagogue, and anyone who was late was punished," Luria says. "The education in Bilu drove us away from religion."
Grunis was "a bit of a wild child," Luria adds, and took his licks for it often. "The teacher Katznelson had marked him: whenever there was noise in the classroom he wouldn't even turn around but would bark, 'Grunis, out.' One day he shouted 'Grunis, out,' and Grunis wasn't even there that day. I told him about it and he said, 'I'll show him.' The next day he arrived with his mother and was able to prove to the principal that the teacher was harassing him. That was his first case as an advocate. The teacher was forced to apologize to him."
Grunis had his bar mitzvah in the same neighborhood synagogue where his father used to pray. It was also from there that his father's funeral procession departed, in 1961. Yonah Grunis died in December, exactly 50 years ago, when his son was in the 10th grade and his daughter a year below him. Among those who attended the funeral was the neighbor Menachem Begin. Shaike Korntier, a childhood friend who is now an engineer living in the United States, was there, too. "Asher was introverted and did not reveal his feelings," he recalls. "The family preserved its privacy and its insularity. It was a painful blow."
Korntier remains in touch with Grunis. "Until the age of 14 our main entertainment was going to the movies. We loved westerns, thrillers and action films," he recalls. "We played cards in the neighborhood sukkah and smoked a bit - Royal Dubek 10 cigarettes - the kind of nonsense you do as kids. I was in the Scouts; he wasn't in any youth movement."
Grunis went on to Geula High School with Luria. There are some who remember that after his father died he removed his skullcap. In the 11th grade the class was divided into specialties, and Grunis majored in biology. His classmate Alex Brauman, now a doctor of internal medicine, remembers that "he was not one of the outstanding students. He was insular and very quiet and had few friends. He didn't do all kinds of nonsense with the guys."
Gideon Bar Lev, an accountant, relates that he and Grunis played chess, wandered around the neighborhood and hung out on the street railings. "I liked him because he was fair, straight and quiet and didn't puff himself up," Bar Lev says. "He knew a lot about subjects like politics and history. He had a husky voice and was impressive because he spoke in earnest. He wasn't perceived as a geek, but as very serious. He didn't tell jokes, but was sarcastic and had an ironic attitude." Dan Ophir, an army pensioner, relates that from high school Grunis was intent on studying law.
Paragon of stability
Grunis did his military service in the air force. Even before completing his service he began to study law in evening courses at the Tel Aviv branch of the Hebrew University of Jerusalem (which later became Tel Aviv University ). Other students recall him as being ultra-diligent and not very sociable. He did not attach himself to any clique and was not one of those who sat in the front rows, too close to the lecturers. As a tutorial assistant, "he was not the type you fall in love with," but the students held him in high regard.
Prof. Amnon Rubinstein, a former dean of the Faculty of Law at Tel Aviv and a former education minister (and a signatory to a petition against the "Grunis law" ), chose Grunis as a tutorial assistant. "Grunis is intelligent and is an original, independent thinker," Rubinstein says. "I did not think academe was the place for him, and I recommended that he become a judge. In academia you need the ability to sit and research; it is painstaking work and he is not cut out for that. He is a superb jurist and has a creative mind. I used to consult with him and he was always productive with ideas. His character and mode of thought were more appropriate for the bench."
In 1968, he was a law clerk for Shlomo Levin, who was then a judge in magistrate's court and registrar of the district court. At Levin's recommendation, he did a second year of clerking for attorney Amnon Goldenberg at S. Horowitz & Co., one of Israel's premier law firms. Levin says he only recommended the good ones.
"Grunis impressed me very much," Levin says. "He is a person of conscience and is thorough-going. When we considered a certain case he came back the next morning after thinking about it at night and suggested that we examine it from a new aspect." The special relationship between the two began to develop, and when Grunis took a master's degree in law in the United States and then a doctorate in Toronto, he corresponded regularly with Levin. Luria notes that Grunis believed it was his duty to be fluent in English and broaden his knowledge of British and American jurisprudence.
Grunis' studies in America severed his relationship with Rina Shoham (afterward Meshel ). She hoped the relationship would survive, but time did its work. Her female friends were not surprised when ties with Grunis were renewed years later, culminating in their marriage (see box, Page 12 ).
Following his return from Canada with a D.Jur. degree, he taught law at Tel Aviv University, where he was a part-time faculty member until 1987. Prof. Daniel Friedmann, a former justice minister, was dean of the Faculty of Law at the time Grunis was hired. "His main field was administrative law," Friedmann says. "He is an excellent jurist, and I would recommend him for any position." Years later, when Shlomo Levin retired from teaching administrative law at the College of Management, he recommended Grunis as his successor. In Levin's view, Grunis was an outstanding lecturer.
In 1981, his friend David Luria put him in touch with attorney Moshe Weinberg, who hired Dr. Grunis for his law firm, which specializes in civil and commercial law. Weinberg was favorably impressed by Grunis' seriousness and discerned that he was thorough, reading judgments and summing them up in a card file. He considered him an exceptional lawyer: a walking encyclopedia of the law and a master of its theoretical aspects.
During his seven years with the firm, first as a salaried employee and afterward as a partner (with 12 percent ownership of the firm ), Grunis handled planning and construction cases, was in charge of computerizing the office and hired new employees.
Retired Justice Levin half smiles and half scowls when it is suggested that Grunis was his protege and that he, Levin, contributed to his rise to the heights of the Supreme Court. The cooperation between the two was a significant steppingstone on Grunis' road to a judgeship. Justice Levin has written nine professional books, one of them about bankruptcies. Twelve years ago, he recruited Grunis to help him put out a second edition of the book. The third revised edition was published last year. The authors are cited as Levin and Grunis, who was in charge of expanding and updating the book.
Many jurists believe this is one of the developments that paved Grunis' path from a lawyer in private practice straight to the district court, skipping the stage of magistrate's court. In 1988, now retired Supreme Court Justice Jacob Turkel was president of the Be'er Sheva District Court and was looking for highly qualified candidates. Levin called and said he had a marvelous candidate. Grunis also had excellent recommendations from academia.
In reply to a question about this, Levin said, "If I wrote warm recommendations about Grunis, they are apparently correct. He is an excellent judge who knows the judicial system and is gifted with forbearance and judicial creativity. Am I his mentor? That's already a matter for gossip. It could be."
In his eight years in Be'er Sheva District Court, Grunis dealt mainly with company dissolutions and receiverships. Turkel and his wife were very fond of him and did all they could to befriend him.
"I espouse a Zionist worldview, and Grunis is also a Zionist," Justice Levin says, but reveals that they never talked politics. Levin smiles when asked if the secret of their relationship lies in their mutual fondness for procedural matters. Though 12 years apart in age, they are friends.
In 1996, Grunis became a judge in Tel Aviv District Court; in 2002 he received a temporary appointment to the Supreme Court and was appointed a permanent justice the following year.
It is no secret that Levin, who was then in his final year on the bench before mandatory retirement at 70, fought for Grunis' appointment. In practical terms, that meant making phone calls, lobbying and recruiting support on the grounds that Grunis was an excellent judge. In Levin's view, he will also be an excellent president.
"The man is knowledgeable in many spheres," Levin says. "People who don't know him say he is conservative and dry. They said the same about me. People build themselves an outer wall, a type of image. That doesn't necessarily mean it's so. To do good work you sometimes have to play the game. He has a strong sense of justice - what's right and what is not. I assume he perceives himself as an authority. That is a trait that develops with the years."
Justice Turkel describes Grunis as "industrious, level-headed, fair and reasonable," adding, "I don't understand why a judge who works according to the rules has to be termed conservative. I would describe him as balanced. Grunis is characterized by judicial stability. He belongs to the group that thinks the law should be interpreted in a restrained and reserved manner. Grunis is a model of stability.
"Why does Grunis have to declare that he is forgoing the post of president of the Supreme Court?" Turkel asks. "I always say that we Supreme Court justices are not all that great. And if we are great, it's because we stand on the shoulders of the great justices who preceded us.
"Why should Grunis [forego the post]? He will hold the position for almost three years, and after he retires an oil painting of him will be hung on the golden wall at the entrance." W
Retirement plans
Retirement dates for the current members of Israel's Supreme Court
1. Dorit Beinisch - February 28, 2012
2. Eliezer Rivlin - May 28, 2012
3. Edna Arbel - June 22, 2014
4. Asher Dan Grunis - January 17, 2015
5. Elyakim Rubinstein - June 13, 2017
6. Salim Joubran - August 14, 2017
7. Miriam Naor - October 26, 2017
8. Hanan Melcer - April 12, 2021
9. Neal Hendel - April 27, 2022
10. Esther Hayut - October 16, 2023
11. Yoram Danziger - November 26, 2023
12. Uzi Vogelman - October 16, 2024
13. Isaac Amit - October 20, 2028
The 'Grunis law'
The so-called "Grunis law" is intended to eliminate the current legal restriction to the effect that anyone who becomes president of the Supreme Court must have at least three years to serve in that post before taking mandatory retirement at the age of 70. That amendment was adopted during the term of former justice minister Daniel Friedmann.
In the current situation, Grunis - as the most senior Supreme Court justice - cannot become president when President Dorit Beinisch retires at the end of next February. He will be 67 years and a few weeks old, meaning he will not serve a minimum three-year term before his retirement. The "Grunis law" is intended to remove the minimal time requirement and pave the way for Grunis to become the Supreme Court's next president.
Picking and choosing
The Judicial Appointments Committee consists of two cabinet ministers, two MKs, two representatives of the Bar Association and three Supreme Court justices - a total of nine members, with the justice minister as chairman.
Under the law, a candidate must garner the votes of at least seven of the nine members of the committee to become a Supreme Court justice. The court's president is elected by a simple majority.
Since Israel's establishment, the seniority tradition has been observed, under which the senior justice of the Supreme Court becomes its president. Recently, there have been calls to scrap the tradition and for the committee to choose the best and most suitable of the justices as the court's president, not necessarily the one with seniority.
As it happens, the justice who is supposed to become president by seniority, Asher Grunis, also has the support of the right-wing members of the committee, so it appears that with or without seniority, he will win the committee's backing.
Going both ways
Since his permanent appointment to the Supreme Court in 2003, Justice Asher Grunis has written hundreds of judgments that reflect an apparently conservative worldview. But there are some examples pointing the other way.
In the petition of the actor and director Mohammad Bakri against the decision to ban the screening of his film "Jenin, Jenin," Grunis was inclined to the liberal position and concurred with the opinion of Justice Dalia Dorner that "the film's infringement on the public's sensibilities, and amid this the sensibilities of the bereaved families and of the soldiers who fought in the Jenin camp, does not attain the level of an intolerable infringement based on the criteria of a liberal, open society." She added that the censors were not authorized "to restrict political or ideological expressions, even if the government or the majority of the public disagrees with them."
In the case of the government's attempt to privatize the Prisons Service, Grunis concurred with the justices on the panel who annulled the legislation allowing the establishment of privately owned incarceration facilities, citing the Basic Law on Human Freedom.
On the other hand, there are many examples attesting to Grunis' belief in the need for caution in annulling legislation, even secondary legislation.
In the petition to annul regulations permitting the force-feeding of geese, Grunis, in the minority, objected vehemently to the annulment. "If we accepted the petitioners' claim that force-feeding geese is prohibited," he wrote, "we would have to say that both the minister of agriculture and the Education Committee acted wrongly by introducing regulations contrary to the law."
Grunis ruled against the annulment of the Citizenship Law. He warned against "the very broad definition of constitutional right, as in the method of my colleague, the president [Aharon Barak]," cautioned against "cheapening constitutional rights" and asserted that a practical problem was liable to arise relating "to the courts' ability to cope day and night with constitutional arguments."
Two petitions against the government's decision to establish committees to examine the behavior of the politicians and the defense establishment in the Second Lebanon War were submitted to the High Court of Justice. Grunis rejected them, stating that the court had to display "self-restraint" and not intervene in the decisions of the executive branch.
Incompatible, but friends
Asher Grunis met his first wife, Esther, in Canada. She is an American by birth, from North Carolina, the daughter of Zionist Jews. Her mother raised funds for Israel. In 1972, Grunis earned his master's degree from the University of Virginia School of Law, a highly regarded institution which Robert and Edward Kennedy attended. He then went on to doctoral studies at the Osgoode Hall School of Law, York University, in Toronto. In 1976, a few months before completing his dissertation - on freedom of assembly in Canada - he and Esther were introduced by mutual friends.
He was 31, she 25 and in the midst of a dual trauma. Three months earlier, her father had died of cancer, and two weeks after that her mother, brokenhearted, committed suicide. "I was their only child and I was finding it hard to get over the loss," she says. "I was in a terrible state. I lived in Toronto and worked as a teacher in a Hebrew school. The better we got to know each other, the more it became apparent that he was the model of the man that my parents had always dreamed I would marry."
She identified him as an educated Israeli Zionist, she says. She was as impressed by his military record as by his academic credentials. He had served in the air force, was a reservist in the Six-Day War, and while doing his doctoral work in Toronto had returned to Israel to play his part in the Yom Kippur War.
They were married in Canada in 1976. Esther, who had an undergraduate degree in psychology and education, passed up her master's studies and joined him when he returned to Israel. They have three daughters. The eldest, now 34, is a practitioner of Chinese medicine; the second, aged 30, is completing her doctoral degree in social work; and the youngest, 27, is studying psychology and education. "He was an involved, amazing father," Esther Grunis says. "From the moment the girls were born he was a full partner who helped raise them, and it's the same today, when they are grown up. The family is important to him."
After the births, Esther Grunis began to study to be a breastfeeding adviser and took courses in the United States, too. She established the breastfeeding unit at Lis Maternity Hospital in Tel Aviv, where she still works. Her skills have made her one of the best-known breastfeeding consultants in Israel.
Their family unit broke up after 21 years of marriage, at Esther's decision. Grunis not only accepted the verdict, but behaved like a gentleman throughout. The girls were always at the top of his agenda. He left the apartment in the upscale Neve Avivim neighborhood, bought his own apartment at his sister's urging and in 1997 was formally divorced.
"We were not suited to each other," Esther Grunis says. "And when things aren't good for a couple, they have the option of living badly or separating pleasurably. I loved him, but we were so different. I love company and people, and he is quiet and withdrawn. Sometimes the friendship grows closer after a divorce. That's what happened to us."
After his divorce and a few relationships, Rina Shoham came back into his life. Born in 1947, she was a cum laude law student at Tel Aviv University. Like Grunis, she clerked for Judge Shlomo Levin in Tel Aviv District Court, then for attorney Amnon Goldenberg at the S. Horowitz & Co. law firm.
After 10 years in private practice she was appointed a magistrate's court judge and in 1997 was promoted to Tel Aviv District Court. Rina was married to Meir Meshel, the son of Yeruham Meshel, who was the secretary general of the Histadrut labor federation (1973-1984 ).
In 1966, Meir Meshel founded a Tel Aviv club that held jazz evenings and was the venue for the rehearsals for Hanoch Levin's iconic play "You and Me and the Next War." He held degrees in economics, political science and law and is remembered by all who knew him as an intellectual of great personal charm. He died in 2004.
Rina Meshel and Grunis met at social events in the judicial milieu. She knew he was divorced. The feelings from the past rose up again. She retired from the bench at age 60, and the two were married a year ago in a small ceremony held at the home of her relatives in Ra'anana.
ICYMI
Ken Burns' Brilliant 'The U.S. and the Holocaust' Has Only One Problem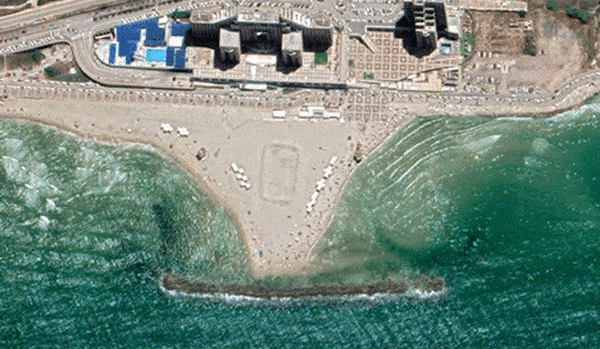 Facing Rapid Rise in Sea Levels, Israel Could Lose Large Parts of Its Coastline by 2050
As Israel Reins in Its Cyberarms Industry, an Ex-intel Officer Is Building a New Empire
How the Queen's Death Changes British Jewry's Most Distinctive Prayer
Chile Community Leaders 'Horrified' by Treatment of Israeli Envoy
Over 120 Countries, but Never Israel: Queen Elizabeth II's Unofficial Boycott