Jews Won't Mind Romney's Mormonism – but Christians Might
'Baptism of the dead' controversy that plagued Jewish-Mormon relations was finally put to rest a year ago, just in time for Republican Mitt Romney to reap the rewards among Jewish voters.
1. Watching Republican candidate Mitt Romney on television the other day, my thoughts wandered to my paternal grandmother, Maria (Miriam) Benedikt, whom I'd never met, whose twin siblings, Samuel and Leni, as well as her other baby brother, Lipot, fell ill and died before the age of three in the town of Nagykallo in eastern Hungary in the early 1880s. I recalled my father's strange mix of delight and anguish when he discovered these infant aunts and uncles that his mother had never told him of - but also his heartfelt gratitude to the Genealogical Society of Utah that had given him this completely unexpected familial information.
For most of his adult life, my father had boasted of his direct lineage to two illustrious rabbinical dynasties, that of Rabbi Mordechai Banet, chief rabbi of Moravia in the early 19th century, on his mother's side, and Rabbi Shlomo Ganzfried, author of one the all-time blockbusters of the Jewish people, the Kitzur Shulchan Aruch codex, on his father's side. It was left to the diligent researchers of the Church of Jesus Christ of Latter Day Saints in far away Salt Lake City, of all people, to serve as my father's surprising saviors, providing him with piles of Photostats of 200 year old birth records from obscure towns in Hungary that proved to be the missing links in our family's direct line to Jewish aristocracy and hitherto unknown relatives.
This was more than 30 years ago, before the advent of the Internet, before genealogical research became such a popular pastime and before it emerged that the Mormons hadn't been combing through the municipal and county records of Eastern Europe for altruistic reasons or to satisfy their intellectual curiosity about the genealogy of the Jewish people. Rather, this ancestral data bank, massive by pre-digital standards, was a critical instrument in facilitating the Mormon rite of "baptism for the dead" for all those lost souls, preferably Jewish, who might be tired of their afterlife limbo and who may decide, after being vicariously baptized in a Mormon Temple, to join the Church of Latter Day Saints (LDS) and to enter the Kingdom of God through the front door. It's never too late, the Mormons believe.
My father was crestfallen, then outraged, as were many Jews around the world, especially when it turned out that among the lost Jewish souls that were being nudged up the stairway to LDS heaven there were hundreds of thousands and possibly millions of Holocaust victims who had been butchered by the Nazis specifically because they were Jewish and who had, needless to say, never heard of Mormonism while they were still alive.
Responding to the ensuing Jewish outcry, Mormon leaders promised in 1995 to end the baptism by proxy of Holocaust victims, but were found time and time again to have done very little to actually put an end to the practice. It was only in September of last year, after numerous letdowns, crises and threats of going public, that Jewish leaders seemed satisfied that technological safeguards had finally been put in place to physically prevent persistent Mormons from registering Holocaust victims as potential converts.
Thus came to an end, hopefully, the second crisis in the past half century that had cast a cloud over the otherwise excellent relations between the largely philosemitic Mormons and the Jews. The first but far less incendiary controversy had erupted over the opening of the Mount Scopus branch of Brigham Young University but that one was resolved in 1987 when LDS leaders promised to exempt Jerusalem from the Mormon imperative of perpetual proselytizing. The "baptism of the dead" standoff, involving as it does conflicting cherished core values that are central to both groups, had the potential of erupting into a major scandal that could have poisoned the relations between Jews and Mormons for many years to come.
2. Luckily for former Massachusetts governor Romney, the resolution of this issue came just in time for most Jews to forget about it as they start to contemplate the upcoming year of Republican primaries and the ensuing presidential election campaign. Because although there are various forecasts of just how important the Jewish vote may turn out to be in the 2012 presidential elections, the few polls that have examined this issue as well as the observers of the American Jewish scene that I have spoken to have no doubt that Romney is the Republican candidate who is poised to make the most serious inroads into the traditionally Democratic Jewish vote. In spite of - or, possibly, because - he is such a devout Mormon.
First, though, some perspective: although Republicans are trying to make you believe that the sky is the limit as far as their share of the 2012 Jewish vote is concerned, most of the people that I talk to agree that if Romney gets 40 per cent of the Jewish vote, and thus emulates Ronald Reagan's 39% share in 1980 or Dwight Eisenhower's 40% support in 1956 – he will be able to boast of a historic achievement which may indeed be but a precursor to bigger and better things for the Republicans in the future. In a pinch, and on the yet-to-be proven assumption that a race between Romney and President Obama would be a close one, such a proportion of the Jewish vote may very well put Romney over the top in a state such as Florida, as many analysts have already noted, which may ensure the presidency for the Republican Party.
Romney's moderate positions, his successful business background and his East Coast credentials play a major role in making Jews feel more comfortable with him than with other Republican candidates, as Nathan Guttmann reported in the Forward last month. An American Jewish Committee poll conducted in September already gave Romney 32% of the Jewish vote – more than any other candidate - compared to Obama's 50%, and 18% that were undecided.
A coalition comprised of the 22% of Jewish voters who preferred John McCain over Obama in 2008, buttressed by the ever-growing number of newly-eligible Orthodox and ultra-Orthodox voters – who will come out to vote "even twice or thrice" if their Rebbe so orders it, as every Israeli knows – complemented by substantial numbers of Jewish professionals and business people who have despaired of Obama's economic performance and reinforced by those Jews who have been driven crazy by what they perceive as Obama's anti-Israeli animus - all of these could significantly bolster the Republican Jewish vote on November 6, 2012, especially, or perhaps only, if Romney is the candidate.
But the most important factor working in Romney's favor, from a Jewish point of view, is the one that is his Achilles' heel in the internal Republican contest – the disaffection towards him exhibited by ultra-conservatives, evangelicals and Tea Party types. All the so-called "non-Romneys" that keep popping up in the race – first Michele Bachman, then Rick Perry, then Herman Cain and now Newt Gingrich – are supported by the kind of groups that make most mainstream American Jews squirm and stay Democrat, and this includes the staunchly pro-Israeli Christian evangelicals.
And Romney has two other, possibly relevant personal tidbits in his personal biography: first, he is the son of Michigan governor George Romney, who was a leading Republican moderate and whose close friend and later campaign treasurer was Max Fisher, the late and great Jewish Republican macher, who moved from Romney's failed presidential campaign in 1968 to that of the eventual victor Richard Nixon and from there to a position of unparalleled political sway. Secondly, it is not widely known that Romney knows Israeli Prime Minister Binyamin Netanyahu from the late 1970's, when most Israelis hadn't heard of him yet, when both were employed by the Boston Consulting Group. And according to published press reports, it was Romney who introduced the future prime minister to Fleur Cates, who went on to become Netanyahu's second wife.
3. When Romney Senior was running for president in 1968, his Mormonism did not play a major role in the campaign, though there are those who claim it would have come up had he triumphed in the early primaries. But America is a different country today, and most polls show that Romney's religion will likely play a significant and possibly critical role in his campaign. A survey by the Public Religion Research Institute released this week showed Romney's approval rating dropping dramatically among Evangelicals, with a pronounced correlation between this drop and the increase in the number of those who realize that Romney is Mormon.
Jews, on the other hand, are probably going to have less of an issue with Romney's Mormonism than any other religious group – with the ironic exception, perhaps, of American Muslims. Older and more liberal Jews may have problems with the LDS's past discrimination against blacks and their exclusion of African Americans from the priesthood (which was lifted only in 1978 following a "revelation" to church leaders) while others may be deterred by what is still being described – most recently in a disturbing article by Yale's noted literary critic Harold Bloom, discreetly tucked away in the middle of this week's New York Times Sunday Review section - as Mormonism's outlandish if not sinister internal rites and codes, including the polygamous image which Mormons have been trying to shed for decades but which was dramatically resuscitated by the HBO series "Big Love" which ended a five-season run only last March.
For most Jews, especially the Orthodox, Christians and Mormons are virtually identical, "six of one or half a dozen of the other", at the very least, and very often members in the same brotherhood of shunned religious minorities. As one Jewish leader who served as a rabbi in the army in the Vietnam War told me: "In our unit there were 50 Protestants and Catholics in one corner, and me and the Mormon in the other."
For Christians, of course, even in latter-day America, Romney's Mormonism is more of an issue, with Catholics historically viewing Mormons as heretics and some fundamentalist Protestants seeing them as "a cult", as Rick Perry's pastor, Robert Jefress, controversially noted last month. Most recent polls show that anywhere between 35% and 50% of Evangelicals don't consider Mormons to be Christians at all. And while Americans like to tell themselves that they live in a society in which a candidate's religion does not have any impact on his chances of being elected and then go on to cite the precedent of John Kennedy's Catholicism not having prevented his election in 1960 - they tend to overlook the fact that Kennedy may just be an exception, and an extraordinarily charismatic one at that, who simply proves the rule.
And while Romney is straining to veer rightwards in order to attract conservative Republican voters, he continues to "fluctuate wildly between 23 and 25 per cent in the polls" as acerbic columnist George Will recently put it, because the conservative, Tea Party, anti-government forces that occupied the heart of the Republican Party during its 2010 Congressional election triumph remain utterly unconvinced. For them, Romney is still the liberal-establishment antithesis of the 2012 candidate they were dreaming of – and a Mormon to boot.
Thus, these groups will be doing their best to sideline Romney and to crown a more conservative candidate – and a more Christian one, though they won't say so in so many words - as the primaries season gets underway in a little over a month, beginning with the Iowa caucuses on January 3.
Most of the Jews, I suspect, will be rooting for Romney on the sidelines. Not only is he the preferred candidate of those who will be voting Republican, he is also probably the favorite of those Jews who will carefully consider voting for him but end up going with Obama in the end once again.
4. Yes, we all know that the Jewish vote usually isn't that critical and will only figure in a very tight race. At the same time, there is no denying the fact that the attention being heaped on the Jewish vote at the start of this election year – as well as the central place of Israel in the American political debate – are both disproportionate and unprecedented, to the extent that they sometime seem to have taken a life of their own. As one sardonic Jewish observer said to me: there are going to be two separate elections in November – one for President of the United States, the other for King of the Jews.
Follow me on Twitter @ChemiShalev
ICYMI
Ken Burns' Brilliant 'The U.S. and the Holocaust' Has Only One Problem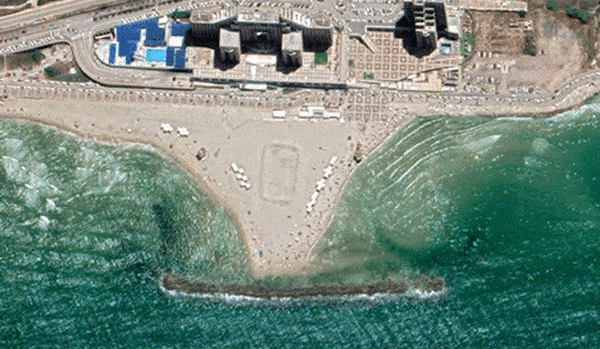 Facing Rapid Rise in Sea Levels, Israel Could Lose Large Parts of Its Coastline by 2050
Lapid to Haaretz: 'I Have Learned to Respect the Left'
The Mossad's Fateful 48 Hours Before the Yom Kippur War
As Israel Reins in Its Cyberarms Industry, an Ex-intel Officer Is Building a New Empire
How the Queen's Death Changes British Jewry's Most Distinctive Prayer