Should, and Can, Israel Attack Iran's Nuclear Facilities?
The IAEA's report on Iran's nuclear drive may have confirmed Jerusalem's suspicions about Tehran, but it also left in its wake a panoply of questions about what Israel, or anybody, should do next.
Two days after the media uproar stirred by the release of the International Atomic Energy Agency report on Iran's nuclear program, questions still linger. How close is Iran to assembling its first nuclear bomb, or fitting a nuclear warhead onto a Shahab-3 missile? Has the Iranian leadership, headed by supreme leader Ali Khamenei, already decided to assemble a nuclear weapon? What is the best way of coaxing Iran to abandon its nuclear program, or slowing it down? Could we reconcile with the idea of a nuclear Iran? Does such a weapon really pose a threat to Israel's existence?
Nobody has decisive answers to these questions. People do not like living with uncertainty. They want clear answers. They do not like changing their views, even when required.
Such fixation can be called a "concept," or "preconceived notion." State leaderships also operate in this fashion, sometimes clinging to concepts.
The issue is complicated, and more than common sense, it requires technical knowledge.
When it comes to understanding nuclear strategies, God is in the details. How should we read information about Iranian tests determining the force of a nuclear explosion, or computerized simulations checking the optimal height to drop a bomb? What does the revelation that a Ukrainian scientist used to work for the Iranian nuclear program really mean?
These questions can be addressed with the help of evidence collated by the IAEA report. The evidence indicates that Iran has worked systematically for 20 years to obtain the know-how, materials, equipment and technology to produce nuclear weapons, should it desire them.
But when will it assemble a weapon? Would it actually use it? If so, against whom? Most Israeli leaders and experts believe that Iran is attempting to attain nuclear capability, that it is close to its goal, and that it must be stopped at any price. These authorities believe that military action could become necessary, that there may be no other option.
The argument is being debated behind closed doors, but the question at its center is clear: Should, and can, Israel attack Iran's nuclear facilities?
A number of factors must be weighed in answering such a question: Is there precise, up-to-date, intelligence about the nuclear installations that would be targeted in an attack, as well as about defense systems that protect the installations? Can Israel Air Force pilots reach the targets without being detected and how many of them will return home? Can the IAF planes carry enough bombs to be able to destroy the installations? Should such an attack succeed, how far back would it set Iran's nuclear effort?
Possible Iranian responses must also be examined thoroughly. How many missiles would be fired against Israel in response? Would they reach their targets? How much damage would they cause? Would Syria and Hezbollah mobilize to assist Iran, and in so doing fire tens of thousands of missiles at Israel?
Slouching toward sanctions
America's political-security leadership also believes that Iran is trying to obtain nuclear weapons. In its view, should Tehran attain such arms, it would threaten the stability of the Middle East, and the supply of oil to the West is liable to be endangered.
However, officials in Washington, unlike counterparts in Jerusalem, conclude that no strike should be conducted against Iran at this stage.
Three European powers, Britain, France and Germany, have taken a similar, albeit not identical, position. In response to the IAEA report, all the Western powers want to stiffen sanctions against Tehran, in the hope that these might successfully persuade Iran's stubborn leadership to change its course.
Yet sanctions require support of all five permanent members of the UN Security Council.
The key to any attempt to forge an effective response to Iran's nuclear effort is held by Russia and China, both of which possess veto power in the Security Council. Should Russia and China support the imposition of new, painful sanctions against Iran, there is a chance Tehran will think twice about continuing its nuclear adventure.
The problem is that Russia and China have significant economic interests in Iran. China imports oil from Iran, and overall it is Iran's largest trading partner. Russia sold nuclear technology to Iran, and built the Bushehr nuclear power plant. During the 1990s, Russian scientists and engineers worked on Iran's clandestine nuclear-military program.
Both Russia and China have also sold weapons to Iran in the past. Neither of these two countries wants Iran to be equipped with nuclear weapons, but each conducts foreign policy not only on the basis of domestic economic interests, but also out of a worldview that can be defined as "contrarian." They defy the United States' leadership role.
For these and other reasons, neither of these countries is prepared to join the U.S. and Europe in imposing new, aggressive sanctions on Iran. Leaders in China and Russia will not allow themselves to be confused by the facts that appear in the new report (most of which, incidentally, were known to them for years ).
All of the major players in this Iranian equation are standing firm in their positions. Iran will continue to play the nuclear card up to the point at which it will have to decide if it wants to assemble a nuclear weapon.
Western intelligence agencies will continue to make efforts to damage, disrupt and sabotage the progress of Tehran's nuclear program.
Israel's circumstances are the most complicated. On the one hand, the IAEA report verifies charges that Israel has made for years, regarding Iran. On the other hand, Israel has precious little wiggle room, particularly with respect to its ability to take military action against Iran.
Prominent security figures, including former Mossad heads Meir Dagan and Efraim Halevy, believe that Iran does not pose a threat to Israel's existence. In their view, the danger posed by Tehran to the Sunni Muslim world, particularly its neighbors the United Arab Emirates, Bahrain and Saudi Arabia, is graver than the threat to Israel.
Incendiary rhetoric used by Iranian leaders calling to wipe Israel off the world map is infuriating and worrisome. Yet it is regrettable that leaders in Israel, led by Prime Minister Benjamin Netanyahu, exploit Iranian declarations to exacerbate preexisting public fears and confusion. Israel already has enough serious problems on its plate, without needing to inflate this issue out of proportion.s
ICYMI
Ken Burns' Brilliant 'The U.S. and the Holocaust' Has Only One Problem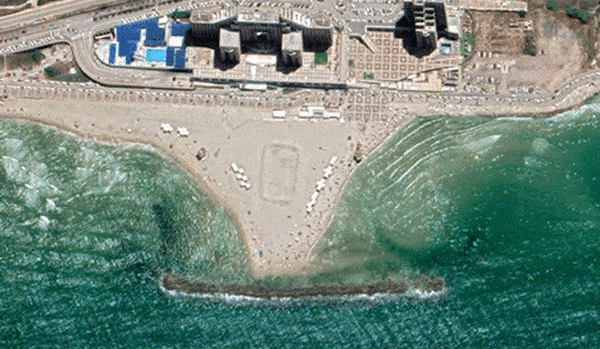 Facing Rapid Rise in Sea Levels, Israel Could Lose Large Parts of Its Coastline by 2050
As Israel Reins in Its Cyberarms Industry, an Ex-intel Officer Is Building a New Empire
How the Queen's Death Changes British Jewry's Most Distinctive Prayer
Chile Community Leaders 'Horrified' by Treatment of Israeli Envoy
Over 120 Countries, but Never Israel: Queen Elizabeth II's Unofficial Boycott