Shalit Deal Makes Surprise Appearance at U.S. Republican Presidential Debate
Asked whether or not the U.S. would consider a swap deal, Tea Party affiliate Michele Bachmann says a prisoner exchange goes contrary to U.S. nature.
Since Labor Day, the Republican contenders for the Oval Office have sparred five times in TV debates. As a result of that tight schedule, some of the dynamics and even the exact wording in the debates became quite predictable.
There were all the usual hallmarks. Rep. Michele Bachman attacked U.S. President Barack Obama ("The good news is the cake is baked. Barack Obama will be a one-term president"); and candidates Rick Perry and Mitt Romney exchanged their traditional jabs, as though they were still running head-to-head, despite that Romney is now leading the polls.
However, among the usual questions on "Obamacare" and "Romneycare", unemployment, and issues like illegal immigration, the Shalit deal made a surprise entrance into the affairs, with a Twitter user asking: Would the U.S. negotiate for a soldier as Israel just did?
"I would have a policy that we do not negotiate with terrorists. We have to lay that principle down first", Herman Cain declared, gaining much applause.
"Now, then you have to look at each individual situation and consider all the facts. The point that I made about this particular situation is that I'm sure Prime Minister Benjamin Netanyahu had to consider a lot of things before he made that.
"So on the surface, I don't think we can say he did the right thing or not. A responsible decision-maker would have considered everything," he said.
CNN's Anderson Cooper, who was moderating the debate, reminded him that several hours earlier in an interview to the same channel, asked by Wolf Blitzer whether al-Qaida had an American soldier in captivity (as they do, Bowe Bergdahl is kept in captivity since summer 2009, NM), and they demanded the release of everyone at Guantanamo Bay, would he release them? "You said, I quote, "I could see myself authorizing that kind of a transfer", Cooper said.
"I don't recall him ever saying that it was al-Qaida- related", Cain replied. "My policy would be we cannot negotiate with terrorists. That's where we have to start as a fundamental principle".
Michele Bachmann said: "This is a very serious issue. For any candidate to say that they would release the prisoners at Guantanamo in exchange for a hostage would be absolutely contrary to the historical nature of the United States and what we do in our policy."
"That's naive. We cannot do that. The United States has done well because we have an absolute policy: we don't negotiate," she said.
Former Senator Rick Santorum said: "Absolutely not, you can't negotiate with terrorists, period."
Libertarian Ron Paul played a bit of devil's advocate, saying: "Are you all willing to condemn Ronald Reagan for exchanging weapons for hostages out of Iran? We all know that was done."
Rick Santorum protested, saying that "Iran was a sovereign country, it was not a terrorist organization. We've negotiated with hostages, depending on the scale. But there's a difference between releasing terrorists from Guantanamo Bay in response to terrorist demands than negotiating with other countries where we may have an interest."
"But they're all suspects, they're not terrorists. You haven't convicted them of anything", replied Paul.
Former Speaker of Congress Newt Gingrich said that Reagan saw the Iranian deal as "a terrible mistake."
Cutting foreign aid to Israel?
Another issue being raised in the CNN debate was the extend of foreign aid the U.S> provides, including the annual budget it equips to longtime ally Israel.
Ron Paul said that it was "suicidal" for the U.S. not to consider cutting military budget., adding: "We have enough weapons to blow up the world about 20, 25 times. We have more weapons than all the other countries put together. And we want to spend more and more and you can't cut a penny?"
I mean, this is why we're at an impasse. I want to hear somebody up here willing to cut something, something real", he said, adding that "this budget is in bad shape, and the financial calamity is going to be much worse than anybody ever, you know, invading this country. Are they going to invade this country? They can't even shoot a missile."
Later, Paul said that the foreign aid "should be the easiest thing to cut - it's not authorized in the Constitution that we can take money from you and give it to particular countries around the world", and added that he would cut foreign aid to Israel.
"I would treat everybody equally and fairly. And I don't think aid to Israel actually helps them. I think it teaches them to be dependent. We're on a bankruptcy court and look at what's the result of all that foreign aid we gave Egypt," he said.
"I mean, their dictator that we pumped up, we spent all these billions of dollars, and now there's a more hostile regime in Egypt. And that's what's happening all around Israel. That foreign aid makes Israel dependent on us. It softens them for their own economy. And they should have their sovereignty back and they should be able to deal with their neighbors at their own will," he added.
Congresswoman Michele Bachman replied immediately that "no, we should not be cutting foreign aid to Israel. Israel is our greatest ally. The biggest problem is the fact that with this administration and foreign policy is that President Obama is the first president since Israel declared her sovereignty put daylight between the United States and Israel. That's heavily contributed to the current hostilities that we see in the Middle East region. Cutting back on foreign aid is one thing. Being reimbursed by nations that we have liberated is another. We should look to Iraq and Libya to reimburse us for part of what we have done to liberate these nations."
Rick Perry declared it's absolutely time to have a debate over the foreign aid - especially financing the UN.
"When you think about the Palestinian Authority circumventing those Oslo accords and going to New York to try to create the conflict and to have themselves approved as a state without going through the proper channels, it is a travesty. And I think it's time not only to have that entire debate about all of our foreign aid, but in particular, the UN Why are we funding that organization?", he asked.
Mitt Romney said that "Foreign aid has several elements. One of those elements is defense, is to make sure that we are able to have the defense resources we want in certain places of the world."
|That probably ought to fall under the Department of Defense budget rather than a foreign aid budget. Part of it is humanitarian aid around the world. I happen to think it doesn't make a lot of sense for us to borrow money from the Chinese to go give it to another country for humanitarian aid," he said
Herman Cain said that in his approach, "If we clarify who our friends are, clarify who our enemies are, and stop giving money to our enemies, then we ought to continue to give money to our friends, like Israel".
Iran was not forgotten too - with Michele Bachman accusing President Obama in "taking his eyes off the number-one issue in the world. That's an Iran obtaining a nuclear weapon", calling the President of Iran Mahmoud Ahmadinejad "genocidal maniac".
We need to stand up against Iran. And as president of the United States, I will. We will be respected again in the world", she promised.
The one candidate missing in the debate was former Utah governor John Huntsman, who decided to boycott the debate in Nevada protesting the decision to move the Nevada caucuses (possibly harming New-Hampshire primaries) - and attended an event in New Hampshire.
ICYMI
Ken Burns' Brilliant 'The U.S. and the Holocaust' Has Only One Problem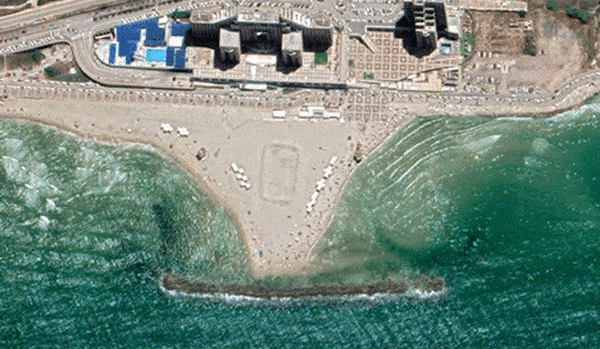 Facing Rapid Rise in Sea Levels, Israel Could Lose Large Parts of Its Coastline by 2050
As Israel Reins in Its Cyberarms Industry, an Ex-intel Officer Is Building a New Empire
How the Queen's Death Changes British Jewry's Most Distinctive Prayer
Chile Community Leaders 'Horrified' by Treatment of Israeli Envoy
Over 120 Countries, but Never Israel: Queen Elizabeth II's Unofficial Boycott