LIVE BLOG: The Gilad Shalit Prisoner Swap as It Happens
A minute-by-minute update of the exchange between Israel and Hamas as it unfolded.
17:05 The Shalit family arrives in Mitzpe Hila to a ecstatic welcome from hundreds of friends, family and supporters.
16:00 The Shalit family is flown home to Mitzpe Hila in a military helicopter, with medical personnel onboard.
15:26 Shalit will be flown home at 16:00 accompanied by a doctor, reports Channel 2.
14:29 Shalit reported he felt weak and ill during flight from Egypt border and as such will undergo more comprehensive medical check-ups, reports Channel 2.
13:58 All prisoners have been transfered to their respective drop-off points. Gilad Shalit has been reunited with this family. The live blogging of the prisoner release ends here.
What do you think about the Shalit prisoner swap? Head over to Haaretz.com on Facebook and share your views
13:28 Netanyahu mentions that this week will be the Jewish holiday of Simchat Torah, when portions of the book Isaiah will be read in synagogues, which discuss the importance of achieving the release of captives.
13:25
Netanyahu: I just embraced Gilad and took him to his parents, and told them, I have returned your son to you.
13:23 Netanyahu: I thought about Gilad Shalit stuck in captivity for more than 5 years. I didn't want Gilad Shalit to turn out like Ron Arad, who has now been missing for 25 years. I thought about the pain of Ron Arad's mother until her dying day.
13:21 Netanyahu: I held fast to my insistence that the leaders of Hamas stay in Israeli jails and that they would not return to the territories. In recent months, Hamas compromised on this demand to free their leaders, so I was forced to make a difficult decision. It was the best deal we could make.
13:20 Netanyahu: Today is a happy day and a sad day for Israel. When I returned to the position of Prime Minister in 2009, I had a important task waiting for me: to return our soldier Gilad Shalit home.
13:18 Netanyahu speaks at press conference at Tel Nof Air Force Base.
13:09 Netanyahu meets with Shalit, tells him: How good that you have returned home. Shalit salutes Netanyahu, Netanyahu embraces Shalit.
13:04 After 5 years and 4 months of captivity, Gilad Shalit meets with his family.
13:03
Gilad Shalit, in first interview to Egyptian television: I knew people were working to free me, I had access to mass media.
12:45 Gilad Shalit lands in Tel Nof Air Base.
12:25 IDF Spokesperson announces that it has completely carried out its end of the prisoner release deal and that it has released the Palestinian prisoners, with the help of the Red Cross.
12:16
First video released of Gilad Shalit being greeted by IDF soldiers; he is filmed wearing glasses. Channel 2 reports that he was not given sunglasses in captivity, so there is a fear that his eyesight may have deteriorated.
11:53 Palestinian protesters clash with IDF near Ramallah. Protesters are reportedly upset that prisoners will not be released at pre-determined location they were waiting at. Route of the prisoner release convoy was reportedly altered due to protesters burning tires at the scene.
11:49 IDF Spokesperson: IDF has conducted medical tests on Gilad Shalit and found him to be in good health. He will now be taken to see his family.

11:47 Gilad Shalit in first interview, to Egyptian TV: It's uncomfortable to see so many people at once, after not seeing people for so long.
11:42 Gilad Shalit in first interview, to Egyptian TV: I will endeavor to facilitate peace between Israel and Palestinians.

11:32 Hamas chief Khaled Meshal currently in el-Arish, reports Channel 2.
11:25 Gilad Shalit currently undergoing medical tests in Israel.

11:23 Gilad Shalit, in first interview, to Egyptian television: "I did think that I would be set free. I felt over the last few months that it would happen."
11:22 Gilad Shalit, in first interview, to Egyptian television: "I missed my family, seeing people, and talking."
11:18 Gilad Shalit to Egyptian television: "I will be very happy if the Palestinian prisoners in Israeli jails are released, so long as they don't return to attack Israel."

11:11 Gilad Shalit to Egyptian television: "I was informed of my impending release a week ago."
11:08 Gilad Shalit to Egyptian television: "Hamas treated me well."
11:05 IDF Spokesperson: "Gilad Shalit has returned home"
11:03
OFFICIAL CONFIRMATION: Gilad Shalit has been returned to Israeli soil after 5 years and 4 months in captivity.
10:59 Gilad Shalit is currently at the Israel border crossing.
10:44 Shalit family watches first photos of Gilad Shalit released from captivity in a private room on Tel Nof Air Force Base.
10:38 OFFICIAL CONFIRMATION: Gilad Shalit has returned to Israeli hands after 5 years and 4 months in captivity.
10:28
After confirming that Gilad Shalit is in Egyptian hands, IDF begins transfer of Palestinian prisoners.
10:23 BREAKING: First images of Gilad Shalit broadcast on Egyptian television.
10:16 OFFICIAL IDF CONFIRMATION: Gilad Shalit has been identified alive and well at the Egypt-Gaza border.

10:00 Egypt has agreed to accept Palestinian prisoner Amna Muna.

09:52 Female Palestinian prisoners have relented, begin their way to Gaza.
09:49 Gilad Shalit has spoken to his family by telephone, reports BBC on Twitter.

09:44 Transfer of female Palestinian prisoners to Gaza has begun, reports DPA.

09:37 Prime Minister Netanyahu meets with family of Gilad Shalit at Tel Nof Air Force Base.
09:33 IDF official says that the prisoner exchange deal is being held up because of the two Palestinian prisoners' refusal to be deported to Gaza.
09:31 Unattributed report: Two female Palestinian prisoners refuse to be deported into Gaza.
09:23 Gilad Shalit has arrived in Egypt and is wearing an IDF uniform, reports Channel 2.
09:17 Egyptian television says it will release pictures of Gilad Shalit being transferred.

09:13 Israel official meets Gilad Shalit ahead of return to Israel, reports Channel 2.
08:50 Hamas supporters rally near Ramallah, call for renewed terror attacks, soldier kidnappings.

08:38 Top Hamas official confirms that Gilad Shalit has been transferred to Egyptian hands.
08:34 Dozens of families from Isawiya awaiting Israeli Arab prisoners' release (Haaretz)

08:28 Al-Arabiya reports that Gilad Shalit has been handed over to the IDF; no Israeli confirmation has been given as of yet.
08:24 Gilad Shalit arrives at the Israel-Gaza border crossing.

08:21 The Shalit family arrives at the Tel Nof Air Force Base.
08:18 Noam Shalit: "You can say this is one of the happiest days of my life."
08:11 Israeli Arab prisoners transferred from Prison Service to Red Cross, and from there to a Border Police base near Jerusalem; with that, the Prison Service has completed its role in the prisoner exchange.
08:06 A lot of medical equipment, including dental and x-ray equipment, is brought to Tel Nof Air Force Base.

08:03 IDF Chief of Staff Benny Gantz makes his way to Tel Nof Air Force Base in anticipation of Gilad Shalit's arrival.
08:01 Gilad Shalit's grandfather Zvi arrives at Tel Nof Air Force Base.
07:53 Buses carrying Palestinian prisoners roll out, in effective confirmation of Gilad Shalit's presence in Egyptian hands.

07:41 All Palestinian prisoners are on Red Cross buses awaiting the Egyptian go-ahead for the final exchange to take place.
07:37 A convoy with Israeli Arab prisoners is on its way to an IDF base near Jerusalem, ahead of their impending release.

07:35 Al-Jazeera reports that Gilad Shalit is now held on the Palestinian side of border by Egyptian officials.
07:31 Egypt reports that Gilad Shalit is now in Egyptian hands; Hamas denies exchange has already taken place.

07:20 Reports emerge from Egypt that Gilad Shalit is already en route to the Kerem Shalom border crossing.
07:15 Female Palestinian prisoner Amna Muna, who was supposed to be deported abroad as part of prisoner exchange deal, will instead be deported to Gaza.

06:54 Shalit family departs from North toward IAF Tel Nof base as all Palestinian prisoners arrive at border crossings.
At first, prisoners will be taken off the busses and identified, ahead of being handed over to Egyptian authorities in Kerem Shalom, and the Red Cross in the Ofer Camp prison (Anshel Pfeffer)
06:04 Prisoner convoy from Sharon Prison arrives at Ofer Prison. Two female prisoners and 14 east Jerusalem residents will be moved to a police station near Ma'aleh Adumim and from there to Jerusalem (Anshel Pfeffer)

Another convoy, this one with 147 prisoners will leave for Kerem Shalom and will be followed several other small envoys transporting 40 additional prisoners.
One prisoner will be moved taken to the Katzrin police; two prisoners will arrive at Ayalon Prison and will be released in Lod, and three prisoners that were moved to Megido Prison are residents of Wadi Ara (Yaniv Kubovic)
05:38 Red Cross representatives arrive at Israeli prison, identify prisoners earmarked for release. (Yaniv Kubovic)
05:33 Israeli Border Patrol prepares to close roads leading to Kerem Shalom, forming a sterile zone for Palestinian prisoner transfer. (Anshel Pfeffer)

05:16 Second convoy with 147 Palestinian prisoners leaves prison for Kerem Shalom. (Yanir Yagna)
ICYMI
Ken Burns' Brilliant 'The U.S. and the Holocaust' Has Only One Problem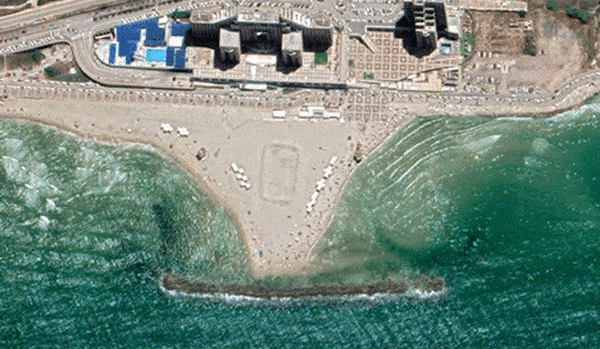 Facing Rapid Rise in Sea Levels, Israel Could Lose Large Parts of Its Coastline by 2050
Lapid to Haaretz: 'I Have Learned to Respect the Left'
The Mossad's Fateful 48 Hours Before the Yom Kippur War
As Israel Reins in Its Cyberarms Industry, an Ex-intel Officer Is Building a New Empire
How the Queen's Death Changes British Jewry's Most Distinctive Prayer