Stories of the Sages for Skeptical Kids
Feminism, secularism and a good deal of attitude have gone into Shoham Smith's collection of children's stories based on Talmudic tales.
When author Shoham Smith's eldest daughter Nur was little, she stood on her bed one evening and shouted until her throat was dry, "Bialik! Bialik!" The toddler wanted her parents to read to her from the yellowing copy of poems and songs by the national poet, Haim Nahman Bialik, before she went to sleep.
Amusing as it is, this is not just a charming childhood story, the kind of story that every family has, but also one that teaches us a great deal about the girl's cultural sources.
Smith says she always tried to nurture her children on the classics, at least until they reached an age at which they objected to it. According to an unrelenting law she instituted, if the kids want to read "trash" they can do that on their own. She personally is not prepared to bend her critical rules and read to them things she does not admire, or even despises. For example, stories about Felix the rabbit, that she is highly critical of, and of the way people are enchanted by them (as can be seen in criticism of these books that she has published in Haaretz Hebrew Edition ). The same is true of other current best sellers for children, such as "Diary of a Wimpy Kid" or "Captain Underpants," which she refuses to read to her own children, and leaves them to read on their own. She is currently reading "Huckleberry Finn" to her 11-year-old son before he goes to sleep.
True to her principles, and after rewriting stories of Greek mythology and the myths of heroism and heroes from other ancient peoples, Smith is now adding another old-new treasure to the kiddies' bookshelf, and this time from the world of Jewish stories.
"Sefer Ha'agadot Shelanu" ("The Book of Our Legends"; Kinneret Publishing House ) is a collection of stories from the Talmudic sages for children. The book has a large format, with lovely illustrations by Vali Mintzi and an inviting cover. The stories are told simply and are not overembellished. But their sophistication, and the various layers of meaning that are characteristic of the legends of the sages, can be found between the lines.
The judges from ACUM, the Israeli music and literary rights association, who this year awarded Smith the prize for the encouragement of the publication of children's literature, noted the way in which the tales are told "in the simple and pleasant language of stories."
Next to every story there are additional notes from Smith, in a different typeface. "The design is like in the Gemara, [the commentary in the Talmud]," she notes. She describes the book as "homage to 'Sefer Ha'agadah' ['The Book of Legends'] written by Bialik and Y.H. Rawnitzky," no less.
"When the children were young and I tried to tell the story of King Solomon from the book 'Va'yehi Hayom,' which is in fact an adaptation for children of 'The Book of Legends,' in every sentence there were words that were difficult to understand, and complicated syntax," she says. "One day I said to Amnon [Katz, her partner], only half seriously, that the book needs to be translated into Hebrew. And he said that I would be made to stand in the city square and people would stone me. At that time, I stopped talking about it. But time went by and I nevertheless raised the idea with Yael Molchadsky of Kinneret, and she actually liked it."
The soul of Smith, who describes herself as totally secular, has been bound up with these legends since her childhood. "My grandfather was religious and he used to read to me from Bialik's adaptation of 'The Book of Legends' for children," she says. "My mother grew up in a home that was semi-religious. As a result, I think, she developed a kind of antipathy to religion. She would read us Gerald Durrell, a great many stories about nature, and translations from English literature. But I was especially attracted by the book that my grandmother treated like a holy but accessible script, 'The Book of Legends.'"
It was only in recent years that Smith rediscovered the stories of the sages. And recently her yearning for these legends grew stronger when she went to study with a kind of Talmudic group at Hebrew culture institute Alma College in Tel Aviv. "I did exactly what Bialik and Rawnitzky did when they went to the ancient sources and found slivers of legends and wrote their own commentaries," she says. "I too went back to the sources. And I discovered just what a large part of the stories are subversive. In a legend, there is much more than meets the eye."
The hairy-legged queen
From the point of view of exposing children today to the legends of the sages, Smith seems to have acted in an almost total vacuum. The last writer to bring the stories of the sages to children was Yocheved Segal, who was religious. Her book "Ko Asu Hachamenu" ("Our Sages Showed the Way" ) was a favorite mainly in religious homes from the 1970s onward.
Unlike Segal, who had been a kindergarten teacher in the past and aimed at "making the children better children, religious rather than skeptical," according to Smith, this book has no intention to educate. That does not mean it is difficult to find in it traces of Smith's ideology or ideas. She speaks openly about this dilemma - whether to leave the texts as they are or to add explanations, and whether to include her opinions. "There are stories that I don't like," she says. "Stories that in my opinion are not suitable for children. For example, the story about Rabbi Akiva and Rachel, which is problematic from the feminist point of view."
The story goes like this: Rachel, the young and beautiful daughter of a wealthy man named Kalba Savua, is most impressed by the personality of Akiva (who, at 40 years old, is much older than she is ) even though he is merely a shepherd. She sacrifices herself for him and sends him to study Torah far away while she waits for him for an eternity, alone and in poverty. When he returns as a famous rabbi with many students and admirers, she is already an old woman when she welcomes him back.
Smith, who decided to include the story in her book, stresses how Rachel decided to choose love. "Another girl, someone ordinary, would probably have given up in advance, cried a little in her pillow and married the man her father had chosen for her. But Rachel was no ordinary girl. Instead of waiting for her father to choose a husband for her, she decided to do something daring, to go to her loved one and ask, If I am your wife, will you go to study?" she writes.
Says Smith, "I tried to show the beautiful side of the story and to emphasize Rachel's renunciation of her inheritance and status and the delights of her father's house, in order to follow a romantic love. That is my own private reading of the story because it is not written explicitly like that."
One story that was not included was the one about bitter water that women who betrayed their husbands were forced to drink in order to reveal the fact of their betrayal. Another well-known story that was not included in the book, because there was no space, was the story of Kamtza and Bar Kamtza and the subject of unwarranted hatred. It is easy to see how frustrated Smith is by the fact that "I had to stop so that the book would be a reasonable size."
The story about Bruriah and Rabbi Meir Baal Haness, about the attempt to tempt the rabbi with another woman, was left out because Smith feels it is not suitable for children. "I don't want to create softened versions," she says. "We used to be told that Rahab had a stall next to Jericho and that she sold food to the soldiers. But we weren't so stupid."
She says that she went wild, in her words, when it came to the story of King Solomon and the Queen of Sheba, and added a detail that Bialik, in the spirit of his times, had chosen to omit, and this gave the story a bite. When Solomon invited the queen to his palace, he purposely arranged the meeting in a magnificent hall with a glass floor. The queen was sure that the glass was water and raised her skirts, thus revealing her hairy legs. Then Solomon mocked her and said she was not sufficiently feminine. "Solomon said to the Queen of Sheba, Your beauty is the beauty of a woman but your legs are hairy like those of a man. And she replied to him, Hair on the legs is a matter of taste and fashion," Smith writes.
"Bialik apparently thought it was not nice to mention the matter of hairy legs. In my version, I give the queen an opportunity to say that, as a smart person, he should know that this is about being a victim of a fashionable convention," she says. "The moment the matter of the legs is mentioned, all the poetic beauty of the story disappears, because the riddle that the queen asks Solomon in the course of the dialogue between them is connected with hair on the legs. The Queen of Sheba sends boys and girls, men slaves and women slaves, who are [dressed] alike, and Solomon has to identify which of them are men and which are women. When refreshments are served in the hall, the men roll up their skirts to put the refreshments in them and thus reveal their legs, while the modest girls are ashamed to do that."
About her decision to make comments on the texts, Smith says, "I did not change any facts. But instead of hoping that the reader will think of something by himself, I made comments. I nevertheless left enough room for thought. An adaptation is also a commentary, and I see it as an opportunity to add my own ideology and points of view, and to point to pacifism in this way, or to the differences between female leadership and male leadership."
Is there a God?
The biggest challenge of the book is found in the first part, which deals with the question of whether there is a God and the story of creation - the story that those who try to persuade people to become religious present as proof that the world was created by God. Smith presents the story about Rabbi Akiva, who compares a piece of clothing that has been sewn by a tailor to a world that has been created by God, and she writes in her comments at the side, "Rabbi Akiva's response is not proof of the fact that there is a God. But it is a creative and original response that makes us think."
In Smith's opinion, the question of God and who created the world, bothers children from a young age, and their questions should not be brushed aside with a dumb answer, as many secular parents do because there are no easy and good answers. "When I think how to make the story of creation accessible to children, I don't make any total statement, but rather create the possibility that God created the world and regretted it, because that is mentioned in the legend. And I compare this to a child who draws a drawing but something goes wrong."
Smith says that, had she omitted these questions or left them to the end, it would not have been logical, especially since in Western thought people always start with questions connected to the cosmos and God. After all, she says, "my first motivation is to make a secular public familiar with this great branch, the Jewish branch, that is missing from our culture, while connecting it to Western culture."
ICYMI
Ken Burns' Brilliant 'The U.S. and the Holocaust' Has Only One Problem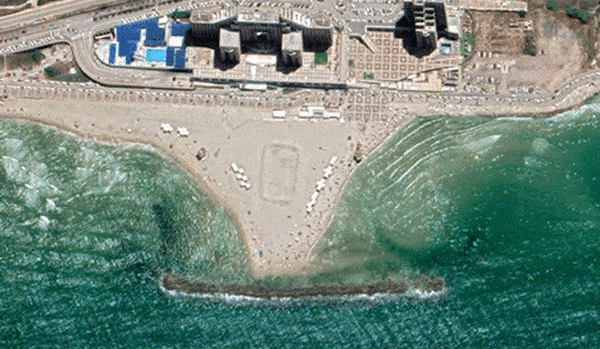 Facing Rapid Rise in Sea Levels, Israel Could Lose Large Parts of Its Coastline by 2050
As Israel Reins in Its Cyberarms Industry, an Ex-intel Officer Is Building a New Empire
How the Queen's Death Changes British Jewry's Most Distinctive Prayer
Chile Community Leaders 'Horrified' by Treatment of Israeli Envoy
Over 120 Countries, but Never Israel: Queen Elizabeth II's Unofficial Boycott