Ahead of the March of the Million, Israel's Social Protest Leaders Are Put to the Test
Daphni Leef and Itzik Shmuli have become identified with the social protest movement and its goals, but bring very different approaches and backgrounds.
The social protest, which began a month and a half ago with a single tent on Rothschild Boulevard and swept through the country, is expected to peak on Saturday with the so-called March of the Million. The two people now regarded as the protest's leaders, Daphni Leef and National Union of Israeli Students chairman Itzik Shmuli, say the actual number of demonstrators makes no difference. This train has left the station and there is no way of stopping it, they say.
Leef, who began the protest on Facebook, scatters smiles, shakes hands and hugs. "Are you coming on Saturday?" she asks a woman in the street. The woman replies: "I'll be backing you from home."
Leef does not give up: "You have to come! And bring friends."
The woman wanted to give Leef some words of encouragement, after her appearance this week on the Channel 10 television program "Economic Night." Presenter Sharon Gal grilled her on the Trajtenberg committee and then asked whether she was still sleeping in her tent, why she did not serve in the army and how it was she did not even perform national service. Leef expressed reservations about the invasion of privacy, but replied that she has epilepsy and had done volunteer work on an informal basis.
"I don't think my background is irrelevant," she says. "I lost my privacy a long time ago. But to bring up those points during the very week the anticipation is growing for what will hopefully be Israel's largest-ever demonstration of public strength - that's a provocation."
Leef, 25, is about to complete a degree in film studies at Tel Aviv University. She grew up in Jerusalem and moved to Kfar Shmaryahu with her family when she was in high school. "I have always worked hard," she says. Before the protest she worked as a freelance video editor, and also as a waitress on weekends for extra money.
Leef's costar is Shmuli, who has been Student Union chairman for a year now. Shmuli, 31, is originally from Ramat Gan and lives in a rented apartment in Givatayim. He did his military service in the Armored Corps, and after he was demobilized he opened a restaurant with his father. Later he went to volunteer at an orphanage in Argentina and traveled around South America. When he returned to Israel he worked as a security guard and a cleaner to pay for his studies. He holds a bachelor's degree in special education from Oranim College, and is working on a master's degree in public administration. He intends to start a law degree this year as well.
Leef moves between friends' apartments and holds meetings in cafes and at the tent camps. She does not head an organized group. She has only a few advisers, including Roi Neuman, the spokesman for the tent camps, who has no media experience; Sharon Shahaf, a savvy strategic adviser who used to work with MK Dov Khenin and the leaders of the Palmahim Beach struggle; and Dror Feuer, a columnist for the financial newspaper Globes, who is helping her write her speeches.
Shmuli has an office, a professional team and experience in public activity. He is working with Student Union spokesman Eyal Basson. Shmuli is a lot more cautious than Leef, he chooses his words carefully and is calculated and goal-oriented. From the outset there was friction between them, but in recent days the rift has grown deeper. On several occasions Leef has faced sharp criticism. She was called full of herself when she demanded direct negotiations with the prime minister, and was criticized when she called on Prof. Manuel Trajtenberg to resign. Shmuli was not present at either of those press conferences.
"It's clear we have many differences," says Leef. "I don't owe an accounting to anyone. I have no political aspirations. The media created the impression that we have a partnership. It exists, but there is no signed contract and no unified outlook. This 'togetherness' could also be temporary. This doesn't mean our two perspectives can't each help the protest. Everyone wants the same outcome," she says.
What is the main difference in your outlooks?
"Itzik Shmuli has more than once declared himself to be the responsible adult. I don't feel I need to be an adult. I don't feel I need to negotiate with any elected official because I am responsible for bringing results. I even think it's not right to do this. This is about a sweeping change in the system and therefore it would not be right to negotiate as the representative for so many needs."
It seems like Shmuli is very cautious and you say everything that crosses your mind.
"My feeling is that it's all or nothing. This is the time to be uncautious, to say everything, everything that hurts. This protest is being led by the heart and the emotions. The most significant difference between these two approaches is that the day after the protest doesn't interest me professionally. I believe this protest has no end. It is the opening shot in what will hopefully become the widest possible social front, which will keep very careful watch on whatever government there is and make sure the results continue."
Shmuli adds, "Daphni earned an honorable place in Israel's social pantheon. It is true that we, and the forces we are leading, are different."
Joining approaches
Can the two of you continue to lead this protest together?
Shmuli: "There are places where I as [leader of] a strong organization have advantages and disadvantages, and there are places where Daphni has them. The smart thing is to know how to combine these things. It's true there isn't always a unified voice but the aim is unified. I think the ability to bring significant achievements in this protest is knowing how to intelligently combine powerful and uncompromising protest with dialogue, on the assumption that the government is being genuine. If we move ahead on only one of these tracks, then I believe that's not as proper."
Do you think Leef's conduct is damaging the protest?
"Social history will judge us all - me, Daphni and all the other protest leaders. We, the students, as an organization that still believes in protest combined with dialogue, will have a key role in the coming weeks and this means we will also take more responsibility for what is happening on the ground."
Could the main difference between you and Leef be that she is not thinking about the day after and you are paving your way into politics?
"My caution stems from responsibility and a desire to bring significant achievements. That this struggle not be interpreted for a single moment as a struggle for all or nothing. Hence the deliberation and the caution. I can promise you that you will not see me in the political system at any price. While the protest is still going on, all the talk about politics in the future is superfluous - I am not involved in that."
Shmuli and Leef understand the media needs to focus on the number of participants but also express reservations about it.
"I don't think in numbers," says Leef. "The aim of the protest is to apply public pressure. Even if 800,000 people come out, the moment so many people take to the street it's impossible to ignore it."
"There is no doubt that this is a moment of truth for the protest," says Shmuli. "I expect this will be a record event. If the current record is 300,000, we hope this will be Israel's largest protest ever. I hope we will fulfill these expectations and that a few years from now everyone will ask himself where he was on September 3.
"The question is what mandate the prime minister has given Prof. Trajtenberg. Has he given him a mandate to make meaningful changes? This doesn't mean a short-term change in the economic system. That is something that has to be determined through elections, not in a committee report; that is a choice the Israeli people has to make. This is a struggle to change the balance between Israel's destructive economy and a humane economy."
Shmuli believes the protest could end if the Trajtenberg committee formulates meaningful recommendations and the government approves them. "I am not protesting for the sake of protesting. If the recommendations are good and provide a real change, then the students will leave this protest."
Leef feels differently. "I am here for the long term. I don't understand what makes this committee valid. These are recommendations - there's no certainty. If the aim is to change the system, change the priorities, then this committee has no mandate to do this. This has been stated explicitly."
Why not give the committee a chance and then judge it?
"They are working, aren't they? I have no faith in those committees, because they've ignored demands all along the way: They passed the National Housing Committees Law, they managed to pass the preliminary reading of the bill to privatize national parks, they raised electricity prices, housing prices are going up, there was an emergency Knesset session and no one came. This is insulting and humiliating."
At the first rallies, there was a clear call for the prime minister's resignation. It seems this has faded. Do you think Netanyahu should resign?
"Even at the first rally I said, 'Fix things, you can still fix things. If you don't fix things, you should be fired.' I still think he can fix things. But for that he needs to make an about-face. He has a capitalist ideology that gives money to the rich first and then [lets it] trickle down. That is not the language of this protest."
Do you see the force that has grown here turning into a political party?
"No. I recognize people are indeed going to do that. I don't think that initiative should come from under this umbrella. Freedom of speech has no directorate. This protest has to remain everyone's."
Growing pressure
During the interview, Leef chain-smokes and speaks in the first-person plural. Dozens of tent camp leaders, some of whom said Leef and her colleagues announce decisions that are theirs alone, have chosen an alternative national leadership, but the media has not focused on it and it has not become involved in the decision-making process.
Leef says the pressure caused her to have an epileptic attack on Tuesday.
"I feel huge responsibility because I think the fact that I am not a politician, that I have no intention of founding a party and tend to forget politicians' names, is an important point," says Leef. "As we've been getting closer to September 3, the pressure has been increasing. From one rally to the next the political parties' placards have been getting blunter and the politicians are beginning to appear. If I started this a month and a half ago without any understanding of what happens during a protest movement, I am now facing attempts to thwart the protest, attempts to achieve all sorts of political goals."
Shmuli was involved in a traffic accident on Monday, for the second time since the protest began. He crashed his motorcycle into the back of a car on the Ayalon Highway and flew onto the road. After a short visit to a hospital and despite some pain, he came into the office the following day with his arm bandaged, radiating business as usual.
"The biggest thing this protest has already achieved, no matter what happens with the Trajtenberg committee recommendations, is that Israelis have reached a new level of awareness," he says. "People used to say to themselves that this how things are and there is nothing to be done about the prices of cottage cheese, gas and housing, but now the average Israeli is saying something can be done - putting together an event on Facebook and calling the youth movements and the students."
ICYMI
Ken Burns' Brilliant 'The U.S. and the Holocaust' Has Only One Problem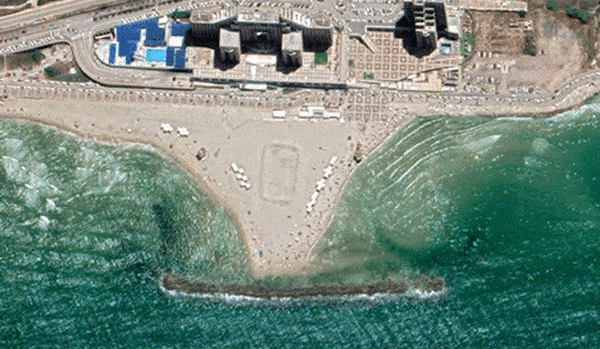 Facing Rapid Rise in Sea Levels, Israel Could Lose Large Parts of Its Coastline by 2050
Lapid to Haaretz: 'I Have Learned to Respect the Left'
The Mossad's Fateful 48 Hours Before the Yom Kippur War
As Israel Reins in Its Cyberarms Industry, an Ex-intel Officer Is Building a New Empire
How the Queen's Death Changes British Jewry's Most Distinctive Prayer