Family Affair The Saids of Moshav Mash'en
Abortion: 'I just couldn't go through with (an abortion). I gave birth and I took responsibility and let the father go his way,' says Mali. Dreams: 'A spouse' says Mali; 'a ticket to the final of the Champions League with Barcelona,' says Yuval.
* The cast: Mali (55) and Yuval (15).
* The home: The house is square, yellowish, detached, with a red roof; it's well shaded by a tipuana tree and is 100 square meters in area. The gate opens onto a concrete walk that leads to a front porch with a green sofa and a straw-and-glass table. Summer heat. On the right is grass, on the left is a flowerbed with pebbles and an avenue of geraniums in flowerpots. The yard (1/2 dunam 1/8 of an acre) is raked and tidy ("That's my thing" Mali). We flop down to rest on the porch. "It's a professional house," she says.
* Professional house: In every moshav, or cooperative farming village, Mali explains, there are a few small houses that were built in the 1950s for professionals doctors, teachers, etc. Her home, one of those, belonged to the "agronomist." Ten years ago she bought it from the moshav with the help of her family ("We are among the founders") for $30,000, and took a mortgage on it NIS 400 a month ("Not so bad"). We embark on a tour.
* Tour: On the other side of the door is a newly washed, orange-walled space with living room, dining area (open) and rounded dining table. The living room contains two crimson sofas, a coffee table covered with a batik tablecloth, and a TV stand on which are highly expressive sculptured stone heads. Hanging on the walls are reproductions (Picasso, Dali), which Mali received as a gift from her sister-in-law, Rivka Sa'ad ("She knows art"), who also sculpted the stone busts. We continue. An old bureau ("Something European, I got it from an Ashkenazi woman friend") on which there are more figurines (by Rivka) stands in the narrow corridor that leads to the interior rooms.
* The rooms: First on the left is Yuval's "chaos room," where he does his homework (with a computer, Young Britannica, Alkalai and Dan Pines dictionaries). The second room, Yuval's bedroom, has a TV, a big mirror and various toiletries. The third room is Mali's. We return to the porch to talk.
* Livelihoods and occupations: Mali, who teaches science and agriculture, is known by her students as "Miss Malka." For the past four years she has worked at the Ranch for Agricultural Education and Environmental Quality in Ashkelon, teaching children and adolescents how to sow, plant, harvest and eliminate pests ("everything having to do with the soil") in hothouses, where vegetables are the main item. She works a five-day week (8 A.M. to 1:45 P.M.) and loves her job ("I go to work even when I am sick"); she formerly taught science in schools in Ashkelon and Kiryat Gat. Today's students, she says, arrive as total ignoramuses in agriculture ("Some of them don't recognize a tomato"), but in the end fall in love with it. Mali also instructs children with learning disabilities and autistic children, and feels loved ("like a sports teacher"). She has no plans to take a sabbatical ("I need the money"). She commutes ("12 minutes") in a 2001 Mazda 323 ("not for sale") and listens to Israel's Reshet Gimmel ("only Hebrew songs").
* Yuval: He will be entering the 9th grade in Kfar Silver high school ("external student, not in the boarding school") and is in the class of outstanding students, majoring in physics, mathematics and computers. He is usually in school from 7:45 until 3, and travels back and forth (free) with busing provided by Hof Ashkelon Regional Council; he has lunch in school with Mom. He likes soccer and on Thursdays plays at an Ashkelon school; he also plays classical guitar and sings Shlomo Artzi and Mosh Ben Ari. Three weeks ago, he participated in a course for young leaders given by the Oded volunteering group in Azrikim Forest; later this year he will work with youngsters within the framework of a national-service group.
* Army: "I want a combat unit, but Mom has to sign for that." Mali: "You are an only son, I will not sign, even if I espouse right-wing views you will be in a computer unit."
W Mali's bio: She was born in Mash'en, in 1956, to a family from Hubaysh, Yemen, with 11 children. The firstborn, Yona, is now 70, and the youngest, Bracha, is 49; one brother, Shimon, died five years ago. Her late father had a cowshed ("30 dairy cows"), but worked mainly as a farmer in surrounding moshavim; her mother helped with the farm work and raised the children. She remembers her childhood mainly in connection with the farm ("Shoshana used to give the most milk"). Once, she remembers, she was coming back from the fields with her dad, fell off the horse-drawn cart and walked home ("I was sitting on boxes and Dad was galloping and didn't notice"). They had two children's rooms in the house: The six brothers slept in one room and the five sisters in the other ("and we didn't feel hardship"). They had chicken only on Shabbat "and when a guest came," she recalls.
* Bio (cont.): She attended elementary school on the moshav, high school in Kfar Silver (biology track), was drafted in 1974 to Signal Corps, started off as a clerk and moved to managing a spare-parts depot; afterward she joined the career army and was discharged as a sergeant first class ("I got a watch"). She loved the army but left, she says, because she could no longer take the pressure there. After her discharge, with money from army salaries ("I helped everyone in the family") and praise from her superiors (on the discharge report), she studied agriculture ("the subject closest to my heart") at Beit Berl College, lived in a rented place in Rishon Letzion, taught in a local school and didn't want to get married ("I didn't find anyone who stole my heart").
* Reactions: "Dad (a cantor in the synagogue) said, 'I trust you,' and Mom (who had collected traditional clothes for a wedding) said, 'The main thing is you should be happy.'" Her parents, she says, were open and liberal. Thus, after seven years in Rishon Letzion (on the fourth floor), at the age of 31, she returned home to the moshav, to her parents ("I felt I had to compensate them") and found herself cooking, hosting guests, looking after people and above all wondering. ("The years passed and nothing happened to me; I asked myself, 'What is it with me?'"). Her parents died in the mid-1990s, the property passed to her brother Rahamim ("My brother Shlomo, the leader of the family, said that's how it should be, and we all agreed"), and then the man who would become Yuval's father entered Mali's life ("someone with good genes"). Unfortunately, even though he was single, he didn't want children, and Mali, who had become pregnant, promised him that she would have an abortion.
* Abortion: It was aborted. "Even though I am an honest woman, I just couldn't go through with it. I gave birth and I took responsibility and let the father go his way." Until the age of four, Yuval called his uncles Rahamim and Shlomo "Daddy." When Mali's psychologist heard about it, he told her she should introduce Yuval to his real father. Mali called and told the father, "Listen, the kid is calling half the world 'Daddy,' come and meet him."
* The meeting: The father arrived, though little Yuval didn't exactly get it. But later, he says, they developed good, stable relations. Of his mother, he says, "I appreciate her decision to bring me into the world, alone." Yuval is certain that in the future he will marry and have a family ("with four children"). Mali: "I want him to succeed and place me in the most luxurious old-age home in the country." Until then she will be happy to meet someone.
* Someone: "Educated, not religious, no older than 63, economically independent, sensitive, non-smoker a good man." Yuval has already placed her on JDate he too is part of the project. Mali: "All these years I gave a lot to my son. Now I am starting to live, taking courses in self-fulfillment."
* Daily routine: Mali is up at 6 A.M., has a cup of instant coffee (unsweetened), goes out to the porch to listen to the birds ("There are a great many sparrows and hummingbirds"), returns to the kitchen, makes sandwiches ("as good as they get") for Yuval and for herself, tidies the house, showers, puts on makeup ("a little pencil, a little foundation, rouge, matte-red lipstick") and goes to the ranch without eating. Yuval gets up at 6:30, showers, shaves, uses gel and fragrance (Dolce & Gabbana, Canali) and at 7 ("on the dot") leaves to catch his bus.
* Lunch: They eat at about 3 P.M. "Whatever he asks for, I make" (macaroni, schnitzel, sausages, mashed potatoes, stir-fry, Yemenite soup). They then rest: she for an hour, he for two and a half hours. They have supper ("in the summer") around 8 ("dairy"), followed by TV.
* TV: Mali watches the news on Channel 2 and Channel 10 and reality programs, Yuval likes Sports 5, Sports 5 Plus and Sports 5 Plus Live. Mali goes to sleep by 11 ("in the winter at 8, with the ducks"), Yuval stretches out the day until 1 A.M. (with movies).
* Dreams: "A spouse" Mali; "a ticket to the final of the Champions League with Barcelona" Yuval.
* God: "I believe only when I am in distress" Mali; "I believe" Yuval.
* Peace: "I am ready to give territories in return for true peace" Mali; Yuval: "I don't want to give up any territory."
* Happiness quotient (scale of 1-10): Mali 9; Yuval 10.
The place
Mash'en This is a moshav (cooperative farming community) near Ashkelon, founded in 1949 by Yemenite Jews.
ICYMI
Ken Burns' Brilliant 'The U.S. and the Holocaust' Has Only One Problem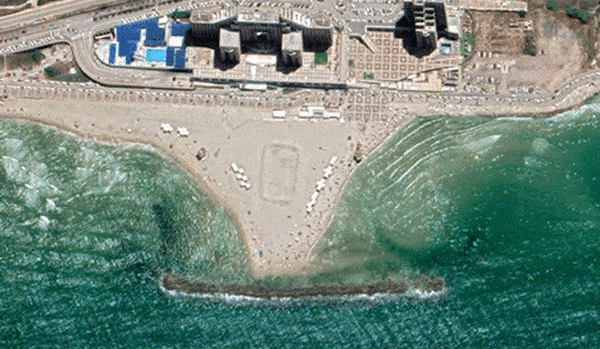 Facing Rapid Rise in Sea Levels, Israel Could Lose Large Parts of Its Coastline by 2050
Lapid to Haaretz: 'I Have Learned to Respect the Left'
The Mossad's Fateful 48 Hours Before the Yom Kippur War
As Israel Reins in Its Cyberarms Industry, an Ex-intel Officer Is Building a New Empire
How the Queen's Death Changes British Jewry's Most Distinctive Prayer