Sex and the City
With its explicit descriptions of sex, drugs and violence, most Israeli publishers shied away from Julia Fermentto's debut novel, 'Safari,' which depicts Tel Aviv as a modern-day Sodom and Gomorrah. Welcome to a new and gutsy voice in Hebrew literature.
It's hard to guess what the book "Safari" holds in store by looking at the picture on its cover.
The illustration is by artist Tamar Hirschfeld and shows a bird perched on a branch, from which chocolate donuts are growing. This is all far removed from the fevered, violent, sexual chaos that awaits readers inside. "I wrote the end of the book at Tamar's studio," explains debut novelist Julia Fermentto. "This painting was hanging over the table. It was in front of me the whole time. She has other works in this donuts series, such as a penis with a donut on it. So I was surrounded by these images. It was very important to me to have this as the cover."
On the inside cover of the book which is available now in Hebrew from Agam Publishing House appears a very formal headshot of Fermentto. "If you were told that I was a Walmart executive, you'd believe it," she laughs. "You don't need to go overboard. The tension is what's interesting. I really wanted someone to be able to sit on a plane with the book and have people think that maybe he's reading 'Peter Pan.'"
But the book Fermentto wrote is a long way from "Peter Pan." It is a bold, challenging and dark book, full of sex and violence. It wasn't easy for her to find a publisher who was willing to take it on. "I believe in variety, in cultural richness," she says. "It's not interesting when there are two large and prestigious publishing houses and everyone's trying to get inside, because it shapes the kind of literature they write. When there's a place for small and daring publishers, there's a place for daring literature. The rejections from the major publishers for 'Safari' were completely expected. It's not worth it for a big publisher to risk offending its pool of readers over one novel. For a small publisher, though, the risk is worth it."
Fermentto wrote the book three years ago, when she was 24, over the course of a year.
"My social relationships kind of faded and most of my free hours were devoted to writing," she says. "I didn't leave the house much. But there was one person who was with me throughout this whole period and the book is also dedicated to him. We would spend hours upon hours discussing the characters and the scenes. I would watch him read, the light of the laptop illuminating his face, and I would observe his expressions. He's my ideal reader and he's the one I thought about it at moments when I was unsure. When I finished writing the book, I gave a copy to 10 people I love and admire. That was a piece of advice I read from Stephen King and it's very helpful."
The Tel Aviv that Fermentto creates in her book is a hellish jungle with two heroines: Hagar Bakman and Louie Cook. Women whose lives are driven by consumerism and meaningless sex. Who are heavy consumers of drugs, alcohol. Who speak in a brutal way and express paranoia, irony and cynicism. It's quite possible that the first publishers who received the manuscript took it for pornography and were scared off. However, for Israel Mizrahi the owner of Agam Publishing House the decision to publish "Safari" was made "quickly and without hesitation. Its supposed crudeness has a purpose and meaning," he says. "Julia is an extraordinary voice in contemporary Hebrew literature and we believe in her future as a writer."
In the book, Fermentto takes an oppositionist, maybe even anarchist stance. One might call it an analysis of decadence, though it is no dry, academic treatise. Fermentto gets her hands dirty; she is extreme, cruel, blunt and brave, and doesn't hesitate to drag her readers with her and get them a little dirty too.
She says her goal was to write a book that she herself would buy: "It derived from frustration. As a person who reads a lot, who loves to read and buys books, it was very hard to find satisfaction in many ways, in terms of both content and language. This was the culmination of that whole process."
"I take my vodka and Red Bull from the bartender, who winks at me as he hands me the glass and gives me a free chaser. Always remember that no one approaches you without wanting something from you. I take the chaser and decide that I won't let the bartender fuck me this time."
(from "Safari")
Fermentto is a pen name and the writer does not wish to reveal her real surname, though Julia is her actual first name. She grew up in Kfar Sava, her father is a designer and she has a brother who is seven years younger. "I'm from that Kfar Sava youth, even though the youth there today has become more conservative. But we grew up in the shadow of the Assaf Stierman murder [the teenager who was killed by three assailants for the hell of it]. It's the rot of the middle class or the upper middle class. Kfar Sava really had that teenager atmosphere. We were mall rats or else we'd roam the public parks."
An aspect of observation
After high school and military service, she studied at the Sam Spiegel Film & Television School in Jerusalem ("It wasn't for me. I can't really get up at six in the morning and go to the set. I'm not cut out for that kind of life"). She also wrote a fashion column on the Laisha website ("I love fashion, it's important to me. I believe that one has to take care with things, and fashion is one way of doing that") and currently works as a copywriter at the Baumann Ber Rivnay advertising agency and is studying for a bachelor's degree in literature and French at Tel Aviv University.
You describe a human jungle. Why did you call the book 'Safari' and not 'Jungle'?
"I didn't think about that, but I can explain. There's something elegant about a safari, an aspect of observation. Unlike a jungle where you're completely a part of it, in a safari you can choose. The reader can also choose whether it's a pornographic book, a book you read on a plane or something else. I didn't want to make that decision as a writer, I wanted to leave it up to the reader's free will."
You depict two women who are very similar physically, very pretty, but one always reaches orgasm and the other never does.
"I tried to build a situation of getting stuck, a situation where there's no way out. If you're in this game, then you're in this game. It doesn't matter who you are."
Are you in this game?
"No."
Were you?
"I watched it, I was in it for a little bit. Not in the intensity that's in the book. In the book there's also something surrealistic. It doesn't represent reality, it represents a mood. But I observed things, I was exposed to it and it aroused a lot of feelings that I couldn't put into words, and the book did that."
The cliche says that the first generation are the founders, the second generation develops things and the third generation wrecks it. Fermentto describes the rot of the third generation: Her heroines living in a comfortable world, a world of plenty, of leisure and a tendency to self-destruction. "It's impossible to live this lifestyle and also work," she says.
"It requires free time, and they also have money from home to do one degree or another. Our grandparents came from a very different background. They worked hard and their ideology was very strong. Our parents were kind of half and half, still bearing the hardships but at some point they achieved comfort. The children grow up amid bourgeois comfort in a most hermetic way. They may have some awareness that once upon a time things were different but the comfort in which they live has no history and to a certain degree no future either."
Still, Fermentto says it seems that most of her contemporaries don't experience an ideological vacuum. "They marry and have children and they continue to preserve the good name of the State of Israel. When they're abroad and they're chatting with someone at a bar, they won't put it down. This is the paradox. They experience the anti-Semitism and the persecution as if it happened to them. And you want to say, 'Man, you grew up in a villa in Herzliya, what are you talking about? When you were in summer school at the age of 11, did anyone ever say anything to you about being a Jew? Where does this come from?' But I also believe them. I think it's completely honest. These people, if you offered to trade a house in Pasadena for their house in Herzliya, they wouldn't take it."
Would you?
"Yes. I don't know if I'd choose Pasadena necessarily, but yes I would trade. Why not? I'd do it for a lot of reasons. Tel Aviv is one of the most expensive cities in the world, a dirty city, they only do things part-way here, you get nothing in return and it's very frustrating. I really want there to be some return, I long for it.
"Once it was my dream that there would be some renaissance of Israeli culture or Hebrew culture or Jewish culture, but it's not happening. Everyone's really against it. They stand at the gates and don't let it happen and I don't understand why. I don't understand why everyone doesn't want it."
She says even though the plot takes place in Tel Aviv, it is not just a Tel Aviv book.
"Someone who's not a Tel Aviv single can understand it too. It's enough for somebody to have seen a porno movie, then he can understand the connection between what's raunchy and what's cruel. I'm not an expert in gender theory, though it interests me, but this seems quite obvious to me. Brutalization is a turn on, especially if it's against women there's something sexy about it. This is precisely the tension that exists in the world. Open up Vogue, it's the same tension there. In porno, it's the tension. This is the world."
No one goes to bed
Having lived in Jerusalem while studying at Sam Spiegel, she admits that the book's plot could not have been set there: "It doesn't have the same feverishness, of sex and consumerism and self-love. There's another kind of feverishness, and there's something in Jerusalem that's more oblivious. Tel Aviv is constantly assessing itself, it's very provincial. Jerusalem isn't like that."
Fermentto doesn't offer redemption or salvation to her heroines. Certainly not the redemption to be found in love. "They hope for love in the stupidest way," she says. "They have no access to it and they want it like an accessory, like a purse. In this sense they know this isn't where they'll find salvation, because they've bought purses already, and they've been with men already, and they've fallen in love already. Even if they were to find love, it wouldn't be a solution for them."
"I come out and wrap myself in the white towel with the blue Hilton Hotel logo. I clean my face with Clinique No.2 makeup remover. It stings so much, it's like removing makeup with Wild Turkey. I spread on Superdefense Maximum Moisturizer, Chanel's Foundation Makeup No.1, and draw on a thin line of black Dior eyeliner. I look incredible."
The book is also a tangle of labels and consumerism. Her heroines wash their hair with Pantene shampoo and Nivea conditioner, they take Advil, eat McRoyal burgers, buy clothes at Zara and wear camisoles by Dolce&Gabbana. This, too, is not very common in Israeli literature, which sometimes seems like it's still wearing khaki.
"I can't relate to a product without seeing what label it is," Fermentto says. "It feels authentic to me this way, because this is how the world is. I can't imagine how someone can wear something and not know where it came from. Even water has a label now. Maybe there is another kind of life but I don't know it."
But it's clear that what really gave publishers pause was her approach to sex. She writes about it without inhibition. Her sex is dirty, it's clearly used as a tool, as a source of power, a means of control, a type of product in a world of merchandise, a product that has a price.
Fermentto's protagonists don't make love. "I'd like to meet this couple that makes love," she says. "There are couples that sleep together, which you don't find in the book. But there is a place for those who fuck."
Are you attracted to pornographic literature? What books have you read from this genre?
"I really love David Vogel's novel 'Married Life.' It was a very exciting reading experience. There's something pornographic about it because he makes a merciless examination of passion for another. I like books like that, that completely distract me and make me lose the desire to do anything else but keep reading."
She says she wrote her book "without worrying about anything, and the decision to put a judgmental position in it at the end felt very important. At one point, I was suddenly afraid that I would end up with a pornographic book and no one would understand, but I felt that if I inserted my position there at the end, it would ruin it."
After she finished writing, she showed the manuscript to her mother. "I have an image of her lying on the sofa in the living room, holding the printed manuscript, turning the pages, wide-eyed. But she read it and we talked about it. She asked the classic question: Which parts are real? My father read the book now after it was published. He warned me there will be people who won't understand, who won't grasp the other dimension of it."
"I don't like being at the Helbon Club for a guy that I like, it doesn't suit the place. Here horniness is reserved for strangers. Here horniness is coming out of people's brains. Here people fuck to prove to themselves that they can still fuck and that porno hasn't completely crushed them."
One of the harshest chapters in the book focuses on a young woman of 20, a homely girl who comes with two friends to the Helbon nightclub. The other two women are attractive. Fermentto describes the humiliation that goes with being the ugly one. She is a tragic figure, at the bottom of the food chain, someone who will never have self-respect.
Fermentto devises a particularly cruel fate for her. "Yes, it's terrible to be an ugly woman, it's really tragic," she says. "It's verging on impossible. I think they experience total ostracism, it's very hard to play the game, unless they play alternative games. Maybe in academia it works differently. Not that feminists are ugly," she laughs. "I'm a feminist."
Do you like your characters?
"My attitude toward them, which is also very evident in the book, is mostly ambivalent. I think the character of Rinat is my favorite, though she's a pretty marginal character. She's kind of sweet, especially at the end when she stuffs herself with cream puffs out of anxiety that something bad is going to happen."
Remaining outside
Fermentto's heroines don't powder their noses or bat their eyelashes or blush, or feel trapped in bourgeois households, or get divorced or married, or have children and come down with postpartum depression. They've given up on all these possibilities from the outset. Fermentto defies these bourgeois possibilities and also feels that such depictions are actually very harmful to women.
"It's stereotyping and it's awful," she says. "I don't understand how women don't see the damage it causes them. Women are not all of these annoying cliches, and they're also not the postmodern cliches about strong and financially independent women that only do what they want to do. If it's really the case, then why do they all end up choosing the same thing? The illusion of choice has been shattered. It shatters every time a man breaks a glass wrapped in tinfoil."
Is misery a basic feminine trait?
"The women in the book are mostly lost and stuck, each in her own way. I don't know if there is salvation for them, it's hard to imagine it. There's a basic flaw somewhere. It doesn't appear in the book but for me, they are girls who were brought up on the hidden notion that a woman can't really transcend her limits and not only that, but that she shouldn't even try. The risk is too big, and then what happens? She should remain without a husband and children? The terror of this scenario is alive and well in all the women I see around me. It transcends social class, education and cultural background. No woman is safe from this dread, including me. It's really tragic. It's especially tragic that Israeli culture encourages it, even sanctifies it."
Fermentto also rages against Israeli literature in general. "Even if they would give me three books for a shekel, I wouldn't take it. I can't read those books, it's all so maddening. These books are like advertisements for Israeliness. I don't understand who wants to publish this stuff."
Is there any Israeli writer who has influenced you?
"I love [Shai] Agnon, but I wouldn't call him an Israeli writer. My antagonism toward Israeli literature began back in high school. Maybe it's childish but my feeling hasn't changed, and no Israeli novel I read has been able to change what I think about Israeli literature. Except for Orly Castel-Bloom, whom I'm sorry I wasn't exposed to at an earlier age. She has something that most writers and people in general don't have: inner integrity. The girl doesn't give a fuck."
"There's a long line for the bathroom. Slutty girls and greaser guys stand there giggling among themselves. The girls want more lines and the guys are hoping for a fuck, to lose their eternal virginity, the virginity of the periphery. All of them forget about the periphery for a moment as they're standing in line for the bathroom at the Helbon. Coke, cock and pussy ... it's international, they tell themselves."
Asked what she does like to read, she says that, at the moment, she has "a crush on Hemingway. Most unexpected." "Wuthering Heights" is one of her favorite books "I just love the Bronte sisters." Ayn Rand's "The Fountainhead" had a major influence on her, too.
"I went through many phases with it. I've grown out of it now, but it has to be understood in its context. It's a book I would recommend to young girls to read." Her favorite writer is Bret Easton Ellis, "and also Michel Houellebecq."
When Houellebecq visited Israel recently, she went to meet him at the French Institute in Tel Aviv. "I knew he was coming to sign books at the Institute and I had a powerful desire to spend an evening with him. I wrote him a note in French, I tried to make it not sound like a kinky sexual proposal, and then I showed up and there was hardly anyone there. He was sitting behind a table, short and sickly-looking, smoking like Georges Perec. I stood in line with my little note, kind of unsure, knowing it was a recipe for disaster, and then he signed my book and I didn't have the guts to give him the note."
Houellebecq's sickly appearance made her see, she says, just how dangerous it is to be Michel Houellebecq. "At that moment when I saw him sitting at that table, I thought to myself that he is not with us. And rightly so, to some degree. You can't write the kind of books Houellebecq writes and be a part of society. It's not possible. For a moment it really scared me. Not that I compare myself to him."
Are you afraid that people will be reluctant to get near your book because of its image?
"If someone is frightened by the book's image, then they shouldn't read it. The book is even scarier."
ICYMI
Ken Burns' Brilliant 'The U.S. and the Holocaust' Has Only One Problem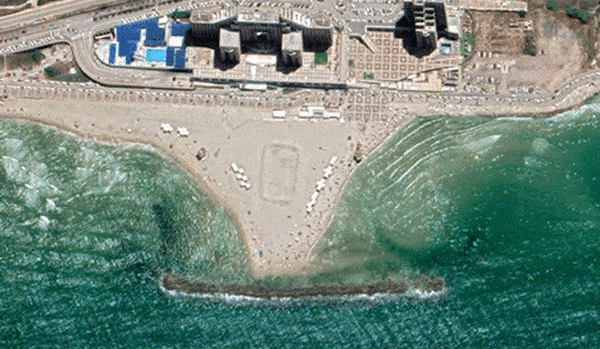 Facing Rapid Rise in Sea Levels, Israel Could Lose Large Parts of Its Coastline by 2050
Lapid to Haaretz: 'I Have Learned to Respect the Left'
The Mossad's Fateful 48 Hours Before the Yom Kippur War
As Israel Reins in Its Cyberarms Industry, an Ex-intel Officer Is Building a New Empire
How the Queen's Death Changes British Jewry's Most Distinctive Prayer