In the Photographer's Shoes
Though they are far from perfect in execution, both the exhibition and the accompanying book of photographs by the late photojournalist Yakov Agor go a long way to restoring the reputation of a largely forgotten artist.
"At such at age, one doesn't work as a press photographer," they said to Yakov Agor when he immigrated to Israel from Poland in 1958, at the age of 47. Despite that greeting, Agor became one of the most important and prominent photographers in Israel, who not only went out on news assignments as a photojournalist, but for years also documented cultural and artistic life, as well as life in both town and country.
Last week the Tel Aviv Museum of Art opened an exhibition of photographs by Agor (1911-1996). The volume that accompanies it, "Yakov Agor: Photographer," marks the first time a selection of his photos has appeared in book form.
In an interview with Agor in the Tel Aviv weekly Ha'ir in 1987, Esther Zandberg wrote: "When photographer Yakov Agor had been working with the Israeli theater for 25 years, friends suggested that perhaps he should publish an album, like everyone else. The Massada Press was enthusiastic and Nissim Aloni, a friend and a playwright who was a particular favorite of Agor's, offered to write the texts. That was three years ago and to this day no album has been published."
Adam Baruch wrote in the daily Yedioth Ahronoth even earlier, in 1978: "Agor has a handwriting all his own. Someone needs to go to his house once and organize his archive properly." That task was taken on by artist Dani Karavan, who was a close friend of Agor's.
"I've known Yakov since the 1950s, when he had just arrived in Israel," he says. Beginning in 2000, when he was a member of the Payis Council for Culture and Art, Karavan set himself two main objectives or, "dreams," as he puts it. The first was to organize a museum exhibition for a group of artists who had not been shown for years, and had largely been forgotten if not excluded from the traditional canon of Israeli art. The second was to publish a book of the work of photographer Yakov Agor.
To Karavan's delight, both dreams were fulfilled: In 2006 the exhibition "12 Artists: A Second Glance," curated by Irith Hadar, opened at the Tel Aviv Museum, displaying the works of Yehoshua Grossbard, Avraham Naton, Yehiel Krize, Aharon Kahana and others.
The second dream came to fruition this year with the publication of the catalog. Joining the editing was Prof. Shimon Sandhaus, also a member of the Mifal Hapayis national lottery committee.
"I asked him to join," says Karavan. "He's a designer, a person who has a much better knowledge of printing houses than I do. He recommended the designer and supervised the entire printing process."
Alex Agor, the photographer's son, who lives in the United States and is visiting Israel for the exhibition, confesses to being excited: "It's an honor that Dani Karavan took this on himself. I don't think there's a curator in the world who could have done what Dani did. In terms of his thinking, he really entered father's shoes."
The book, which includes over 100 photographs, is divided into five sections. The first presents pictures from the family album, where one can see Agor, his wife Helena and Alex. The second includes portraits of intellectuals and public figures,including Uri Avnery and Shalom Cohen, who were then editing the weekly magazine Haolam Hazeh; a young Shulamit Aloni puffing on a cigarette; David Ben-Gurion photographed from the back, sitting at a table in his home on Keren Kayemet Boulevard, in Tel Aviv; the artist couple David Hendler and Aviva Uri at the opening of an exhibition; a melancholy Nissim Aloni; as well as Uri Zvi Greenberg, S.Y. Agnon, Uri Lifshitz, Menashe Kadishman, Abba Eban, Golda Meir, Moshe Dayan and others.
Other sections of the book contain photographs of theater and dance performances taken over a 20-year period; official events such as the transfer of Ze'ev Jabotinsky's remains to burial in Israel in 1964, the Israel Defense Forces parade on Independence Day 1965, a forest-planting ceremony held to honor the memory of Israeli spy Eli Cohen, and Palestinian refugees with their personal belongings in 1967; and a chapter documenting the cultural and street life of Tel Aviv.
Karavan and Sandhaus also curated the museum exhibition, which includes some 50 original prints prepared by Agor himself, as well as an additional selection of photographs screened sequentially on one of the walls of the display area.
Agor photographed and recorded the work of many artists, including Karavan and Kadishman. "He was unusually generous," attests Karavan. Usually he would do it without financial remuneration; perhaps the many paintings that covered the walls of his home were his reward.
The exhibition is not accompanied by any text, while the book contains an article by photographer and researcher Guy Raz. In addition to Agor's life story, Raz places his work for the first time in the context of both the local and international history of photography. His article is followed by a short piece by actor Shimon Lev-Ari, the executor of Agor's estate; Lev-Ari's text is almost identical to the citations from him in Raz's article.
"Agor joins a long list of photographers whose archives remained after their deaths like a negative for which no one has any use, in the silence of dark and forgotten rooms. These archives contain the history of everyday life, culture and photography on the local scene," wrote Raz.
In Agor's case, immediately upon his death, his son donated his estate to the Israeli Documentation Center of the Performing Arts at Tel Aviv University, which until recently was run by Lev-Ari. Karavan says that Lev-Ari was also supposed to edit the book, but for health reasons was unable to do so and the task was given to photographer and artist Michal Heiman. Heiman was friendly with Agor and in 1991 curated an exhibition of his photos in the new gallery of the Camera Obscura School of Art in Tel Aviv, 32 years after his previous exhibition. For two years she worked on the book, but in the end her cooperation with Sandhaus and Karavan didn't work out, and an article she prepared was not included.
In lieu of words
Like his father, Alex Agor never studied photography, but already at the age of 21, in 1969, he was sent to represent Israel at the Paris Biennale for Young Artists, along with Benni Efrat and Raffi Lavie. From there he went to London and very soon his photos were being published in The News of the World and Time Out magazine. Eventually, he settled in New York, where he began working in the fashion and advertising world. Agor once said of his son that at the age of 12, he "raced on his bicycle to photograph a lethal accident, photos of which appeared afterward in Haolam Hazeh, and at the age of 17 he had a cover and two pages in the Haaretz weekend supplement."
Alex Agor says today: "My father's photography was something extraordinary. He never thought about himself, only about the object, the person in front of him and his character.
He knew how to get at the inner self. So the photo would express, or in a way replace, the words. All his work is about people and life. That's what I've tried to do too."
Did his father teach and encourage him? "At first he didn't particularly encourage me," replies the son. "He used to say that if I ever became a photographer, I would have to be better than he. He was a harsh critic. He would say, 'That's no good, go do it again.' That helped me a great deal."
Although it is being shown at the Tel Aviv Museum, the exhibition "Yakov Agor: Photographer" is far from being of museum quality: On display are the original prints by Agor, and their quality does not flatter him. Sandhaus claims that the photos on display are of value because "Agor himself didn't consider himself an artist, but rather a photographer.
He didn't preserve his work. Today it's customary to make huge color prints, and here we have small black-and-white prints whose technical quality is nothing special, but with a photographic quality that is rarely seen today."
Heiman, who was familiar with Agor's work methods, claims that the photos he printed in Poland before immigrating to Israel were far better. She gives a more complex description of the situation: "Picture a photographer who develops his films in heat and cold, rinses negatives in the same bathtub where the family bathed." She says that this was common, but certainly was done out of constraint rather than choice.
Goldfarb the poet
Agor was born in 1911 in Rovno, Ukraine, with the name Yakov Goldfarb, and as a child moved to Danzig, then in Germany. When he was 12, his parents sent him to Palestine and he studied at the Reali School in Haifa and at Tel Aviv's Gymnasia Herzliya. After three years, he returned to Danzig and finished high school, following which he went to study painting in Nuremberg, although thanks to his eldest brother, he had already discovered photography at the age of 8.
During World War II he parted from his family, who had moved back to Poland, and began to wander. He arrived in Russia, worked at designing film sets in the Soviet Union and participated in the war as an officer in the Polish army. His family was killed in the Holocaust.
After the war Agor found himself in Poland again. Thanks to the knowledge of cinema that he had acquired when working as a set designer, he was sent to Berlin in 1945 to purchase photographic equipment for the Polish National Film School in Lodz. Afterwards he began to work as a lab technician at a Polish photographic agency, before starting to do photography himself.
He met his dancer wife, Helena, in Lodz, when she was still called Sarah Levkovich. During the war she changed her name to Helena Wolansky. In 1958, two years after Agor participated in the World Press Photo exhibition in Amsterdam, the family immigrated to Israel, straight to the Pardes Rubin transit camp. Alex, their only son, says that one of the reasons for immigrating was his mother's fear for their lives as Jews in Poland.
As a result of a meeting with a journalist at the daily Al Hamishmar, in 1959 Goldfarb-Agor had his first exhibition in Israel, at Beit Sokolov journalists' headquarters in Tel Aviv. Uri Kesari wrote about the exhibition in Haaretz: "Mr. Goldfarb is a poet, and his camera becomes, inadvertently, a fount of inspiration and a wellspring of experiences. There is no question that he is an important artist." He even compared him to photographer Helmar Larsky (whose work is now on display in the Israel Museum in Jerusalem).
Incidentally, Goldfarb chose his Hebrew name in the wake of the currency change in Israel from the prutah to the agora. And throughout the years he worked as a photographer: From 1960 to 1962 for Haolam Hazeh and from 1963 to 1980 for Haaretz's weekend supplement. At age 75, he retired and returned to drawing and painting.
Agor was not interested in technique, he used a simple camera and refused to use a flash which lent his photos interesting plays between darkness and light and endowed them with a dramatic dimension that contributed greatly to his stage photographs. Some claimed that Paula Ben-Gurion was nice to him because she hated flashes.
As a press photographer, too, he differed from his colleagues. As Esther Zandberg wrote about him: "Agor won't catch anyone in a situation he finds uncomfortable .... Even when he worked for Haolam Hazeh, which specialized in catching people with their pants down, he had no urge to penetrate other people's guts. For such assignments [editor] Uri Avnery sent other photographers."
A reverse photograph
Although the exhibition and the book are a cause for rejoicing, they also arouse a sense of a missed opportunity. For one thing, we have to ask why there is only the article, by Guy Raz, and none by scholars of photography or other photographers who could have enriched the research about Agor, since we can reasonably assume that such an opportunity will not present itself again soon.
One example of the gap between the considerations of a photographer and a photography researcher, on the one hand, and those of people like Dani Karavan and Shimon Sandhaus, both of whom knew Agor from the world of design, on the other, can be seen on the book jacket: a self-portrait of Agor that he took in a mirror, and which they decided to reverse so the cigarette would face the opening of the book.
Another example appears in Heiman's missing article. During her research in the archive she discovered new series of motifs in the photos. For example, a series of self-portraits with Agor holding the camera, sometimes with Helena and Alex; a series of war photos, including the start of Israel's occupation of the territories, in 1967; a series with a "fish-eye" camera in which he focused on architecture and holy sites, and a series of quasi-panoramic photos. "I was very surprised to find them in the various cartons, one after another, until I understood that I had evidence of an important move here," says Heiman.
"It's interesting to think of them in connection with the photos of Germany's Andreas Gursky, Israel's Barry Friedlander and others."
About a month after the death of his beloved wife, Agor "decided to shorten his life," as Lev-Ari puts it, and left behind the following letter: "My friends! I wish you all peace and health, and am leaving because I'm unwilling to die in diapers, I love all of you, especially Alex and my close friends. Please excuse the handwriting, but I'm quite blind. I want to join Helena, and at my death I have donated my body to science. Yakov Agor 1996."
ICYMI
Ken Burns' Brilliant 'The U.S. and the Holocaust' Has Only One Problem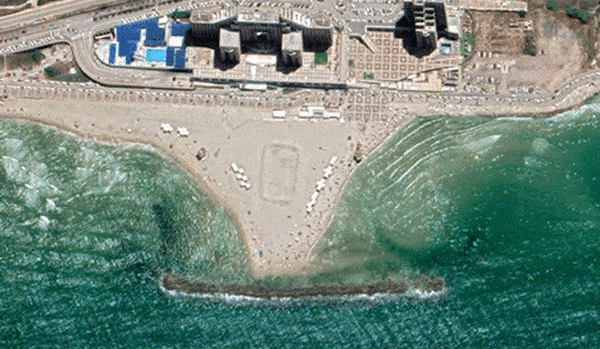 Facing Rapid Rise in Sea Levels, Israel Could Lose Large Parts of Its Coastline by 2050
As Israel Reins in Its Cyberarms Industry, an Ex-intel Officer Is Building a New Empire
How the Queen's Death Changes British Jewry's Most Distinctive Prayer
Chile Community Leaders 'Horrified' by Treatment of Israeli Envoy
Over 120 Countries, but Never Israel: Queen Elizabeth II's Unofficial Boycott