A Still-relevant Miracle
The rise of modern Jewish national consciousness was as grassroots, as genuine, as its later Palestinian counterpart or other national movements.
"For I have seen with my own eyes a seed sown in Jezreel / By a handful of starving, wretched unknowns / And its sheaf has since sprouted and risen and grown / Into the State of Israel."
Any analysis of present-day Israel, be it political or economic, must come to grips with the riveting story enfolded in these lines, written in 1948 by Hebrew poet Shin Shalom. It is a moving poem, despite its romantic idealization. To be sure, Israel was not borne of unsung pioneer heroes alone. During the years 1882-1948, when Jews from many countries came together in the Ottoman and Mandatory region of Palestine to build a national home, personal sacrifice and individual idealism were complemented by shrewd policy making, diplomatic sophistication, military prowess, and deft maneuver of historical contingency. The Zionist movement had to be pragmatic, self-critical and open-minded. Likewise, the young Hebrew culture was self-aware, ironic and politically alert to an extent you don't often see in other national awakenings. The greatest of writers, Bialik, Brenner and Alterman, propagated their social and political criticism even as the new Jewish polity was being founded and built.
But Shin Shalom was correct in saying he had witnessed a miracle.
Today's Israel - depending on your preference, a regional superpower, a fast-tracking start-up nation or the bane of the Middle East - germinated in a process so swift, dramatic and inventive, that it defies comparison with any other nation-building module in modern times. Recently, the delegitimizing narratives of this history have begun to relegate all Zionist discourse to the domain of propaganda, purporting to show how Zionism was mere colonialism: A bunch of scheming Jewish movers-and-shakers colonized Palestine and tricked the world into recognizing Israeli statehood. This - if nothing else - is lazy historiography.
I have evoked Shin Shalom to make a simple point: The rise of modern Jewish national consciousness was as grassroots, as genuine, as its later Palestinian counterpart or other national movements. It was also a singular phenomenon, because the national territorial claim was predicated on mass migration (and later the mass flight of Holocaust survivors and refugees of persecution). But migration does not equal colonialism.
To call the 25,000 Jews from Russia, Romania and Yemen who comprised the first wave of Zionist influx (the First Aliyah ), and their followers, run-of-the-mill colonialists is to miss the profoundly unique aspects of Israel's evolution.
The Jewish national movement rose from the multitudes, although it was lucky enough to generate fine leaders on many levels. It came from a profound and warranted collective premonition of existential danger. It articulated a unique motivation of homecoming - not conquest. It drew on the memory of a people steeped in reading from a shared bookshelf. Its nature, from the very start, was deeply democratic. The interplay between distinct origins and a new "melting pot" was immensely inventive, and enabled the greatest accomplishment of modern Jewish culture: modern Hebrew. The language and the literature.
Even the ways in which Zionist thinkers and doers tried to deal with the Arab population of the Land of Israel, which had not yet formed into a counter-nation, were not flatly colonialist. A national home was promised to the Jews in 1917, and two sovereign states were offered to Jews and Arabs in 1947; mainstream Zionist thought and practice, from Herzl onward, aimed to build a parliamentary democracy with equal citizenship for Arabs alongside Jews.
Nevertheless, the Arab residents of Ottoman and Mandatory Palestine, perhaps justifiably from their vantage point, saw the land-buying Jews as colonial settlers rather than future fellow citizens, and opted for violence. In the ensuing tragedy of conflicting national claims, the Jews gained the upper hand in three crucial senses: They militarized successfully, practiced brilliant diplomacy, and claimed the moral high ground by accepting the UN partition resolution - that early two-state solution that the Palestinians rejected wholesale.
Is Israel's pre-state miracle relevant, in any way, to its present-day economic miracle - or to its less-than-miraculous political inability to attain peace with the Palestinians and Syria?
I believe it is deeply relevant. Not for the sake of triumphalism. Not in order to reiterate, for the umpteenth time, that post-Holocaust Jews played their meager historical cards far better than pre-Nakba Palestinians. Today's Palestinians have a right to claim the sovereign state that their grandfathers threw to the winds, although the lines of division will differ a great deal from the old UN partition map.
But no historical narrative upholding Palestinian hopes and suffering can dispense with Jewish hopes and suffering. Zionism was an authentic national movement, and any attempt to demonize it (and denounce the State of Israel ) while otherwise "having nothing against" the Jewish people (and disclaiming anti-Semitism ) is a historical non sequitur. Only a serious engagement with the human energies, accomplishments and failures of the pre-Israeli Zionist movement can explain the tenacity, success and shortcomings of Israel. Israelis, in particular, must shun the politics of despair sometimes heard in political discourse. Existential panic and cynicism have never been part of the Zionist ethos. Sowing seeds in dry soil, peace-seeking self-defense, hoping and building - these were the true hallmarks of Israel's grassroots founders.
In my childhood, on Kibbutz Hulda, every Independence Day, a tiny old pioneer woman named Hadassah would light a candle and recite Shin Shalom's poem in a quietly passionate voice. She had been one of the seed-sowers. And I, a grandchild of Hadassah's generation, still saw them, the sowers and their sprouting seeds, with my own eyes.
Fania Oz-Salzberger is a professor of history in the law faculty, University of Haifa, and the Leon Liberman Chair in Modern Israel Studies at Monash University, Melbourne, Australia. She participated this week in a discussion of Israel-Diaspora relations at the third Israeli Presidential Conference in Jerusalem.
ICYMI
Ken Burns' Brilliant 'The U.S. and the Holocaust' Has Only One Problem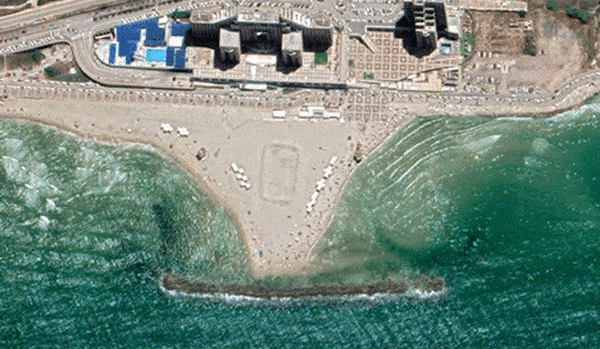 Facing Rapid Rise in Sea Levels, Israel Could Lose Large Parts of Its Coastline by 2050
As Israel Reins in Its Cyberarms Industry, an Ex-intel Officer Is Building a New Empire
How the Queen's Death Changes British Jewry's Most Distinctive Prayer
Chile Community Leaders 'Horrified' by Treatment of Israeli Envoy
Over 120 Countries, but Never Israel: Queen Elizabeth II's Unofficial Boycott