Material Success
'Made in China' labels may be ubiquitous in our shopping malls, but one Israeli textile company, Offis, is defying the odds with a remarkable rags to riches story
If not for the pungent smell, one might think this was an amusement park in the middle of Azor. Giant colorful wheels move from side to side, creating a harmony of sounds and shades. Every so often a steam boiler lets out a loud roar, emitting a thick puff of vapor.
Water, vinegar and whitening substances treat one of the wheels, turning it completely white. Another giant wheel is being burned with fire from the inside. Then cheerful flowers are attached to it and, like a festive bouquet, it is sent on its way. The people making sure this all happens at the right pace appear quite happy.
This is not a description of a family trip to Disneyland. This is the scene during a shift at a textile plant in Israel. A textile plant? In Israel? Yes, there is such a thing. A bustling and profitable factory that employs 240 workers, and stretches over 32 dunams. It's called Offis Textile Ltd (Offis is a contraction of the names of the two founders, Ofek and Yoskovitz). And it's the only textile printing plant in Israel that is still in active operation following numerous plant closures.
The history of the textile industry in Israel is a sad story. Once a sizeable profession, with thousands of factories and workshops employing at its peak around 45,000 people, Israel has become an outpost of China. Nostalgia is all that remains of international labels that were once sold in Europe and America. Today, the industry employs just 14,000 workers, and many companies are barely hanging on. Many of the laid-off workers have remained unemployed or had to retrain. A majority are from towns on the periphery, where unemployment has become the norm. And Offis? It insists on projecting optimism. The workers are content with their lot, and so is owner Eliezer Fishman.
Last year Offis did about NIS 250 million-worth of business, earning a profit of NIS 10 million. This year the company is hoping to improve on those figures. For now, the sharp increase in world cotton prices is working in its favor it has a large quantity of stock that was purchased before the prices went up. But cotton prices aren't the only reason for Offis' nice profits and the employees' positive attitude. This is one of the friendliest workplaces around, and not just in the textile industry.
Working together is fun
Hani Hamudi, 43, from Kalansua, has been working at Offis for 23 years. He started out in the Quality Control department and is now a shift manager with the authority to hire and fire workers. "If I wasn't happy here, I wouldn't have lasted for so many years," he says. "Offis is a great company. Everyone works together, makes decisions for the workers' benefit and cares about them. I also care about how to improve the factory. Working together is fun."
Offis prints patterns on imported cotton fabrics to order, dyes them, and cuts and sews them into curtains, tablecloths, upholstery fabrics and, mainly, into linens for the wholesale market, for institutions and hospitals. Aside from the sewing, everything is done at the plant in Azor. Offis linens are sold as a private label (to companies that mark them as their own); 60 percent to chains in Europe, America and Asia; the rest to Vardinon and Golf in Israel.
In the 1980s, Offis was listed on the stock exchange, part-owned by a subsidiary of Bank Hapoalim. Ramzi Gabai, currently an active chairman, began running Offis in 1987 after leaving a career position in the army. "I took on a losing company," he says. "And in the 24 years since then, it has never shown a loss. Within two years we were among the 100 leading companies on the stock exchange. In 1993, [Bank Hapoalim chairman] Amiram Sivan wanted to sell us. Two companies argued over whether to pay NIS 12 million or NIS 12.25 million, including the land, and then Eliezer Fishman comes and buys it for NIS 15 million 100 percent of the land and 60 percent of the company. The rest was publicly held. One day I invited him to visit and I saw that he was inspecting the walls. Later on he told me he wasn't interested in the company, only the real estate.
Then he saw that the company was laying a golden egg every year, so he let us keep working."
Gabai, a warm and affable fellow, ran the company until January 2010. He had a close relationship with the workers. His door was always open and the employees felt like they were part of one big family in which everyone looked out for one another. "I would buy pitas, come in at night, and learn about each and every machine, and we would work together," says Gabai. "Companies around us kept closing down but we kept on making money. No one could understand it."
Gabai says there's no secret formula to the company's success but notes, "There is no Workers' Committee here. There never has been. I am their committee. I am the father. Most of the people I took in were new immigrants from Russia. What's special is that the workers were always loyal and the slogan was that the business is ours and not Fishman's. I knew how to reward the workers. Every year, everyone at the plant goes on a trip abroad at our expense."
Andrei Setztelivtzev, 39, from Bat Yam, has worked at Offis for six and a half years. He came to Israel from Ukraine in 1990. A metallurgist by training, he works as a printing shift manager. Aside from the difficulty of working a 12-hour night shift, he thinks everything here is terrific. "The textile industry in Israel and around the world is falling apart but Offis keeps on working," he says. "When I started I was number three and I gradually moved up until I was in charge of the shift. Besides our wages and overtime, we also get bonuses. Before I came here I worked in a lot of different places, including Yediot Ahronot, and the conditions were nothing like this. There were no trips abroad once a year, or trips in Israel, or special evenings for the employees. It gives you a very good feeling and has an impact on people. You're not just working like a mule all the time. You also get to enjoy things that you deserve."
The Volvo of linens
Offis factory workers earn a gross monthly salary of NIS 8,000, including overtime and bonuses. "I can support my family with dignity," says Hamudi. "I have five kids and my wife also works. Anyone starting out earns minimum wage, but if the company see that he's serious and wants to work, he gets promoted."
Artur Haminov, 44, from Lod, has worked at Offis since immigrating from Russia 18 years ago. An economist by training, he works as a shift manager at the warehouse. "If I can last 18 years in this job, that's a sign that it's good," he says. "Thank god I'm very content here. Textile plants in Israel are closing, but ours is just advancing all the time. The dining hall is like in a hotel. We've been almost everywhere in Europe. This year we were in Cyprus."
A year and a half ago, Eliezer Fishman bought all of Offis' public stock and made it a private company again. Gabai retired from management and was appointed chairman.
The CEO post was taken by Sasson Tzalisher, 50, a combat reservist. In his last position in the army he was a deputy commander of the Navy SEALs, and his military background shines through when you meet him. "We're the Volvo of linens," he says, in the tone of a brigade commander. "You won't find our linens at all sorts of bazaars and supermarkets." To keep the Volvo going, Tzalisher made some outlandish moves especially when you consider this is the conservative textile world and not a high-tech company. Together with the workers, he defined a vision: "To lead the staff at Offis in such a way that we achieve our goals and objectives and serve the interests of everyone involved: owners, employees and business partners." This vision spawned a new management culture, enshrined in words such as fundamental values, striving for excellence, continuous learning, responsibility, organizational commitment and belonging, personal initiative, professionalism, trustworthiness, responsiveness, empowerment, development, forward-looking, and aesthetics.
Lior Abu, 33, from Nes Tziona, has worked at Offis for nearly two and a half years. His department is logistics, dealing with the sewing workshops and overseeing the finished products and acquisitions. "Working in textiles isn't sexy? Why not? It's great. When I was looking for work, I researched the company and saw all the fantastic data. I couldn't believe it."
All the positive words mentioned above were not meant just for decoration Tzalisher printed them in a booklet and sent everyone a copy. He puts his theory into practice, holding various forums with the workers, who meet periodically to discuss improvements and benefits, and bring up new ideas. He also arranges many empowerment activities and motivational talks, along with workshops and lectures; screens good movies in the evening (outside of work hours); and even asks, nicely, for workers to read books and then prepare "book reports" and "presentations."
On a big bulletin board visible to all, under the heading "Norms that Need Improvement," appears a list naming employees who've been slacking off. On the opposite side, under the heading "Positive Norms", appears a list of diligent workers. For example, A., from the lab, was reprimanded for not providing the proper level of service, while another worker was scolded for his unwillingness to assist another employee. Another worker was reprimanded for not following all the prescribed procedures in transferring samples to the lab. On the commendation side, one worker was singled out for the level of care he puts into his work and another for his high productivity. "We're always working on more training processes and supplemental training," says Abu. "The challenge here is huge."
Tzalisher denies the suggestion that the reprimands are the kind you'd find on an army base. "Not at all, but we're always being looked at, we have very high standards here.
The customer and customer service, business performance... they're at the top of the pyramid. This is a factory and everything has to work like clockwork. I'm a link in the chain. If I don't receive my part on time, the whole chain is affected."
Tremendous satisfaction
It may still be too early to talk about results, but Tzalisher is certain that employee forums and personal involvement is a lot more than mere slogans. "It's an ongoing process," he says. "You can see the change in people's behavior, in their level of commitment, in their caring. People who never held a pencil in their life are now comfortable with PowerPoint presentations. It's not 100 percent yet but it's 70 percent and it has a personal effect on people, they feel empowered. Suddenly they have confidence. We enable every worker to fulfill himself and to feel proud about working in the textile industry."
Tzalisher agrees the industry still has an image problem but notes: "We're managing to attract a young generation. I'm happy to say we've attracted very high quality people here.
If I succeed in instilling the value of 'organizational belonging,' then my workers won't leave me for another thousand shekels somewhere else. I introduced an "open month" for the CEO, and during this month every worker can come to me and tell me his problems, including problems from home if he wishes. It's all very structured so that randomness isn't allowed to dictate things."
Sounds like a dream place to work. "Yes, but it's very hard to work for me, too. I have high demands. But nevertheless I think my workers would do anything for me. If I asked them to come in on Saturday they would come."
Most people just want to go to work and then come home, spend time with the family, go out to a movie and not do reading assignments at night or go to self-empowerment forums, don't they?
"The workers get tremendous satisfaction out of it. I have managers here whose wives have called to say that now their husbands have changed and are behaving totally differently. That they've become kinder and more responsible, and this has an effect on their professional work, too."
Would you say this is why Offis is succeeding where other companies have failed?
"Our great advantage, among others, is our flexibility compared to, for instance, the Chinese. We don't say to any customer that we can't supply the goods within three weeks or a month. An Egyptian client came to me and said, 'Sasson, help me, I need merchandise urgently.' I supplied him with it in just three weeks."
Gabai is responsible for acquisitions and for contacts with clients around the world.
Over the years, many of these contacts have become very close, and this, too, he says is part of the secret to Offis' success: "Clients is the name of the game. For me, they're all friends. For the Seder, I had 30 people from England at my house. There's no such thing as a client who hasn't been to my home for a Shabbat meal. One of the most important things is service, and the other is supply time. Offis is a healthy company and this has to do with the cotton inventory. I can supply an order in three weeks. In China it takes three months, because they knit the merchandise per order."
Offis has no sewing department. They use outside sewing workshops located in villages in Wadi Ara; the Barkan industrial zone in the West Bank; and in the Palestinian Authority, mostly Hebron. "We can't handle the costs of Israeli sewing workshops," says Tzalisher. "In China they pay $150-$200 a month, in Egypt $70, and here over $1,000."
One of Offis' biggest environmental successes was the installation of a gas pipeline that has been transporting natural gas from the Hiriya dump to the plant for the last three years. This is "green" gas that is produced by garbage fermentation; it reduces pollution and supplies about 60 percent of Offis' energy needs. Offis also employs seven or eight refugees from Eritrea and Sudan (with the required permits from the authorities) and people with special needs; contributes to sports activities and preschools in Azor; and offers scholarships to employees' children. "I believe that working with people with special needs has a positive effect on the employees," says Tzalisher. "If they learn to get along with these people, they can also learn to get along with another nation. In the end, it's all about management."
Grounds for optimism
Zvika Lieberman, director of the Israeli Textile and Fashion Industries Association, says the local industry "appears outdated and anachronistic. It has no sex appeal, no PR and no lobbyists." But Gary Heiman, owner of Arad Textile Industries, strongly disagrees.
Like Offis, Arad Towels is a thriving and very profitable plant. It employs 650-700 workers and has a yearly turnover of $120 million. Arad manufactures towels and blankets, 93 percent of them for export. It's a privately-run family company that began operating in Israel in 1975 as a subsidiary of the Cincinnati-based Standard Textile Company.
How do you manage to be successful?
"Our relative advantage in Israel is our creative and innovative spirit," says Heiman, on the phone from Cincinnati. "We developed products that no one else thought of and we have a lot of loyal customers who only want Arad towels. The secret is in the professional management culture and ethics, which is a key value for the company. Our workers have a passion for the job, they are loyal and they take pride in working for us."
You could have made a lot more money if you did your manufacturing in China.
"We do make towels in China, but we have clients who want towels that are manufactured with advanced technology, and for them we offer Arad towels." Heiman has another factory in Migdal Ha'emek that makes work clothes for export and uniforms for the IDF, employing 120 people. In Jordan he has a work clothes factory that employs about 1,000 people.
Together with MK Shelly Yachimovich, Offis' Ramzi Gabai who also serves as chairman of the textile division of the Industrialists Association helped formulate laws, stipulating that textiles used to make uniforms in organizations such as the IDF, Israel Police and Israel Prison Service must be made in Israel. "All manufacturing of uniforms for the security forces and of national flags has to be done in Israel," he says. "Until recently, they were made in China."
Fashion designer Dorin Frankfurt also refuses to be pessimistic and, along with partner Margit Segal, has all of her products made in a plant in South Tel Aviv. The factory employs several dozen seamstresses. "I think textiles in Israel is the future," says Frankfurt. "The age of competition with China will not end, but our relative advantage is in the unique design which is like individual handwriting and distinguishes our merchandise from the merchandise that comes from the East. I'll never be competition for H&M or Castro, but my personal handwriting is something that I can only manufacture here, because this is where I have very skilled and professional hands. It really makes me angry that we try to lean on the East and are lagging behind countries that are a lot more expensive than we are - such as England, Finland, Sweden and Belgium - yet are going back to manufacturing in their own countries."
The China syndrome
Like its parent company Polgat, Bagir has ceased manufacturing in Israel. The company headquarters remain in Kiryat Gat, where they do development and some of the design work for men's fashions that are manufactured in China and Egypt. "Polgat was a great factory," says Bagir CEO Danny Taragan. "It was an empire that employed something like 3,000 people, maybe more. As soon as the whole world started manufacturing in China, it was impossible to compete. Bagir sold most of its products outside of Israel in New York, Germany, London. Marks & Spencer was one of our clients. In Israel we sell in franchise stores and Mashbir. For us the choice was move to China or cease to exist."
Yair Rothlevy once had an empire, too. His family was the owner of Rotex, and years later it bought Lodzia. Both plants came here from Poland in 1924 and established a textile industry that manufactured mostly underwear, socks and silk stockings. Later on they purchased Argaman, and Gibor Sabrina. Not much is left of the empire today, with most moving to China.
"We're struggling," says Rothlevy. "I have a very hard time with it ideologically, but practically speaking we had to decide, after 87 years in operation in this country, whether to keep the marketing, planning and development here and do some of the manufacturing outside, or be completely wiped out. There's a big problem with costs.
The weaker the dollar gets, the harder it is to withstand the competition. In the 1950s, Lodzia employed 1,200 people and Rotex had 300. At first we moved the sewing to the Galilee, and then to Jordan, but the crisis occurred when they enacted the minimum wage and it kept going up all the time. Then it became very difficult and, instead of supporting the employment of village women in the Galilee, all the Israeli governments have preferred to pay them unemployment."
Argaman, which was a printing and dying plant like Offis, closed in 2000. Gibor Sabrina makes stockings that are manufactured in Romania and underwear that is manufactured at a Kfar Sava plant that employs about 200 workers. Lodzia and Rotex became an investment company that operates a chain of 33 stores around Israel.
ICYMI
Ken Burns' Brilliant 'The U.S. and the Holocaust' Has Only One Problem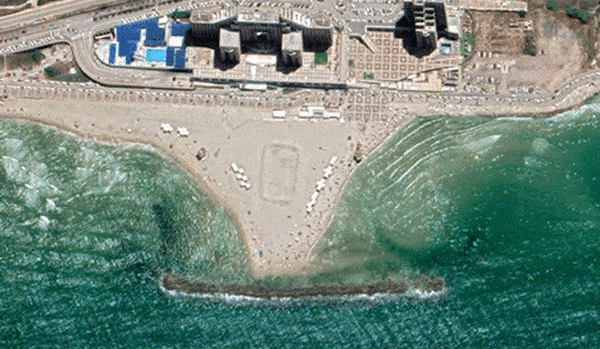 Facing Rapid Rise in Sea Levels, Israel Could Lose Large Parts of Its Coastline by 2050
As Israel Reins in Its Cyberarms Industry, an Ex-intel Officer Is Building a New Empire
How the Queen's Death Changes British Jewry's Most Distinctive Prayer
Chile Community Leaders 'Horrified' by Treatment of Israeli Envoy
Over 120 Countries, but Never Israel: Queen Elizabeth II's Unofficial Boycott