Still Members of the Tribe
Close to Judaism, but not close enough - that's how I feel when it comes to inculcating certain values in my offspring who, while created in their parents' image, regard religious rituals with detached amazement.
1About a year ago I was standing with my daughter, who was about 4 at the time, in front of a mosque. The impressive building aroused her curiosity and she asked: "Who lives here?" "Nobody," I replied. I told her that the building was a mosque, but had a hard time explaining its essence without using additional concepts that were unfamiliar to her: "God," "believer," "religious," "prayer," "Muslim," "Jewish," "Christian." I patiently tried to simplify the complexity of these ideas, which had not come up until then in our conversations (for example, after visits to synagogues, during a year in which we attended a large number of bar mitzvahs ).
I began by saying that there are people in the world who believe in a great power, which they call God. Those people, I added by way of explanation, like to gather together in special buildings, to sing, to talk to God and to make requests of him. There are people called Jews and there are people called Muslims, and there are ...
2"I don't believe you!" she interrupted me.
Today when we walk down the street she will point to a bearded man wearing a skullcap, dressed in black and white. "Is he Jewish?" she asks. I will reply: "Yes. And are you Jewish?" "We're a family of Jews," she says, as though declaiming something she'd been told. When I asked the other two young Jews in the family - her brother and sister (no longer little ) - and asked: "Do you feel Jewish?" they answered in unison, "No. Not really. Well, more or less," with a note of apology in their voices. Two days later my 14-year-old daughter informed me of a monumental decision: "I've decided to stop saying 'Oh my God!' since I don't believe in God."
3Both my husband and I are secular. Heretics. We loathe religious coercion. And yet we are much closer to Judaism than are our children. For me the factors that were significant in bringing me close to Judaism were a religious grandfather (my other grandfather was a Christian ), and an education in kibbutz schools that nurtured their students' Jewish identity alongside their socialist one. In class teachers would read "Ethics of the Fathers" to us; on the festivals there were impressive ceremonies; in high school we were taken to a "Jewish identity" seminar in what would eventually become the Midrasha at the Oranim School of Education of the Kibbutz Movement.
Aside from those factors, my husband and I are simply the products of a different generation - a generation in which "secular culture" was not a synonym for the Channel 2 broadcast schedule. The knowledge and cultural experiences we acquired - and perhaps also the fact that we were second- and third-generation descendants of Holocaust survivors - served as a kind of fertilizer that strengthened our roots.
When we enter God's territories, when we are called up to the Torah in a synagogue or invited to a Shabbat meal with religious relatives, we do tend to regard it mainly as an anthropological experience. But compared to our children, who regard these ceremonies with detached amazement - just as we would react if invited to observe African tribal rituals - we feel a degree of closeness to the members of this tribe, the other branch originating from the same ancient forbears.
4Close to Judaism, but not close enough, and in conflict with some of its concepts and the establishments identified with it - that's the way we are, and as such, we have problems when it comes to imbuing certain values in our offspring. If concentrated Judaism were flowing in our veins, if we were "natural" Jews, more "connected to tradition," more naive, less cynical, we might have infused an essence of this distilled religion into our children's veins, creating ceremonies and experiences that could be etched on them. To tell the truth, sometimes we try to do this: We celebrate the Passover seder, but we censor the Haggadah, adding two to three passages of secular philosophy and poems; we build a Noah's ark or a pyramid together; talk about biblical stories or (more often ) about certain expressions that are derived from the Jewish sources - but that is more or less the extent of our Jewish life.
When our older daughter reached bat-mitzvah age and was unwilling to learn about the essence of the event or to mark it in any significant way (that is, significant in our opinion ) we accepted that. We assume that our son too, when he reaches the age of 13, will not show any interest in being called up to the Torah. We will understand and support him. We have no desire for him to be a "fake" bar-mitzvah boy, and to observe him reciting the biblical texts, whether beautifully or badly (and certainly not for the purpose of collecting checks ).
Our son and our daughter were created in our image, and we are non-ceremonial, critical, skeptical people. We even consider eating cheese on Shavuot a conspiratorial tradition that serves the consumer interests of the national dairy council, and is harmful to the health of human beings, who as we know do not excel in the digestion of lactose.
Not in our consciousness but in our lifestyle, we are assimilated, diluted Jews, and our children even more so. And not only our children; our own parents are also not the grandparents that we had. My parents, for example, not only do not conduct a seder, they aren't even interested in participating in one. My mother, as the daughter of a God-fearing father, claims she has had more than enough seder nights in her life. I respect her feelings and decision. I would be happy if she would celebrate the seder with us and her grandchildren, but voluntarily, not out of obligation.
Less diluted Jews
Many secular people feel as we do. In recent years, the more energetic among them have not been satisfied with bemoaning the current generation, which is gradually dwindling, assimilating and becoming diluted, cut off from its roots: They went and established a series of initiatives: the TALI schools for reinforcing Jewish studies; secular batei midrash (houses of study ) like Alma and Bina, and mixed ones like Elul; pluralistic houses of worship; initiatives in the field of studying piyyutim (liturgical poetry ); and tikkun leil Shavuot (traditional all-night Torah study ) for a secular audience.
When I was invited, three years ago, to be a member of one of the batei midrash for artists at the Alma Home for Hebrew Culture in Tel Aviv, I was as happy as I would be with any invitation to get to know a field in which I have a profound interest. I identified with the ambition of the founders of that institution to restore Hebrew culture to our arteries and veins, and to repatriate to secular intellectuals and artists the texts from which they voluntarily severed themselves thanks to the Zionist revolution. In other words, the Mishna, the Talmud and the treasures of the rabbinic Midrashim.
I didn't think of myself as part of the wave of "Jewish renewal" that is sweeping the country. Even when I began to speak of rabbinic legends to my kids, before my studies in Alma, it didn't occur to me that I was part of a "trend."
Where there is such a trend, there will be those who will try to exploit it to promote their objectives. For example, at the end of my street in the heart of Tel Aviv (which is ironically named after Yosef Haim Brenner, a pioneer of Hebrew literature, who himself abandoned religion ), there was established a few years Hamakom ("the place" ), a self-described center for Jewish culture and spirit. According to its Hebrew website, this facility, which offers courses and other activities, "was opened in the center of Tel Aviv in order to meet the great demand to know more, to connect to our sources and to ourselves."
But who are "we" and "ourselves"? Although those behind Hamakom come from Orthodox Judaism - and perhaps just for that reason - the language of its publications is characterized by vagueness, not to say mystery: They refrain from using specific and unsexy words like "religion," "commandments" or halakha (traditional Jewish law ), and instead adopt New Age jargon. Instead, in their descriptions of the courses they offer are terms like "experiential," "energy," "love," "growth," "acceptance."
Hamakom's purpose is to attract a secular New Age audience, people who are searching for themselves/happiness/meaning. Thus, on festivals and holidays a new "shanti" species of believers gathers at the entrance to the center, dressed in sharwals and Indian dresses, babies wrapped to their bodies. Some have already crossed the boundary between religion (New Age ) and religion (Judaism ); others are in the process of "strengthening themselves," adapting to the same new-old religion that, unlike the New Age variety, does not make life easy for its believers.
At the other end of the street is a democratic school where two of my three children study. In the past year the letters BSD (the Hebrew acronym for "with God's help, which Orthodox Jews often write at the beginning of any document ) have repeatedly (miraculously? ) appeared on school blackboards. In the Bible lesson my son was asked by the teacher - who wears a skullcap - to refrain from writing out God's name in full. The request made us angry, we felt frustrated. We didn't send our son to be educated in a secular-democratic school so that he would be exposed to the less rational phenomena of our Jewish tradition. Our son, who has a noble personality, believed that the request should be honored.
At a meeting at a state- religious school (where portraits of rabbis stared at me from the walls ) in a Negev town, I spoke to third-graders about the myths of other peoples, specifically Hawaiians. The early inhabitants of those islands, I said, believed that the eruption of the Kilauea volcano was a manifestation of the fury of an omnipotent goddess who lived inside it, and therefore they threw gifts into the mouth of the volcano, to placate her. "What?" said one of the girls, opening her eyes wide. "How could they believe in such a thing? Are they stupid?"
Then, when the seed of doubt had sprouted I felt that the right thing to do was first to defend the "stupid ancients" who lacked scientific instruments, television or other media, which would explain what a volcanic eruption is. So, while I was standing on firm ground, I remarked dryly: "The belief of the ancients in a goddess isn't very different from the Jewish belief in God."
"But everyone believes in God!" cried out one of the children.
A heavy silence fell when I said that I myself don't believe. Seventy eyes stared at me. The teacher looked tense. I knew I had to choose my words carefully now. I had been given an opportunity not only to reveal to the children the connection between the various world cultures, but also to establish a spider web-like bridge between the two Judaisms .
In the evening I found a message in my inbox from the teacher who had invited me to speak. To my relief it was a warm letter expressing thanks for the interesting and significant meeting and a desire to buy some of my books for the library. That night I went to bed feeling optimistic.
ICYMI
Ken Burns' Brilliant 'The U.S. and the Holocaust' Has Only One Problem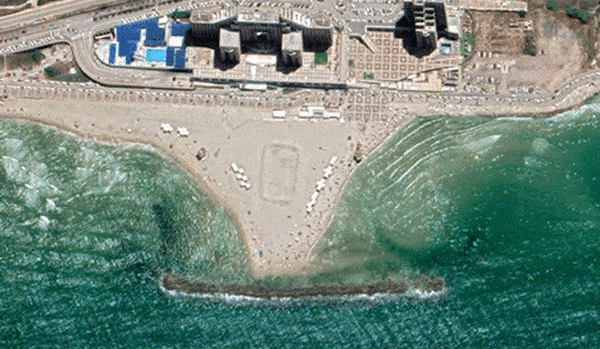 Facing Rapid Rise in Sea Levels, Israel Could Lose Large Parts of Its Coastline by 2050
Lapid to Haaretz: 'I Have Learned to Respect the Left'
The Mossad's Fateful 48 Hours Before the Yom Kippur War
As Israel Reins in Its Cyberarms Industry, an Ex-intel Officer Is Building a New Empire
How the Queen's Death Changes British Jewry's Most Distinctive Prayer