The Next Israel-Arab War, Goldstone Will Be There
Knowingly or not, every member of the IDF will be carrying excerpts of the Goldstone Report into combat, into the next war we fight, and the next, and into every battle, raid, and incursion in between.
We owe Richard Goldstone a vote of thanks.
We, and by that I mean people who want to see Israel thrive as a healthy country and a strong member of the community of nations, owe him the respect to acknowledge that - both in carrying out his inquiry on the Gaza War, and in reassessing its findings - he was acting as a person who wanted to see an Israel that he loved, live up to its own standards.
We, and by that I mean people who have served and are serving in Israel's armed forces, should acknowledge that Goldstone believes deeply in Israel's right and obligation to defend itself and its citizens against attack. We should acknowledge that when he calls Hamas rocket attacks aimed at civilians heinous and criminal, when he urges the UN Human Rights Council to condemn the Itamar murders, when he states that the council's history of anti-Israel bias "cannot be doubted," he is speaking from a profound sense of conviction and justice, and out of compassion for Israelis.
That is why we should be pleased that when the peculiar glee of the moment dies down, when the choral fugues of we-told-you-so die out, when we no longer hear ourselves demanding that the UN formally retract its Report of the Fact Finding Mission on the Gaza Conflict, or demanding that NGOs disband themselves in disgrace, Richard Goldstone will still be with us.
We should take comfort in knowing that when politicians have grown hoarse in declaring a slam-dunk vindication of Israel's policies and actions in the Gaza War, and editorial writers grow tired of demanding that Richard Goldstone spend the rest of his life in penance, this will remain:
Knowingly or not, every member of the Israel Defense Forces, and certainly every commander, will be carrying excerpts of the Goldstone Report into combat, into the next war we fight, and the next, and into every battle, raid, and incursion in between.
If Benjamin Netanyahu is right in saying that there are no armies more moral than the IDF, and that the military acts in accordance with international law, it will be because Israel takes heed of the moral issues raised by the inquiry, and makes every effort – a much more vigorous effort than it did during the decade just past – to take into strict account the welfare of civilians in areas targeted by Israel.
We needed Goldstone after that horrible war, and we need him now.
And like it or not, Goldstone has become an integral part of us.
As in the Passover seder, when we traditionally set an extra place for a prophet who never physically shows up, the long table at the central Tel Aviv compound where the IDF General Staff meets, has a virtual extra place-setting as well.
Despite its admittedly flawed methodology – for which Israel's pre-emptive and persistent stonewalling was to blame every bit as much as the bias of the council - the scope of the report, the questions raised, and the hundreds of internal IDF inquiries the report prompted, mean that the work of Richard Goldstone and his inquiry will doubtless be a factor in the IDF's conduct of a future war. And that is good news for Israel. Some examples:
1. There will need to be a clear and demonstrable military advantage if and when the "bank of targets" includes such civilian sites as water wells, flour mills, chicken farms, electrical power plants, sewage treatment plants.
2. There will need to be clear instructions given troops regarding intentional humiliation of civilian populations, in addition to overtly criminal acts such as theft and vandalism. Penalties for violations must be severe and swift.
3. White flags will need to be respected. Civilians, and certainly children, must never be used as human shields, nor as forced inspectors of possible bombs.
4. There will need to be a re-examination of the doctrine of using denial of goods and other measures in an effort to bring a civilian population to heel, with the expectation of its turning on and toppling Hamas, Hezbollah or similar entities. The policy has not only proven to be self-defeating, fueling fury against Israel, it has also raised the moral red flag of collective punishment.
5. Israel must in the future cooperate with international investigators, assisting them in understanding the actions, and giving them access to testimony by military commanders, government officials, and the civilian population.
6. Israeli officials must stop making bellicose, media-grabbing statements which, as a matter of public record, lend credence to charges of Israel targeting civilians:
[Deputy PM Eli Yishai, 6 January, 2009, as cited in the Goldstone Report: "It (should be) possible to destroy Gaza, so they will understand not to mess with us. Yishai, 2 February 2009: Even if the rockets fall in an open air or to the sea, we should hit their infrastructure, and destroy 100 homes for every rocket fired."]
Wrote Goldstone at the weekend, "Our report has led to numerous 'lessons learned' and policy changes, including the adoption of new Israel Defense Forces procedures for protecting civilians in cases of urban warfare and limiting the use of white phosphorus in civilian areas." Lauding the Palestinian Authority for also taking the report seriously, Goldstone added, "Regrettably, there has been no effort by Hamas in Gaza to investigate the allegations of its war crimes and possible crimes against humanity."
Beyond all else, what Richard Goldstone has given us is an example of someone who is willing, despite everything, to acknowledge when mistaken and to come forward and own up.
This is heroism of the first order. If there is one example we need apply - prime minister and defense minister on down – this is the one.
"Justice Goldstone is an extraordinarily courageous man," veteran military analyst Alex Fishman wrote this week, praising that rarest of public acts: unforced admission of error.
"The man is willing to lose his entire world, including his good name and the reputation he's earned, only to be at peace with his conscience."
This is what we, and by that I mean, people who care that Israel have a future, can learn from Richard Goldstone. We owe him a vote of thanks, if only in showing, by personal example and at risk of his own standing, that moral courage means getting to the truth, not hiding behind what one so desperately wants to believe is the moral high ground.
ICYMI
Ken Burns' Brilliant 'The U.S. and the Holocaust' Has Only One Problem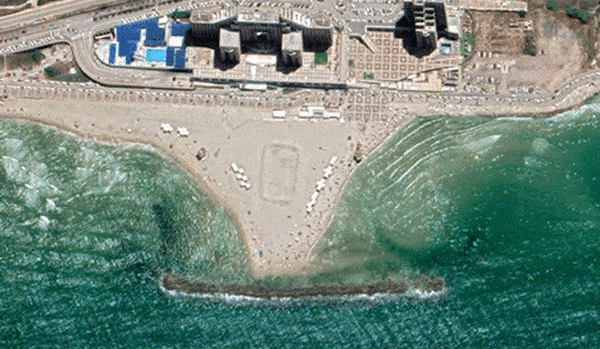 Facing Rapid Rise in Sea Levels, Israel Could Lose Large Parts of Its Coastline by 2050
As Israel Reins in Its Cyberarms Industry, an Ex-intel Officer Is Building a New Empire
How the Queen's Death Changes British Jewry's Most Distinctive Prayer
Chile Community Leaders 'Horrified' by Treatment of Israeli Envoy
Over 120 Countries, but Never Israel: Queen Elizabeth II's Unofficial Boycott