Concrete Clashes
Israel's newest urban center, Tzur Yitzhak, is just up the hill from Taibeh, built on lands that once belonged to the Arab town. It's not clear what motivated some of the decisions that went into planning it.
The drive from Kokhav Ya'ir toward Taibeh on Highway 444 is deceptive. Is this Jerusalem here? Is that the Holyland project on our right? Even after a slight north-south turn, it's still not clear. What are those tall white buildings, as erect as a misplaced white comb, on the mountain ridge? There are no signs on Highway 444 that provide a clue. Last year the mountain was green, and now, an entire city has sprouted upon it. Is that possible? Yes. Quite a surprise. But, quite unexpectedly, at the last second before the right turn, beneath the signs for Tzur Natan and Salit, a new, easy-to-miss sign has been added: Tzur Yitzhak, it says.
A new town has been born in the Sharon. And not just any old town. An urban town, which, unlike others in the area, is growing upward, perpendicular to the landscape rather than along its width. The entrance to Tzur Yitzhak is magnificent. It boasts an attractive two-lane road with a row of palms on a divisional island and a guard booth with a yellow gate. The booth is not yet manned. In the first square of Tzur Yitzhak (named after the late Prime Minister Yitzhak Rabin ), a low, flat stone wall has been built that looks like the preparation for a fountain that may be coming. Or perhaps it's a preparation for something else.
The cornerstone for the town was laid in September 2005, but construction began only in 2007. Tzur Yitzhak is still mainly a construction site. There are many signs posted at the entrance: "Housing and Construction," "Solel Boneh Infrastructures," the "101 Compound, 3-, 4- and 5- Room Apartments and Duplexes," "Purchase Groups," "Tzur Yitzhak Association," "Merom Hasharon," "Here we are creating a community, Stage 2," "Shopping and Recreation Center, Kokhav Hakfar," "Settlement Association under the management of Dan Rabin."
Several of the buildings, which are six- and eight-stories high, are already inhabited by roughly 380 families. You can tell by the laundry and the plants on the balconies. Most are still under construction. This is high-quality construction, with natural stone colors and a gray stripe around the sundecks, which have glass finishing. In the back part of the town, adjacent to Moshav Tzur Natan, a project of one-family homes is being built. Most of the streets are still dirt paths, but there's already a playground for children and street names. If you continue to the end of Nahal Poleg Street, you reach Taibeh. Without the separation fence built around Tzur Yitzhak, it would have been possible to roll down the hill straight into the two mosques at the bottom, or into one of the industrial plants at its foot. From Nahal Poleg Street, Taibeh is just a stone's throw away.
Close to the industrial zone
How do you go about building a city in Israel? The idea for Tzur Yitzhak was hatched in the late 1980s by Michael Eitan, then a young Likud MK and resident of Kokhav Ya'ir, and Gedalia Gal, then a Labor MK. Eitan suggested building seven communal settlements ("the Seven Stars" ) like Kokhav Ya'ir ("the Star of Yair" ) on the eastern seam line along the Green Line, on the hills between Katzir and Lod, in order to erase, or at least to substantially blur on the ground, the line already erased from the maps.
In the early 1990s, the Housing Ministry embraced the plan passionately, and Housing Minister Ariel Sharon wanted to expand it up to the Lachish area. Eitan's Seven Stars turned into Sharon's Star Plan. As part of the plan, they built southern Beit Shemesh, Kiryat Sefer, Shoham, Oranit, Matan, Bat Hefer and Harish and Katzir in the Wadi Ara area, and enlarged existing towns. The purpose was political and demographic: increasing Jewish settlement along the Green Line prompted by a sense of paranoia that has inflicted the country from its inception. Tzur Yitzhak was a contingency plan, part of the national project.
In the early 1990s, at the initiative of Sharon, the "Committees for Residential and Industrial Construction" came into being. Their goal was to shorten procedures, bypass unnecessary bureaucracy and quickly approve projects mired in red tape. The outcome was disappointing. The committees were exploited not only to wave through mass construction projects for new immigrants and the needy, but also luxurious private homes and high-end residences in open spaces. They were able to bypass potential opposition since their members included no independent experts or representatives of the public.
This sometimes created serious planning mistakes. The most common, according to a study conducted by the Technion-Israel Institute of Technology in 1997, was construction without proper infrastructure preparation, construction adjacent to green areas, nature reserves, antiquities sites, and construction adjacent to industrial and polluted areas without proper protection for residents.
The plans for building Tzur Yitzhak were approved in 2000, not by a special committee but by a regular planning committee. Its members, however, did not include any environmental protection and nature preservation representatives, since before 2004, that was not required by law. One of the results was that Tzur Yitzhak was set up in close proximity to the Taibeh industrial zone.
Jomaa Yusuf, an engineer on the Taibeh local committee, believe this was an egregious engineering mistake. "I think that it wasn't a good idea to build a community so close to Taibeh, and especially to the industrial area," he says. "I don't understand how people willingly agree, and after paying so much money, to live 50 meters from an industrial zone. I don't understand how a district committee that approved an industrial zone in 1983 approved residential construction in the same place. It's full of concrete, pollutants and lots of noise. I don't know how they did this when you think about quality of life and ecology. The absurdity is that Tzur Yitzhak came long after us and today they complain about Taibeh, that we allegedly infiltrated their lands."
And how does it look to you in terms of the landscape?
"It blocks the entire view that we had. They did it very quickly so that Taibeh would not be able to expand southward. Now we have a problem with our public. People in Taibeh look at it and see an entire city of tall buildings and feel shortchanged and bitter, because we have nowhere to build and nowhere to expand. In the Jewish sector, if someone lives in Ramat Gan, his son can live in Jerusalem. We don't have such a thing. Someone who lives in Taibeh - where will his children go? To Netanya? They don't want us there."
Jean Friedman, who works in real estate, moved to Tzur Yitzhak from Kfar Sava three and a half months ago. The Taibeh industrial zone doesn't interest him. He lives on the other side of the hill, overlooking a Jewish National Fund forest, which was declared part of a nature reserve. "An unbelievable place," he says. "Just look at my apartment, you'll die. I have four rooms on 110 square meters and another 25 square meters of balconies."
Was it worth moving here from Kfar Sava?
"I live in Ya'ara, a neighborhood of eight buildings located next to the forest in the nature reserve. I'm in an eight-story building, sitting on the trees and I can see all of Kokhav Ya'ir. It's amazing. There's nothing like it anywhere in the center of the country. Trust me, I know. Soon they'll pave a new east-west highway and from here up to Kfar Shmaryahu, it'll be one big celebration. In terms of the social composition, it's a mix. There are young people aged 30-40, and there are many who have left Kokhav Ya'ir and Tzur Yigal and bought penthouses."
For shopping and other services, the residents of Tzur Yitzhak drive to Tzur Yigal. In about a year, a commercial center will be built and they'll start building a school.
Rami Ya'aron, the director of Shefa, the urban improvement department in Kokhav Ya'ir, moved from Tzur Yigal to Tzur Yitzhak a month and a half ago. Like Friedman, he is very happy. "I live on the first floor, the tops of the trees in the nearby forest reach the height of my balcony, a virginal, enchanting forest, which very few people visit. Before we came to live here, I saw homes in other areas of Tzur Yitzhak, those that overlook Taibeh and neighboring buildings, where I wouldn't be able to live under any circumstances."
At first, after the foundation stones for Tzur Yitzhak were laid, the community did not take off. There was little demand for apartments in a rural area, where most of the construction is of one-family homes. People who dreamed of a pastoral life didn't want to live that pastoral life in an eight-storey building. Children of local residents who would want to live in an urban area wouldn't stick around in Tzur Yitzhak, warned residents of the area, because if they wanted to live in the city, they could move to Kfar Sava or Tel Aviv.
At a certain point, the army took an interest in the town but insisted that it switch its focus to private one-family homes. That didn't work out.
Real estate entrepreneurs launched a marketing and public relations campaign. "Adjacent to a nature reserve" said one of the advertisements, "a pilgrimage site for those seeking quality of life, 17 dunams on the slope of a hill, at the foot of which the Mitzpeh Sapir Forest spreads out in all its glory, on the western slopes of the Samarian hills toward the eastern Marzeva Valley in the Sharon, with vestiges of natural Mediterranean forest. The region still has a large variety of wild animals - mammals, reptiles and birds of prey, and in season, the residents of the project will enjoy the wonderful flowering of narcissuses, crocuses, cyclamens and squills."
"On the outskirts of the Sharon," said another ad, "adjacent to Kokhav Ya'ir, lies the Nahal Alexander nature reserve, stretching over dozens of dunams adjacent to the Alexander River, full of natural forest, avocado orchards and various types of wildflowers. The reserve is also home to many animals, including friendly hyraxes. The ideal place to raise a family, as close as possible to nature."
The effort paid off. The tempting ads and the housing shortage in the metropolitan Tel Aviv area did the job. In 2007, people started moving in, and Tzur Yitzhak became a popular and attractive place. Last month, it was reported that a group of entrepreneurs had purchased land in Tzur Yitzhak from the Israel Lands Administration for NIS 143 million in order to build 336 additional residential units. That represents a 50 percent increase in the price of the land compared with January 2010. Quite unexpectedly, social factors in the surrounding communities helped to promote sales as well.
Along with exceptional achievements in education (the joint Kokhav Ya'ir-Tzur Yigal Local Council and the South Sharon Regional Council have in recent years headed the national list of students eligible for matriculation certificates ), the towns in the area have also distinguished themselves by high divorce rates. Divorced couples who sell a home in Kokhav Ya'ir, for example, can afford to buy two apartments in Tzur Yitzhak, and in that way both parents still live near the children.
That's precisely what Rami Ya'aron is doing. "I lived in Tzur Yigal for 13 years," he says. "When I divorced, the girls stayed with their mother and I first moved into an apartment in Kokhav Ya'ir. Afterward I rented an apartment in Tzur Yitzhak. The place is very new and I know very few of the neighbors. It's a satellite community. People go to work in the morning and return in the evening. There's no community yet. I discovered that when you live in a private home there's a greater desire to make contact with the neighbors than when you live in an apartment building."
No merger this time
Yaakov Maman, head of the Kokhav Ya'ir-Tzur Yigal council, points to the phenomenon with a mixture of pride and concern. "On the one hand, people want to continue to live in the area because we have the best education in the country, and on the other hand, there are many single-parent families, which will be a serious social problem and a burden on the social services departments."
Maman has a bellyful of criticism against what he claims are the hasty decisions of the government, which decided to build Tzur Yitzhak as an urban community in the Southern Sharon Regional Council. After supervising the merger of Kokhav Ya'ir and Tzur Yigal at the start of the millennium, he considered it natural to be put in charge of building Tzur Yitzhak as well. In 2005, he asked the Interior Ministry to establish a committee to investigate boundaries, in order to determine the boundaries of Tzur Yitzhak within his own municipal area. In 2008, a committee was appointed and about a month ago, it decided to leave Tzur Yitzhak, at this stage, within the jurisdiction of the Southern Sharon Regional Council. It noted in its decision that the "council has initiative, an ability to implement, and good capabilities in all the components required for establishing a relatively large community, including development of infrastructure and land, planning, constructing residential buildings and a well developed system of public institutions."
"They say that Southern Sharon knows how to establish communities better than I do," remarks Maman. "I was the chairman of the association that built the first 500 residential units in Tzur Yigal. I built the community, I built schools, I merged the communities. That's a stupid, childish and unprofessional answer. Everyone knows what lies behind it."
What lies behind it?
"It's a business, plain and simple. The Interior Ministry is not interested in the residents. It's interested in relations with the local councils. And the Southern Sharon Regional Council, in this case, wants to receive the levies and fees from the new residents, which amount to NIS 50 million to NIS 60 million, and then they'll come to the Interior Ministry and say that they can't support them anymore and will ask to merge them with us. I have no doubt that that's what will happen because the financial burden on a regional council, after the community is populated, is very heavy and increases the deficit. The same happened with Tzur Yigal. Southern Sharon, in whose jurisdiction the community is located, wrote to the Interior Ministry and claimed that the administration of the community is too great a financial burden and asked to have it removed from its jurisdiction and merged with Kokhav Ya'ir."
So what's the problem? If that's what they want, you'll merge.
"It's not at all simple. Merging is a painful thing. Kokhav Ya'ir was a veteran established community. Tzur Yigal was relatively young and of a lower socio-economic level. There was no love lost between the two. Kokhav Ya'ir didn't want the merger. It was like an arranged marriage. The parents (the government ) wanted the children to marry, but they didn't bring a dowry. They threw them into the water. And that's how we started living together, without much love.
"The Israeli government didn't understand that when you merge, you aren't merging lands, you're merging people. And that caused a great deal of friction. It reached extreme situations. People from Kokhav Ya'ir didn't stop at the hitchhiking station for soldiers from Tzur Yigal. In order to prevent a social rift, I had to raise the arnona property taxes of Tzur Yigal and equalize them with those in Kokhav Yair. In the schools there was competition. Everyone looked at the other to see what he was getting and how he came dressed.
"In 2005, I demanded that the interior minister establish a committee to examine boundaries, in order to get organized before people moved into Tzur Yitzhak. I told them that I wanted to decide on the future of the neighborhood now called Tzur Yitzhak, regarding infrastructure, schools, kindergartens, 'and don't bring it to me later as a fait accompli, the way it was with Tzur Yigal and Kokhav Yair.' But they're repeating the same mistake."
What would you do if Tzur Yitzhak were to become part of your local council?
"I would plan all the urban details. Is it all right that they're building a school there or not? Maybe the government is squandering NIS 40,000 on a new school, while I can absorb them without any problem in my schools? I have six closed kindergartens. Next year I'm closing another. We don't have any more young children. Maybe we can use the existing kindergartens? Maybe it makes more economic sense? Should we build a high school or not? Should we build another junior high? Should we issue a tender for garbage collection? For a community of this size, it costs less. Should we establish an independent site for removing pruned branches, which saves a great deal of money? Every such thing requires planners and professionals and costs loads of money. Today residents of Tzur Yitzhak can't join our country club, because I subsidize our residents. Some of the after-school activities are also subsidized, such as music lessons, so if the child from Tzur Yitzhak wants to study violin, he'll pay much more. And that will create a rift. It's a total failure of the Interior Ministry, because the government is incapable of deciding."
And why do you think that Southern Sharon can't run Tzur Yitzhak and provide the residents with all the services?
"The council head is a moshavnik, those in control of the regional council are kibbutzim and moshavim. An urban community can't be run under the umbrella of kibbutzim and moshavim. Are fallen leaves in the streets pretty or dirty? To a city-dweller, they're dirty. To a kibbutznik, they're pretty. The approach to roads and sidewalks is different, and that's only the tip of the iceberg."
And the damage to the landscape?
"Who cares? In the original plan they were supposed to build 12-storey buildings here. I waged a war, I came to the regional planning committee and they reduced it to eight and six stories. Why six stories? Why not build like the Arabs do and adapt to nature? Because everything here is politics and money. These committees don't go out into the field. They look at the plans and see whether or not it's good and they decide."
Nothing for Taibeh
Emil Azran, chairman of the association of Moshav Tzur Natan, from whose lands 216 dunams were taken to build Tzur Yitzhak, says that the new town is to blame for everything. "In the early 1990s we submitted a plan to strengthen our community and to enlarge it by 300 private homes in a way that wouldn't harm nature. We've been living here for 45 years, we love our nature, but the administration rejected the plan and said that if we're building already, let's expand it to 5,000 residential units. We didn't like that and for many years we opposed that plan, which was supposed to spill over into our avocado orchards. Dr. Moti Delajo, head of the Southern Sharon council, also waged a battle against the district planning committee. In the end, we reached a compromise to build 2,385 residential units. We spoke about the overall damage to the landscape and insisted that at least in our part they would build private homes, in order to preserve the continuity."
In exchange for removing their opposition, Tzur Natan received 27 percent of the area of an industrial zone that was supposed to be built at the Tira Junction, as well as a certain percentage of the revenues accrued through sales of private homes built on moshav land. The residents of Taibeh, on the other hand, will not receive compensation for the fact that their view has been obstructed on the south and a new urban community is being built on the rest of the open area that used to be there.
Dr. Zuhir Tibi, a family doctor at the Clalit Health Services Organization in Netanya, is the head of the public committee for protecting the land and homes in Taibeh, established five years ago in order to protest what residents call the strangulation of Taibeh and the imposition of barriers on its development. "The previous mayor wanted to build a soccer field and a cemetery, and the Interior Ministry refused. In the west we have Highway 6, [the Trans-Israel Highway], in the east 2,500 dunams were confiscated and that was called a landscape area. And now on the south side of Taibeh, Tzur Yitzhak has cropped up, in large part on ILA lands that were confiscated from Taibeh residents in the 1950s and 1960s, which were supposed to serve as future reserves for Taibeh's development.
"Plus we have a housing shortage. The number of building permits in Taibeh in 2006 was 220, in 2009 - 45, and in 2010 - a similar number. That means that people are building without permits. Not because that's their nature, but because they have no choice. We have a planning problem and we have a situation in which nobody is providing a solution to Taibeh's real needs. Half a year ago they demolished two homes in Taibeh and there were riots that got out of control. If people have no alternative they'll build without a permit and the blowup is inevitable.
"Aside from that, the community was built contrary to any architectural and environmental logic. It doesn't suit the landscape and doesn't fit in with the surroundings. The tall buildings are very ugly. The entire planning issue is exploited politically rather than in a way that serves the populations in need, and especially when it comes to Arabs. The writing on the wall is clear: They build for the Jews and demolish for the Arabs."
Dr. Hana Sweid, an MK from Hadash and an expert on urban planning, says that the houses of Tzur Yitzhak, if you look at them from Highway 6, seem to be growing out of nowhere, not out of some planned and clear urban context. "It's ugly," he says. "That's not how to carry out proper environmental or urban planning. That's how you grab land for political reasons in order to prevent the expansion of Taibeh in the future or for real estate considerations of some contractor or another, who wants to reap profits from the land without any environmental or urban logic."
A Zionist challenge
Moti Delajo is not concerned about the damage to the landscape or the proximity to the Taibeh industrial zone. He is proud of the fact that he has a community named after Yitzhak Rabin in his regional council and dreams of another community named after Menahem Begin. "I don't see any problem with high-rise buildings," he says. "We're not in the middle of the desert in the Negev or in the middle of the Galilee forests. We're in one of the most densely populated areas in Israel, if not in the entire world. There are enough kibbutzim and moshavim that would like to build high-rises, but the person who is preserving a green Sharon and preventing that is me."
Why so close to Taibeh?
"It blends in. Taibeh is a city and the tall buildings in Tzur Yitzhak create a barrier opposite Taibeh.
And why so close to the industrial zone?
"Part of their industrial zone is still not open, and today, there are various cities where people live near industrial zones. These things blend in without any problem because today industrial zones maintain cleanliness."
Why do you need a city in a council that is essentially agricultural?
"We're living in the 21st century. If 30 or 40 years ago you were to say that there could be a communal settlement in the jurisdiction of the regional council, everyone would have asked how it would blend in. But life is dynamic, rural space is not only agricultural but multifunctional, and people also earn a livelihood from non-agricultural activities. Both the Housing Ministry and the Interior Ministry thought that Southern Sharon was capable of establishing an urban community."
When the residents in Tzur Yitzhak finish paying all the levies and fees, will you return it to the Interior Ministry because it won't be profitable to keep it, as in the case of Tzur Yigal?
"The Interior Ministry didn't transfer money to us and that's why we couldn't keep Tzur Yigal. It was the ministry's way of pressuring us into agreeing to transfer it to Kokhav Ya'ir. In the case of Tzur Yitzhak, too, if the State of Israel should think, whenever it wants, that that's what should be done, no problem. I'll hand over the town. My great satisfaction comes from creating and doing. I see that as a Zionist challenge of national importance, but if anyone thinks otherwise I won't fight him."
The Interior Ministry issued the following response: "The Boundaries Committee had the impression that the Southern Sharon Regional Council was the one that initiated the building of the communal settlement of Tzur Yitzhak and was responsible for planning, development and providing infrastructure, as well as for the construction of residential buildings and public institutions. The council has experience, knowledge and the economic and engineering capabilities to oversee the construction of the community and to take care of populating it. On the other hand, it doesn't seem that the Kokhav Ya'ir Local Council has such tools."
A tsunami of development
Itamar Ben David, head of national planning for the Society for the Protection of Nature in Israel, thinks that Tzur Yitzhak is a residential complex disconnected from its surroundings, and it is not clear to him how it will serve its residents in light of its relative distance from urban centers in the region, such as Herzliya, Raanana, Kfar Sava and Netanya. The planning challenge today is to strengthen Israels main urban centers, says Ben David, and not to develop new residential areas and suburbs like Tzur Yitzhak, which are distant from public transportation [routes] that connect local residents to employment centers.
In Ben Davids opinion, the space upon which Tzur Yitzhak was built is an important part of the ecological corridor that connects the north and south of the country, contributing to the contiguity of the open spaces and to the passage of various kinds of flora and fauna, and constituting a central artery for the migration of birds of prey. This region is known as a breeding ground of the herbaceous undergrowth, which is of great importance to a wide variety of species. A breeding ground that is gradually disappearing from the landscape of the country because of over-development. One example of this over-development is the Tzur Yitzhak residential complex. This is a rural area on land that was included in the jurisdiction of the Southern Sharon Regional Council when the plan was promoted. Planning institutions and the ILA promoted this plan for suburban-urban construction based on an outdated concept that encourages development for a Jewish population adjacent to the seam line, without examining all the social, economic and environmental consequences.
For years, Tzur Yitzhaks municipal status wasnt clear, while it was clear to everyone that the type and extent of construction are not suitable for inclusion in the framework of a regional council of a rural character. Only when they began to develop the complex and the presence of construction in the open landscape was evident from a distance, did questions begin to arise regarding its municipal affiliation and the development fees piling up in the coffers of the local council.
Tzur Yitzhak is part of a tsunami of suburban development coming on the heels of the planning, paving and opening to the public of Highway 6. The entrepreneurs, including public entrepreneurs such as the ILA and the Housing Ministry, did not miss the opportunity to cut coupons in the guise of development pertaining to the highway, mainly for residential and business purposes. The planning institutions find it difficult to resist the pressures of the entrepreneurs and the price is paid by the public in the form of loss of open spaces and rare landscapes for generations to come.
ICYMI
Ken Burns' Brilliant 'The U.S. and the Holocaust' Has Only One Problem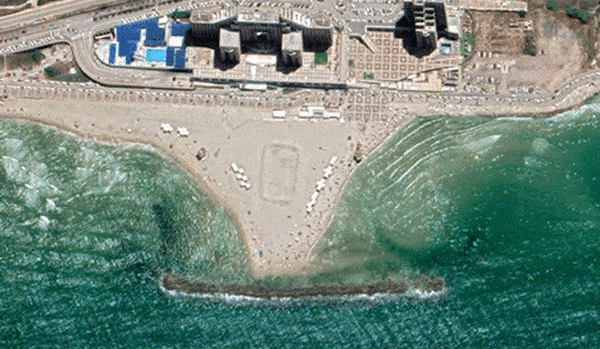 Facing Rapid Rise in Sea Levels, Israel Could Lose Large Parts of Its Coastline by 2050
Lapid to Haaretz: 'I Have Learned to Respect the Left'
The Mossad's Fateful 48 Hours Before the Yom Kippur War
As Israel Reins in Its Cyberarms Industry, an Ex-intel Officer Is Building a New Empire
How the Queen's Death Changes British Jewry's Most Distinctive Prayer