Multitude of Voices and Memories
Surprisingly, the source of inspiration for German Jewish writer Benjamin Stein's latest, intriguing work was A.B. Yehoshua's 'The Lover'.
I had been looking for some time for a way to make writer Benjamin Stein's acquaintance. My curiosity to meet him was aroused about a year ago by Jurgen Jakob Becker, a literary critic from Berlin who visited the Goethe Institute in Tel Aviv to talk about new works that were attracting particular attention in Germany at the time. He spoke with particular enthusiasm about Stein's latest work, "Die Leinwand" (published by Verlag C.H. Beck, 2010; forthcoming in English under the title "The Canvas," by Open Letter Books ) - and likewise regarding the author himself, whom he described as a remarkable figure.
Stein was born in 1970 in Lichtenberg, a borough of East Berlin, to a Jewish, arch-communist and anti-religious family, and became observant in his teens, under the totalitarian regime of the German Democratic Republic. He refused to serve in East Germany's military, and was punished by being forbidden to attend university. He got a job in a nursing home, studied Judaism and taught himself Hebrew.
Some weeks ago - on the day the fire broke out on a train from Haifa - Stein was due to deliver a lecture at the University of Haifa as a guest of its Bucerius Institute for Research of Contemporary German History and Society. I was scheduled to meet with him for two hours beforehand, for a private conversation.
Benjamin Stein is not his given name, nor is it a pseudonym. Rather, it is the name he assumed at the age of 16 before embarking on his new life as a Jew and a writer, which has since stuck. I beseeched him in vain to reveal his original name, but eventually I told myself I would have to respect his belief that, from a certain moment in his life, he was "born again."
He chose "Benjamin" because the biblical Benjamin was Israel's favored son. "Stein," meaning stone in German - nearly as common a name as Levy is in this country - was taken from the verse "The stone which the builders rejected is become the chief corner-stone" (Psalms 118:22 ). Thus, the new name was meant to reflect his desire to be a favored son, and not be rejected as before.
Indeed, Stein suffered rejection in his childhood. He could not move his right eye from birth, making his life a misery in the company of other children, who called him "the cross-eyed one." And his parents forced him, as if to add insult to injury, to wear a patch over his good eye, supposedly to strengthen the paralyzed one, but to no effect. However, his personal life is of no importance, he told me. But "Die Leinwand" is - and that was the reason I had asked to meet him.
An unusual and strange work, by all accounts, it can be read either from front to back or, when flipped over, from back to front, in two parallel story lines that eventually meet in the middle of the book. A reader who begins from one cover will find the story of a man called Amnon Zichroni, a psychologist living in Israel, who narrates in the first person. The protagonist has no connection to the prominent Israeli lawyer of the same name. Stein says he was not aware when he was writing the book that there was a real, well-known individual called Amnon Zichroni; when he did find out, however, he was not willing to rename his protagonist. He chose "Amnon" because of the similarity in sound to "amnesia," and "Zichroni" because it means "my memory" in Hebrew.
Someone who opens the book from the other side will read the life story of Jan Wechsler, as told by a man called Jan Wechsler, who may not be whom he claims to be. I will only hint that the affair recounted in this part of the novel is reminiscent of a recent case in real life, involving the Swiss-German writer Binjamin Wilkomirski, who assumed the fake identity of a Jewish boy who survived the Holocaust and wrote his "memoirs" in the book "Fragments: Memories of a Wartime Childhood." It was a huge success - until the hoax was exposed by a journalist. In "Die Leinwand" the character of that whistle-blower is named Elitzur Bernstein; the real-life journalist who exposed the fraud was Daniel Ganzfried.
But "Die Leinwand" is not only a detective book about the pursuit of "memory-fakers." Stein took it upon himself here to provide answers to more abstract, philosophical questions: What is memory? What is identity? Are not memory and identity at least partly fiction, falsehood or illusion? And he apparently strives, also by means of the novel's odd structure, to breach the limits of identity - the ready-made definitions that determine, among other things, how a book is supposed to be, how it is supposed to look.
In keeping with his general reluctance to accept finite forms and set definitions, Stein declines to define himself as a "German" writer. I am a European writer who wants to get out of the German ghetto, he asserts. I may be "married" to my mother tongue, he adds, but not to Germany. And so I've allowed myself to transfer the plot to other places - Israel, the United States.
When I inquired as to his sources of inspiration in general and in terms of this novel in particular, I was sure he would name German avant-gardists of earlier generations. But Stein surprised me. The writer who influenced him the most is a certain Israeli writer who lives in Haifa: A.B. Yehoshua. Stein encountered Yehoshua's books in his youth and years ago adopted Yehoshua's story "The Yatir Evening Express" for the theater, in German, in secret - because those were still the days of East German totalitarianism. But the direct inspiration for "Die Leinwand" came from Yehoshua's "The Lover," which entranced Stein with its array of counter-voices speaking simultaneously.
Stein also speaks in a multitude of voices, and not only here. Beside being a published novelist, he is a provocative journalist with a sharp pen who frequently comes out, in such publications as the Sueddeutsche Zeitung, against the views taken by the leadership of the German Jewish community. He did so, for example, when it automatically condemned Pope Benedict XVI for canceling the excommunication of Bishop Richard Williamson, a British Holocaust denier. Stein also has a fairly popular blog under the name Turmsegler. In it he shares personal experiences in the fields of art, literature and music. The blog, he adds, is designed to keep up his writing skills and serve as a sort of daily exercise.
Eventually we had to go up to the university lecture hall. There, elderly German-born folks and young students alike listened to the writer, who read excerpts from the English translation of "Die Leinwand," slated to come out in the United States in about a year.
In the evening the train was up and running again between Haifa and Tel Aviv. We returned together. I asked Stein if he still felt rejected, whether he had come into his own and risen above the feeling of being a stone that has been passed over by the builders. To this he replied that his mother still has trouble accepting his Orthodox lifestyle and black skullcap. His father is much more tolerant. At his workplace - Stein lives in Munich and works as a computer consultant - everyone knows that he will not work on Shabbat under any circumstances, and they all treat this completely naturally. That leaves only the Israeli security staff he encounters at the airport on the way to Israel, who cannot exactly figure out who he is, and remind him anew each time, with their embarrassing interrogations, that life is not a novel.
ICYMI
Ken Burns' Brilliant 'The U.S. and the Holocaust' Has Only One Problem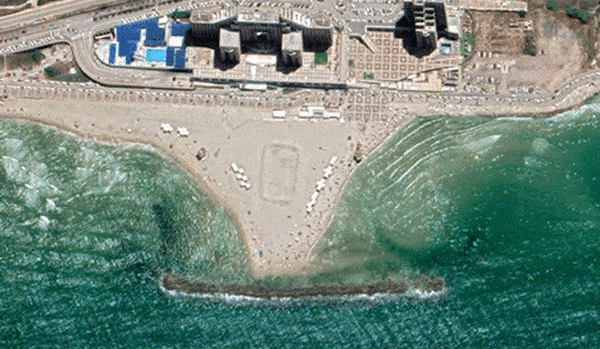 Facing Rapid Rise in Sea Levels, Israel Could Lose Large Parts of Its Coastline by 2050
As Israel Reins in Its Cyberarms Industry, an Ex-intel Officer Is Building a New Empire
How the Queen's Death Changes British Jewry's Most Distinctive Prayer
Chile Community Leaders 'Horrified' by Treatment of Israeli Envoy
Over 120 Countries, but Never Israel: Queen Elizabeth II's Unofficial Boycott