Arte Angel to the Rescue
Jerome Clement, president of Arte TV, says the channel will keep supporting Israeli film, but don't expect to see it funding 'Arab Labor' anytime soon
In a calm voice, with sunglasses shielding his eyes and the Tel Aviv shoreline visible through the window behind him, Jerome Clement sends an encouraging message to the local movie industry. Arte TV, which has become one of the most important investors in Israeli film in recent years, and partner to its biggest international successes, has no intention of discontinuing this cooperation, the French president of the channel says.
Less than a month ago, the American entertainment magazine Variety published a story claiming Arte was pulling its support from Israeli co-productions, and it seemed the local film scene had been delivered a heavy blow.
After struggling against government cuts in funding, and waging a long battle against local television producers, who for years tried - and sometimes succeeded - in evading their obligations to invest in movies, it appeared a new and especially painful problem had landed on their heads. If Arte pulled the plug on Israeli films, a vital source of funding would disappear. Over the last decade, there were years when Arte put more money into Israeli films than all the local television channels combined.
"Israeli producers have been told to hold off on pitching projects for the next two years to Arte, the publicly owned French-German cultural TV channel, because of a backlog of co-productions from the country that are waiting to be broadcast," Variety reported in November.
The head of feature film for Arte's German branch, Meinolf Zurhorst, was quoted by Variety as saying, "We have around 50 slots a year for arthouse movies - with 20 or 25 Israeli films in the pipeline, that's already out of balance. As soon as these films are broadcast in the coming year or two, there will be capacity for other Israeli projects."
But Clement, who arrived in Israel this week for the first Israeli-French conference on audio visual materials, a project of the French Embassy in cooperation with Haaretz, hurried to calm the waters.
"I was surprised when I read [the article in Variety]," he said. "From our perspective, it's just a question of balance in our productions. We have not stopped and will not stop investing in Israel films. We have not experienced any problems with Israeli movies, except for the fact that there is a genuine backlog waiting to be broadcast. And so we decided to rebalance our productions, to balance the subjects and the countries where films are made, in order to maintain variety in our broadcasts."
When asked if Arte intends to reduce the amount of Israeli films in which it invests, he says, "I would not even say that we have made a decision to reduce the number, not at all. If Israeli projects are good, we will invest in them, and only later we'll determine when to broadcast them."
Beyond Amos Gitai
According to Clement, Arte will continue to invest in productions on the basis of the quality of projects and scripts presented to them, and not according to any other criteria. The channel produces around 20 films a year - one-third French, one-third directorial debuts and the final third international co-productions. In recent years, many of the films that fell into this last category have been Israeli.
"We did not choose them for this reason, but simply because the scripts we read were intriguing and well-written," Clement says. "Before that, we had invested only in films by Amos Gitai, but then, suddenly, a large wave of excellent and interesting Israeli films arrived - such as 'Lemon Tree,' 'Jellyfish' and 'Lebanon.' We met with many writers from Israel, and received more and more scripts, and we ended up producing 19 films by Israeli artists in recent years." On top of that, another five are in various stages of production.
"The Israeli films are the most important in our eyes," Clement notes. "We have not been as involved with any other country."
In order to prove beyond a doubt that the channel has not cut off any support for Israeli cinema, during the interview he pulls out a document announcing Arte support for three productions. One of them is Israeli - the first film by director Micha Levinson, written by Orly Ben-Nun.
While the channel has already invested millions of dollars in Israeli cinema, Arte's importance here goes beyond large sums of money.
"Many independent producers in Europe, because they know that Arte favors Israeli film, are also keeping an eye out for our projects," Katriel Schory, director of the Israel Film Fund told Haaretz on Tuesday, in a telephone conversation from Toronto, where he is attending a project "pitching" event to raise money for the fund.
"I was asked here if it's true that Arte has stopped supporting us, and whether they're slowing down their investments in Israeli film," he says. "So I'm very glad to hear that the president of Arte has calmed the waters, because in Europe every producer is influenced by the others. We were concerned that it might be difficult to enlist co-producers, but now things have settled down."
Mutual benefits
It should be pointed out that Arte also enjoys its cooperation with Israeli cinema, having partnered on some of the most recent successes. "Waltz with Bashir," for example, took the Cannes Film Festival by storm, raked in many prizes and much praise, and was nominated for an Academy Award; "Lemon Tree" won the audience award at the Berlin Festival; "Sweet Mud" won the Jury Prize at Sundance; "Lebanon" was the first Israeli film to win the prestigious Golden Lion at the Venice Film Festival, and next Saturday night Arte will have another chance to enjoy the sweet smell of success when "Lebanon" vies in six categories at the European Film Academy Awards.
Why do you think so many good films are made here?
"It's an interesting question, because we get scripts from all over the world and are trying to understand exactly why Israelis are so creative," Clement says. "I don't have an explanation, but I can guess. Everything in this place is always in motion - because of the wars, because of the conflict, because of the melting pot. A few years ago, Israel's best tool for [artistic] expression was literature, not film, but it seems the new generation is using this medium with a great deal of talent.
"I have a feeling that cinema has taken a central place in Israel, and that Israeli society spends a lot of time examining itself, analyzing itself and talking about itself in a completely free manner. It's a society with an outstanding ability for self-analysis, which it does without exempting anyone or shying away from criticism. This is a kind of small miracle. I believe Israeli cinema is one of the most interesting in the world today."
Do you think the wave of success will end soon, that the world has had enough of Israeli film?
"No, but the answer is in the hands of Israeli filmmakers. If they continue making good films, the wave will not stop. There is no reason for it to stop. Israeli cinema has without a doubt burst onto the international scene. It is true that we contributed a lot to this effort, mainly so that you would be recognized - but now you are, and the rest is up to your film people."
The conference that brought Clement to Israel is examining how to apply the successful cooperation between Israel and France in the area of film to television and the new media. In contrast to movies like "Waltz with Bashir," "Lemon Tree" and "Lebanon," however, Israeli television seems to be more escapist and less political-ideological - aimed more at the local population, and less universal.
Does Israeli TV interest Arte anyway?
"A few years ago, we almost bought the series 'In Treatment.' We saw it and it intrigued us, but in the end another channel picked it up before we could," he says, with a nod to the American cable channel HBO. "We were thinking, and they grabbed it from us. But it's true, there are certain subjects that are too local for us. Last night, for example, I saw an episode of 'Arab Work' and I thought while watching that the humor was too local."
What kind of television cooperation are you interested in? Is there any particular genre?
"Everything. There is a lot of talent here, a lot of innovation and daring, and now Israeli artists know that Arte's door is open to them. Many of them come to visit us, with many projects in many areas. At the same time, many of our employees also come here. We have a large presence here...
"In addition, Israelis are good with new technology. Many things are happening here in this field, and this is something we are aware of. We ourselves are working a lot in this area, and we're also looking for ideas and cooperation in technology. Everything that happens on the Internet, Internet art, interests us very much and we are open to ideas."
Aside from Israel, what other countries are on Arte's radar?
"We would very much like and are trying to locate African artists, but there are not many. We have managed to find two or three a year in all of Africa. In addition, there is Canada, where many things are always happening, and Brazil, and China, of course, but China is very complicated. Aside from these, there is Europe of course, where we work a little with everyone, but mainly with Germany.
"In film, by the way, Germany has also produced a recent wave of excellent movies and filmmakers. Italy, by contrast - nothing, a genuine catastrophe. Today this is because of Berlusconi, but it began before [he came to power]. In Spain it's complicated. Not much is happening there, because there is no funding. Many things are happening in England, of course, but they are currently in the midst of a severe economic crisis. These are not easy years."
A few years ago, Clement points out, Russia produced many films, after the collapse of the Soviet empire. "But now that wave has died down. I don't know why. Perhaps because of the repression and limits on freedom, artists feel threatened."
Despite the financial crisis, Arte's budget is 4.1 percent bigger for 2011 than it was for 2010, Clement says, emphasizing that there had been no reduction in the film area.
"This is a protected sector for us, because we believe it is important. In my opinion, it is not only natural, but also necessary, for the culture industry, and so it must be protected and provided with the necessary funds so that artists will survive," he explains. "For this reason, the subject of artists' copyright is a critical one. It is currently getting a great deal of attention in France, and artists receive payment for all broadcasts over the Internet. The legislation is very strict.
"At the same time, of course, it is important to have serious film schools, cinematheques, film journals, and that the audience maintain its appetite for culture - which begets new students and artists," he continues. "But we must preserve, strengthen and fund [the industry]. This is what we are trying to do, and I believe we must be very clear, decisive and straightforward about support - and also force [private] companies to fund cinema."
ICYMI
Ken Burns' Brilliant 'The U.S. and the Holocaust' Has Only One Problem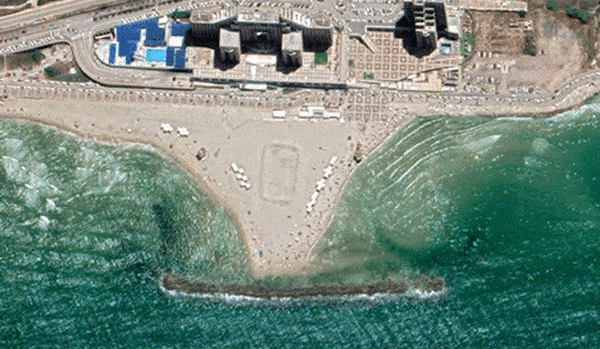 Facing Rapid Rise in Sea Levels, Israel Could Lose Large Parts of Its Coastline by 2050
As Israel Reins in Its Cyberarms Industry, an Ex-intel Officer Is Building a New Empire
How the Queen's Death Changes British Jewry's Most Distinctive Prayer
Chile Community Leaders 'Horrified' by Treatment of Israeli Envoy
Over 120 Countries, but Never Israel: Queen Elizabeth II's Unofficial Boycott