Haaretz Probe: Israel Gives Medical Tourists Perks Denied to Citizens
Health Ministry estimates medical tourism is bringing in some NIS 200 million a year, of which more than NIS 100 million goes to government hospitals.
Medical tourism is big business worldwide, and Israel's medical establishment is eager to grab a piece of it. And there is no denying that medical tourism is good for the economy. But a Haaretz investigation found that if medical tourists enjoy conditions Israelis can only dream of, including very short waiting times for procedures, the right to choose their own doctor and private rooms. And these benefits may well be coming at the expense of Israeli patients' care.
Currently, Israel gets some 30,000 medical tourists a year, mostly from the former Soviet Union. The Health Ministry estimates that they bring the health system some NIS 200 million a year, of which more than NIS 100 million goes to government hospitals. Outside experts put the total much higher, at almost NIS 500 million.
And people involved in the field say the potential is higher still: Neighboring Jordan, for instance, attracts some 210,000 medical tourists a year. Africa is considered a particularly promising source of more medical tourists, and the Ministry of Tourism - which launched a marketing campaign a few months ago aimed at attracting medical tourists - is also targeting the United States. The Ministry of Health, for its part, is working on signing bilateral agreements with other countries.
Advocates of medical tourism - who include virtually the entire medical establishment - see nothing but benefits: The infusion of money into Israel's perennially cash-strapped health system will enable hospitals to hire new staff, open new wards and purchase new equipment. Moreover, they say, it will not come at the expense of Israeli patients, because medical tourists are treated only after 3 P.M., when the official hospital working day ends.
But it is far from clear that these optimistic predictions will prove true, for one major reason: The field is totally unregulated. No laws or regulations whatsoever govern this business; the only limitation hospitals face is a 1995 directive issued by the Health Ministry's director general, which states that medical tourism must not come at the expense of the Israeli patient.
And when large sums of money intersect with a total lack of regulation, hospitals have an enormous incentive to go for the cash even if the Israeli patient suffers. "In the absence of rules, medical tourism services will undermine the medical service given Israeli residents," Health Ministry comptroller Aryeh Paz warned recently.
Paz plans to open a sweeping probe in the near future aimed at determining to what degree this is already happening. But there are several reasons for concern.
First, judged by two key measures, Israel's medical infrastructure is already substandard in comparison to other Western countries: The average hospital stay in Israel is only four days, compared to an OECD average of 6.7, and Israel has only two hospital beds per 1,000 residents, compared to an OECD average of 3.8. Among OECD nations, only Mexico fares worse.
One result is very long waiting times for non-emergency procedures. The state comptroller, who examined this issue in a report published last year, found that the wait for an ear, nose and throat operation, for instance, was six to seven months at Sheba Medical Center in Tel Hashomer and 13 months at Western Galilee Hospital in Nahariya.
But no medical tourists will come here if they have to wait days or months for a procedure. Danny Angel, marketing director of the private Assouta Medical Center in Tel Aviv, was explicit on this subject.
"The medical services received by tourists in Israel must be identical to those received by Israelis, with one exception," he said. "Service must be quicker in the diagnostic sphere. If a tourist has to wait 10 days for a CT or MRI scan, that would make his treatment significantly more expensive" - and hence, less attractive.
But if medical tourists are pushed to the front of the line for such tests, waiting times for ordinary Israelis will inevitably lengthen - especially in the departments most frequented by medical tourists, which include the cancer, cardiac and in vitro fertilization units.
Nor does the argument that medical tourists are treated only after regular hours hold water. Today, hospitals also treat many Israelis after regular hours. This is a way for doctors to earn extra money, since they receive extra pay from the hospital's research fund for such overtime operations, and it also reduces the pressure during regular hours. But if medical tourism begins occupying more of the overtime hours now utilized by Israeli patients, then waiting times for all Israelis will grow.
Finally, in the absence of regulation, there is no guarantee that hospitals will in fact invest the revenues from medical tourism in new staff or equipment that would benefit all Israelis: They might prefer to use this money for other purposes instead.
One thing, however, is certain: Medical tourists get preferential treatment. Haaretz called Sheba Medical Center - Israel's leading provider of medical tourism services, with revenues of NIS 55 million a year - to inquire about an operation to remove a kidney growth from a 60-year-old woman from abroad. A 60-year-old Israeli woman, according to the state comptroller's report, would have to wait two or three months to have this operation done at Sheba. But Sheba's representative assured Haaretz that was not the case for tourists.
"You tell me a week before you're arriving and I'll arrange everything," she said - first the diagnostic tests and then the operation. "Generally, the operation takes place within a few days." The representative admitted that there are "separate lines" for tourists, with a few appointments reserved each day for them.
Moreover, tourists are allowed to choose their preferred surgeon, which Israelis are not. At the very least, if for some reason the chosen doctor is unavailable, the tourist is guaranteed treatment by one of the hospital's senior physicians.
Asked for comment, a Sheba spokesperson did not deny the preferential terms. "When a tourist comes to the hospital, we try to operate on him as soon as possible," the spokesperson said. "You can't expect him to wait several months for an operation."
It is hard to see how all this can fail to come at the expense of Israeli patients. If certain MRI slots are reserved for tourists, that leaves fewer slots for Israelis. And if tourists get first shot at senior surgeons, those surgeons have less time available for Israeli patients.
Yet the Health Ministry has thus far declined to start regulating medical tourism - in part because of the enormous pressure it has come under from the hospitals, which do not want anything hindering what has become a booming business. Between 2005 and 2009, for instance, Tel Aviv's Ichilov Hospital saw its medical tourism revenues increase more than fivefold, from NIS 7 million to NIS 37 million. Assaf Harofeh Hospital in Tzrifin saw its revenues quadruple, from NIS 1 million to NIS 4 million.
Prof. Gabi Bin Nun of Ben-Gurion University's Health Systems Management Department, who formerly served as the Health Ministry's deputy director general for economic affairs, put the issue bluntly. "The right way to operate medical tourism is by first solving Israel's existing problems," he said. "Given the existing problems, it's hard to understand how the Health Ministry can be interested in expanding medical tourism."
While worse treatment for Israeli patients is the primary concern raised by the unregulated state of medical tourism, it is not the only one. For instance, two government hospitals, Rambam Medical Center in Haifa and Sheba in Tel Hashomer, contracted with businessman Noam Lanir this year to market their medical tourist services over the Internet.
That would be unexceptional, were it not for two things: First, the contract was signed without a tender, though government bodies are legally obligated to issue tenders for all contracts. Second, Lanir, a private businessman, is now serving as the official representative of two government institutions. His company's phone number appears on official hospital papers, and one of his employees represented himself to Haaretz as an employee of Sheba.
These issues raised enough questions that both the Health Ministry's legal department (in response to an inquiry by Haaretz ) and its comptroller are now investigating.
But even more troubling are the specifics of Lanir's contract with Rambam. Lanir told Haaretz that the hospitals have the right to halt the influx of medical tourists if they are getting overcrowded, so as to ensure that Israeli patients do not suffer. But a draft of the contract with Rambam, a copy of which was seen by Haaretz, obligated Lanir to "meet the revenue targets" set by the hospital. That would seem to require him to provide a certain number of tourists regardless of whether or not the hospital could handle them without affecting its treatment of Israelis.
Rambam, however, denied this. "There are no quotas for medical tourism activity," it said. "This activity will take place in accordance with the hospital's capabilities in the relevant specialties, without harming the services provided to citizens of the state."
The Health Ministry said it viewed medical tourism as "an enterprise whose development can be encouraged as long as it does not harm the availability of medical treatment for Israeli citizens during hospital working hours. In other words, medical tourism must not be expanded as long as there is insufficient infrastructure and manpower outside working hours to provide the tourists with medical treatment, and as long as the availability of care for Israeli citizens is being undermined. The ministry plans to cooperate with the Tourism Ministry and the Finance Ministry to examine the creation of suitable conditions for conducting orderly medical tourism."
ICYMI
Ken Burns' Brilliant 'The U.S. and the Holocaust' Has Only One Problem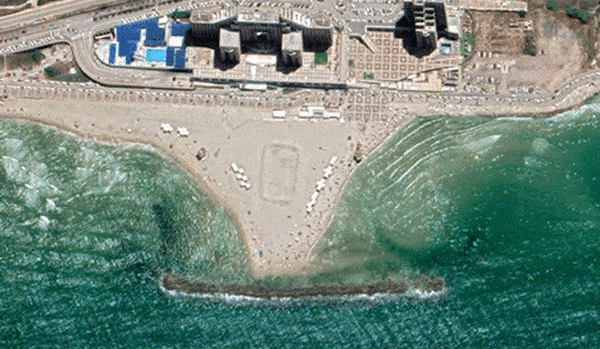 Facing Rapid Rise in Sea Levels, Israel Could Lose Large Parts of Its Coastline by 2050
As Israel Reins in Its Cyberarms Industry, an Ex-intel Officer Is Building a New Empire
How the Queen's Death Changes British Jewry's Most Distinctive Prayer
Chile Community Leaders 'Horrified' by Treatment of Israeli Envoy
Over 120 Countries, but Never Israel: Queen Elizabeth II's Unofficial Boycott