The Only Jewish Day School in D.C. - a Place With a Special Soul
At the only Jewish Primary Day School, they are not shy about exploiting their connections with the city's movers and shakers. That's how fourth-graders get to ask Condoleezza Rice about the use of torture by the Bush administration.
WASHINGTON, D.C. - At the end of May, George Mitchell, the U.S. special envoy to the Middle East, reported to the Sixth and I Historic Synagogue in central Washington, to address the community of supporters of the only Jewish school in the district. "Dan Shapiro told me to come here," he began, referring to the senior director for the Middle East and North Africa in the National Security Council, who also happens to have children in the Jewish Primary Day School of the Nation's Capital. "I couldn't say no," said Mitchell.
A year earlier, former secretary of state Condoleezza Rice stood on the same stage, in her first public appearance in Washington since the change of guard in the White House. During her visit to the school itself, she was asked by a fourth-grade student, Misha Lerner, about the use of harsh interrogation methods on prisoners while the Bush administration was in power. "Let me just say that President Bush was very clear that he wanted to do everything he could to protect the country. After September 11, we wanted to protect the country," said Rice. "But he was also very clear that we would do nothing, nothing, that was against the law or against our obligations internationally." She added: "I hope you understand that it was a very difficult time."
Adina Kanefield, a school administrator, doesn't see any need to downplay the fact that the school's 263 students benefit from the connections of some of the parents: "It's definitely an advantage, it's because of the parents - they can bring their colleagues here." The children of former White House chief of staff Rahm Emanuel, for example, began attending the school after the family moved to Washington two years ago from Chicago.
In effect, one visit to the school would likely have silenced most critics of Emanuel who claimed that he does not like Israel. Israeli and American flags hang in the classrooms, and the clocks are set to Jerusalem as well as local time. Many of the inscriptions on the walls, including the sign on the door of the principal's office, are in Hebrew. The children celebrate Israel's Independence Day, in addition to Thanksgiving, and they light candles on Israel's Memorial Day for Israel Defense Forces soldiers.
After the school received permission from Yuval Rabin, the son of the Yitzhak Rabin, it named its library for the late Israeli prime minister, and each year, during the month surrounding the anniversary of Rabin's 1995 assassination, pupils in every grade (the school runs from nursery school through sixth grade ), learn about his legacy and participate in a memorial service. In nursery school, they begin the Rabin program by reading the poem "Lifamim" ("Sometimes" ) by the late artist and poet Paul Kor; in kindergarten they learn about the dove of peace; in third grade they get to "Shalom, Haver" and Rabin's transformation from a fighter to a man of peace. In sixth grade, the pupils learn about how to deal with conflicts in a democracy like Israel's.
"It makes me very frustrated, the way they're talking now in Israel about Rabin's assassination," says Shoshana Sfarzada, a sixth-grade teacher from Israel. "I've lived here for many years, and the way it looks from the sidelines, I'm beginning to be doubtful about the sincerity of [Israel's] peaceful intentions. It seems that people are forgetting what happened to Rabin. As a rule, the children here explain it on the level of children: They don't emphasize politics, but rather a message of tolerance."
"There are parents here who are decision-makers in the administration, and journalists, so they talk about it at home," says Kanefield. "Several of the children have even traveled with their parents to spend a number of months in Israel, and almost all the families in the school place it high on their list of priorities."
Rabin is present in any number of ways at the school: Quotations from him, in both Hebrew and English, hang on the walls of the school gym. "I believe that we are a small nation with a big heart," says one of them. In some classrooms, in addition to maps of Israel, one finds portraits of Rabin too. In one classroom, which has on display a series of projects done by the pupils on the subject of blessings, there is also a picture of Gilad Shalit. "I put up Gilad Shalit's picture because we spoke about a blessing for someone who releases captives," explains Sam Chodorow, a fifth grader who has been in the school since kindergarten. His friend Daniel Weiss says that when he visited Israel earlier this fall, he was able to read signs in Hebrew, and was enthusiastic about his visit to "a cave that looks as though it has diamonds."
But when asked what's good about his school, he doesn't mention Israel or Jewish identity. "They allow you to bring pets," he says. "There are sports teams. I also have a lot of friends."
Pupils in every class make a patchwork quilt out of their own hopes, dreams and prayers. "I hope that the Temple will be rebuilt," is the message on one patch in the fifth-grade quilt. "I hope that there will be peace in the Middle East," says another.
About a third of the teachers at the school, which opened in 1988, and for its first decade was housed in the capital's Adas Israel synagogue, are Israelis - who know how to appreciate the luxury of fewer than 20 pupils per classroom. The school, which is independent and whose pupils belong to all the denominations, has also begun to host a number of Israeli girls each year who do their national service in the school, and live with local families. Hebrew is taught in all the classes by Israeli teachers, a warm, noisy and energetic group, whose members enjoy insulting each another and boast of being a "mafia."
Gili Bitton, a kindergarten teacher who came to the United States "years ago" on a visit, and never left, has been at the JPDS for eight years. The children, says Biton, are totally American and speak English among themselves. But JPDS tries to convey to them that intangible essence of Israeliness. Each morning, like American children everywhere in the country, they recite the Pledge of Allegiance, but at the same time they are exposed to classic Israeli children's books like as "Ayelet Hametayelet" ("Ayelet the Traveler" ), "Hakeves Hashisha Asar" ("The 16th Sheep" ) and "Ma'aseh Behamisha Balonim" ("A Story of Five Balloons" ), and they play Israeli games. Birthdays are celebrated with "surprise bags" for all the children. And the Israeli teachers return from every home visit with suitcases full of children's books and recordings in Hebrew.
Kanefield says parents send their children to JPDS for a variety of reasons. "There are some who come from mixed [Israeli-American] families and know a little Hebrew and want to preserve it. There are some who come without ever having visited a synagogue in their lives, and for whom this is their gateway to Judaism. There are people who wanted Jewish education, there are people who simply wanted a good education and a small school with a family atmosphere and a supportive community. But when they leave, they all leave with a Jewish identity."
She says they study Rabin's "legacy" not as a political statement. "They learn about a peacemaker who was obligated to find a solution to the conflict. They compare his life with milestones in the history of the State of Israel."
The issue of security exists in this school too, as in all Jewish institutions in the U.S. The Jewish Federation of Greater Washington helps to pay for security guards. The school's main doors are kept locked, and are made of one-way glass so that people in the street can't see in. Visitors are admitted only after they have been vetted by intercom and video camera.
Because the school is located in Washington, most of the school's trips are inside the city, except for the trip to Philadelphia and to New York in fifth and sixth grades. But they definitely benefit from the status of being the only Jewish school within the district (there are seven other day schools in the Washington vicinity ), and are invited to perform in the Library of Congress during Jewish Heritage Month, or to decorate the sukkah at the residence of the Israeli ambassador.
Kanefield, who is herself the daughter of an Israeli mother and a father who was a rabbi, sent her own children to the school. "My son, who is now in college, learned to read Hebrew before English. I was worried when in first grade he still didn't read English, but it simply turns out that it was easier for him in Hebrew. Their Hebrew is enough for a conversation, not necessarily a fluent one. But when they study, they read and write Hebrew too."
Washington is considered a city of transients, with many people coming and going as political changes occur. But JPDS manages to maintain a foundation of a supportive community - financially as well. Parents pay tuition of about $19,000 a year (financial aid is available to those who need it ), and the school's budget is augmented by donations. Last year, one anonymous supporter gave $5 million. Not surprisingly, not everyone who applies is accepted, and the school has a waiting list.
"To me it always seems like a school with a special soul," says principal Naomi Reem, waxing lyrical. Reem is a native of Argentina who lived in Israel for years before moving to the U.S. "There's a sense of community here, a very close relationship between the teachers, on the one hand, and pupils and their parents, on the other. There's a very large support network for everyone. And there's a very strong connection to Israel." She says that when she hosted a girl carrying out her national service the young woman "learned to respect us when she saw how much effort Diaspora Jews have to make in order to remain Jewish."
"To my regret," says Shoshana Sfarzada, "Israelis have a very mistaken perception of American Jews. They don't understand the differences between the denominations, don't understand that in order to be a Jew here, people have to work hard. Even in the Reform movement, you have to work hard if you want to lead a Jewish life, because you have to create everything by yourself. It's not as if you can go out into the street and it's just there - Shabbat and Yom Kippur."
ICYMI
Ken Burns' Brilliant 'The U.S. and the Holocaust' Has Only One Problem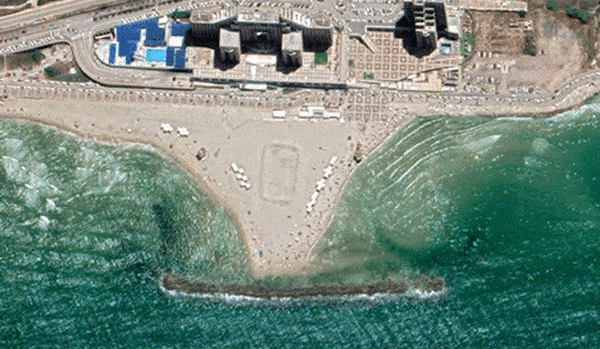 Facing Rapid Rise in Sea Levels, Israel Could Lose Large Parts of Its Coastline by 2050
As Israel Reins in Its Cyberarms Industry, an Ex-intel Officer Is Building a New Empire
How the Queen's Death Changes British Jewry's Most Distinctive Prayer
Chile Community Leaders 'Horrified' by Treatment of Israeli Envoy
Over 120 Countries, but Never Israel: Queen Elizabeth II's Unofficial Boycott