Crisis? What Crisis?
Lieberman swears there's no crisis with Netanyahu. And indeed, he can maximize his power if the moment of truth comes not now, but in another year
One Likud minister likes to enlighten his party colleagues with the following epigram about the average life span of Israeli governments: "During the first year, it governs, in the second year it faces crises, and in the third year it collapses."
As it happens, this minister would have liked to overturn the current cabinet coalition during the government's second year. Since he could not, he had nothing to do this week other than interpret the exchange between Benjamin Netanyahu and Avigdor Lieberman as a portent regarding the future: According to the dictum, the Netanyahu government is now in the midst of the crisis stage, heading toward collapse in 2011.
The only politician with the wherewithal to overturn the Netanyahu government is Foreign Minister Lieberman, who has 15 Knesset seats in his arsenal. However, Lieberman opened his press conference Monday morning by declaring: "There is no crisis. Our party did not initiate a crisis, and we do not intend to quit" the government. If Lieberman intends to stick a dagger in Netanyahu's back, and his close associates have indicated that he does indeed intend to do so, the worst time for this would have been on the eve of the Knesset's summer recess. The moment of truth will apparently come in the middle of 2011, more than two years after the 18th Knesset was formed. At that point, at least midway through the government's term, Kadima will not be willing to join the coalition, so Netanyahu will have nowhere to turn. Lieberman will have the power to decide the government's fate.
Lieberman still remembers how he was dismissed by Ariel Sharon, as he was working out at the health club, on the eve of the government vote regarding the withdrawal from the Gaza Strip. This time, Lieberman does not want to be the dismissed party; he wants to be the one handing out pink slips. And it's important to him that Netanyahu not turn leftward ideologically; so long as the prime minister does not look to the left, he has no alternate coalition options.
In the meantime, Netanyahu is not veering left. "As long as Netanyahu thinks he can continue with the present coalition, he will uphold his basic political orientation," a minister close to the premier said this week. "But should he decide he has to do something in order not to lose power, then he could try to move in another direction."
Two months before the end of the West Bank construction freeze, it appears that Netanyahu does, in fact, discern winds of war billowing around Lieberman, as well as signs of collapse emanating from the political farce known as the Labor Party. Hence, Netanyahu has returned to the pursuit of a seventh Kadima Knesset member who would be willing to join the six MKs who were caught six months ago discussing bolting from the party in order to join the coalition.
On Monday evening, before the reconciliation meeting with Lieberman, Netanyahu met with Kadima MK Robert Tibayev, who remains mostly unknown not only to the public but also to his parliamentary colleagues. He told the MK about the status of Iran's nuclear centrifuges, and took stock of Tibayev's outlook on the subject. Before the meeting, Tibayev, who was born in Dagestan in the Soviet Union in 1961, came across one of Netanyahu's assistants, who happened to have an internal survey of Kadima voters regarding the status of the party's legislators. Tibayev ranks last. His chances of being elected to the 19th Knesset are nil.
Tibayev responded coolly. "I served in the Red Army," he quipped. "I know psychological warfare when I see it."
Back to building
On the Tisha B'av day of mourning, Likud faction chairman MK Zeev Elkin celebrated the birth of a son, somewhere in Gush Etzion. The same day, Minister Dan Meridor was interviewed by Army Radio. Meridor said he believes that after September 27, the freeze on isolated, illegal settlements ought to be continued; regarding Jerusalem and settlement blocs that would remain under Israeli sovereignty under any peace agreement, Meridor stated that Israel should work out some arrangement with the U.S. government.
At the Elkin family event, Yesha Council of settlements chairman Dani Dayan met with Minister Benny Begin and Knesset Speaker Reuven Rivlin, who attended together. Dayan was amused by Meridor's interview. "Meridor will build in Jerusalem and the settlement blocs, and we will build everywhere else," he said.
On September 26, the freeze order expires. If he is to extend it, Netanyahu will be forced to convene his cabinet, and win approval. Even if he wants such an extension, the prime minister is unlikely to get majority support for it.
What will happen if Israel is engaged in direct talks with the Palestinians at the end of September? Diplomatic insiders believe the U.S. would pressure Netanyahu to implement a goodwill gesture on the ground. Various political forums are addressing just such a scenario: Should Meridor's position be adopted as Israel's official stance? Should a quiet sort of freeze be implemented - with declarations of intent to build in the territories, but the defense minister refusing to issue new building authorizations? Or, should the Netanyahu government try some other sort of trick designed to keep everyone happy, while ultimately pleasing nobody?
Coincidentally, the date of celebrations planned by settlers to mark the end of the building freeze, September 26, is very close to the date of another, tension-fraught milestone. On September 28, 2000, then-opposition leader Ariel Sharon visited the Old City's Temple Mount, thereby igniting the second intifada. To be sure, Palestinians have no dearth of dates and milestones that might be used as a pretext for creating a flare-up in the territories. A political source with considerable expertise on security matters was asked this week whether the overlap in dates in late September has caused any sort of special military preparation. "No, this has not been discussed," the source said.
The right man for the job
In another two or three weeks, Israel's consul general in New York, Asaf Shariv, will end his term. For two months, Netanyahu and Lieberman have been unable to agree on a candidate to replace him. Lieberman wanted Shai Bazak, former consul general in Miami. Netanyahu ruled him out. Speculation is rife that Sara Netanyahu vetoed Bazak, due to bad memories from when Bazak was her husband's spokesman during his first term.
Another interpretation holds that Netanyahu thinks that under current circumstances, with Israel's global image at a nadir, the next consul general in New York ought to be a figure adept at handling America's foremost journalists, as well as the prime minister's acquaintances, multi-millionaires who lead Jewish community organizations and the Conference of Presidents of Major American Jewish Organizations. Netanyahu thinks New York needs a super consul general, someone of the caliber of Uri Savir or Alon Pinkas (both of whom previously served in the post ).
Assuming the second hypothesis is correct, it will be interesting to watch Netanyahu's response to David Sharan, who is favored by the foreign minister, and is the chief of staff and a longstanding political adviser to Finance Minister Yuval Steinitz. Netanyahu has opposed Sharan's candidacy, but could soften his stance following his reconciliation talks with Lieberman.
Sharan grew up in the U.S. and graduated from a Los Angeles high school in 1988. Even the foreign minister and his aides have been hard-pressed to say what qualifies him for one of the three leading diplomatic assignments in the U.S. (alongside the ambassadorship in Washington, and the job of ambassador to the UN ). Sharan lacks diplomatic experience, and also has little background in advocacy and relations with America's complex Jewish community.
If, six months ago, Lieberman believed that the New York posting required someone with Shai Bazak's experience and skills, how did he move from Bazak to David Sharan? Lieberman has no special relationship with Steinitz; in fact, last week, the two quarreled about the government budget. Why, then, does he want to appoint Steinitz's aide to a post that many diplomats, past and future, would kill to obtain? Political insiders suggest that early in the year the finance minister approved the appointment of Alex Wiznitzer, a figure close to Lieberman, to a plum position: chairman of the Mekorot Water Company. Is there any connection between these two appointments?
"Of course not," said spokesmen in both the foreign minister's office and the finance minister's office. All right - we can say there is no connection. Then, still, why Sharan?
Compare and contrast
"I am telling you now, Mr. Prime Minister: Anyone who does not want to come from Kadima will be left on his own. I speak for almost the entire Kadima party, and am repeating exactly what I said in our private meeting: We want a unity government! You want a unity government? So go ahead and create a new government - it's as simple as that. Do you want a government that will repair Israel's image and status in the world? Let's sit down and work out a comprehensive political plan. We'll work with you on this plan. Do you want a government that represents the majority of the people? Then change the government's composition. Because I really believe that the state is in danger. The state is in trouble." (Kadima faction chair, MK Dalia Itzik, in a Knesset address, June 23 ).
"We need everyone's abilities, here in the opposition. We have a government that is performing badly, and it would be wrong for us to be tempted and fall into the trap that the government is trying to set for us. I hear they are initiating meetings and saying Kadima will join the government any day now. That's no good. You have to understand: Nobody's going to take the opposition seriously if it keeps saying it is about to join the coalition, or that it wants to join. It is wrong for us to collaborate, intentionally or unintentionally, with the government, with things that will cause damage to us in the end." (Kadima faction chair, MK Dalia Itzik, in a Knesset address, July 19. )
ICYMI
Ken Burns' Brilliant 'The U.S. and the Holocaust' Has Only One Problem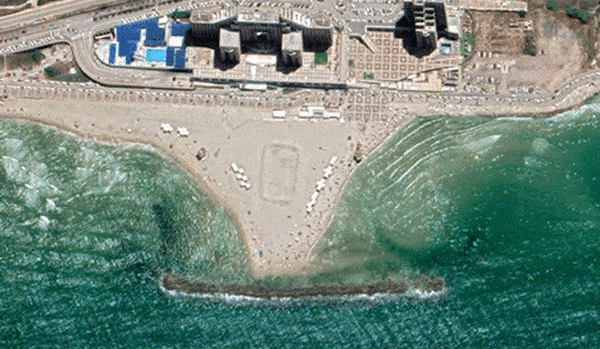 Facing Rapid Rise in Sea Levels, Israel Could Lose Large Parts of Its Coastline by 2050
As Israel Reins in Its Cyberarms Industry, an Ex-intel Officer Is Building a New Empire
How the Queen's Death Changes British Jewry's Most Distinctive Prayer
Chile Community Leaders 'Horrified' by Treatment of Israeli Envoy
Over 120 Countries, but Never Israel: Queen Elizabeth II's Unofficial Boycott