Business, Not as Usual
The founders of Galil Software identified two problems - an excess of unemployed Israeli Arab engineers, and a manpower shortage in high tech - and came up with the solution of an outsourcing firm in Nazareth.
Inas Said, who lives in the village of Nahaf in the Galilee, cannot forget the day he got to meet the global CEO of Nokia. That was in 2000, when he was living in Boston and was chosen as one of Nokia's outstanding employees around the world. "It was the dream of a lifetime, come true," Said says. "I have no words to describe how excited I was that day."
Nowadays, after returning to Israel and being appointed to run Galil Software, the country's first Arab high-tech company in the field of software development, that encounter seems like a relatively minor thing. "Every day that I work here and see how the company is developing and growing, I get more excited," he says.
"The Arabs are not in high tech," says Itsik Danziger, former president of Comverse software, and one of the founding fathers of the Israeli high-tech industry. "Few Arabs study the profession. In recent years only 2,200 of them graduated in related subjects, and of these only 20 percent work in the field."
In other professions, the situation is better: The medical school at the Technion - Israel Institute of Technology now has an Arab majority - or, more precisely, a female Arab majority. Arabs are relatively successful in medicine, one of the only fields in which Arab university graduates do not encounter discrimination. The Technion's civil engineering department also has quite a few Arab students. Many Arabs study and work in construction engineering. On the other hand, in computer engineering and electronics departments, the numbers are much lower.
"The fact is that fewer Arabs today are studying high-tech subjects because they realize that this field is closed to them," Said says. "They prefer to study medicine or pharmacology."
Danziger, along with several other dominant figures in local high tech - Zeev Bregman, likewise an ex-CEO of Comverse, Adi Pundak-Mintz of Gemini Israel Funds, Jimmy Levy and others - decided to take advantage of this opportunity. In 2007 they set up Galil Software, which provides external software R&D services to Israeli high-tech firms. The company operates out of Nazareth, and currently has more than 100 employees - software engineers - most of them Arab.
"A process of change is now beginning," explains Said. "The Arab engineers at our company work on a daily basis with Jewish engineers, their counterparts in the central region, and they get to know each other and form bonds."
An Arab high techie faces several obstacles - the first being at the stage of job recruitment.
"This is a buddy-brings-a-buddy industry," Danziger says, based on "social ties, and also of shared service in certain military units. Of course, your average [Jewish] Israeli executive is not going to recruit an Arab engineer he doesn't know."
That is not the only obstacle: Arabs also encounter the prejudiced view that they are less professional than Jews.
"One of the reasons for this is cultural," explains Danziger. "A Jew comes to a job interview with self-confidence and deals in self-promotion. An Arab, on the other hand, is more humble and modest. The impression is less good."
Danziger, who already made his fortune in high tech and is now involved quite a lot in philanthropic ventures, saw in these obstacles a business opportunity: "We looked at the matter from the viewpoint of entrepreneurs, and saw that there was a manpower shortage in Israeli high tech. We saw that the minorities were not integrated into the industry, and we realized that there was an opportunity here."
Inas Said came back to Israel after 20 years working for Nokia in Germany and Boston, and found a job at ECI Telecom ("I commuted daily from Nahaf to Petah Tikva, two hours each way" ). During that period he met Danziger while studying at Tel Aviv University's executive MBA program. That meeting led to the creation of Galil Software, where Said is now CEO.
Said cites three main obstacles that are preventing more Arabs from entering high tech: "The first is the entrepreneurial culture. An entrepreneur needs to have self-confidence and the right psychology. It takes time to raise a generation of entrepreneurs, and currently there are still not enough Arab high-tech entrepreneurs. The second obstacle is lack of access to funding. Today there is not a single Israeli venture capital fund north of Hadera. Again, it goes back to the issue of personal acquaintanceships that this field is built on. The third and most substantial obstacle is lack of access to the market."
In other words, there is no chance that Galil Software would have been founded - and no chance that it would have managed within two years to recruit its clientele of 10 Israeli high-tech companies - had several of the "lions" of Israei high tech not been among its shareholders.
"We brought the access to the market and we opened the doors," Danziger says. "Without the investors, all of whom are senior people in Israeli high tech, there is no way that Galil Software would have succeeded in reaching the market."
Even without help from the angels, Galil Software is in a relatively good place today: The company offers its clients software development and R&D services at a relatively high level, at costs that are 30 percent lower than those available in the country's center. Lower salaries in outlying areas, especially for Arab engineers, who simply may not have another employment option in their profession; significantly lower real estate costs; and government aid for businesses situated in the periphery - all of these combine to make Galil Software a provider of R&D services that are cheaper by far than those in Ra'anana or Herzliya.
Danziger: "We decided to be an external branch that would offer software services to the big high-tech companies. We turned ourselves into a type of outsourcing service by offering task-specific development teams to high-tech companies, at lower prices than those in the center."
The company also boasts a relatively high engineering capacity: A majority of its engineers are Technion graduates. But its disadvantage is a lack of experience on the part of most of its employees.
"There have been more than 2,000 Arab graduates in electronic engineering in recent years," Said notes, "but the number with experience is very small, simply because there is no one who employs them. It's a chicken-and-egg problem. Because [high-tech companies] do not want to employ Arab engineers, they don't gain experience, and therefore have a hard time finding work. Galil Software is the first attempt to break this negative cycle."
Galil Software has another disadvantage in that it is still more expensive than its main rival: software engineers in India.
"In India it is still cheaper," Said agrees, "but we have the advantages of proximity and home. There's no relocation for the manager, you have no travel expenses, no high communication costs, and also no employee turnover. In India there is an average annual turnover of 25 percent, because of the high demand for engineers there, and that requires high costs for constant manpower training. With us the employees do not come and go. The same team works for the client for two years straight."
For their part, Galil Software's clients seem satisfied. "It works well," reports Amir Aharoni, CEO of Mobixell. "This is a substantial way to lower development costs, by using resources outside the central region. We have been working with them for two years, and have so far grown to a team of 15 engineers who work for us. They have good resources there, and they are also managed properly."
Isn't India preferable?
Aharoni: "Two years ago, when we started working with Galil Software, we conducted a financial analysis regarding setting up a development team in Nazareth, Ukraine or India. We reached the conclusion that with fewer than 50 engineers, there is no point in going overseas. It's too expensive. Today we have a development center in India as well, and there is no doubt that the Indians are excellent engineers, but there are problems there of high turnover, and also they aren't better than in Israel in all areas."
Are Arab engineers any less good than Jewish ones?
"No. They are a bit less experienced, but they are far more loyal. In my opinion, for small and medium-sized companies this is an excellent way to lower development costs. Additionally, there is the social aspect. We believe that this also contributes to our country."
Customer satisfaction has meant that in the two years since it was founded, Galil Software has been growing steadily. As it is a private company, its data are not made public, but Danziger says that despite the global crisis, the company has been meeting the goals of its business plan from 2007, and that after two and a half years in operation it is showing a profit.
Today Galil Software employs more than 100 engineers (10 of them Jewish ), who serve some 10 high-tech firms in the center of the country.
"The Arab engineers are top-notch; they are just as capable as the Jewish engineers," Said states. "The proof of this is that a large share of our growth is internal - nearly all of the clients doubled the development team that is working for them through us."
Success, Danziger notes, is also beginning to give rise to competition, and he expects similar centers to be established in Arab communities elsewhere soon, by Israeli high-tech companies.
What about the security tension? Doesn't this have any effect?
Said: "Everyone who works here understands that we have a unique model, and makes an effort to safeguard it - both the Arabs and Jews who work here, together. During Operation Cast Lead in Gaza we continued working as usual. Before it broke out, I thought about how to answer employees' questions. But there was no need to. The question simply never came up. People leave politics outside the company."
ICYMI
Ken Burns' Brilliant 'The U.S. and the Holocaust' Has Only One Problem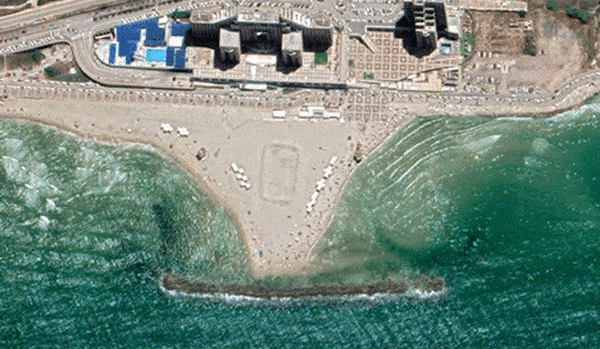 Facing Rapid Rise in Sea Levels, Israel Could Lose Large Parts of Its Coastline by 2050
Lapid to Haaretz: 'I Have Learned to Respect the Left'
The Mossad's Fateful 48 Hours Before the Yom Kippur War
As Israel Reins in Its Cyberarms Industry, an Ex-intel Officer Is Building a New Empire
How the Queen's Death Changes British Jewry's Most Distinctive Prayer