Are You Sure You Want to Drink That Glass of Juice?
Whether it's a fruit drink or 100% juice, it's packed with sugar. Drink water and eat real fruit, experts say
Fruit drinks may be cheap and slake your thirst in the heat of summer. But don't forget that for at least some of them, the "fruit" in their name is more a description of taste than of the actual ingredients.
Some drink makers even advertise that they "allowed ourselves to play with the taste," as Jump states on its bottles of grapefruit-flavored beverages.
Other manufacturers, including Spring, Prigat, Tapuzina and Crystal, also note on their packaging that natural fruit is just one component of their product, be it orange, grape or apple juice.
But though fruit extract comprises at least 10% of the drinks, they also contain sugar, citric acid, stabilizers, natural flavorings and aromatic molecules, and sometimes preservatives as well.
The difference between fruit drinks, fruit nectars and fruit juice has to do with the concentration of fruit and the presence of other ingredients.
Fruit drinks aren't considered real fruit juice, and may contain very little actual fruit - typically, between 10% and 25%. In addition to fruit extract, they contain sugars, various acids including citric acid, stabilizers, natural flavorings and aromatic molecules, and sometimes preservatives. They may also have added vitamin C.
In fruit nectars, water, sugar, acids and flavorings are added to some form of fruit juice. The concentration of fruit ranges between 25% and 50%.
In fruit juice made from the concentrated extract of fruit, only water is added, to reconstitute the juice. Nothing is added to 100% fruit juice that is not made from concentrate.
But how healthy are these beverages, even the ones with higher fruit components? How should you choose between the many fruit juices, nectars and drinks lining supermarket shelves?
If price is the only consideration, there's no question: Fruit drinks are the best buy. Cheaper than juices with high concentrations of fruit, they make up 20% of the uncarbonated beverage market.
The differences in price can reach hundreds of percent. Natural squeezed juice made from 100% fruit costs between NIS 10 and NIS 17 per liter, while a fruit drink cost between NIS 1.50 and NIS 5 per liter. Nectars cost between NIS 5 and NIS 6 per liter.
Pick your poison
Juices made from concentrate sell for almost as much as freshly squeezed juices: about NIS 9 per liter, though they sometimes go for as much as NIS 16.
But of course, price isn't the only criterion when we shop for juice.
As the weather gets hotter, beverage sales rise. Nielsen figures show that 5 million liters more uncarbonated beverages - a total of 31 million liters - were sold between March and May this year than between last December and this February.
Before you rush out to pick up the first drinks that come to hand, brush up on the facts.
1In general, the further the beverage gets from the natural fruit, the less nutritious it is. The best way to get the most from fruit is to squeeze it yourself at home. It's best to drink juice as soon as possible after it was squeezed, since the vitamins lose their qualities over time.
"Even if the orange is squeezed at the company and nothing, no sugar, is added, but it is pasteurized, the nutritive value of the fruit is diminished," says Michal Sukman, a clinical dietitian with the Maccabi health maintenance organization. "If the juice is made from concentrate, its nutritive value drops even more."
At least the more natural forms of commercial juice don't contain preservatives, she adds. Preservatives can cause irritable bowel syndrome or headaches for some people.
2Fruit drinks, fruit nectars and fruit juices have the same amount of sugar, even though in some of the beverages the sugar comes from fruit, in the form of fructose, and in some the sugar has been added in. All have about 40 calories and 10 grams of carbohydrates per 100 milliliters of juice.
If we assume that a normal glass of juice contains at least 200 milliliters, then each glass of juice is delivering 20 grams of carbohydrates, which means between four and six teaspoons of sugar.
3Not only is the sugar level the same, but fructose and industrial sugar have exactly the same (negative ) effect on your blood sugar levels. "Both are relatively simple sugars," says Sukman, by which she means they are simple molecules. Both have the same effect. If you consume them, for instance by drinking juice, your blood sugar levels skyrocket.
Eating fruit can also lead to sugar spikes, but at least real fruit comes packed with other nutritional benefits as well. Even so, experts counsel that fruit should be eaten with moderation.
"Fructose is equivalent to regular sugar, as far as the body is concerned," says Olga Raz of the nutrition and diet department at the Sourasky Medical Center. It is true that fructose doesn't cause as much insulin to be secreted as regular sugar, she says, but it has been associated with fatty liver, and the bottom line is, fructose isn't all that good for you. If you're trying to lose weight, it doesn't matter if you go for a fruit drink or 100% fruit juice.
Treat all fruit beverages like candy, advises Sukman.
4Is that real juice, or reconstituted concentrate? Look closely. Fruit concentrate is made by getting rid of the water found in the natural juice, which reduces it at least 50% in volume. When it's time to turn into juice, the concentrate is simply diluted with water.
Why would anybody want to do that? Storage, that's why. People want to buy juice all year round, but not all fruit is in season all year. The manufacturers squeeze the fruit when it's in season and store the juice as concentrate, explains food engineer Hannah Shalev of the foodstuffs processing inspection company Lab-Path.
What about the nutritive value of the fruit? Some of that is lost in the concentration process, but not all, says Shalev. The process is not done at a high temperature, so the vitamins are not destroyed.
5Added vitamin C is no reason to buy a product. However, if you choose to buy fruit drinks, do buy the ones with the most vitamin C.
"It is important that vitamins are added to drinks," says Sukman. "But you have to consider that the amount of sugar in the drink causes the body to pay a heavy price, in the processing." Processing the sugar burns up a lot of vitamins and minerals, including B-group vitamins that are crucial to a host of bodily functions, including the nervous system and memory, and magnesium, which is needed for the proper functioning of the heart, the nervous system and muscles.
In short, the drink companies may add vitamins, but we're using up other ones when consuming the product.
"You wouldn't give the kid piles of chocolate just because it had added vitamins," says Sukman.
6Concentrates in which the consumer adds the water at home are best because you can control the sugar intake. But best of all? Drink water and eat fruit. Children should be given only one drink option, and that's water, says Sukman. Fruit drinks absolutely should not be served instead. For children and adults who want something a bit sweeter, Sukman advises adding fruit concentrate at home.
Don't drink fruit juice, she says; eat fruit instead. You'll feel a sense of satiety that no amount of drink will bring, and you get the full value of the fruit: vitamins, fibers, minerals, the works. So go ahead, eat that orange. Just don't drink three of them.
ICYMI
Ken Burns' Brilliant 'The U.S. and the Holocaust' Has Only One Problem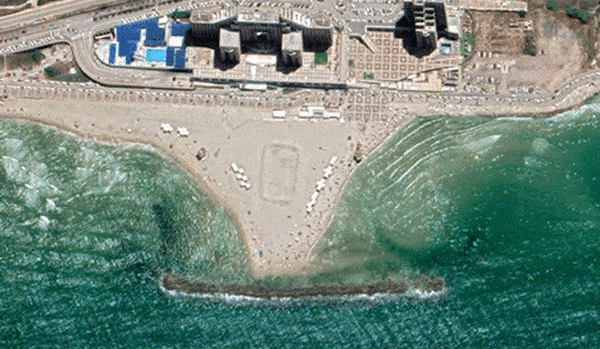 Facing Rapid Rise in Sea Levels, Israel Could Lose Large Parts of Its Coastline by 2050
As Israel Reins in Its Cyberarms Industry, an Ex-intel Officer Is Building a New Empire
How the Queen's Death Changes British Jewry's Most Distinctive Prayer
Chile Community Leaders 'Horrified' by Treatment of Israeli Envoy
Over 120 Countries, but Never Israel: Queen Elizabeth II's Unofficial Boycott