Defying Gravity
The first cancer struck when she was 25, and since then, Shirly Ecker has fallen ill with the disease four more times. But she goes on with her life, thanks to yoga and her own optimistic spirit
My name is Shirly Ecker and I am your yoga teacher. I am an albino and I have nystagmus - involuntary eye movement. And yes, also - I almost forgot - cancer. Well, actually, a couple of types of cancer: Hodgkin's and Merkel. But besides that, everything is hunky-dory. Really.
Those words could have been Ecker's opening remarks at the first yoga class she gave, three years ago, in the gyneco-oncology unit of Sheba Medical Center at Tel Hashomer. That's how she introduces herself today. A healthy woman with a chronic disease, pushing 50, just back from a trip to New Zealand. A month and a half after completing a course of radiotherapy and chemotherapy. It's not denial and not repression - it's her life. The disease, with its diverse and surprising twists and turns, has been with her for 25 years. "Soon I will have lived more years with the disease than without it," she says, like a cashier counting the cash at the end of the day. Factual and dry.
The term "war against cancer" amuses her. "In war there are dead and wounded," she says. "When you go to war against something, all your strength goes into the war, whereas I preserve my strength in order to live life, not to make war against cancer. I don't understand why people wage that war. I don't find that there is a need for it. I accept the disease and look it straight in the eye. That's what is important for me to have people understand. People who have cancer find it hard to think like that. It's like a part of your body that you don't like, but at some stage you have to accept it. In the same way I understood that I must accept my cancer for what it is, and so I do not make war on it."
Becoming friendly with the cancer in order to get to know it better paid off. The cancer is more afraid of her than she is of it - this is undeniable. As of now, it is not bothering her too much and is not diverting her from her routine, which includes, among other activities, yoga instruction and therapy for women with lung cancer and ovarian cancer who are undergoing chemotherapy at Tel Hashomer.
Born in Tel Aviv to a family of Holocaust survivors, Ecker grew up in nearby Givatayim. She has practiced yoga as long as she can remember, like both her parents. Her father, Emanuel, a career man in the Israeli Air Force, a physics teacher and a yoga instructor ("My father was my first yoga teacher" ); and her mother, Yanina, who was also involved with yoga. She has two sisters: Vivi (widow of the noted songwriter Eli Mohar ), who is now completing a yoga course; and Karin, a yoga teacher. "For me, yoga was like brushing my teeth," she says.
After high school she volunteered for the army, which did not want to induct her because of her skin and eye problems. She served as a service-conditions investigator in the Tel Aviv town major's unit. At the age of 25, in her third year as a student in the School of Social Work at Tel Aviv University, she was diagnosed with Hodgkin's disease, a cancer of the lymphatic system.
"I discovered the existence of the disease myself thanks to yoga," she says. "I was aware of changes that were occurring in me even before the medical symptoms appeared. Something was disturbing my breathing exercises, and doing a shoulder stand became difficult. I went to doctors and told them I couldn't do the 'candle' posture - the shoulder stand - and they sent me home. They didn't know what to do with me. It wasn't until half a year later that the classic symptoms appeared: I started to lose weight and suffered from night sweats. It turned out that the wisdom of the body far outstripped the wisdom of the doctors. Afterward, when the tumor showed itself, the regular procedure began: radiotherapy and chemotherapy, lasting eight months. After a first bout with cancer you think the story is over when the treatments end, but it's not."
Getting sick at 25 - didn't you feel the sky had fallen on you?
"That was not my experience. I did not fall apart and I did not feel like it was the end of the world. My initial, natural reactions were different from those of most people. I knew even before I saw the doctor, only I didn't know what to call it. And the doctor didn't mention the word 'cancer,' either. He said, 'You have a tumorous disease bordering on the infectious. It's known as Hodgkin's, and he's buried in Israel.'"
( Dr. Thomas Hodgkin was the personal physician of [the British philanthropist Sir] Moses Montefiore. He died while the two were on a visit to the Holy Land in 1866 and is buried in the Protestant cemetery in Jaffa. )
And then, after you went home and learned more about the disease?
"I did no learning. I have never read professional articles. To this day I am not exactly learning. I don't have a computer and I don't read up about my diseases on the Internet. That makes no difference to me and doesn't give me answers. I also don't pay such close heed to doctors, because you can die just from that. And I didn't have a lot of time to indulge in existential conjectures about life and death, because within a week I was in the operating room. In no time I was on the trajectory of the disease and didn't have the privilege of becoming depressed."
Indeed, to this day Ecker seems to have managed not to become depressed or to crash mentally. Nor is she preoccupied with trivial questions such as "Why me?"
"When I am most sick, I am most efficient and at my sharpest, the opposite of falling apart," she says. "The problem really starts after the treatments are over. Everything is seemingly A-OK, everyone says, 'Terrific, you're healthy again' - but you are no longer what you were. That's where the real coping starts, the true task: how to get on with your life, with what no longer exists, how to create new possibilities, how to live with the things that continue to transpire when you are no longer quite what you were."
It was yoga that got Ecker through the eight months of radiation treatments and chemotherapy. Yoga releases and opens blocked areas, softens various postures and eases side effects such as nausea and headaches ("I never threw up, even after I underwent treatments that left me without the strength to pick up a cup" ). Ecker's yoga is her survival kit, her insurance policy. It's what enables her, during and after the difficult treatments, to maintain bodily balance and control. Yet, as a person who is so connected to her body and understands it deeply, she is also aware of and frustrated by the body's betrayal.
After the treatments, Ecker completed her studies and was employed as a social worker by the Holon municipality, working with the elderly, and afterward by the Tel Aviv Municipality, where she assisted single-parent families with mentally or physically disabled children. She was also in charge of housing for the mentally retarded in the city ("I did yoga with them, too" ).
After a two-year remission, the Hodgkin's returned. There was more chemotherapy, followed by another remission, this one a year and eight months. In August 1990, when symptoms of the disease reappeared, she underwent a successful bone-marrow transplant. At the time she had a supportive and loving boyfriend. "It was an infusion of love," she says with a glint in her eye, "a sure-fire prescription for every sick girl."
After four years she disconnected the infusion and went on her way. She now lives on her own in Tel Aviv, in her parents' former apartment, with Hunt, a dog she recently adopted ("I fell in love with him, he's my medical clown, charming and funny, exuding joy and happiness" ). She did not establish a family of her own. "Staying alive means giving up something," she says.
Ecker is a funny woman. Her soft blond curls lend her a naughty-mischievous girlish look. She is funny even when talking about herself and her disease with the utmost seriousness. Sometimes she puts on a cynical poker face and waits for the reaction of the audience. Especially when she is talking about her cancers. "There are all kinds of small and poorly regarded skin cancers like melanoma," she says. "Skin growths that do not heal are known to be cancerous. They are removed and then new ones come. I have that all the time. I don't bother with them. But three years ago I was diagnosed with Merkel [a rare and aggressive skin cancer] on the cheek." There is no connection between Hodgkin's and Merkel, she says.
Just bad luck?
"Why bad luck? It's mine. I say: Once cancer, always cancer. You don't change cancer's address and leave it in the hospital, even after the treatments."
Ecker underwent more surgery and then chemotherapy again. The radiation treatments did not take. "I know that the present cancer is due to the radiation treatments I underwent more than 20 years ago," she says. "In fact, I wasn't supposed to live so long, and therefore no one thought that the result of the radiotherapy would be significant for me. That was what medicine had to offer.
"I told my doctors, and they told me, 'No problem.' I insisted that the present cancer was due to the past radiation therapy and asked them what kind of cancer I would get if I were to agree to more radiation now. There was silence in the room, and then someone said, 'It is very possible that you will get cancer of the thyroid gland, but the thing is that we know how to treat that.' When people tell me there is no problem with something I back away. I said thank you and decided that I would not undergo radiotherapy."
Dr. Raphael Pfeffer, director of the Radiation Oncology Unit at Sheba Medical Center, Tel Hashomer, agrees with the proposition that past radiation treatment is liable to cause new cancerous developments. "It's true," he says. "The thinking used to be that people would not live long, and there was damage to vital organs and everyday functions. The treatment was harder and caused much suffering. Radiation treatments today are far more focused. You can administer larger doses and patients suffer less and have far fewer side effects."
Ecker's Merkel recurred last year. Another operation and more chemotherapy, but this time Ecker, who is managing her disease by herself, agreed to radiotherapy as well. She was persuaded when she visited a medical center in New York that specializes in Merkel. The results she received a couple of weeks ago indicate that the American specialists were right - the tumor shrank and no longer constitutes a danger - but Ecker was frightened. Perhaps for the first time since she fell ill, she was truly scared. "The doctors succeeded in frightening me so much that I made a will," she says. "I didn't do that with the previous cancers."
Why? Weren't they scary enough?
"The first association that springs to mind with cancer is death. The first question people ask is, 'What's the prognosis?' Nowadays the dialogue is different. Cancer is not yet the end of the world. There is life with cancer. My Merkel is considered a very lethal cancer, and it's under the cheekbone. True, they removed it, but it's not giving up. It has more to say and it's hanging on. One doctor told me, 'There is something in you, which I can't explain, that makes the Merkel remain as it is and not behave in the usual way.' I think the cancer is confused.
"I acquired my ability to exist in unconventional situations in life from my parents, who survived the Holocaust," she says. "And this is what is important for me to get across to everyone, not only to cancer patients. There are people who have a boil and then make cancer out of it. And I say, it doesn't matter what the diagnosis is, the question is how you take it."
At the end of the treatments she took a trip to New Zealand. "The doctors are pretty amazed that I'm still here, alive and functioning and traveling," she laughs. "I was on the plane in the fifth week after the end of the radiotherapy. Before I left, the doctors provided me with their panic kit (meaning medicines ) and forced me to take it along. But it weighed a ton and after two days I abandoned it."
Isn't it a pity about the money?
"It's a pity to die. I returned to Tel Hashomer and everyone said I was being neglectful. I replied, 'What kind of neglect? I was in New Zealand, I traveled, I saw things, now do what you have to.'"
In 1994, Ecker went on a personal journey to Pune, India, enrolling at the Iyengar Yoga center and becoming a student of the guru B.K.S. Iyengar himself. Since then, she has gone to Pune every year for personal instruction in Iyengar's therapy class. "When I first arrived," she recalls, "he pulled me out of a group of about a hundred people. We had barely done one posture. He looked at me and said, 'She belongs in the medical class.' He called me over and touched me. That was the start of the dialogue between us, which continues to this day. He started to knead me and put the puzzle of my body together again; he saw, just through the one yoga posture, that something in my body needed a different type of organization. That is his genius. He is the teacher of the Queen of Belgium and he taught Yehudi Menuhin, who wrote about how his music changed because of his personal connection with Iyengar, which lasted 47 years."
What is the secret of his genius?
"His understanding of the body. He disassembles the whole into minute parts and puts them back together. The body knows - it remembers all the things it once knew and later forgot - and he reminds it to start reusing them. He makes the impossible possible. In unusual situations of cancer, for which western medicine does not always have an answer, he makes it possible for the body to practice yoga postures."
Ecker is now using the Iyengar method to work with patients in the hospital and with healthy individuals at home. The therapeutic classes at Sheba are given twice a week, free of charge. (When Ecker herself is undergoing treatment, the classes are held once a week. ) "The last time I underwent radiotherapy, the staff would not let me teach. Because in their worldview, there is a clear definition of what someone who is undergoing treatment should look like. They did not say so directly, but it was clear that they didn't know what to make of me. This time, no one even considered not letting me give the classes."
What are we to make of you?
"There is medicine, there is the professional literature and there is me."
For example?
"Two years ago I came to Ichilov [Hospital] for chemotherapy for the first time. I moved there for a short time from Sheba, and they didn't yet know me. And I don't look sick, I come in regular clothes with my yoga outfit and yoga equipment and I don't put on pajamas. I'm sitting and waiting and I see that no one is getting ready to give me treatment. I don't push, I do my own thing, and then it's already 2 P.M. and I ask them if they know I am on their schedule. 'Are you the patient?' they ask me. They never imagined that I was there for treatment. They were sure I was escorting someone. Another time I lay on the floor in the corridor doing yoga - I have no inhibitions - and suddenly I hear someone shouting, 'Nurse, someone has fainted on the floor!' I said, 'It's only me, Shirly, doing yoga.'"
What is special about yoga for cancer patients?
"It's clear to me that when you start the day with yoga" - Ecker does three hours a day - "everything looks different. You come from a quiet, relaxed place and you can absorb the chemo better. People who are going through hard times close themselves, but when you open the center of the chest the absorption is better and you go home sooner. That's at the most technical level. Because what is chemo? It's plumbing." If yoga is good for cancer patients, maybe music and dancing are also beneficial. Before Ecker goes to the hospital, for surgery or at the start of a course of treatment, she holds a dance party at her home. She has also thrown a party twice at the oncology day center in Ichilov Hospital.
"I knew that everyone goes home at 6 P.M., and I knew where the electric outlets [for the music equipment] were and the cafe with the parquet floor, and I told my friends to come and celebrate with me. At first they thought they weren't hearing right. I told them that I checked, that there were outlets, and they came to the tenth floor of the hospital's Arison building and there was a party. I told them in the department, 'I'm going now, but I have a mobile phone, so if you need me, call.'
"You can live even if you have cancer," she continues, "and not just live, but live big-time. You can get excited about things - even during the treatments you can find a reason to say 'Wow!' I always find a wow. I found the places with the most amazing sunsets and sunrises. Of course, you can latch on to the depression of life - the question is where you place the focus: on the sickness or on the non-sickness."
Isn't your approach based on denial and repression?
"Absolutely not. You can go to the hospital and accept the decor of a hospital. It's a classic decor - you can't miss it. And you can come to the same department and don the clothing of life. I am very focused on life. I don't say that when I'm a big girl I will do this and that - I just do it. Because I know that you can die for real."
Ecker is writing a book (in English ) on therapeutic yoga, to be titled "To Have and to Hold"; she is taking a course in photography and planning an exhibition of her work in the oncology unit at Sheba; and she is thinking about a documentary film. What frightens her most, she says, even more than cancer, is pity. "There is no way people will pity me. People tell me how good I look. I improve from one cancer to the next."
She believes wholeheartedly in this approach, and it's easy to be captivated by her after reading what she wrote to herself on the day she decided that she would no longer cooperate with the Merkel. "A smile of joie de vivre," she called it: "I woke up with joie de vivre on my first night at home after the treatment. After I arranged for myself a weekend on the ninth and tenth floors of Ichilov Hospital. With an incredible view, all of Tel Aviv spread out below me, with the shifting lights and the amazing red sun setting like a red wheel sinking slowly into the sea."
Does not having a family make it harder to cope?
"It makes no difference whether you have someone or not, because in any event this is a journey you take alone. I am the one who gets connected to the infusion, I am the one in whom the cancer is living and I am the one who goes to sleep with it and gets up with it in the morning."
The role of the psyche in coping with cancer
Dr. Iris Gluck, a radiologist at Sheba Medical Center, Tel Hashomer, is familiar with different types of cancer patients. There is the struggling, rebellious patient, and there is the patient who makes the disease the center of his life. "It's clear that an optimistic person who turns the cancer into a lever with which to do something meaningful, as Shirly Ecker did with the gyneco-oncology patients, and puts her capabilities and her creativity to use, is better off than someone who is constantly immersed in and preoccupied with pain, with medicines, with being miserable and with the side effects of the treatments," Gluck says. "I can't cite anything scientific here, but science is a very narrow prism for looking at life. In any event, people like Shirly are more able to withstand pain and treatments and to live a higher-quality life. Cancer is an extreme condition in life, but it is not an integral part of life."
The psychiatrist Dr. Pinki Feinstein, who uses a psycho-creative method in dealing with cancer patients, has written a book, "Cancer - Creation of Life: Psycho Creative Therapy," about the connection between cancer and creativity. He too has no scientific answer concerning the part played by an individual's personality in contending with cancer. "That is a question that has never been examined," he says. "I can think of several ideas, such as a readiness to make radical changes in one's life. If you make a meaningful change in your life and start to channel your energy into the right place, you embark on a personal journey to discover what was amiss in the conduct of your life, where you did not try to achieve self-realization and where creativity was stifled. Only then is there a chance that the powerful phenomenon will not attack you time and again. If at the end of the treatments you insist on going back to the place you were before, to the same lifestyle and work habits, that inner disruption will make the cancer return."
That of course assumes that cancer is an inner disruption."Yes, my point of departure is that cancer has psychic elements. Most people, including physicians, are unwilling to admit this."It sounds like something from the world of mysticism.
"Why not? I do not separate the mystic from everyday life. I do not say that what cannot be seen in the lab through a microscope does not exist. Everything is connected." According to Prof. Henri Trau, director of the dermatology department at Sheba who treated Ecker's skin cancer, the way an individual responds to treatment seems related to his personality.
"In general, the two are connected," he says. "Shirly has a very special personality. Her decision to fight and her involvement with yoga and with philosophies from the Far East help her cope and seem to have an effect on her body, because this type of cancer is considered more aggressive." W
ICYMI
Ken Burns' Brilliant 'The U.S. and the Holocaust' Has Only One Problem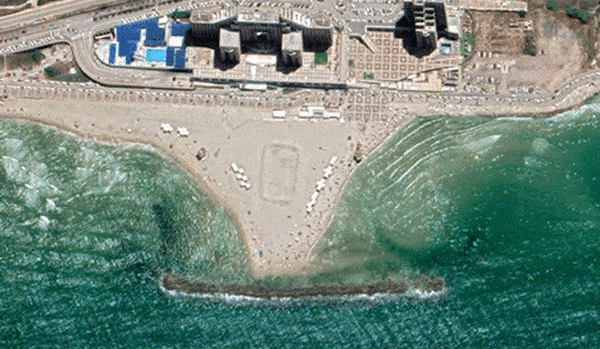 Facing Rapid Rise in Sea Levels, Israel Could Lose Large Parts of Its Coastline by 2050
Lapid to Haaretz: 'I Have Learned to Respect the Left'
The Mossad's Fateful 48 Hours Before the Yom Kippur War
As Israel Reins in Its Cyberarms Industry, an Ex-intel Officer Is Building a New Empire
How the Queen's Death Changes British Jewry's Most Distinctive Prayer