Head to Head Rep. Keith Ellison, Do You Think the U.S. Could Live With an Iranian Bomb?
WASHINGTON - Democratic Congressman Keith Ellison is the first Muslim to be elected to the U.S. Congress and the first black congressman from the state of Minnesota. Speaking in Cairo in the summer of 2009, U.S. President Barack Obama said Ellison took his oath of office on a Koran that had belonged to Thomas Jefferson.
Ellison was born in Detroit, Michigan, to a Catholic family, and converted to Islam in college. While in law school he wrote numerous opinion pieces against racism. He has also written an article defending Nation of Islam leader Louis Farrakhan, who has repeatedly been accused of racism and anti-Semitism; Ellison later said he has never been a member of the Nation of Islam and denounced its anti-Semitic views.
Rep. Keith Ellison, in the last few weeks there have seen some some very different events involving or affecting American Muslims. We had the first Miss USA of Lebanese origin, and on the other hand we had the Times Square bomb attempt and the South Park controversy. What will be the face of this community in the United States? Will the creators of [the satirical cartoon] South Park be able to mock Mohammed as they mock Jesus, without being threatened?
Well, obviously two-thirds of the U.S. Muslim population are foreign-born, so there is an acculturation process that is happening here. The U.S. is the country where successive waves of immigrants came to its shores and became part of the mainstream. There is a period of adjustment, but I have no doubt that the American Muslim community is going to be as mainstream as any other community within the next 10-15 years. People are participating in politics, they run for office, they are voting, they are engaged in a whole range of issues. They have every right to participate and I am happy about the participation. And I think it helps our country to live up to the ideal that this is a land of opportunity for everybody.
Regarding [the satirical cartoon] South Park, I think that the Muslim community reaction to this South Park episode was well within the bounds of civil discourse. There might have been some extremists who did some extreme things, but for America's citizens to call up and complain about how their community is depicted in a television broadcast - it's par for the course. You have members of the Latino community, and even the Jewish community, who have historically been portrayed in less than favorable light, and they complained about it. What's wrong about that? You certainly didn't see anything that is approaching what happened in Europe when the cartoons were published. You saw people complaining, and it was well within the bounds of civil discourse.
So you're not concerned when there are calls to treat terror suspects differently?
I am always concerned, but the fact is that Miranda rights are well-rooted in American criminal law and no episodic events, like terrorist suspects arrested, are going to wipe it away. Just because some Republican politician gets a sound bite on TV doesn't mean anything. It's their opinion... Those things are cause to concern and attention, but they are not going to happen. And I guarantee you that if these rights were actually threatened, the community would react very forcefully. You don't see protests in the streets against these threats because there is no real threat.
But the Patriot Act passed without major objections.
But it happened in a certain circumstances and the U.S. learned a lot from that experience. It passed in the wake of 9/11, one of the most catastrophic events our country has seen, but don't think it could pass today.
You're been the first Muslim representative in the House. With pretty much everybody organized in caucuses, didn't you feel a bit lonely?
I was well accepted by all my colleagues of all backgrounds, all colors, all faiths. People treated me pretty much based on how I treated them. Any time someone is new, he gets special attention. I think I came in here with most people knowing who I was. I was well received by my colleagues, and I think that they all were sort of waiting to see what sort of things I would stand for. I am pretty much like any other members of Congress - worrying about people in my district, worried about the country, worried about jobs, worried about health care, worried about the environment, worried about American security. That's what on my mind.
You've been in our region a couple of times. What can you say about the fluctuating relationship between the U.S. administration and the current Israeli government?
The U.S. administrations have long objected to the settlement expansion in East Jerusalem. President Bush said it was an impediment to peace. It's a long-standing U.S. position, and only in Israel, so to say, East Jerusalem is viewed as Israel. The international community still sees it as a land that will be part of the negotiations between Israel and the Palestinians. The Knesset passed the law annexing it, so obviously there are different points of view. That's to be expected.
I think that the U.S. should assert its position, and the international community should assert its position, and obviously Israel will have something to say about it. I think that President Obama is right, and I just look forward to these proximity talks to move to direct talks, and I look forward to the day that Israel and all its neighbors are at peace with each other. I am an optimist. I've been to refugee camps, I've been to Gaza, I've been to Kiryat Shmona, to the West Bank... and I think these issues are not intractable. But I will say that continued settlement expansion is making it more difficult to reach a permanent-status agreement, because the future state of Palestine will have to be viable, contiguous, economically strong, or at least have an opportunity to be - and it cannot do it with roadblocks and checkpoints, and if it doesn't have control over its water resources. Do you feel that you can express criticism of Israel freely?
Let me tell you. I've been critical of Israeli policy, but I consider myself a friend of Israel and believe in an essential importance of Israel, but if I am going to criticize my own president and my own country, I am going to demand the right to criticize anybody else. And that includes Israel as well. I think it's important for people to understand that disagreeing with particular Israeli policy is not disagreeing with Israel's right to exist. It's saying that its policy is going in the wrong direction, and I think most people get it. I object to anybody saying I am anti-Israeli. I am actually very much in support of the people of Israel and hope they can live in peace with their neighbors, and am working to see it happen.
The Obama administration decided to proceed with sanctions on Iran despite the recent agreement with Turkey and Brazil.
I think we are missing an opportunity. Brazil and Turkey, I think, played a constructive role in getting Iran to make real concessions around its nuclear program. I am afraid we are not pausing to really reflect on whether it's good for the world, good for the region, and plowing straight ahead. I also remain concerned that even if we pass these "crippling sanctions," the regime in Iran that abuses human rights, denies the Holocaust and does all these bad things - they are still going to have petroleum. The average person might not have it, but trust me, Mahmoud Ahmadinejad's car tank is not going to be empty. So what does he care? At the end of the day, him and the Revolutionary Guard will have what they need to move around, but there will be more pain and misery for the average Iranian. Is that a good thing? I don't know. I think we need to reflect carefully on what we do here.
So you think there is time to reflect? You think the U.S. could actually live with an Iranian bomb?
It won't be good for the world. I support President Obama's support of nuclear disarmament, I wish the whole world could just get rid of them, and I am very proud the U.S. and Russia have taken steps to reduce their stuff, so there is no doubt in my mind that nuclear weapons in Iran are not a good thing. I don't think there should be any nuclear weapons in the Middle East for any country. But I wouldn't support a war for that. I would support diplomatic measures. Maybe even sanctions, but not war.
You didn't support war in Iraq either. Some people claim it will be the most important transformation in the Middle East.
I think it was a mistake and we shouldn't have done that. I think history will prove me to be right. But I am not opposed to use of military force in certain circumstances. But I don't think that rattling sabers with Iran is going to bring the world to a safer position. The only real avenue here is an aggressive diplomacy. Perhaps sanctions can be a part of it, targeted at the offenders, human rights abusers, and not to further restrict movement of the Iranian people. I'll prefer sanctions that would deprive Iran from blocking social networking Web sites, and to get social networking software in the hands of the average Iranian person. That's what I think sanctions need to be focused on, and the average Iranian person needs to be embraced by the international community.
It seems there is some disappointment with President Obama in the Muslim world. Do you think he genuinely succeeded in changing America's image in the world?
No doubt about it. His Cairo speech was a paradigmatic shift for the good, and I think it actually helped the U.S. to be more safe, and I hope he is successful in his efforts in extending a hand around the world.
Israel often feels it is singled out abroad, including in the United Nations, given the various crises around the world.
There are tragedies around the world and whether we are talking about Burma or Darfur, I think the U.S. is standing for the rule of law, rights of minorities, religious freedom. I support all countries in engaging an international community, cooperating with the international community and addressing issues of human rights. And to try to make changes that can lead to a higher quality of life of their people. The idea whether Israel is singled out - I cannot tell you how many resolutions passed in comparison to other countries. If they are singled out, it's not fair. Every country should be subject to scrutiny of an international community, including my own country, the U.S. Because for sure I want to hold people accountable for things like Guantanamo, Abu Ghraib, Bagram in Afghanistan.
I was one of the leading voice opposing torture to anyone. So I am not going to say that other countries should get off the hook. And I don't make any exceptions for Israel in that regard. I can't honestly tell you that there is unfair attention pointed at Israel, I can only tell you that unfair attention is unfair, but all countries should live up to international standards regarding human rights.
ICYMI
Ken Burns' Brilliant 'The U.S. and the Holocaust' Has Only One Problem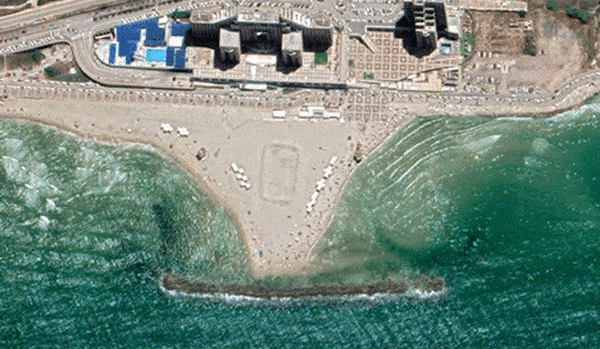 Facing Rapid Rise in Sea Levels, Israel Could Lose Large Parts of Its Coastline by 2050
As Israel Reins in Its Cyberarms Industry, an Ex-intel Officer Is Building a New Empire
How the Queen's Death Changes British Jewry's Most Distinctive Prayer
Chile Community Leaders 'Horrified' by Treatment of Israeli Envoy
Over 120 Countries, but Never Israel: Queen Elizabeth II's Unofficial Boycott