The Honorable Speaker Notes That He Is Not a Clown
Ruby Rivlin says he preferred not to be a minister because he wouldn't be able to raise his hand in favor of dividing Jerusalem. And his big anxiety is that one day, the Knesset will degenerate into physical violence.
Portraits of Ze'ev Jabotinsky and Menachem Begin, which already deck the walls of the new Knesset Speaker's spacious bureau, will not be the only change that Reuven (Ruby) Rivlin brings to this position. Though it has been only two weeks since he was chosen, it is already clear that Rivlin will be a Knesset speaker different in style from Avraham Burg, Dan Tichon, Shevach Weiss, Dov Shilansky and their predecessors.
The new cloak he has donned will not change by one whit his extreme excitability, his stormy temperament or his sense of humor. "I promise you to remain Ruby," he said at the end of his inaugural speech as Knesset Speaker, after having won the wall-to-wall support of 104 Knesset members, with no one voting against him (only the members from the Arab parties abstained).
Rivlin scorns all those who attack him because of his personality and call him "a clown," "a person who isn't serious" and "an irredeemable chatterbox."
"I have the ability to laugh and the ability to be serious. It's important that a person have a sense of humor and the ability to joke even about himself and to see what's funny in certain situations, and also to be serious when necessary."
He goes out on a high limb in the matter, "my teacher and rabbi, Ze'ev Jabotinsky," who in his book "Samson" relates that the boy Nechushtan came to him in the Philistine fields and said to him: We are sick of being tribes, we want to be a nation. What should we do? Samson answered him: Go tell the people of the tribe that in order to be a nation they must do two things: allocate themselves iron (that is, force) and anoint a king over them because royalty enables unity. The boy departs and then Samson calls out after him: Nechushtan, not two things, but three: Allocate iron, anoint a king and learn to laugh."
It is no secret that Rivlin was Prime Minister Ariel Sharon's candidate for Knesset Speaker, but he makes it clear that he has no intention of cutting the government any slack or of being a tame speaker. "I was chosen by the Knesset as a man of the Likud, but since I have been chosen I must defend the entire Knesset and its good name. I made it clear to Sharon that I will not hold any debate initiated by the government if its representatives are not present in the plenum. We will withhold from ministers who don't come to the Knesset to answer proposals for the agenda and parliamentary questions the possibility of advancing their issues in the Knesset committees.
"There must be an understanding that the Knesset deals with legislation and supervision of the government, and the government must fulfill its functions in a full relationship to the Knesset. The ministers must understand that scorn on its part for the Knesset will become scorn on the Knesset's part for the government, which gets expressed in failures by the government in Knesset votes."
He suggests to new ministers who have only just joined the government not to look down on the Knesset. "Government ministers who became high and mighty and thought that their ministerial appointment made their obligation to serve as MKs superfluous didn't realize that this is one reason governments have fallen in Israel and elections to the Knesset have been held with such frequency."
No more gimmicks
The new Speaker is bothered by the erosion in the status of the Knesset in the eyes of the public. In his opinion this is part of the global crisis that is affecting parliaments everywhere, but this also derives from the MKs' fierce desire to make it into the media at any price, even if this means using cheap gimmicks that add nothing to their dignity or to the dignity of the Knesset. "People sometimes lose their judgment and get more involved in gimmickry than in content. I'm not saying that every MK has to see the Knesset as a means to bring about the realization of all the ideological beliefs, but nevertheless one can expect more seriousness from the public's elected representatives," says Rivlin.
He also believes the media are largely to blame for the way Knesset members allow themselves to use gimmicks by giving such items prominence. "A new Knesset member can say to himself: Why should I work in committees day and night? After all, no one is going to mention this, but if in the plenum I bite the neck of the person who spoke before me, I'll get media coverage right away."
Rivlin speaks with a slight tone of ridicule about the new Knesset members who, even before they are installed in their rooms and while they are still wandering the corridors like UFOs, are already rushing to deliver their orations in the plenum. "When I was elected to the Knesset in 1988 together with Benjamin Netanyahu and Benny Begin, Begin and I sat for four months in the plenum to listen to the Knesset members' speeches to learn the right form and way to express ourselves. Begin hesitated for a long time before he went up to the podium to make his first speech, and I decided to deliver my first speech when they were discussing the issue of the Construction Planning Law. This was because I felt like I knew something about that field since for 10 years I served as a member of the Jerusalem municipal council and Mayor Teddy Kollek had appointed me chairman of the planning and building committee.
"Benny Begin held my hand when I went up to the podium to deliver my speech, which I had formulated well after writing 10 drafts. I was all nervous and flustered, in awe of the exalted Knesset of Israel."
Rivlin acknowledges that there has been a decline in the quality of the MKs. "I can't offer an opinion about the new members who have just joined, because this Knesset is still in its infancy. But one thing is sure in the Knesset: No one will end up as a talent that goes to waste. Those who have the ability will succeed, and those who don't, won't. There are those who rise quickly and vanish like a flash of lightning and there are those who develop step by step and become solid elements in the parliament." He believes that in recent years we have witnessed this decline because in place of former MKs such as Dan Meridor, Uriel Linn, Benny Begin, Moshe Shahal, David Libai, Yossi Beilin and Dan Tichon, who raised the level of debate by virtue of their high intellectual level, people with the same qualities have not come in.
"In the past," he said, "there were excellent parliamentarians who saw their work in the Knesset as the main thing in their lives and did not want to be ministers. These included MKs like Yochanan Bader, David Hacohen and Haim Corfu, who knew all the ins and outs of the regulations and created an atmosphere of parliamentary debate; today, nearly every new MK who is elected wants to be a minister or at least a deputy minister."
Rivlin has tons of ideas about improving the work of the Knesset. Thus, for example, he aspires to develop the idea formulated by his predecessor, Avraham Burg, of creating a television channel that would transmit not only from the plenum but also from the Knesset committees. The channel would also carry panels on economic, security, health and legal issues and so on. "I aim to expand the broadcasts and make the channel independent. With the help of qualified people we can make the broadcasts from the Knesset into a catalyst for public interest in the Knesset. I also want to set up a junior Knesset for the student council from high school classes, in which once a month we will hold a debate on a certain issue in order to accustom the younger generation to the culture of debate."
He also plans to convene a group of people from academia to examine the possibility of promulgating a moral code for Knesset members. "I see it as important to establish a moral code for Knesset members, which will determine the normative rules for the work of the parliament as the legislature and as the supervisor of the executive authority. To date, the moral system of the Knesset is not clear because we don't have a moral code. It would deal with, for example, when does a Knesset member need to work, how much he or she is expected to work, whether he has an obligation to submit motions for the agenda and parliamentary questions, whether it is enough for him to sit in the Knesset and get his salary or whether he is expected to do something, whether lobbyists should be allowed in the Knesset and whether they should be allowed to be present at votes and discussions at which the MKs know they are being watched."
Limit private members' bills
Rivlin also believes that it is necessary to restrict the number of legislative proposals every MK will be allowed to submit for Knesset approval, after in the 15th Knesset there was an inundation of more than 4,000 private member's bills. "I believe that it's vital to revise our thinking on this. I will propose to the Knesset House Committee that it set up a special subcommittee to discuss this. In my opinion, each individual Knesset member should be should be allowed to submit two bills during each session. Possibly, it should be stipulated that an MK will be allowed to submit bills only concerning matters associated with committees of which he is a member."
In his opinion, one of the factors that led to the cheapening of the Knesset has been the passage of laws that were revoked afterward in the framework of the approval of the Economic Arrangements Law in the Knesset. That is, the Knesset would work and take the trouble to pass the Negev Law or the Galilee Law, for example, and afterward the plenum would cancel them because of their high cost. He believes that it would be appropriate to set a limit, by stipulating that every law costing more than NIS 5 million would require the support of more than 50 MKs. "Incidentally," says Rivlin, "a member of the British Parliament submits a bill once every three years and if he manages during any given term to pass one law, he is considered a great legislator. Here, anyone who doesn't manage to pass six or seven laws is considered marginal."
Rivlin is vehemently opposed to any changes in the immunity of Knesset members, which is among the most extensive in the world. "Apart from suspicions of having committed a criminal act, in which an MK betrays his position and makes the immunity into something to use to his advantage, parliamentary immunity is essential because Israel is a country that is still struggling for its existence and dealing with a conflict between Jews and Arabs, a cultural conflict between religious and secular and a social conflict between veteran Israelis and immigrants and between Ashkenazim and people of Mizrahi origin. In this situation, we have to be very strict about preserving parliamentary immunity because if we set limits on it, the Arab or ultra-Orthodox MKs could find themselves in jail."
He does not discount the possibility that the verbal violence in the Knesset could degenerate into physical violence. "We have to guard the culture of debate, so that heaven forbid we don't get to real violence, as happened in Taiwan, Japan, South Korea and Russia. I'm afraid that issues like conceding parts of the land of Israel or the sale of pork or harm to things that are holy to Judaism or other issues that MKs hold dear to their hearts could definitely raise tempers to the boiling point, which could degenerate into physical contact."
Before we said our farewells, Rivlin revealed the real reason he agreed to give up a ministerial position in the new government and serve as Knesset Speaker. "My friendship with Sharon and our mutual loyalty are in no doubt, but there are differences in our approaches. As a disciple of Jabotinsky, I believe that `all of Zion is ours' and even if they explain to me that this is impossible today for at least 10 generations, I cannot raise my hand in favor of the idea that not all of Zion is ours. I can understand that de facto there is a new situation today, but de jure I will never be able to say that my faith has ceased.
"If I were a government minister, I would find it very difficult to vote on an issue like this contrary to my conscience and the moment I would be called upon to accept ministerial responsibility I would have to get up and resign - and why should I resign? I'm not the kind who resigns. Therefore, I was glad to take up a position in which I'll be able, when the time comes, to conduct the debate and also be responsible for the rules of the game by which it is conducted - and not be one of the people who make the determination that is against my conscience."
For a constitution, against a constitutional court
Rivlin believes that there is a good chance of completing the legislation of Basic Laws in this Knesset, legislation that has been put off for more than 10 years because of the opposition by the ultra-Orthodox parties. "I believe it's necessary to advance the basic laws with broad agreement. The prime minister has also said, when he presented his government, that we must aspire to the completion of the constitution. The ultra-Orthodox need not worry about us having a constitution in addition to the laws of the living God, which is the Torah."
He relates that he has always tried to persuade the ultra-Orthodox parties that in fact, as a minority, they need to aspire to a constitution, "because a constitution is for protecting individuals and especially minorities. While they were in power the issue of a constitution was repulsive to them because they thought they determined the rules of the game. I told them that a day would come when they wouldn't be in power and then they would need a constitution that would protect them regarding, for example, freedom of worship. Someone could pass a law that a person would have to eat non-kosher food once week or that ultra-Orthodox children would not be able to get an independent education, or only if there are 45 children in a class. If there were a constitution that protects the rights of minorities, there would be no danger of such laws being legislated."
Rivlin is also vehemently opposed to the suggestion that a constitutional court be established. He believes the establishment of such a court would "allow politicians once again to be the interpreters of laws that have been passed by the Knesset. There is the court and there is the legislature. There has to be a complete separation of powers."
He also rejects the criticism that the Knesset legislates a "High Court of Justice bypass law" every time the High Court rules in a way that is not satisfactory to the MKs. "There is no such thing as a High Court bypass law. I think that we have to hold a continuous dialogue with the Supreme Court, but the Court must remember that we are the legislators and we have to remember that they are judges. If the Supreme Court interprets the law in a way that the Knesset did not intend, the Knesset will face the possibility of either bowing its head to the court, or saying that this was not the legislator's intention and implementing a change in the law."
Rivlin attacks the Knesset members who rush to petition the High Court of Justice against administrative decision in the Knesset. "Every MK who unnecessarily petitions the High Court against the institution in which he serves and which he is obligated to preserve, is sawing off the limb he sits on, unless it is a case in which all other options have been exhausted. If it operates according to democratic criteria, the Knesset should not be afraid of MKs who threaten to go to the High Court of Justice."
ICYMI
Ken Burns' Brilliant 'The U.S. and the Holocaust' Has Only One Problem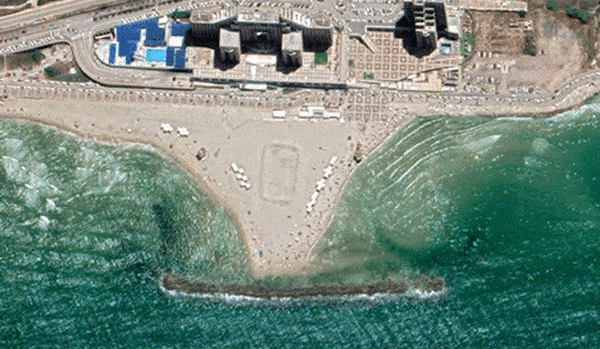 Facing Rapid Rise in Sea Levels, Israel Could Lose Large Parts of Its Coastline by 2050
As Israel Reins in Its Cyberarms Industry, an Ex-intel Officer Is Building a New Empire
How the Queen's Death Changes British Jewry's Most Distinctive Prayer
Chile Community Leaders 'Horrified' by Treatment of Israeli Envoy
Over 120 Countries, but Never Israel: Queen Elizabeth II's Unofficial Boycott