Draw Me a Dream
The Mexican-born writer Roger Omar collected thousands of dreams from children in six countries and found artists to illustrate many of them.
SAN FRANCISCO - Roger Omar's story begins like a children's fairy tale. "It started a few years ago, in Sidney. On her 8th birthday Melanie, my brother's daughter, put up for auction the dreams that she wrote in her notebook during a week. I 'bought' a short dream that says "El monstruo de colores no tiene boca" (the monster of colors doesn't have a mouth). At that time I was organizing workshops with kids in Spain and publishing articles in a children?s magazine in Mexico. I started to get in touch with them and asked them to write down their dreams."
That was was in 2002. The next, obvious step was to ask the children to briefly describe their dreams. Omar, who travels a great deal, has to date visited 40 schools in Cuba, Brazil, Mexico, Spain, France and Germany. In each one he met with children aged 8 to 10 and collected about 200 dreams. Omar says that the younger the children are, the shorter the dreams they write down. It would be too much work to read and type up all of the dreams, he says, but "I have found dreams that are precious gems."
In all, since then around 8,000 dreams have been collected for the project. From those, Omar selected some 180, which he then asked various artists to illustrate.
Whenever he goes to a school, he asks the children to write down their dreams - ostensibly a simple task of jotting down a paragraph or two from what they remember of the night before. But it is not always so simple, he notes, recalling a boy from Mexico and a girl from Cuba who began crying "because they weren't able to write down their dreams."
One of his favorite dreams was that of a Mexican girl, Andrea Lopez. "One day I dreamed that my parents, my brothers and I went to visit three islands and I jumped into the water without protection," she wrote in her diary. "I felt like I could be in the water and not drown. I was curious and I swam into the deep water and then I saw my skeleton with my name written on it."
Another favorite, also connected to death, came from Anna, a young girl from Spain. "The dream talks about a big black snake that can see through its mouth and eat with its eyes," Omar related. "The snake looks at the girl and swallows her. Inside the snake, she meets other people and finds a beautiful garden."
Sometimes he receives dream diaries from which pages have obviously been torn out, but Omar says that for the most part the children do not hesitate to reveal even their deepest secrets.
"When adults describe their dreams in writing, there is some purpose they want to achieve. They want to document or analyze what they are experiencing. Dreams written by adults are for the most part much more complicated. They have lots of details and contexts and the writers try to understand what lies behind them. Children are much more direct. Children know that I will read all the diaries and they are free to cut the dreams that they don't want to share. But a lot of them are not afraid to expose their fears, the multiple ways of dying in a dream and the terrible presence of death. They need to express how they experience death and love in dreams. It's natural. They also are not ashamed to admit that the river they dreamed about was actually a pool of urine in their bed."
Omar, 35 and single, was born in Mazatlan, on Mexico's west coast, and lives in Valencia, in Spain, "the city where there are dogs that change color," as one little girl wrote in describing her dream. Omar studied journalism and supports himself by writing for various magazines. A book containing the selected dreams and their accompanying illustrations is scheduled for publication later this year. Many of them can be seen at www.flickr.com/photos/rogeromar/sets/1835379/.
The Israeli angle
Israeli artist Maya Bloch is one of those who collaborated with Omar on creating illustrations for the project. Her pictures are used to accompany dreams from the children of Cuba. One print shows a figure - a woman? a young girl? - being kissed by a large but friendly bear. "I think that in some way a picture is in fact a kind of dream - a kind of parallel reality," says Bloch, who lives and works in Tel Aviv. "When I began to illustrate this dream, I first looked for the reality, the girl who was dreaming. In a dream, like in the subconscious, there are different rules. There is no linear logic, no past and no future."
In addition to death and frightening animals, the world's children dream a lot about food (especially eggs, and chocolate), furniture and toys that come to life, monsters, superheroes, robots, toads and even the Eiffel Tower.
"I dreamed that our house was flooded with water and we didn't know why. We went downstairs and we saw my grandmother was pouring water from a jar," wrote Beatrice, from Spain. Her dream was translated into one of the most colorful, detailed images in the entire project, containing - among other elements - a cat, a radio/cassette player, yellow stairs and lots and lots of water.
Another illustration, with cartoon-like panels within concentric circles, is mainly in black-and-white except for the golden egg in the center. "Today I dreamed that there was an egg in the street," wrote Elena, also from Spain. "I took care of the egg and incubated it for nine months. A little chick was born. It was very ugly but I didn't mind. I took care of the chicken and it grew and became a chicken that laid golden eggs. And I became rich."
Many of the children described dreams about getting rich quickly. Money often rains down from the sky, but despite this superficial similarity, it is in these dreams, in particular, that numerous cultural differences are revealed.
"I dreamed it was raining. But it wasn't raining water, it was raining money and everyone took some and my family got rich because our house didn't have a roof and a lot fell in," wrote a girl from Valencia.
Barnabe, from Mazatlan, wrote: "I dreamed that I went out of the school and outside it was raining money. I thought I would be rich with all that money. When the rain stopped, I collected all the money and I got rich."
Ernesto, from Havana, Cuba, has a slightly different experience. "I dreamed I was going home from school and it started to rain money. I ran home immediately." (It is easy to see that only the Cuban boy is afraid to take the money, preferring to hide at home).
The work on each dream takes about two months. Omar collects and sorts them before approaching the artists, who then create their illustrations. Only a few of the children have seen the illustrations of their dreams. "They like the illustration but they don't recognize their own dream in it," Omar says. He plans to send a copy of the book to each child.
Omar says he would like to include Israeli children in the project. Meanwhile, he too continues to dream. "One of the last dreams that I remember is about my entering a witch's house. The place is very narrow. At the end of the house there is a big furry fly... I remember that dream because that same day my friend came to my house and while we were talking about our relationship, a big furry fly passed by. I don't know where it came from. There are no big furry flies here. It was scary!"
He recommends to adults that they keep a dream diary, as he does. He put the witch and the furry fly into his, but has no plans to turn them into an illustration any time soon. The dream collector has a fertile imagination, but he believes that children are still better at dreaming than adults are.
ICYMI
Ken Burns' Brilliant 'The U.S. and the Holocaust' Has Only One Problem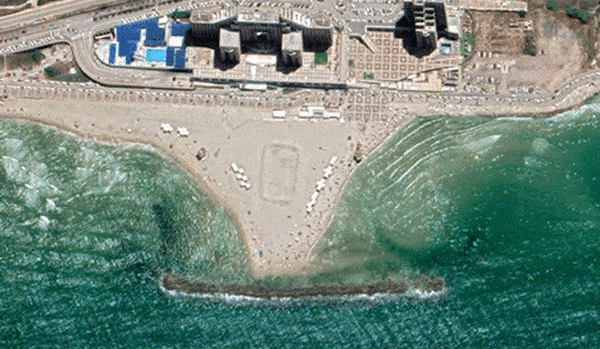 Facing Rapid Rise in Sea Levels, Israel Could Lose Large Parts of Its Coastline by 2050
As Israel Reins in Its Cyberarms Industry, an Ex-intel Officer Is Building a New Empire
How the Queen's Death Changes British Jewry's Most Distinctive Prayer
Chile Community Leaders 'Horrified' by Treatment of Israeli Envoy
Over 120 Countries, but Never Israel: Queen Elizabeth II's Unofficial Boycott