Neo-Nazis? No Such Thing
Heinz-Christian Strache, the leader of Austria's extreme right, hopes Israel and the Jews will help pave his way to the post of Chancellor. To that end, he visited Israel in 2002, at a time when this country was boycotting Austria. In his first interview with an Israeli newspaper, Strache refuses to apologize for Austria's role in the Holocaust, denies any link with neo-Nazis in Europe and hopes Austria's Muslims will just go away.
VIENNA - January 2010. Light snow dusts the streets of the Austrian capital. The temperature has plunged to below zero. In the pond of the Stadtpark, in the center of town, ducks are still swimming, perhaps taking advantage of the last hours before the water freezes over. Outside St. Stephen's Cathedral, horses harnessed to carriages send snorts of hot steam into the frigid air.
But at Messe, the city's vast congress center, the temperature is boiling hot. A holiday atmosphere envelops the thousands who have come to listen to a speech by Heinz-Christian Strache, the leader of the Freedom Party of Austria. It's a huge mix of colorful hats and ties, silk scarves and gowns, leather jackets and eyebrow rings. Wrinkled faces alongside youngsters whose eyes say they want to conquer the world, thugs and skinheads cavorting with alluring young women. They are all here to listen to Strache's tidings for the year ahead, and he has no intention of disappointing them. For almost two hours, he oversees a production that might have come straight out of a flamboyant Las Vegas show. The event opens with pyrotechnics and smoke, continues to the sounds of Carl Orff's "Carmina Burana" and ends, inevitably, with a powerful roar of the Austrian anthem from the throats of the crowd.
Throughout the speech, it is impossible to miss the mantras of "our Austria" and "their minarets," about the asylum seekers and the differences in Kultur. Each such mention is accompanied by the waving of small national flags and cheers or boos by the beer-and-sausage-sated audience.
We meet a few minutes later, in a room of the congress center. Strache shows no signs of strain after the effort of the speech and the pageantry. True, his voice is hoarse, but he looks as though he just returned from a Caribbean vacation. His handshake is warm, his smiles are broad, and his tan is almost blinding, not to mention very unnatural in the middle of the Viennese winter. In short, he looks like a Hollywood star. A profile of Strache in the Daily Telegraph likened him to actor Alec Baldwin, and with good reason: his eyes are blue, his hair is combed back and anointed with oil of some kind and he wears an elegant suit and black patent-leather shoes.
Opening a red pack of Gauloises Blondes, he lights the first of many cigarettes he will smoke during our talk. This is his first interview with an Israeli newspaper, and as his confidants attest, he is eager to pay a first visit to Israel as leader of the FPO. His predecessor, Joerg Haider, sent shockwaves around the world when he led the party into the government in 2000. That's small change for Strache. In an exclusive interview he declares that he intends to become premier. No less. "Chancellor Strache" is the ultimate goal, one he believes is realistic.
Strache draws encouragement from the fact that in the 2008 elections, the far right - his FPO and Haider's BZO (Alliance for the Future of Austria) - scored its best result ever (18 percent and 11 percent, respectively). He is further encouraged by the fact that the BZO, which Haider established in 2005 after leaving the mother party, has since been almost completely erased from the political map. Effectively, it now exists only in Carinthia, the province in which Haider served as governor.
"When I look at my rivals, I find that I am the youngest leader, but also the one with the longest experience as a political leader," Strache boasts. "When my rivals resign, I will still be active."
Strache intends to devote all his efforts and energy to strengthening the party in the local elections to be held this year in Styria, Burgenland and especially in Vienna, where he will contest the provincial leadership. He believes he can take the capital province and that his victory there will be a springboard for a triumph in the federal arena.
"People want change," he says. "We have many problems in our country: mass immigration, an economy in crisis, defective financial oversight, increasing unemployment and crime. The coalition parties have no answers and sometimes even deny the existence of the problems, or have no interest in dealing with them."
Strache is against the Proporz system (the old political system that repeatedly leads to the formation of large coalitions between the socialists and the conservatives) and says the goal of the FPO is "to shatter that structure" in order to solve the country's problems.
Many booths have been set up in the enormous space of the congress center. Some sell pastries that can be washed down with dark beer served in huge glasses; others offer Austrian pennants, T-shirts and caps carrying a portrait of the leader. Alongside the T-shirts are books that set forth the party's ideological doctrine, accompanied by its leader's biography. One dust jacket shows Strache and Haider side by side, both smiling broadly.
He declines to describe himself as Haider's heir. (Haider was killed in a road accident in October 2008.) "That is because we are not talking about the legacy of an individual or about his deeds, but about the legacy of the liberal philosophy over which I accepted responsibility." Asked whether, in that case, he agrees with the idea that he is the heir to Haider's political philosophy, he again replies in the negative.
Strache is critical of Haider, who, though he brought the party into the government, did not fulfill his election promises. Indeed, he prefers to skip over the points of resemblance and focus on the differences. "We have different viewpoints in various spheres. For example, I do not use the word Auslaender [foreigner, outsider], because I am not against people who come from different cultural surroundings."
This is a rather puzzling comment, the more so because a minute later Strache alludes to another difference between him and Haider: "I always emphasize that the European Union is a Western-Christian entity and that we must ensure that wrong Islamic migration will not harm it. Accordingly, a country like Turkey will never be able to be a member of the EU, as its joining would endanger the peace in Europe."
Strache does not hide his contempt for Haider's homosexuality. His reactionary conservatism is flagrantly manifested when he talks about "preserving the Catholic tradition and the old family values." "For me," he says, "a family exists only when children are born to a man and a woman. Of course, everyone can live his life and define it as he wishes, but children are only born in a family. That is the only repository of society's future, and therefore I am against other 'sexual partnerships.'"
After the last elections, Strache declared that "we will never reunite our party with traitors like Haider." However, after Haider's death he changed his tune, describing his late rival as "a great figure to whom we owe so much."
Before they parted ways, Strache was described as Haider's "twin," because of the nationalist messages he copied, his glittering public persona and his penetration into the heart of the country's young generation by means of appearances in discos and clubs. According to Eva Linsinger, the senior political correspondent for the Austrian magazine Profil, Strache did in fact try to do a "copy-paste" of Haider, but was simpler, less sophisticated and, in the end, more extreme. A senior figure in the local Jewish community, who spoke on condition of anonymity, agrees with this analysis: "Compared to Strache, Haider was soft. He was very smart, but sometimes too smart. Like a soccer player who rushes along the field, passing two, three and four players from the other team, he never knew where to stop, and so he tripped." Though Strache is less clever, the senior Jewish figure adds: "He is surrounded by neo-Nazis who do the work for him."
Nina Horaczek, a correspondent for the weekly Falter, who in March 2009 published a biography of Strache (co-written by Claudia Reiterer), notes that Haider was a jurist and an intellectual, whereas Strache is a dental technician by training. Haider was a better speaker but also an "actor," a person of contrasts who changed his opinion many times and tended to go whichever way the wind blew. "Strache, in contrast, has the ability to be consistent and stable. He is also a better team person. In this sense, Strache is more interesting, though he is still young and has a long way to go yet." In terms of their extremism, Horaczek says, "there is no real difference between them."
"Close your eyes," Horaczek and Reiterer asked Strache. "What is the first thing you remember from your childhood?" Strache did not hesitate. He told them how the street where he grew up in Vienna had changed, how suddenly there was a smell of garlic in the air, trash strewn in the street, and how he felt it was no longer his home.
Austrians and outsiders
"Anti-immigration" in general and "anti-Islam" in particular are Strache's strong cards today, says Prof. Anton Pelinka. The senior political science lecturer, who gained fame when Haider sued him for defamation of character, points out that despite the party's pro-Arab tradition, the migrants overall and the Muslims especially have become the new Jews.
"We respect every person, irrespective of his country or culture," Strache declares. But in the same breath he protests "the phenomenon of many people who come to Austria not to work but to exploit our social-welfare system." He assails the system for "not providing social justice" and talks about the need to create a "productive, efficient society" in which the workers and achievers will get their just rewards. To eradicate the injustice that has been created, he says, he will establish two social-welfare systems, one for Austrians and one for outsiders. That, he argues, will heighten the motivation to integrate, and reduce xenophobia.
Strache's aim is to erase Muslim "visibility" as much as possible. He has called for a ban on building mosque minarets in Austria, is against head-covering in public institutions and wants to ban the wearing of the burka on the country's streets altogether. "Just as we do not wear miniskirts in Oman, there is no reason why people who come to Europe should wear the burka. One must respect the culture of the host country," he says. In regard to the European Western cultural values he wants immigrants to respect, he mentions "cultural symbols such as the crucifixes in the classrooms" and "Jewish values and sources." Asked explicitly about the skullcap, Strache seems bent on blurring any allegation of anti-Semitism: "It is a matter of personal freedom, and we must protect the freedom of religion of every person." But "a woman who covers her whole body? That is the opposite of openness and of a show of friendship. I want to see the eyes and face of everyone."
Strache also draws a direct connection between immigration and the fact that "the system nowadays is incapable of coping with the surging crime rate." In the end, though, he is not afraid to let the cat out of the bag: "We must consider the complete stoppage of immigration from countries outside Europe," he declares openly.
Strache's anti-Islamic views do not stop him from aspiring to a mediator's role in the Middle East. He takes pride in the neutralist stance which Austria has espoused since 1955 and explains that "diplomacy" is the key to resolving conflicts. Under no circumstances, he says, will he advocate a military option, not even against Iran.
"After all, if we look at the Iraqi example, it turned out in retrospect that much of the information provided by the CIA was simply wrong." He admits that in June 2006 the FPO invited a senior personage from the Iranian regime, someone close to President Mahmoud Ahmadinejad, to a party conference, but denies that this has any connection with his approach. The invitation was only "intended to examine the question of whether Iran's nuclear project is meant for civilian purposes," he insists.
Strache emphasizes the FPO's ties with parties he considers ideological partners, but only those that "possess democratic legitimacy," as he puts it. Among these he names the Northern League, which is a member of the Berlusconi government in Italy; the Swiss People's Party, which was responsible for the referendum about minarets; and one party, Belgium's Vlaams Belang, whose extremism is in no doubt but whose "empathy for Israel," according to Strache's confidants, can justify its mention here.
The party's ties with Jean-Marie Le Pen's National Front in France are no more than "practical," Strache says, and he rules out ties with three German parties - the German neo-Nazi party, NPD; the far-right party, DVU; and the Republicans - due to "an absence of democratic legitimacy." He also denies explicitly any cooperation with the Hungarian Jobbik party, which is today considered one of the most racist, anti-Semitic and homophobic parties in Europe.
The veteran Jewish-Austrian journalist Karl Pfeifer, who follows both Jobbik and the FPO closely, guffaws at this "crude lie." "The two parties," he says, "cooperated in the recent European Parliament elections, and last month Strache received a Jobbik delegation, two days before an FPO delegation left to deepen the cooperation in Budapest." Pfeifer admits that "not one anti-Semitic declaration is recorded in his name - he is simply too smart." At the same time, Pfeifer agrees with the viewpoint of Horaczek, Strache's biographer, that his family background, social milieu and personal record do not leave much room for doubt as to the manner in which his worldview was shaped.
Right at heart
Heinz-Christian Strache was born on June 12, 1969. When he was 3, his father left home and Strache was sent to Catholic boarding schools. At the age of 16 he started night-school studies to become a dental technician. Six years later, he entered politics and quickly became the council representative of the FPO in his district in Vienna. In 2004, at the age of 35, he was appointed leader of the party in Vienna, and a year later, when Haider left the FPO to establish a rival party, Strache took control of the leadership and became the face of the extreme right in Austria, and in large measure also in Europe.
The origins of his father's family lie in the Sudetenland. His paternal grandfather, Heinrich Strache, served in the Wehrmacht. His maternal grandfather, Erich Wild, grew up in Heidelberg, Germany, and was one of the soldiers who arrived in Austria in 1938, during the Anschluss (Austria's annexation to Germany), later became a member of the Waffen S.S. and died during the war in Trier, Germany.
While studying to be a dental technician, Strache joined the right-wing student society Vandalia, which barred Jews from joining. There he met activists in Austria's neo-Nazi arena. In the 1980s, he took part with members of the society in paramilitary training in the forests of Carinthia. One of the participants was Andreas Thierry, today an activist in NPD. Strache also took part in an exercise supervised by Gottfried Kussel, the founder and leader of Vapo, the most radical neo-Nazi group in Austria.
Strache also gave his heart to the right. Between 1987 and 1991 he had a relationship with Gudrun Burger, the daughter of Norbert Burger, the best-known Nazi activist in Austria. In 1990, he took part in an event organized by the German far-right party DVU at Fulda, on the former East German border
Embarrassing photographs of Strache have been published on two occasions - after the elections of October 2006 and in September 2008. In regard to the graphic documentation of his activity in the neo-Nazi training camp, he said that he was doing no more than "taking part in a paintball game." His response to the other photograph, which shows him raising three fingers in a Nazi gesture, looked like something out of Tarantino's "Inglourious Basterds": he was only ordering three beers, he said.
Strache's most trenchant comment about Nazism is that it was "a very dark period in human history" and that "we must all work so that nothing like it happens again." Of the Goldstone report about Israel's Operation Cast Lead in Gaza and the fact that it has been used by some in Europe to liken Israel Defense Forces activity in the territories to Nazism, Strache says: "In my opinion, that is a very tasteless comparison. No one gains from comparing very bad periods to our time, as there is no place for such a comparison."
Still, he himself draws a parallel when he adds: "Every crime by a soldier, every offense by an army should be judged everywhere with identical legal tools." He takes the same approach to the vote in the German and Austrian parliaments on rehabilitating deserters from the Wehrmacht, a move he was against. The deserters are traitors in his eyes.
"The Wehrmacht committed crimes like any other army," he says, "and the deserters should be treated like deserters in any other army." The very question seems to anger him. He lights up another cigarette - his sixth, I think. Maybe the seventh. He flicks away the ash with a tight, nervous seeming squeeze of the finger. By the end of the interview, more than half the pack will have been smoked. His attitude toward the Third Reich is appallingly laconic (see the "associations game" box). Neo-nazism? It's just a spirit which "does not really exist."
He ignores a question about whether he will agree to emulate the act of Gianfranco Fini, the former leader of Italy's "post-fascist" National Alliance party, who in 2002, on the eve of an historic visit to Israel, declared that he would assume responsibility for the crimes perpetrated by fascism and ask the Jewish people's forgiveness. When asked if, in the light of history, Austria does not have a moral debt to Israel, he replies: "It is incumbent upon everyone to respect human justice. Preserving this moral debt falls mainly on my generation, and therefore we are so irritated when we are compared to an unhappy period with which we have no connection."
He seems to accept the "rape of Austria" thesis and the view some Austrians have espoused for decades, namely that their country was "the first victim of Nazism." That thesis was first officially refuted by former chancellor Franz Vranitzky when he visited Israel in 1993. It was again rebutted by Chancellor Alfred Gusenbauer, who declared in 2007, also during a visit to Israel, that many of the criminals who were responsible for the Holocaust were Austrians.
Strache, asked about this, says: "I do not want to get into the victim question, as it is not a question but a fact that there was here a criminal establishment which forced a totalitarian system on people. It is very important to make it clear that the families were not responsible [for the crimes] and therefore there cannot be collective guilt here."
In other words, according to Strache, a gang of criminals seized power in Austria and forced the Austrians to commit crimes. He is of course ignoring the fact that the Anschluss was greeted with tremendous enthusiasm in Austria, the fact that 40 percent of the S.S. volunteers in the concentration camps were Austrians and the fact that 700,000 Austrians were members of the Nazi Party.
Strache starts to cough. The cigarettes, and maybe also the long speech, are having their effect. "We want to rule, we want to be number one," he had called out in a raspy voice less than two hours earlier. "Austria above all! Austria, Austria, Austria!" he blared six times in succession to the cheers of the impassioned audience, and gave the signal to release thousands of balloons in the national colors.
Strache's FPO is today considered the most successful far-right party in Europe. The polls give it 22 to 24 percent support. In what is being described here as the "mother of all campaigns" - the Vienna elections in October - the FPO could become the second largest force, ahead of the Conservative Party. Such a result will be viewed as a political earthquake and a declaration of intentions at the federal level. According to Prof. Anton Pelinka, in a certain constellation Strache could form a coalition with the conservatives and oust the socialists from power in Vienna. "That scenario has a low probability," he says, "but it exists." Its realization would move Strache closer to the premiership.
"Chancellor Strache? That is a nightmare," says his biographer, Nina Horaczek. "At the moment, the Austrians are giving him more and more votes. It all depends on them." But if so, there would seem to be little cause for optimism. To quote one of those who attended the party meeting at the congress center: "To support the Freedom Party today is like masturbating. Everyone does it but no one admits it." W
ICYMI
Ken Burns' Brilliant 'The U.S. and the Holocaust' Has Only One Problem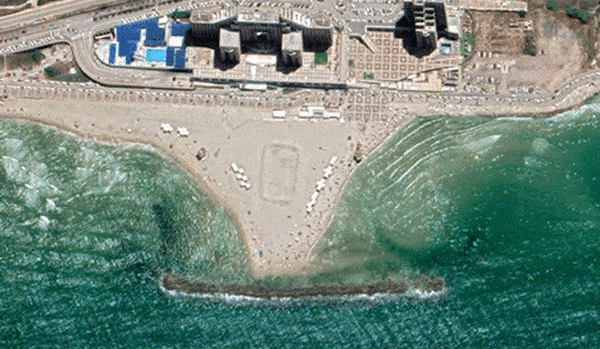 Facing Rapid Rise in Sea Levels, Israel Could Lose Large Parts of Its Coastline by 2050
As Israel Reins in Its Cyberarms Industry, an Ex-intel Officer Is Building a New Empire
How the Queen's Death Changes British Jewry's Most Distinctive Prayer
Chile Community Leaders 'Horrified' by Treatment of Israeli Envoy
Over 120 Countries, but Never Israel: Queen Elizabeth II's Unofficial Boycott