The 'Grocery List' of the Shin Bet and the IDF
The ordeal of a 21-year-old Palestinian - and of the people his testimony incriminated - reveals the lengths Israeli authorities will go to, to fabricate evidence against those who demonstrate weekly against the security fence.
Setting an Israeli army jeep on fire can be a helpful entry on the resumes of Palestinians fighting the occupation. By this criterion, M.A. (his full name is being withheld for reasons that will become clear) is a hero: He threw a Molotov cocktail at a Border Police jeep, igniting a fire inside the vehicle, during the course of a weekly demonstration against the separation fence. Thus he informed interrogators from the Shin Bet security service and the Israel Police, in January. M.A., 21, also revealed the names of 17 Na'alin residents "whom I know and saw throwing rocks" on the same day the jeep was set on fire.
This testimony constituted a real windfall for the Israel Defense Forces and the Border Police, which are preoccupied with trying to suppress the protests against the separation fence. The protests celebrated their fifth anniversary last week and have even begun to spread. Since a few days after M.A. gave his statement, the IDF arrested 28 residents in raids on Na'alin - among them three people who the prosecution claims are members of the Popular Committee Against the Wall. Curiously, however, it emerges later that the IDF's meticulous records do not contain any mention of a jeep torched on the date M.A. mentioned.
That troublesome stain on the credibility of a key witness was naturally cited by the lawyers Gaby Lasky, Limor Goldstein and Nery Ramati, who spend days in the military court at Ofer (southwest of Ramallah) defending protesters against the separation fence who have been arrested during the preceding months in Na'alin and Bil'in, neighboring towns west of Ramallah. The lawyers believe that, in general, there is a combined effort by the Shin Bet and IDF to break the residents' spirit by launching mass arrests and hefty fines, in the hope of stopping the demonstrations and preventing the popular struggle from spreading.
The fact that the incriminatory details provided by detainees like M.A. turn out to be a fabrication reveals the methods used by the security forces: Based on information and recommendations from the Shin Bet, IDF soldiers are sent to find a "weak link" - a minor who is easy to intimidate in his initial interrogation, or a mentally unstable person. Afterward he is joined by one or more detainees, "to strengthen" the security forces' case, with the object of encouraging more incriminatory information. The interrogators' questions show that their purpose is to taint the popular struggle and its leaders with the brush of "hostile terror activity" involving the throwing of stones and Molotov cocktails, and thus deprive it of legitimacy. Indeed, according to numerous testimonies, including from detainees, not only do Popular Committee members not throw rocks or Molotov cocktails, but they implore others not to do so.
In Bil'in, where the security forces launched their campaign of arrests beginning in June 2009, a substantial amount of incriminating information came from police interrogations of four minors, between ages 16 and 17 (under Israeli military law, a Palestinian is no longer a minor at 16, not at 18 as under civil law). But even a Palestinian whom military law recognizes as a minor is interrogated as an adult, and not according to the strict regulations that apply, for example, to the interrogation of a Jewish minor, under 18, who lives in a settlement. The Palestinian minor is typically arrested in the middle of the night, after soldiers, whose faces are concealed, have burst into his house, conducted a search, brandished weapons, shouted, and used tear gas and stun grenades. He is removed from the house, frequently without being allowed to put on warm clothes, and is led away for questioning, handcuffed and blindfolded. In contrast to the civil procedure for questioning a minor, the interrogation can take place at an unorthodox hour and without a parent being present.
The four frightened minors who were arrested in June 2009 underwent such an experience, resulting in a "grocery list" - as villagers refer to the sweeping incriminations of dozens of people on the basis of extremely vague data. Since then, 37 residents of Bil'in have been arrested. When the incriminating minors testified in court, it turned out that three of them are illiterate and could not even read their statements. Furthermore, they denied and contradicted many of the things attributed to them and were declared hostile witnesses.
Abdallah Yassin, a 17-year-old high-school student, was one of the many individuals the teenagers incriminated. He was released last week after spending six months in prison along with M., his incriminator. At first, he says with a smile, "I was angry at him. Later I asked him: 'Did you ever see me throw stones?' M. admitted that he had not, and said he had once seen me riding a bicycle, was envious and decided to get back at me."
Yassin's brother-in-law, Mohammed Khatib, was released on bail after it turned out that he was out of the country on the day a witness "saw" him throwing stones; however, Khatib's trial for incitement continues. Similarly, another five men from Bil'in were released on bail.
Ten Bil'in residents arrested are still behind bars. One is Adib Abu Rahma, a 39-year-old taxi driver and father of nine, who has been in custody for seven months. The IDF judge, Lt.-Col. Eran Laufman, ordered him released on bail on July 16, six days after his arrest; the prosecution appealed the ruling. A day before Abu Rahma's scheduled release, a young man from Bil'in was arrested at the Allenby Bridge, on his way out of the country as part of a peace delegation. In his possession was an edited film about the demonstrations in Bil'in, which showed Abu Rahma involved in such dangerous acts as arguing with police officers and soldiers, pouring water on a soldier, waving a flag. For this, he was remanded in custody for incitement, disrupting the peace and entering a closed area.
Detailed history
In Na'alin - where 113 residents have been detained or arrested by similar methods since 2008 - the main "weak link" the Shin Bet managed to track down this year was the abovementioned M.A. The minutes recorded by the security force's interrogators and the statements collected by the police on the basis of that information reveal a detailed history of his interrogation.
January 3: M.A. turns himself in to the army (having hid during the raid on his home).
January 5: During Shin Bet interrogation at the Russian Compound, Jerusalem, M.A. gives the interrogator, Dotan, innumerable incriminating details about himself and several other youths. He also details his medical history: injured during a demonstration from a bullet still lodged in his right heel; about half a year ago, at a different demonstration, he was hit in the head by a tear-gas grenade fired by a soldier from a launcher. He was unconscious for 10 days and suffered from amnesia for about a month. The doctors in Ramallah implanted a platinum piece in place of the shattered skull bone.
January 6, morning: Israel Police, Russian Compound. Based on the Shin Bet minutes, the investigating officer, Staff Sgt. Maj. Jalal A'weida, informs M.A. that he is suspected of throwing rocks, Molotov cocktails and tear-gas grenades at Israeli targets. A'weida has him sign a statement (which is nearly identical to the minutes of the Shin Bet interrogation).
January 6, morning (while M.A. is still with the police interrogator): Attorney Limor Goldstein arrives at the Russian Compound to meet with M.A., as arranged by telephone. The meeting is delayed, and then she is informed that M.A. has already been driven elsewhere. Goldstein protests in writing that since the detainee was deprived of his right to meet with an attorney, the continued remand and interrogation are illegal.
January 7: From the letter of reply to Goldstein from the State Prosecutor's Office, it emerges that M.A. was transferred to Ohalei Keidar Prison in Be'er Sheva.
January 10: M.A. returns to Ofer, for a second Shin Bet interrogation, during which interrogator Dotan says, according to the minutes: "I told the subject that not many days had passed since his interrogation ended and what do you know - it turned out he was concealing information."
Attorney Ramati explains that Dotan's statement used a sort of common code that indicates that between the two interrogations, M.A. was moved to a cell with "shtinkers" - Palestinian collaborators who pose as prisoners. Evidently the incriminating evidence he gave in his first interrogation failed to satisfy the Shin Bet. M.A. was told that the interrogation was over, and believed it - and then found himself in the company of the detainees-in-disguise. And that is how M.A.'s heroic story evolved about torching a jeep, setting up a military squad nobody had ever heard of, and other tales that were not revealed during his first interrogation. Indeed, in the minutes from the first session, Dotan writes explicitly that M.A. was questioned about Molotov cocktails that were thrown on to a highway, but denied being involved and even claimed he had never heard about such an act. After three days with the stool pigeons, however, he said he knew about this, and he confessed and named names.
Dotan further noted: "About two months ago, on a Saturday, a day after the Id al-Adha holiday, a very large demonstration was held at the separation fence in Na'alin. During the demonstration the subject and his friend Mohammed Maher threw one Molotov cocktail each at a Border Police jeep parked across the way ..."
On January 10, 15 minutes after the end of the second Shin Bet interrogation, at Ofer, M.A. arrived at the Russian Compound in Jerusalem, to give a statement to police investigator Fares Jaber. The numerous names mentioned by M.A. and cited in the Shin Bet records are repeated in the statement recorded by the police, as are the rest of his heroic tales. But for some reason, Jaber does not mention the day (Saturday) on which the jeep was supposedly torched. He makes do with more general information: "Approximately two months ago, after the Feast of the Sacrifice, an enormous demonstration was held in Na'alin about the separation fence."
Excessive flexibility concerning the time of an alleged crime is not permitted in a civil court, but is often par for the course in Israeli military tribunals in the territories. The indictment is not required to state a particular date on which an offense was perpetrated. For example, it can be said that, "So-and-so threw rocks during the years 2003-2006 on various occasions, in location X or in proximity to it."
Attorney Lasky explains why: The more general the charge sheet, the tougher it is to prove an alibi. And that is precisely the intention.
Military law permits holding a Palestinian in custody for up to two years, until the end of judicial proceedings against him (instead of nine months, as civil law mandates). In the case of alleged offenses for which the expected punishment is less than two years in prison, then, there is no point in conducting a legal defense worthy of the name. Often the accused would rather cut a deal and plead guilty - including to offenses he did not commit. This, for example, is what has been done by most of the Bil'in detainees accused since the summer of 2009 of minor offenses.
'They threatened me'
January 21: At his remand extension hearing, at Ofer, M.A. told the military judge in detail about his custody: "[At the Russian Compound] they put me in a cell full of cockroaches. This is my first arrest. They threatened me. They told me they would get people to beat me up unless I confessed, and then the interrogator started mentioning names of people and forced me to incriminate them. They took me to the 'shtinkers,' who boiled some water and told me that if I didn't sign, they would pour it over me. They beat me, extinguished cigarettes on me, forced me to incriminate all sorts of people I don't know, and to incriminate myself in all sorts of incidents. All of my incriminations were a lie just so I could get out of there ..."
Two military judges asked that M.A. undergo a psychiatric evaluation. Because of his flawed testimony, three different judges ordered the release on bail of seven of the people he had incriminated. Lt.-Col. Zvi Lekach of the military court of appeals rejected the prosecution's appeal of their release, and ruled that M.A.'s testimony was tainted. But the bail is so high (up to NIS 15,000 for each) that neither the young men's families nor their village can pay it and they remain locked up.
According to the lawyers, the court has not released those people about whom M.A. invented more serious offenses, as those charges raised their "dangerousness" in the judges' eyes. One of these is Zaidoun Srur, 32, accused of organizing and taking part in the weekly demonstrations against the fence and incitement. According to the defense, he works from Wednesday morning until Friday afternoon every week at a storage facility of the Palestinian Authority's fuel corporation - as a letter from the facility's manager confirms.
The defense maintained that this written confirmation provides an alibi, which refutes M.A.'s incrimination, but the same letter did not impress the judge, Lt.-Col. Menashe Vakhnish. Evidently, in his eyes, M.A. is more credible. Vakhnish thus ordered that Srur remain in custody because, he said, "greater severity" is called for when dealing with someone who has organized such demonstrations and encouraged rock throwing.
ICYMI
Ken Burns' Brilliant 'The U.S. and the Holocaust' Has Only One Problem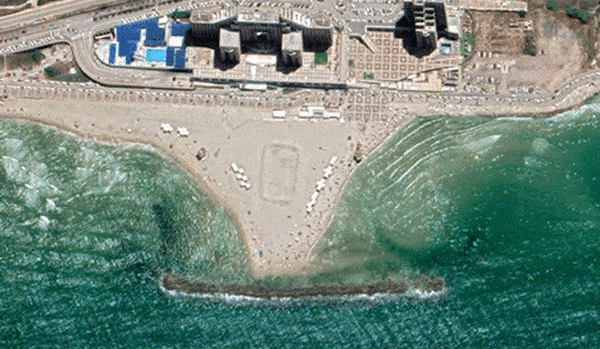 Facing Rapid Rise in Sea Levels, Israel Could Lose Large Parts of Its Coastline by 2050
As Israel Reins in Its Cyberarms Industry, an Ex-intel Officer Is Building a New Empire
How the Queen's Death Changes British Jewry's Most Distinctive Prayer
Chile Community Leaders 'Horrified' by Treatment of Israeli Envoy
Over 120 Countries, but Never Israel: Queen Elizabeth II's Unofficial Boycott