A Personal Exodus
He escaped his birthplace a decade ago, after being imprisoned and tortured for abandoning Islam for Christianity. Rev. Majed El Shafie returned to the Mideast last month, warning of the persecution Christians continue to suffer here.
Egyptian-born Rev. Majed El Shafie is only 32 years old but what he has been through is enough for a long lifetime: conversion from Islam to Christianity, torture in a jail in Cairo, an escape from Egypt to Israel, incarceration in an Israeli prison and then life as a Christian rights activist based in Canada.
The clergyman who heads One Free World International, a Christian human rights organization, visited Israel with Canadian members of parliament, in order to help increase awareness of the human-rights related difficulties Christians face in this region.
"The media and the public discourse hardly mention it, but in the Middle East, like in many countries in Africa and Asia, Christians are a persecuted and discriminated-against minority," he says.
El Shafie was raised in a family that belonged to Cairo's elite. His father, as well as several uncles, were lawyers. While he himself was studying law at Alexandria University, he was introduced to Coptic Christianity by a student friend. He learned about the history of Christianity in Egypt, from its earliest days in the 1st century C.E., according to tradition, through the Muslim conquest in the seventh century, when most of the country's residents accepted Islam. Today, most of the Christians who remain in Egypt belong to the Coptic community, which is thought to number up to some 10 million members.
According to El Shafie, many Christian activists are languishing in Egyptian jails. However, he says, "No one around you, whether in the education system or the media, would say there is a problem. When I saw the persecutions, I was shocked. I saw, for example, efforts to force Christian girls to accept Islam. My decision to convert was a natural response to what I had seen."
But it was also a decision that severed El Shafie's ties to his family. "As far as they are concerned, I am as good as dead," he says. "As a non-Muslim, I do not exist."
He converted during the second year of his university studies, in 1998, after which he left school and established an underground group that strove to enhance the rights of Christians in Egypt.
Islam is the country's official religion, and although on paper, Egypt's constitution does not prohibit other religions' activities, in fact the authorities oppose them.
The group El Shafie formed established churches and a medical clinic, and published a newspaper. When the secret police caught on to those activities, they arrested him. He says that he was subjected to harsh torture and that prison guards poured water and lemon juice on his wounds. Later he was placed under house arrest, which continued during the eight months he awaited trial on charges of sedition and attempting to perform religious conversions.
Although his Cairo home was guarded by five policemen, El Shafie, with the help of friends, managed to escape, and fled to Alexandria. From there he traveled to Sinai. For two months he found refuge with a Bedouin family and kept an eye on the Taba border crossing with Israel, until one morning, he says, "at 5:30 A.M., when the sun was blinding the soldiers, I boarded a jet ski parked near the crossing and sped to the Gulf of Eilat through the gap between the Israeli and Egyptian patrol boats. I went quickly and five minutes later stopped in front of Eilat's Princess Hotel."
El Shafie then gave himself up to the Israeli police. At that time, a decade ago, there was no organized procedure for handling refugees and he was held in a prison in Be'er Sheva. He asked for access to United Nations and Amnesty International representatives, and after a year and three months in prison, he attained recognition as a refugee, a move that prevented his extradition to Egypt.
After his discharge, El Shafie lived for a year and a half in the Jerusalem neighborhood of Pisgat Ze'ev and worked for Christian organizations in East Jerusalem. His status as a refugee helped him obtain Canadian citizenship, and 18 months later he moved to Toronto. For several months he worked as a spokesman for the International Christian Embassy there, and then decided to establish an organization that would devote itself to Christian minorities worldwide.
According to him, there are 200-300 million Christians who are being persecuted as a minority worldwide. Eighty percent are in Arab countries, with the remainder in China, North Korea, Cuba and India. A significant part of El Shafie's activity consists of visits to spots of friction, where there is also an element of religious dispute. Thus he has visited Canadian forces in Afghanistan and discussed the plight of Christians in Pakistan with that country's foreign minister.
Shrinking minority
El Shafie is disappointed that countries with a Christian majority are not more active in helping Christians in other places around the world.
"I do not expect the United States and Britain, where there is a clear separation between church and state, to help Christians in the name of religious solidarity," he explains. "But I definitely do expect them to help Christian minorities in the name of their universal commitment to human rights."
El Shafie's personal drama took place more than a decade ago. Nonetheless, in its most recent report on religious freedom around the world, the U.S. State Department noted that even today, there is no religious freedom in Egypt.
According to that report, the Egyptian security service keep an eye on citizens who, like El Shafie, were born as Muslims and are suspected of having converted to Christianity. The report cites cases of physical abuse because of it and an incident in which a mob in Cairo burned down a church.
El Shafie claims that Christian minorities in the Middle East in general and especially in the West Bank and Gaza are not much better off. Fifty years ago some 15 percent of the population in these areas was Christian, but according to current estimates they now account for only 1.5 percent. Among Gaza's approximately 1.5 million residents, there are some 3,000 Christians, whose situation has only worsened since Hamas seized power: Indeed, United Nations' reports note that the harassment of Christian Palestinians in Gaza has worsened during this period. In October 2007, the manager of the only Christian bookstore in the Gaza Strip, Rami Ayyad, was assassinated - apparently by activists of extremist Islamic groups.
El Shafie attributes responsibility to Israel, too. "Except for a general reference to religious freedom in agreements signed between Israel and the Palestinian Authority, the Christian minority was never taken into account," he notes. "Why didn't they discuss Bethlehem? It used to be a city with a Christian majority, but today [the Christians] account for less than 30 percent."
El Shafie does not accept the arguments of Palestinian leaders and human rights organizations that Christians are fleeing the West Bank because of the separation fence or the heavy pressure applied by the Israel Defense Forces' on Palestinian cities during the second intifada, pressure that to some extent continues to this day. He observes that the pressure of Muslim extremists in the territories has been more instrumental in pushing Christians there to emigrate.
During his visit to Israel he met, among others, with Knesset Speaker Reuven Rivlin, Deputy Foreign Minister Daniel Ayalon and researchers at the Van Leer Institute in Jerusalem.
El Shafie is close to some of the Evangelical churches that are supportive of Israel's settlement movement. As such, he is careful not to criticize Israel, and it is difficult to get him to comment on the country's violations of human rights in the territories. He is critical of just one thing: Israel's decision to end the controversial alliance that it had with with Lebanese Maronite Christians starting in the 1970s, and continuing through the first Lebanon War, until 2000.
"The nation that suffered during the Holocaust must be the first to support the Christian minority in the Middle East," El Shafie says. "To my regret this does not always happen. The South Lebanon Army was a Christian army that fought alongside Israel for more than 20 years, but Israel retreated and left it to face Hezbollah's attacks on its own."
ICYMI
Ken Burns' Brilliant 'The U.S. and the Holocaust' Has Only One Problem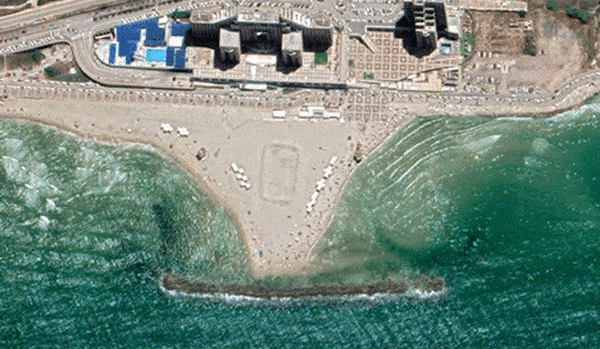 Facing Rapid Rise in Sea Levels, Israel Could Lose Large Parts of Its Coastline by 2050
As Israel Reins in Its Cyberarms Industry, an Ex-intel Officer Is Building a New Empire
How the Queen's Death Changes British Jewry's Most Distinctive Prayer
Chile Community Leaders 'Horrified' by Treatment of Israeli Envoy
Over 120 Countries, but Never Israel: Queen Elizabeth II's Unofficial Boycott