Should Palestinians Accept Israel as a Jewish State?
Israeli and Palestinian writers Roi Ben-Yehuda and Aziz Abu Sarah explore Netanyahu's terms for peace.
Ever since his June speech at Bar-Ilan University, Prime Minster Benjamin Netanyahu has made it clear that peace with the Palestinians is conditioned on the latter accepting Israel as a Jewish state.
During his much-lauded address at the United Nations, Netanyahu reiterated his position:
"We ask the Palestinians to finally do what they have refused to do for 62 years: Say yes to a Jewish state. As simple, as clear, as elementary as that. Just as we are asked to recognize a nation-state for the Palestinian people, the Palestinians must be asked to recognize the nation-state of the Jewish people."
The Palestinians, for their part, have rejected Netanyahu's position. Their claim rests on three assertions: It is not the business of Palestinians to recognize the Jewish nature of Israel. Such recognition would endanger the rights of Palestinian citizens of Israel. Acknowledging the Jewish state would negate the Palestinian right of return.
So, should the Palestinians accept a Jewish State? Israeli and Palestinian writers Roi Ben-Yehuda and Aziz Abu Sarah got together to explore the topic. The following is their exchange.
Ben-Yehuda: Aziz, I am happy to have the opportunity for this exchange with you. I will start off this discussion by stating that I think Netanyahu's position (which was first articulated by Ehud Olmert and Tzipi Livni) is a good one.
I support this position because it provides the Palestinians a real opportunity to put their cards on the table: To state in an unequivocal fashion that they are ready to make peace with Israel, i.e. to renounce the right of return which is incompatible with a two-state solution.
I also support this position because recognizing Israel as a Jewish state will go a long way toward allaying some of the basic existential fears of the Israeli people. In so doing, it will enable the government to conduct negotiations without fearing that concessions will lead to loss of identity or security (not to mention loss of political power back home).
I say this as an unapologetic Zionist and peacenik - as someone who believes that both the Jews and the Palestinians by virtue of being a people with deep historic ties to the land have a right to a state in part of Israel/Palestine.
Abu Sarah: Roi, you are right that recognition is important to allay the fears of Israelis, but Netanyahu's demand is not a fair request. Palestinians still don't even have a state as a direct result of Israel's creation and the subsequent occupation of the West Bank. Equal recognition means the Palestinian recognition of Israel's right to existence and Israeli recognition of Palestinians' right to a state.
Recognizing Israel as a Jewish state would require a change of the Palestinian narrative and identity and would affect the rights of Palestinians citizens of Israel. Furthermore, such recognition before a just solution to the Palestinian refugee problem would dishonor the suffering of these refugees. Palestinians would be accepting the right of return of Jews who never lived in the land over those who were expelled from it.
Israel has peace agreements with Jordan and Egypt, yet neither of them had to recognize Israel as a Jewish State. These agreements have been successful regardless.
Ben-Yehuda: I have no illusion about how difficult it will be for the Palestinians to accept Israel. Peace is a gut-wrenching activity. In fact, I find it ridiculous that Netanyahu keeps on saying that this is a "simple" request. Such thinking reveals a profound ignorance concerning the people he needs to make peace with. That said, I want to touch on two points you made here.
Regarding the issue of the Arab citizens of Israel, I think that the Palestinians got this one backwards. One of the best things that the Palestinians can do for their brothers and sisters in Israel is recognize the Jewish state. Such recognition (if done sincerely) significantly improves the chances for peace, and peace makes the protection of minority rights inside Israel much more likely.
Regarding peace with Egypt and Jordan, it is true, as you say, that recognition of Israel as a Jewish state was not a necessary condition for those agreements. But it was also not needed. Ultimately, neither Egypt nor Jordan threatened to undermine the Jewish makeup of Israel by demanding a right of return of Palestinian refugees in exchange for peace.
Aziz, I would like to ask you a question: Don't you think that instead of simply saying "no" to the Jewish state, the Palestinians should come up with a more creative condition of their own? Something that concerns Palestinian fears - like safeguarding the rights of Palestinians inside Israel - and something that calls on Israel to make a narrative-shifting concession of its own. If so, what would you propose?
Abu Sarah: Roi, I like your pragmatic approach asking for a Palestinian counter offer. In my opinion, such an offer should first make the following condition: In exchange for recognizing Israel as a Jewish State, Israel should guarantee Palestinians citizens of Israel their full rights regardless of the state's identity (possibly through a constitution). In addition such recognition must not affect the identity of Christian and Muslim heritage sites within Israel.
Ultimately Israelis, just like the Palestinians, need to go through a change of narrative and identity. One thing that could make a breakthrough into Palestinian hearts and minds and build trust would be Israel acknowledging its role in the Palestinian nakba (catastrophe).
This means taking responsibility for expelling Palestinian refugees, leaving them in refugee camps, and for rendering Palestinians stateless for the last 62 years. By doing this, Israel would accept its duty of creating the Palestinian state today.
Such recognition will validate the Palestinian narrative and recognize Palestinian suffering. It will also equalize the distribution of power between Israelis and Palestinians at the negotiation table.
Ben-Yehuda: Aziz, I appreciate your willingness to creatively explore what is possible here. It takes both vision and moral courage to express what you have written.
I agree with much of what you said, although I would challenge your interpretation of who is responsible for leaving the Palestinians in refugee camps and rendering them stateless for 62 years. Surely Arab states and inept Palestinian leadership bear a good portion of the responsibility for the state affairs you describe.
Having said that, I think that officially acknowledging the Israeli role in the creation of the Palestinian refugee crises (as collectively difficult as it may be) is a crucial step Israel must take. Doing so opens the door for recognition, respect, healing and forgiveness.
In the end, my friend, our people are enmeshed in a moment of history that can only be transcended through the generosity of spirit. I think that conversations like these are an important first step.
Abu Sarah: Roi, although we disagreed on some points and narratives in this discussion, we agree that there is a need to forge a new relationship between our people. This relationship must be built on acceptance and reconciliation.
The Jewish state, the nakba, and the refugee problem are all areas where emotions run high and [reaching] consensus is difficult. However, it is important to keep an open dialogue about these issues, and not despair for a solution.
Disagreements will always exist, yet that should never mean a dead end. Our politicians and people must dare to look outside the box, explore the possibilities and talk honestly about these difficult issues. Such conversations reveal our fears, needs and hopes and are very important for a lasting peaceful relationship.
Roi Ben-Yehuda is an Israeli writer based in the US. He is a regular contributor to Haaretz and France 24. He is currently a doctoral student at the Institute of Conflict Analysis and Resolution at George Mason University. His blog, Roiword, can be read here.
Aziz Abu Sarah is the Director of Middle East Projects at the Center for World Religions, Diplomacy and Conflict Resolution at George Mason University. His blog can be read here.
ICYMI
Ken Burns' Brilliant 'The U.S. and the Holocaust' Has Only One Problem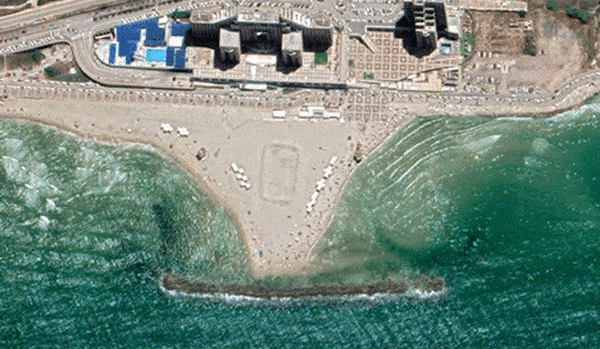 Facing Rapid Rise in Sea Levels, Israel Could Lose Large Parts of Its Coastline by 2050
As Israel Reins in Its Cyberarms Industry, an Ex-intel Officer Is Building a New Empire
How the Queen's Death Changes British Jewry's Most Distinctive Prayer
Chile Community Leaders 'Horrified' by Treatment of Israeli Envoy
Over 120 Countries, but Never Israel: Queen Elizabeth II's Unofficial Boycott