Umm Kulthum in the Men's Section
What are popular, totally secular Egyptian songs doing in - and to - the synagogue? Liturgical poet-musician Moshe Habusha, Rabbi Ovadia Yosef's cantor, says Israel's European-dominated culture has much to learn from the late great Arab singers
"To ensure that the song and the praise of the Lord, blessed be he, should be the essence of perfection - as it says in Psalms, 'Sing to him with the 10-stringed harp,' in other words, to use every bit of one's strength - I based the composition of most of my songs on the melodies of the Arabs, as they raise up their voices in songs that are more pleasant than those of others. This is indeed true, although I have encountered a handful of learned men who've complained about those who compose poems and praises to the Lord based on melodies that are not those of the Jewish people. But religious law is not on their side; what they say has no substance."
The above statement, written by Menachem de Lanzano in the 16th century, is cited by Rabbi Ovadia Yosef in his book of responsa, "Yechave Da'at" (loosely translated as "Revelation of Knowledge"): "And it is well known, that which was written by our great teacher Maimonides, that the joy of worshiping the Lord, blessed be he, and of loving the performance of his commandments, is a great form of worship ... And on this point, over the generations, the leading rabbis of the Sephardi communities relied on these words to compose songs and tunes with Arabic melodies, to sing to the Lord - at wedding and bar mitzvah and circumcision celebrations, and on Sabbaths and festivals - songs based on Arabic songs. And we hereby recommend it: As its says in the Psalms, 'On the willows within it, we hung our lyres.'" [In Hebrew, "willows" and "Arabs" are the same word: aravim].
This phenomenon, in which "Jewish saints" hear Ishmaelite melodies, has been associated since the 16th century with Rabbi Yisrael Najara, a native of Safed and the greatest cantor of his era. Najara was deeply familiar with both the tradition of Hebrew liturgical poems and the doctrine of the Eastern maqam (a kind of musical mode), and was closely acquainted with musical activity present in the society around him - whether in coffee houses or among the Sufi orders. Najara set his liturgical poems to Arab, Turkish and Spanish melodies, and they became extremely popular in every Jewish community. The combination of new and sacred Hebrew texts with beloved melodies drawn from the local surroundings has been accepted ever since by a majority of the paytanim (liturgical poets) living in the Jewish Orient.
This trend was rejuvenated in the late 19th century with the invention of the gramophone, when recordings of Arabic music were also made, and in the early 20th century, with the advent of radio. Following the Ottoman era and the struggle against Western colonial rule, Cairo became the cultural center of the Arab world, and a new type of Egyptian music took shape and spread throughout it. Actually, as early as the 19th century, a movement emerged in which popular new Egyptian songs were refashioned into Hebrew liturgical poems - mainly by the paytanim of Aleppo. During the 20th century, a large percentage of that city's Jewish community moved to Jerusalem, where a Sephardi-Jerusalemite tradition emerged. It combined several traditions, mainly that of Aleppo, and included the custom of singing the supplications (the bakashot, a tradition practiced on the Sabbath in the winter, in the early morning, prior to services).
The paytan Moshe Habusha was born 47 years ago in Jerusalem, to a family that immigrated from Baghdad. His grandfather was the noted paytan Gurji Yair, a cantor in both Baghdad and Jerusalem. Thanks to Yair, Habusha absorbed the Iraqi tradition of cantorial chanting and of performing liturgical poems of praise and supplication. But from a young age, Habusha showed a preference for the synagogues where the Sephardi-Jerusalemite tradition dominated - in other words, Aleppo-style supplications and Egyptian music. Although over the years Habusha recorded tapes and discs in the Iraqi liturgical-poetic tradition - always scrupulous about using the proper accent - his reputation was built due to his fine command of the Aleppo tradition, and his recordings of sacred Hebrew versions of songs set to the music of the late great Egyptian performers Mohammed Abdel Wahab and Umm Kulthum.
"It's natural to compare Moshe Habusha with Abdel Wahab, whose songs Habusha has frequently performed," says Roni Ish-Ran, a cantor, composer, music researcher and founder of the Shaharit Ensemble. "But Abdel Wahab was primarily an incredible composer; this was of greater significance in his life than performing. So, one could say that Habusha as a performer is not inferior to Umm Kulthum in terms of his own creativity, level of vocal control or the variety of songs he performs."
Ish-Ran says that the central role played by Habusha in the Sephardi-Jerusalemite liturgical tradition can be attributed to his profound musical consciousness, superior level of performance and vast knowledge of Arabic music, in all its nuances. Habusha was part of the first generation that began to record cassettes in this genre about 25 years ago, and he and other paytanim who were recording at the same time "became the spokesmen of this tradition to the outside world. They started with relatively easy things, whereas Habusha's later discs, including 'Yismah Moshe' [Moses Rejoiced], are entirely dedicated to the classics. The younger generation consumed this music more during the week, through the cassettes, than in the synagogue, because it was more accessible, and this built up the genre's central role among the public, and its centrality within the tradition. The young guys of today were raised on it. It swept the masses up into this style," Ish-Ran says.
'Hijacked' by Aleppo Jews
Moshe Habusha relates that when he was 10, he was "hijacked" by the Aleppo Jews to a synagogue near his home in Jerusalem's Bukharan quarter. In time he was awarded more solos and eventually received an offer to sing at Ades Synagogue in Nahlaot.
Habusha: "I was told that was where the professional singers were ... There was this oud player who heard me from outside [the building], and when he came in he asked which boy it was who had been singing. People pointed at me, and he said: That one is going to be great. I built up a relationship with the old men who were in charge of the singing - Salim Breska, Eliyahu Levi, Shlomo Levi and others. Salim and I became very friendly. When I turned 17, he told me I'd have the last laugh over everyone there. Only a few days later, Salim - who was in charge of [chanting the] bakashot - passed away and I replaced him."
Habusha first got to know the Egyptian songs in Hebrew. "When I was 14, I came home singing and my father said, 'What are you singing? Is that an Abdel Wahab song?' I was amazed that he knew it; he said he'd heard him in the coffee houses of Baghdad. So I went out looking for the cassettes."
Habusha says he learns every song from the Arabic original - not from the versions recorded in Hebrew: "I hear Abdel Wahab and I understand exactly what he wants to say, how he expresses it, where he injects the sadness or the happiness, and where he thrusts his tongue into his jaw to express discomfort."
Today Habusha appears frequently here and abroad, with his oud and violin, filling halls and auditoriums, and also serves as the "house cantor" for Rabbi Ovadia Yosef. "Over the years, I began to go to Rabbi Yosef's house, to perform at his festive occasions. I have now been with the rabbi for 29 years, as cantor on Rosh Hashanah and Yom Kippur, when all of the other cantors are flying off to America. It takes me over an hour to walk there."
After 25 years of producing recordings, Habusha has also influenced members of the younger generation. He says that some young Sephardi religious men are interested in his "heavy" music - the Aleppo supplications and the Egyptian songs - even though they study in Ashkenazi yeshivas. But still, he admits, there are Sephardi yeshiva students "who now sing only Hasidic music, and the Ashkenazim are gaining the upper hand. It is their government, their yeshivas. Everywhere they have the upper hand, but I am hoping [the popularity of our music] will grow. It's beginning at the university, where students are becoming interested in paytanut, even those who are not religious. The yeshiva students will learn from them, and we'll return to the good old days."
Habusha: "In my cantorial singing, and as a singer and oud and violin musician, I introduce authentic music of Abdel Wahab and Umm Kulthum and Daoud Hosni, the late Karaite Jew who wrote many songs translated into Hebrew and also composed songs for Umm Kulthum ... Most recently, we have introduced [the work of the late Egyptian singer] Abdel Halim Hafez at the synagogue. No musicians more recent than him are being brought into the prayers. In the synagogue, people love old music - it's easier to listen to."
Habusha prefers Egyptian music to any other kind, and has mastered the principles and history of maqam: "I am a big fan of Abdel Wahab and of [the late Egyptian composer] Zakaria Ahmed. If Ahmed would sing his song 'Al-Amal' 100 times - I would still will want to hear it for the 101st time. I would even want to hear him coughing. I have all his recordings, including those of the nationalist anti-Israel songs that Abdel Wahab sang. For instance, he has one song called 'Falastin,' and I introduce it into the prayers in the most holy places, on Shabbat. Music is one thing and the original lyrics are another, although I have also sung this song in Arabic."
Depending on his audience, he will sing entire songs in Arabic. If there was a demand, he would record the songs, too. "But Arabs no longer listen to these songs. We preserved them because of the synagogue."
Habusha is saddened by the fact that local interest of Arabic music is dwindling: "It's a shame that most of the Jewish audience that came from the Arab states has passed away. The few that remain are telling the young people that it's a shame they don't understand what used to be sung."
Several months ago, Almasry Alyoum, the most widely distributed independent newspaper in Egypt, devoted an article to Moshe Habusha and his use of Egyptian music in synagogues. In his article, headlined "Israel from Within: The Arab-Jews Base Their prayers on the Melodies of Umm Kulthum, Abdel Wahab and Sheikh Zakaria Ahmed," translator and Hebrew scholar Mohammed Aboud writes that, when hearing Habusha sing, "it's as if he were born in the schools of Arabic music" because of his vocal flexibility and his ability to execute difficult melodies - skills that grant him the title of "the greatest liturgical cantor in Israel."
Aboud describes how dozens of Jews sit in the synagogue in Jerusalem, filled with a profound, almost drunken contentment induced by the music, as they sing Hebrew words to a Zakaria Ahmed melody, or move from one maqam to the next. And how they sing the words of a prayer while practically hearing the voice of "the star of the East," Umm Kulthum, at the same time. Only she is nowhere to be found: In her place Habusha strides in, singing one of her songs in Arabic, emotionally and at length, before shifting to the Hebrew words of the prayer.
According to Aboud, Ovadia Yosef is one of the most ardent proponents of Arabic music in Israel. He not only listens to it, in its religious Hebrew incarnations, but also listens to original works by Umm Kulthum, Farid al-Atrash and Mohammed Abdel Wahab, as he writes religious legal rulings. The rabbi's connection to Egyptian music, according to the scholar, was forged during the period he spent in Egypt between 1947 and 1950.
Synagogue coffee house
On the subject of his own encounter with Egypt's Jews, Moshe Habusha recalls, "I was invited to Brooklyn, to the Egyptian-Jewish Ahava Ve Ahba congregation. When I performed, the audience acted as if they were sitting in coffee houses in Egypt. 'Ya Habusha,' they'd yell. 'Ya salaam!' - using the expressions they'd used for Umm Kulthum, and saying 'Nawart el-balad' ['You've lit up the land']."
Subsequently, Habusha visited Egypt, together with Egyptian-born violinist Felix Mizrahi: "We went to buy an oud and I started playing and singing in the shop, in Arabic, and the salesman couldn't believe I was Jewish. At the synagogue in Cairo, they called me up to recite the liturgical prayers, and as I was singing, all the drivers outside in the street came in. They started asking me questions about the songs of Abdel Wahab, testing me. When I started to sing a song that they'd asked me about from start to finish, they were convinced."
Habusha remembers that when he was in Cairo, he also heard a sheikh reciting the Koran, executing such a "wonderful modulation between maqams that I was simply transfixed. There is an order in the maqams, and a way of modulating between them, and nowadays people are no longer careful to maintain it. I live it. On recent nights during Ramadan, I was listening to Koran readings on the radio. I've heard Koran from a lot of sheikhs, and have even myself recorded chapters of it."
Habusha says he also often works with Palestinian-Israeli musicians. "Recently I was in a coffee house in Acre and ordered a nargileh, and an Arab said, 'Inte Habusha' ['You are Habusha']. He said he once appeared with me on the drums at a performance. He called up a few other musicians and told them to come over; they invited me to stay, sleep there and play with them. I don't know what politics is. I know that music connects Jews and Arabs. I have worked with all of the musicians in Nazareth and Acre, with [Palestinian musician] Simon Shaheen. I've performed in synagogues in Brooklyn, and I don't know what hatred is. I don't know what political tension is. I don't hear or believe the news. I know that I can achieve peace through the music.
"If I had a big party at [Syrian President Bashar] Assad's house, and brought in musicians from Aleppo, and we sang in Arabic - we'd make peace within minutes. You don't need [to involve] the whole Ashkenazi state that doesn't know how to speak their language. I want to say one thing to the Arab people: that the government of Israel does not represent us. We Mizrahim can make peace quickly; the government came from Europe. They have another language. We do not have hatred and we can live in peace, and the day will come when that happens. I have a plan to speak with Rabbi Yosef on this subject - about the fact that the Mizrahim can bring peace."
ICYMI
Ken Burns' Brilliant 'The U.S. and the Holocaust' Has Only One Problem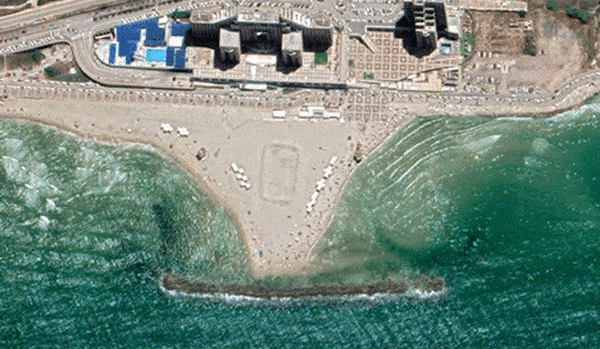 Facing Rapid Rise in Sea Levels, Israel Could Lose Large Parts of Its Coastline by 2050
As Israel Reins in Its Cyberarms Industry, an Ex-intel Officer Is Building a New Empire
How the Queen's Death Changes British Jewry's Most Distinctive Prayer
Chile Community Leaders 'Horrified' by Treatment of Israeli Envoy
Over 120 Countries, but Never Israel: Queen Elizabeth II's Unofficial Boycott