Catch '74
The Yom Kippur War had ended, and Yosef Haefrati was head of the Tel Aviv University literature department, a beloved teacher and the father of four. What possessed him to volunteer for reserve duty, to lecture Golani soldiers in the Syrian enclave of the Golan Heights?
"In most countries, 44-year-old literature professors are focused on their lectures and other scholarly pursuits, snug inside the halls of academia. They don't go up to a rocky mountaintop plateau in the throes of winter to bring culture to soldiers. They don't meet their death by bombardment." - Moshe Dor, 1974
The morning that Yosef Haefrati reported for reserve duty, his wife Ruthie drove him from their home in Givatayim to the Tel Aviv central bus station. Ruthie was at the wheel, he sat beside her and 3-year-old Guy, the youngest of their four children, sat in the back. As they approached the station, they saw the bus for the north already waiting at the platform, and Haefrati quickly got out of the car, threw his bag over his shoulder and ran for it. Everything happened in a hurry, without any kisses or goodbyes.
Ruthie Haefrati had a bad feeling. After she finally found a parking spot, she raced to the platform in the hope of "getting to say a proper goodbye this time," she says, only to discover, to her great disappointment, that the bus had already left. She gripped her son tightly as tears welled in her eyes. "Why are you crying?" she remembers asking herself. "He'll be back next week. What could happen?" But the tears kept coming.
This was in the spring of 1974. Israel's southern front had been quiet since mid-January when, after U.S. secretary of state Henry Kissinger's mediation, an agreement stipulating separation of forces was signed by Israel and Egypt. But in the Golan Heights and in the enclave conquered from the Syrians during the war some months beforehand, not only were the guns not silent - the Syrians had ratcheted up the intensity of their fire. It was lethal to remain in the enclave. In March 1974, five soldiers were killed there, 19 were killed in April and, in May, the month during which the fighting finally came to an end, 20 more were killed.
Among the targets of the Syrian artillery was Tel Antar, located at the deepest point inside the enclave in Syrian territory, at its isolated southeastern corner, 27 kilometers from Quneitra. It was an ongoing nightmare to be there, to the point where many of the fighters began to respond with extreme indifference.
"I, personally," wrote Private Motti Levy in his journal, "have reached such a state that when they shell us, I don't get worked up about it. It doesn't get to me, even if I'm in an unprotected position and we get a direct hit, even when it's a matter of life and death."
When Dr. Yosef Haefrati hurried to catch the bus north, he was 44 years old and a father of four. He was head of Tel Aviv University's Department of General Literature and of the university's Katz Institute for Research in Hebrew Literature, and also of the literature track at Beit Berl Teachers Training College. Despite all this, he went to great lengths to get the Israel Defense Forces to allow him to volunteer for reserve duty on the northern front in the middle of the school year.
What burned within Haefrati to make him leave everything for the sake of the fighting? During the Six-Day War, when he was 36, he fought in the Jerusalem brigade in the battle for Armon Hanatziv. Afterward, he left his combat unit and served in the reserves in the IDF command school. Thus, he did not see any action during the Yom Kippur War.
Sitting on the side as an observer made him restless. He felt an obligation to go to the fighters in the front-line positions as part of his own personal mission - to talk to them about literary subjects as if bringing them regards from the intellectual world, to bring a whiff of civilian life to the trenches, to be a link between the home front in the rear and the real front lines. Haefrati hated war, but he loved soldiers.
There was another reason he wanted to join the soldiers: His life was overshadowed by the tragedies that befell his uncle Yosef Erlich, the brother of his mother Shifra. Yosef's son, Yitzhak Erlich, a Palmach fighter from Rishon Letzion, fell in battle in 1948; a grandson, Moshe Guterman, was killed in the Six-Day War while fighting in a reserve Paratroops brigade in the battle for Jerusalem; Yitzhak Baram, husband of Erlich's granddaughter, was a Phantom jet navigator and fell into Egyptian captivity toward the end of the Yom Kippur War after his plane was struck by a rocket. A month later, in November, he was returned from Egypt, and soon resumed full activity in the air force as well as his previous position as a flight school instructor. In mid-February 1974, however, he was killed during a training flight in the Negev.
Haefrati was beside himself. The anguish ate at him. Over and over again, he said to Ruthie: "It's not right that Uncle Yosef has suffered all these losses while I'm sitting at home, lecturing in the university, not contributing anything. I'm going, too." He sounded determined and it was apparent this was no fleeting whim or yen for adventure.
"You're crazy: We have young children, you're leaving me alone," Ruthie tried to dissuade him, but to no avail. "For Yossi, Baram's death was the straw that broke the camel's back," she says. "From that point on, there was no stopping him."
It was the very least he could do, he explained to his wife. As he packed his army rucksack, he beamed with happiness, Ruthie recalls.
Meir Wieseltier also couldn't believe Haefrati was heading off for reserve duty. "I yelled at him," says the poet, who was a close friend. "I told him that if he were volunteering to go to war as a fighter, I would respect his decision, but to put himself in the line of fire to give soldiers lectures on literature? 'Are you sure that this is what they need?' I asked him. 'Believe me, they'd rather have a nice female singer show up. In their state, you are not what they need. Don't be an idiot. You haven't been called up. Sit quietly. Don't jump in. You did your part in the Six-Day War.'"
The sights of the 1967 war had been deeply disturbing for Haefrati. The images of comrades ripped to shreds next to him gave him no respite and completely distanced him from the general euphoria over the victory. "It was enough to make me do what I can to spare my children from war," he used to say.
With the election for the Eighth Knesset approaching in late 1973, his friend, literary critic and scholar Menachem Brinker, sought to recruit Haefrati for the new left-wing party Moked, which called for withdrawal from the occupied territories and establishment of an independent Palestinian state alongside Israel. Haefrati eagerly agreed and was assigned the 15th spot on the party slate, but in the election, originally scheduled for October and postponed to December, Moked fared miserably, emerging with just a single Knesset seat (filled by MK Meir Pa'il).
Wieseltier says that he was especially blunt with his friend because he could tell the die was cast. "I tried to shake him. Yossi wasn't an emotional person, but in this case it seemed that, contrary to his nature, he'd fallen into a sentimental trap. I can't explain how it all happened, but it's possible that Yossi, who always looked and felt younger than his age, saw this as an existential insult and thought he wasn't needed anymore, and so he went to volunteer."
When he entered the mess hall in Quneitra, all the soldiers, who were about half his age, immediately turned to look at Haefrati. Curious, a female officer who was sitting at the table beside him inquired as to what he was doing there. When he told her that he was getting ready to enter the enclave, she was taken aback. "Are you out of your mind? There's shooting going on there all the time." She considered trying to stop him, but he smiled.
He was planning to talk not about poets Haim Nahman Bialik and Shaul Tchernichovsky, in whom he specialized, but about S. Yizhar's essay "On Education and the Teaching of Values," which had just come out and provoked a public uproar with its harsh truths.
That night, when he phoned home, he told Ruthie that everything was fine. Toward the end of the conversation, he casually added, "Everyone's telling me not to go up there, but of course I'm going. I was given a flak jacket that's a little small for me, but don't worry." Before going to sleep, he began reading E.T.A. Hoffmann's "The Sandman."
Enamored of books
For as long as he could remember, Haefrati had been enamored of books. By age eight, this penchant had earned him the nickname "Daudet."
"One day, Yossik just disappeared," recalls his older sister Tzipora Zayit, at her home on Kibbutz Gesher. "After hours of fruitless searches for him, we found him in the chicken coop out in the yard. We had a cowshed and a cow there, too. There were dozens of chickens cackling all around him and he was engrossed in his own world." "Yossik" was sitting there, reading "Letters from My Windmill," the masterpiece by French writer Alphonse Daudet.
"He was a quiet and dreamy boy," Zavit says, attributing this trait to a particularly traumatic event. "We lived in Givatayim then. One winter, when Wadi Musrara flooded the whole area, Yossi, who was about kindergarten age, fell into the raging water and started getting swept away and drowning. People stood there shouting for help; luckily, there was a brave man there, a bus driver named Walkovitzky, who jumped right into the river without hesitation, got him out alive and brought him to us. We wrapped him in blankets to warm him up."
After that incident, Yossi became a very introverted child; Walkovitzky was a guest of honor at all of the family events, including Yossi's marriage to Ruthie in 1953.
When he arrived in the enclave and entered the base of the Golani 51st battalion in Safsafa, Haefrati was warmly greeted by the battalion commander, Yudke Peled, who had known Haefrati when he was a pupil in the army's command school, and was among those who helped to arrange the stint of reserve duty for him. "You're going out to Tel Antar," he told him. Early the next morning, he waited excitedly to be picked up.
"Morning, 6 A.M.," wrote Private Levy in his journal. "We set out on patrol to the village of Safsafa where the base is. There was a middle-aged man there, and I was told that he was going up to the outpost with us. I asked him who he was. He replied: 'I'm a lecturer. I came to give you lectures at the Tel.' When I spoke with him, I had a weird feeling. I spoke to him as if to my father: 'Listen, you shouldn't go up there. It's not for you.' He answered with a laugh: 'Don't be silly. The guys need a morale boost.'"
Fortunately, it was a quiet morning without shelling, and Haefrati got a lift with a water tanker driving up to the outpost - the furthest away and most dangerous of the IDF outposts in the enclave.
"Awful bunkers: Mice would be ashamed to live in such holes," Levy wrote in his diary. "One day, during some shelling, a bunch of guys were sitting in a bunker and suddenly there was a strange noise from the ceiling. They look up and see that the cement is cracked and the tip of a warhead is poking through ... It was a real miracle that it didn't explode."
Up to that point, no one at the outpost had been wounded, but the men were certain that their good fortune was running out.
When the tanker reached the outpost, Haefrati jumped out and started preparing for the first meeting. Did he have a chance to read the new short story by A.B. Yehoshua, "Missile Base 612"? It was published in the magazine Keshet that spring, and Yehoshua, who was inspired to write it by his own experiences as a roving lecturer on behalf of the IDF's Chief Education Officer, certainly would have found an attentive audience in his friend Haefrati.
"The land spread out before him, remote corners he'd never known. He skips over hills and desert, giving speeches to soldiers," Yehoshua wrote in the story. "A different kind of audience, not just another 10 philosophy students with metaphysics texts on their desks, waging tough battle with him over each word, but an abundance of young people ... who are assembled there by order and seated before him, and his words are like a cool breeze blowing on them. And they treat him with respect ... And when he shows any interest, they show him the new weapons, too ..."
"We were neighbors and became friends," says Yehoshua, describing his relationship with Haefrati, dating back to the winter of 1960 in Jerusalem, to the neighborhood between where the Israel Museum was being built and the Givat Ram campus of Hebrew University. At night, jackals howled in the rocky fields.
"Ruthie and Yossi moved in a few houses to the west of us, on Neve Sha'anan Street, a few months after Ika [Yehoshua's wife] and I moved there. From the very start, before we even spoke and before I knew who he was, I was quite taken with him. He was a handsome redhead, with a full head of hair and an endearing smile, and there was also something very basic in him that projected determination and fortitude. I remember seeing him every morning climbing the hill on his way to the university. We called him 'the shepherd.' One day, my wife comes home from [literature professor] Benjamin Hrushovski's class and says to me in admiration: 'That shepherd who lives near us speaks very slowly, but every word is a pearl of wisdom.'"
The next time the two men passed each other in the neighborhood, they chatted and a connection was forged. Thus, the next time the story "Missile Base 612" was published, in 1974 in the "Until Winter" collection, Yehoshua added: "For Yossi Haefrati, of blessed memory."
Natural leader
Haefrati was born Yosef Gurfinkel, in 1931 in Givatayim. He inherited his good looks from his father Simha, his love for books from his mother Shifra, and his pioneering Zionist ideals from the Hanoar Haoved youth movement in the Borochov neighborhood. Because of the outbreak the War of Independence, he did not finish his studies at the Tichon Hadash high school in Tel Aviv, and instead became a soldier at age 17. A year later, he went down to the Negev with his companions as part of a young kibbutz-settlement group, including Ruthie Shaudinisky from Haifa.
When the members of the group first learned where they were headed, they protested vigorously: They had been trained to fish in Lake Kinneret. Ground was broken for their new kibbutz in 1949 and before long, Mashabim was a well-established landmark in the Negev landscape. In the beginning, they lived in tents, and later five cabins were built. Water - for both drinking and bathing - came from a nearby village. Ruthie gained a reputation as something of a troublemaker, while Yossi stood out as one of the group's leaders. (In 1952, when Yitzhak Sadeh, one of the founders of the IDF, died, Mashabim was renamed Mashabei Sadeh.)
When issued a national identity card, he chose to change his name to Yosef Haefrati. He saw himself as a Hebrew, as part of the first generation of the Jewish revival. He collected pottery shards, hiked the length and breadth of the country and was proud that, together with Ruthie, he discovered the spring of Ein Mor in the Nahal Zin canyon, on the way to Ein Ovdat. They climbed to the cliff above it barefoot, with stakes they stuck in the rock. This was a secret spot, where they conducted the swearing-in ceremonies for the Youth Aliyah members who joined the kibbutz.
"Yossi would have been so happy to tell you all about this period, instead of me," says Ruthie today, in her home on Moshav Beit Halevy in the Sharon region.
The passion for learning was imbued in Haefrati by Gershon Shaked, when he was his teacher at the seminar for Youth Aliyah counselors. The literary scholar recognized the spark in him and prodded him to switch direction. In 1959, Yossi, Ruthie and their first-born child, Ofer, left Mashabei Sadeh. After a year on Kibbutz Gilad, they moved to Jerusalem where, at age 29, quite a bit older than most of the students around him, Haefrati began studying for a bachelor's degree in Hebrew literature at the Hebrew University.
Despite the 10-year age difference between him and the younger Menachem Perry, and despite the obvious contrast between the calm and measured Haefrati and the hurricane-like Perry, the two became fast friends as soon as they met in Hrushovski's class on "The Foundations of Lyric Poetry." Hrushovski, who changed his name to Harshav, was the mentor of a group that also included Boaz Arpeli, Meir Steinberg, Menachem Brinker, Hari Golomb and Itamar Even-Zohar.
"Right from the first year, he stood out for his remarkable talent,' says Prof. Perry, a scholar and editor, at his home in Neve Tzedek. "Yossi was the greatest reader of poetry I've ever met, and not just in Israel. He was gifted with an extraordinary sensitivity, with a unique and complex vision, and as a prominent poetry scholar, I can attest that most of what I absorbed in my life I learned from Yossi and not from my teachers. In his originality, he surpassed the world's top scholars. Yossi - and this was his great virtue - tasted the lines with his lips."
Perry will forever remember Haefrati as the "bright-eyed lad" - a phrase from Bialik's "The Scroll of Fire": "I can't remember him raising his voice even once. To me, he was like some sort of yogi. Whenever I got angry or worked up, Yossi was always the one who was able to calm me down. He was the wise and thoughtful one in the group, while the rest of us were the mischievous youths."
Together the two prepared a work on the poetry of Bialik, devoting an entire year to the 16 lines of one poem. When they'd exhausted Bialik, they delved into Tchernichovsky. The latter was the subject of Haefrati's doctoral dissertation, which was written at UCLA in 1970; for it, he was awarded the Leah Goldberg Prize for the Promotion of the Study of Hebrew Poetry.
When Haefrati and Perry were appointed as teaching assistants, they were perceived as "the angry young men" who had come to save the study of literature at the university from the hands of the old dinosaurs whose time was past. Not even Leah Goldberg, who was a much-revered professor who attracted hundreds to her lectures, was spared their critiques.
"In spite of the aura that surrounded her and the great admiration for her, we belittled her," Perry recalls today. "She seemed completely old-fashioned to us." Without much else to encourage them, "We consoled each other. We read endlessly. Material that a student today would take five years to get through, we read in a year."
'Inner quiet'
Haefrati's charm brought him a host of friends. His first child, Ofer, had bedtime stories read to him by the likes of Amos Oz, Reuven Kritz and Meir Wieseltier, a student of English and philosophy who met Haefrati through a mutual friend.
Wieseltier: "I was pretty lonely in Jerusalem then, so I was very glad to be invited to his home. The other thing that drew me there was the music. I had just a small radio and at Yossi's house you could listen to classical music records. We became close very quickly. The things that enchanted me about him were his calm, his inner quiet, his stability. The age difference didn't matter because he was just starting out as a student, just like the rest of us. He was concerned with how to support himself, too. There was nothing 'buttoned-up' about him. Just the opposite. Aside from the fact that he had a family, he was in the same developmental stage as we were."
When it came to literature, though, they did have their disagreements. "For example, Yossi was a great admirer of [Yehuda] Amichai, while I had stopped feeling that way," recalls Wieseltier. "And I found in him something conservative." They were also divided on the issue of theory versus practice. "Yossi was very taken with the notion of literature as a science, something he had no idea of when he was on the kibbutz. Suddenly, when he met Hrushovski, who by all accounts was a most impressive figure, a whole new world was revealed to him and he was carried away by it. Unlike him, I was wary of the perception of literature as a science, or at least of its aspiration to be considered as such."
"In the very lively and talented group that formed around Hrushovski, Yossi had the role of the peacemaker," says Prof. Menachem Brinker, an Israel Prize laureate in the study of literature. "He was the responsible one, the one who could forge compromises, the guy who cooled rivalries and arguments," although he was anything but mild-mannered in his approach to literature and poetry.
In late 1966, Hrushovski left Hebrew University and, in an act of defiance, established, along with his star acolytes, the Department of General Literature at Tel Aviv University. In 1971, Haefrati was appointed head of the department. His eye-opening articles were published in all the literary journals.
Perry also gives him credit for the publication of Yona Wallach's "Songs of the Insane Asylum": "When Yona came back after her hospitalization, she gave me 20 poems that are now considered her finest work. I was editing [the literary journal] Siman Kriah then, the deputy editor was Nissim Calderon, and according to a previous agreement, I was given veto power over any publication. I thought that the poems she brought us were great. Nissim maintained that they were terrible. We decided to go to an arbitrator and that he would decide. Since we both respected Yossi's opinion, I sent him the material so he could make a decision."
"These should be printed now," Haefrati said to Perry, and handed him half of the poems. "Leave the rest with me. I'll return them to you after the issue comes out," he said with a wink.
The first collection was published in May 1973 and was widely acclaimed. As promised, Haefrati then called Perry and gave him the remaining part of the collection.
"Tell Calderon that these are new poems you received from Yona. He's used to it by now and he won't say no," Haefrati told him. The second group of poems was published in Siman Kriah in May 1974, a month after Haefrati was killed.
Just before the '73-74 academic year, Haefrati asked to step down as head of the department, but wanted to continue as a senior lecturer and head of the Katz Institute for the Study of Hebrew Literature. At the same time, he began serving as head of the literature track at Beit Berl College. He was brimming with optimism as he prepared to embark on a new chapter in his career, and just a few days before he went to Tel Antar, he submitted the last pages of a paper that earned him, after his death, the rank of professor.
'The earth shook'
"You're lucky you arrived on a calm day," Captain Eitan Broshi, one of the 51st battalion company commanders, greeted Haefrati when he arrived at the enclave. They chatted a little, Broshi offered him a cup of coffee and he called over his deputy, First Lieutenant Simha Tau.
"I'm going up to the observation post," he told him. "Take the lecturer with you, the soldiers are already waiting for him."
In Bunker No. 2, a small group of fighters waited; for security reasons, it was decided that Haefrati would move from one bunker to another, and speak separately with small groups of soldiers from each of the platoons.
As Tau and Haefrati made their way to the first group, they passed Victor Roth, who as always was busy lifting weights. Squad commander Boaz Sapir was walking toward them, and remembers: "When I saw Simha with a civilian beside him, it looked odd." For Sapir, everything that happened from that moment on remains a black hole. "I don't remember a thing," he admits, straining to recall something.
From the loudspeaker in Bunker No. 2 came the announcement: "The visitor is on his way to you."
"Moments later," recounts Adi Nissim, who was among the troops there, "the earth shook. To be honest, when we were told that a professor was coming to see us, we didn't see what the good of it was. 'Pity anyone who comes here,' we said. Before Haefrati, a psychologist had been sent to Tel Antar, who talked about overcoming anxieties, about how to relax during shelling and what to do to be able to sleep in spite of the fear. While he was addressing us, the Syrians blasted us with mortar fire from the mountain and, believe me, the psychologist panicked. He ran away in the middle."
At the moment of the explosion near Bunker No. 2, the morning patrol was on its way back to the outpost and, "we suddenly heard a shell explode right on the Tel," Levy wrote in his journal. When they reached the outpost, the fighters leapt from their vehicles and Levy made a mad dash, zigzagging from one place of shelter to another.
"My heart sank, I didn't want to believe it," he wrote about the moment he came upon the two wounded men. 'The professor was torn to pieces ... It didn't look like he had any chance to live ... Simha, the deputy company commander, was moaning. I rushed down to the bunker, called the medic and went to evacuate the wounded. I didn't feel anything. Just a kind of emptiness."
As the rescuers were evacuating Tau, the shelling resumed. "The doctor started to treat him and I went out again to bring in the second wounded man," Levy continued in his description of the events. "There was no one to help me. One guy 'went into shock and took off,' another 'shouted and got hysterical.' Finally, Adi the medic and I managed to get the professor into the bunker, too." There wasn't much that could be done. Both men were gravely wounded. A rescue tank transported Haefrati and Tau to the rear, a helicopter flew them to Rambam Hospital, and a few hours later, word came that both had died."
When the messengers arrived at the house in Givatayim, Ofer Haefrati, who was then serving in the IDF Communications Corps, was on leave. At first, Ruthie thought the delegation that came in the door were there on his account, but then they told her to sit down. "I wasn't familiar with the procedures. It never occurred to me that Yossi wouldn't return," she says.
Not long after that, when they brought her his possessions, the bundle contained a slim, shrapnel-shredded book, found in his coat pocket. It was "The Sandman."
Frozen in mid-air
Shifra Haefrati, today a scriptwriter, was six years old when her father was killed; Ofer works in advertising and marketing; and their brother Guy is an industrial designer. Another brother, Michael, a musician and an IT specialist, runs an information security company.
"For many years, I was angry at my father for choosing to risk his life for such an idea, and to have used his connections to make it happen," Shifra says. "He wasn't there when I needed him, and he wasn't there to offer me help or give me advice. His absence is very palpable in my life, all the more so as I approach the age at which he was killed. I still conduct dialogues with him. When they came to give Mother the news, they trundled me and my little brother off to the neighbors and we didn't understand why. The next morning, my mom appeared, and just then Guy and I were jumping on the bed like it was a trampoline, when we heard her say, 'Children, I have some bad news to tell you. Daddy was killed.' According to my memory of it, we froze there in mid-air.
"We had had a very special bond because when Guy was born and my mother was very busy with him, I became Daddy's girl. He took me to kindergarten and picked me up. I don't remember what we talked about on the way, but those walks with him are something I remember as a wonderful time. The feeling I got from him when we walked along the path was that we had all the time in the world, even if that wasn't so. My father did everything in a nice, relaxed way. He made me laugh all the time. Up to when he was killed, I remember my childhood as a very pleasant time. But from that moment on, I became a girl whose father had been killed. I cried a lot, without being able to calm down. It took a long time until the intensity of it all started to fade a little. It wasn't just me. Each of my brothers, Ofer, Michael and Guy, took it hard in his own way."
Tel Antar exacted more victims. First Lieutenant Rami Zusman and Sergeant Reuven Brinenberg were killed on the night their company was going on leave. "Everything here is hard and scary and dangerous," Zusman wrote to his girlfriend before he was killed on May 14. "I'm tired of lying to Dad, Mom, my sister and friends that it's not dangerous at all here, that it's far from the places you see on TV and in all the military reports ... I need a rest. If I could just have a little quiet."
Two weeks later, three of the company's soldiers were killed by a shell that landed directly on the outpost.
On May 31, after Kissinger conducted a feverish round of shuttle diplomacy between Damascus and Jerusalem, the separation of forces agreement between Israel and Syria was signed in Geneva.
"That night, there was a real celebration," Levy concluded his diary. On both sides of the line, Syrian and Israeli troops fired into the air in joy. Israel withdrew from the enclave area. And the Golan Heights was quiet for the next 35 years.
ICYMI
Ken Burns' Brilliant 'The U.S. and the Holocaust' Has Only One Problem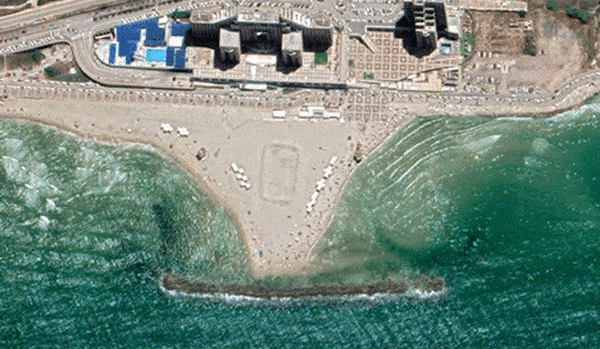 Facing Rapid Rise in Sea Levels, Israel Could Lose Large Parts of Its Coastline by 2050
As Israel Reins in Its Cyberarms Industry, an Ex-intel Officer Is Building a New Empire
How the Queen's Death Changes British Jewry's Most Distinctive Prayer
Chile Community Leaders 'Horrified' by Treatment of Israeli Envoy
Over 120 Countries, but Never Israel: Queen Elizabeth II's Unofficial Boycott