A Conversation With Susannah Heschel
Author of 'The Aryan Jesus,' a chilling study of the religious movement in Nazi Germany that tried to remove any elements of Judaism from the figure of Jesus
Susannah Heschel, professor of religion at Dartmouth College in New Hampshire, has published two books about the figure of Jesus in German theological thought. The first one, "Abraham Geiger and the Jewish Jesus" (1998), is about a 19th-century Jewish historian who wrote a controversial study of the Christian Messiah portraying him as a liberal, progressive Pharisee, no different from Hillel or other rabbis of the day.
Her newest book, "The Aryan Jesus: Christian Theologians and the Bible in Nazi Germany" (Princeton University Press, 339 pages, $29.95), looks at the popular school of thought among Protestant theologians in Germany in the 1930s and '40s that presented Jesus as an Aryan who sought the destruction of Judaism and fell victim to the Jews.
Heschel gained access to the archives of the Institute for the Study and Eradication of Jewish Influence on German Religious Life, which spearheaded this virulently anti-Semitic scholarly endeavor. Though concerned with different periods in modern history, both books grapple with Germany's profound, theologically based anti-Semitism. The members of the institute, which was shut down by local church officials in 1945, sought to create a synthesis of Christianity and National Socialism by removing the Hebrew Bible from the Christian canon and claiming that Jesus was not a Jew but an Aryan. They argued that Hitler was a messianic figure, fulfilling the goal of Jesus.
Heschel is also known for her publications on Jewish feminism, as well as for being the only child of the late Jewish thinker Abraham Joshua Heschel, who wrote on the prophets, on God and faith, and on the theology of the Talmud, but is also remembered for his involvement in the American civil-rights movement of the 1960s. Susannah Heschel spoke with Haaretz by phone from Boston, where she is on sabbatical from Dartmouth.
What drew you to study the way German theologians have looked at Jesus and the Jews, and what do you see as the connection between your two books?
At first I thought I would write my doctoral dissertation on Leo Baeck, but I came to realize that [Abraham] Geiger was the exciting and iconoclastic Jewish thinker about Christianity and its origins within Judaism. I kind of rediscovered Geiger. I knew his name, he was a household name during my childhood. I grew up surrounded by German-Jewish refugees, and I knew the names of all the great German philosophers, writers, and poets. In our home, no one ever talked about Hawthorne, or James Fenimore Cooper, or Melville.
I wrote on Geiger's work and its reception in Christian circles, where it was discussed extensively, though usually not positively. One exception was Adolf Hausrath, a professor at the University of Heidelberg and contemporary of Geiger's, who was always praising Geiger's scholarship and urging Christians to study it. Yet when Hausrath wrote a study of the Bible, he used denigrating stereotypes of Jews. For example, in discussing Abraham's argument with God to spare Sodom and Gomorrah, Hausrath writes that this was a typical example of Jewish "haggling."
I've always thought this extraordinary passage about Abraham was one of the most inspiring things I ever read, but he called it "haggling." It showed how, during the 19th century, the Hebrew Bible was the basis around which Christians created Jewish stereotypes.
Protestants were upset with Geiger's arguments that Jesus had said nothing new or original. He said Jesus was a rabbinic Pharisee. They said they were interested in finding the historical Jesus, his faith and teachings. But what do you do if you're looking for the historical Jesus, and he's Jewish? If his faith was Judaism, what's the basis of Christianity? This led to a crisis: How to differentiate Jesus from Judaism. Some turned to racial theory to find something unique about Jesus. Racial views were used to preserve his originality.
Did the institute members' absurd attempts to de-Judaize the Hebrew Bible, prove that Galileans were Aryans rather than Jews and rewrite the Ten Commandments and the Sermon on the Mount ever strike you as funny?
I don't think so. The first time that I went to Eisenach in Thuringia, in central Germany, which is where the institute was based, I was the first American, the first Jew and the first visitor to the church archives with a laptop. Everyone had told me that no archive remained and that I should give it up. But then I went to Eisenach, and there I was, holding these Nazi documents in my hands - and I broke out in hives. That never happened to me before, nor since. It was terrible.
I went back to that archive over and over again, until I gained full access to the materials I needed. And I went to archives all over Germany and everywhere I found traces of that institute. The work on the book was hard, and depressing. And I had to put it aside frequently. Otherwise, I would have drowned in the horror of it.
After the war, was there any soul-searching on the part of the churches that had been involved in this effort?
There was a widespread feeling in Germany that the Jews had "won." Everyone [in the world] was sorry for the Jews and mad at the Germans. So there was profound resentment. The crime itself was not called the "Holocaust" for a long time, so in much of what was written during the first 20 years - there were theologians who wrote their memoirs - they described it as a terrible era, using the passive voice. And many of the churchmen who had been in power during the Reich remained in power. They certainly weren't going to confess.
Do you have a theory about the origin of this intense, timeless Jew-hatred?
I'm not sure there is a single factor, but I do think that the relationship between Judaism and Christianity is unique among religions. One religion takes over scriptures of another religion and denies its validity. It's a type of theological colonialism. Christianity depends on Judaism for its central theological concepts. When Christians say "Jesus Christ," they are affirming Jesus as the Messiah, a Jewish concept. So when the institute tried to purge Christianity of everything Jewish, it struck me as a kind of "theological bulimia," a repetitive effort to purge oneself of the mother religion even while depending on it for legitimacy.
Were the churches afraid of Hitler?
My book calls that assumption into question. It seems as though Hitler was initially concerned about winning the support of the churches. By 1934, though, he saw he had their enthusiastic support and that they wouldn't be a source of moral opposition. In fact, many churchmen wanted to hobnob with top Nazi brass, and the brass wasn't interested. It's a bit like Kierkegaard writes, in "Diary of a Seducer": Once a man wins over a woman, he's no longer interested in her. Hitler wasn't interested. If you asked a church official, "Is the church persecuting you?" in 1936, they would have said, "Indeed, yes, the Nazi party is making us take the swastika off the altar."
In fact, Hitler established a separation of church and state. Crucifixes were removed from classrooms in Bavaria. Christians found that upsetting. But is that persecution? Hitler didn't want a rival in the form of a church leader. Yet there were no church leaders who were in a hot and heavy opposition. If anything, Hitler saw the Aryan Jesus arguments as supporting his anti-Semitism.
What about opponents to the regime from within the church?
Dietrich Bonhoffer [of the Confessing Christian church, who was one of those involved in the Abwehr plot to kill Hitler] wasn't so interested in Jews in the early years, but he went to the United States, where he studied at Union Theological Seminary, and he traveled around Harlem, which gave him a strong awareness of the dangers of racism. He returned to Germany voluntarily and he tried, unsuccessfully, to get his colleagues in the Confessing Church to sign a statement in support of Jews, but very few would. Bonhoffer was killed in the spring of '45 in a concentration camp.
How are you and your work received in Germany?
It's changed over time. I would say that overall better, but there are some problems. I received an honorary degree last spring from a Protestant seminary in Bavaria, and that was impressive, especially as Bavaria is generally conservative. At the same time, there are people who are not happy with this - for example, at the University of Jena, which I write about in the book. There was a new rector who decided to celebrate the university's anniversary by publishing a volume about what happened to the university during the Third Reich. He put several serious historians in charge of the volume, and they went around to each department and asked them to write up what happened in the department during the Reich. The only department to refuse was the theology department - so the historians asked me to write it. I was happy to do it, and my chapter appeared in the volume. The theologians were so upset that they organized a year-long lecture series on their history that was highly apologetic, and they didn't invite me to participate.
You know, I started going to Germany in the 1980s. I realized that some of the anti-Semitic arguments I heard in the '80s came straight out of the Nazi period. And I realized that it's because those teachers were educated by professors who themselves had come of age during the Reich, and who continued teaching after the war.
So, what are you doing on a two-year sabbatical?
I got a grant from Carnegie Corporation to write a book about the history of Jewish scholarship on Islam. You know that many of the great scholars of Islam during the past two centuries were Jews, starting with the same Abraham Geiger, in his 1833 book, "What Did Muhammad Borrow from Judaism?" which was widely praised in Europe. Geiger's book demonstrated rabbinic and midrashic influences on the Koran and inaugurated a new approach to the history of Islam, placing it within the context of Judaism. The field of Islamic studies attracted large numbers of Jewish scholars, and my book will examine the fascination Jews had with Islam and its monotheism, rejection of anthropomorphism and system of religious law. My question is how their image of Islam affected German Jews' understanding of Judaism and Jewish history, inspiring them to write, for instance, about the Golden Age of Muslim Spain.
ICYMI
Ken Burns' Brilliant 'The U.S. and the Holocaust' Has Only One Problem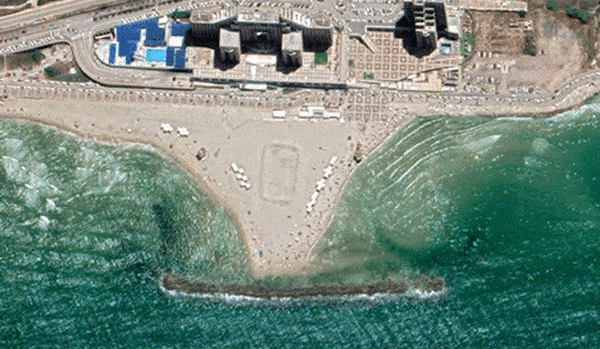 Facing Rapid Rise in Sea Levels, Israel Could Lose Large Parts of Its Coastline by 2050
As Israel Reins in Its Cyberarms Industry, an Ex-intel Officer Is Building a New Empire
How the Queen's Death Changes British Jewry's Most Distinctive Prayer
Chile Community Leaders 'Horrified' by Treatment of Israeli Envoy
Over 120 Countries, but Never Israel: Queen Elizabeth II's Unofficial Boycott