Artistic Anomaly
There's something confusing during the conversation with French artist Marie-Ange Guilleminot.
There's something confusing during the conversation with French artist Marie-Ange Guilleminot, 48, who is visiting Israel in conjunction with her participation in an exhibition called "Insomnia," now on at the Petah Tikva Museum. Almost every attempt to situate her art in a specific category is rebuffed. But it's hard to be discouraged by her attempts at evasion, since she is one of the most likable artists I've ever met. She is pleasant to talk to, answers every question thoughtfully and laughs a lot.
Still. One might expect that an artist who has created many works from feminine objects, such as the backpacks constructed from pantyhose that she presented at the Venice Biennale some years ago, would respond positively when asked if her work is inspired by a feminist awareness. "No, that has nothing to do with it," is her surprising answer. "Aside from the fact that I'm a woman." Asked if she's an installation artist - she is frequently said to be one of the world's most prominent installation artists - she replies: "I don't define my work as installations. I leave it to the audience to define it. To me, there's no difference between art and life. It's the same thing."
Guilleminot talks about the difficulties facing the contemporary artist, who often lives a nomadic life of wandering from city to city, country to country, exhibition to exhibition. But no one is more prepared than she for such endless wandering: A large portion of the objects she creates are suited to a life in motion. Besides the tights that morphed into a backpack, she has also created a shawl that can open up into a giant tent, and claims the only thing she keeps in her Paris studio is a suitcase.
The difficulty inherent in wandering is also the motivation for her film "White Night," now on display at the Petah Tikva exhibition. In 1995, she was invited to show her work in Bilbao, Spain. Unable to sleep, she put on a bright white cloak (displayed at the exhibition near where the film is being shown) in which she looks like a ghost, and left her hotel to wander aimlessly around the streets of the unfamiliar city. After a few days of roaming around in a daze, she decided to get a cameraman to follow her. The film conveys a strong sense of disorientation, of searching and anxiety. She moves from place to place at a rapid speed. It's not clear if she's running away from something or toward a certain place. The strange city is revealed from a completely different point of view than that of a typical tourist.
"The mood, the anxiety and the inability to sleep characterize for her the condition of the artist, who is often compelled to travel in the wake of his works to strange cities around the world and left marooned in his hotel room with a sensation of disconnectedness, foreignness and alienation," according to the text at the exhibition. "The artist attests that she is someone gripped with anxiety and restlessness before traveling to foreign cities and in general. She often sees these travels as a disruptive element that cuts her off and detaches her from her work and her natural place."
So why keep on traveling?
Guilleminot: "If you're an artist, your work is important to you, and the invitation to come exhibit allows you to continually expose it. This situation also makes freedom possible. Yes, I was born in France and live there, but I operate in a wide-open space. The objects that I make, which you call 'objects for wandering,' allow me to carry my life with me. They allow me to feel at home anywhere, be it Japan or Israel." (The artist also has a strong tie with Israel for personal reasons: For many years she was the partner of Absalon, an Israeli-born French artist, who died in 1993.)
But the movie is about how hard it is.
"I'd like to continue, but I don't have the energy anymore. Now I'm starting to think about a house, something to build. I'd love to have a magic carpet because there's something very important about these journeys that enable you to be in touch, in contact, with people."
The need for contact with the viewer is one of the things that make Guilleminot's work unique. This isn't virtual contact, which is often the case when people talk about contemporary art that is meant to "bring the audience closer, to bring the art to the street," but actual physical contact.
In 1994, Guilleminot took part in the ArtFocus events held at the new central bus station in Tel Aviv (curated by Sarit Shapira). She presented a work called "Gestures," in which viewers were invited to touch her two hands, which reached out through the walls of a chamber in which she sat. Three years later, in a sculpture project in Muenster, Germany, she built a modular structure out of wood. Critics were invited to stick their legs through openings in the structure and get a massage.
"I want this contact, we need this contact," she explains. "When I came to Israel I didn't know what I was going to present. The moment I decided to put out my hands, to make this gesture, it was a call to people to come, to touch, to play. It's about life, because we're so isolated, really. People obviously enjoyed the contact, but it's not a massage. It's more a matter of trusting the other."
And does this connection that you offer change something?
"I see it more as a gesture."
The work that Guilleminot presented in Muenster is reminiscent of a 1968 work by the American feminist artist Valie Export, who built a wooden box around her chest, made two holes in it and invited people to put their hands in and touch. Her work was supposed to reflect an invasive, violent action toward woman, while Guilleminot relates more to woman as caregiver and healer.
"I can't say that my works are in a feminist context," Guilleminot says. "There's no connection between my works and my gender apart from the fact that I'm a woman."
That sounds a little odd. It's hard for me to believe that a man would create a work like this.
"I think he would, but he might not exhibit it."
One of her most famous projects, "Hiroshima Collection," is indeed based on connection - with the victims of the atom bomb and their families. It began with an encounter with a book by a Japanese photographer, Hiromi Tsuchida, showing pictures of the clothing of 24 bombing victims that he found in the Hiroshima Museum (out of approximately 8,000 items of clothing stored there). Guilleminot chose to reconstruct the clothing worn by seven of the victims, and to this end she got in touch with the families. The clothes she has created are all colorless ("This is definitely not white," she explains. "I connect it with the blindness that occurred as a result of the bombing"), to create a sort of unity. They are all made of the same fabric and are of the same texture as the originals. The pieces take different forms: Bermuda shorts, a dress, a kimono. The different sizes seemingly reveal the ages of those who wore the clothes. For example, the dress looks like it would have belonged to a young girl, but Guilleminot points out that these are not children's clothes: "Body sizes changed in Japan within a short time. The new generation is much taller than the previous generation."
In this project, too, Guilleminot employs a "feminine" activity - taking measurements and constructing a piece of clothing - along with therapeutic activity, which she says is a way of personally caring for the victims: Via a specific piece of clothing and the particular victim who has a name, she reconstructs not only how the person dressed, but also, and primarily, memory.
This project, which she has continued to develop in various forms over the past 10 years, began purely by chance, like most of her work: "I happened to meet a Japanese curator who suggested that I participate in an exhibition at the museum and that's how I ended up doing this," she says.
After that exhibition ended, her project continued: When Guilleminot went to the annual memorial ceremony for the Hiroshima bombing, she wore one of the pieces of victims clothing that she had recreated, to help her get a feel of what it was like to be there ("I was sure I'd stick out in the white clothing, but when I got there it turned out that everyone was wearing white"). A French artist she knew happened to be there, too. Without her knowledge, he photographed her standing there in the crowd, and a few days later he showed her the picture, ultimately used on the cover of her book.
To her, the importance of the act was manifested by something else entirely: "A Japanese man came up to me, very elderly, wanting to take a picture of me. I consented. We didn't speak. Then he left and for me, this was the real importance of the event, the encounter with this man's gaze and the image that he took with him.
"Ninety percent of my works are actually without photography or recording," she adds. "The moment you start to plan a work, you destroy it. What happens is always speculative, because that's how life is. We can never know anything. We can only discover it by chance. It's a feeling of freedom. For me, there is no defined space."
In the late 1990s, Guilleminot was considered the leading representative of the new generation of artists in France, but in recent years she seems to have faded somewhat from the center of artistic discourse. It seems that her interest in ongoing projects and her emphasis on process are not sufficiently interactive, in an age in which consumers are seeking objects and art is focused on producing them. Guilleminot produces objects, too, but hers are devoid of concrete value, like the backpack made of pantyhose that can be easily recreated.
"I feel a little on the outside," she confirms. "But I'd rather exist in this strange, different way, than be like everyone else. I don't look at what's being done around me. My work deals with the 'other'; I try not to be dependent on the art world. For me, the art world is not a family or a group that I need to be a part of. I see this connection more as a link. What I do is not art, it's not just art. The connections I make are beyond art, they're with life."
ICYMI
Ken Burns' Brilliant 'The U.S. and the Holocaust' Has Only One Problem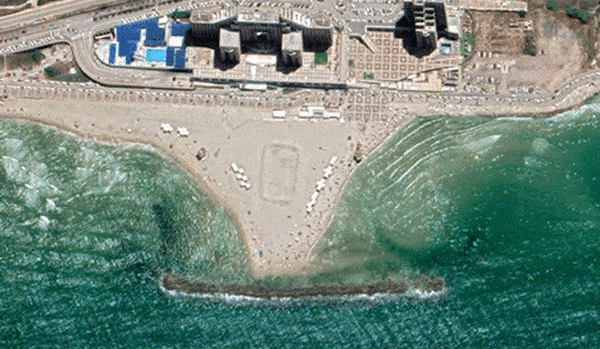 Facing Rapid Rise in Sea Levels, Israel Could Lose Large Parts of Its Coastline by 2050
As Israel Reins in Its Cyberarms Industry, an Ex-intel Officer Is Building a New Empire
How the Queen's Death Changes British Jewry's Most Distinctive Prayer
Chile Community Leaders 'Horrified' by Treatment of Israeli Envoy
Over 120 Countries, but Never Israel: Queen Elizabeth II's Unofficial Boycott