Portion of the Week On God and Human Morality
The story of Lot's incestuous relations with his two daughters becomes known in the region of Abraham's residence and he cannot bear the shame.
After living in the plain of Mamre in Hebron for a quarter of a century, Abraham moves to the Negev, in the southern part of Canaan. Although the Bible does not tell us the reason for this move, Rashi offers an explanation: "He was embarrassed by Lot's actions." The story of Lot's incestuous relations with his two daughters becomes known in the region of Abraham's residence and he cannot bear the shame. On moving to his new home, Abraham engages in an act of disinformation, telling the local residents that Sarah is not his wife: "And Abraham said of Sarah his wife, She is my sister: and Abimelech king of Gerar sent, and took Sarah" (Genesis 20:2).
That night, God comes to Abimelech in a dream and warns him not to touch Abraham's wife; Abimelech is terrified and turns to God with the challenge: "Lord, wilt thou slay also a righteous nation?" (Gen. 20:4). His words recall what Abraham said to God on hearing that Sodom would be destroyed: "Wilt thou also destroy the righteous with the wicked?" (Gen. 18:23). The exclamations of these two individuals express a moral sensitivity that unites them, turning them into allies.
The next morning, Abimelech summons Abraham and rebukes him: "And Abimelech said unto Abraham, What sawest thou, that thou hast done this thing? And Abraham said, Because I thought, Surely the fear of God is not in this place; and they will slay me for my wife's sake" (Gen. 20:10-11).
This is a painful narrative, for we see Abraham deceiving the residents of the Negev and causing them to sin. However, he is wrong to assume that Canaan's southern residents are not God-fearing people. In explaining Abraham's error, Nahmanides writes in his commentary: "Abraham replied, 'I did not know the nature of your nation and I thought that there was no fear of God here, because the fear of God is absent in most places on earth. When I leave my land and travel among foreign nations as a nomad, I can never know the character of the land I am entering and that is why I have asked Sarah to present herself as my sister wherever we go.'"
Abraham's actions here are a replay of what he did when he and his wife traveled to Egypt. Before entering that land, he presents Sarah with the following request: "Say, I pray thee, thou art my sister: that it may be well with me for thy sake; and my soul shall live because of thee" (Gen. 12:13). The couple moves to Egypt because of a drought in the Holy Land. Relying on the plentiful water of the Nile, Egypt does not suffer from this drought and considers itself invulnerable.
In such a land of abundance, there is no room for fear of God. The meaning of "fear of God" is that human beings recognize their mortality and their limitations. In Egypt under the Pharaohs, there is no fear of God because its residents trust in the water of the Nile. That is why Abraham, on entering Egypt, adopts this ruse; otherwise, the Egyptians, who have no fear of God, would have killed him and taken his beautiful wife.
Having been burned by this experience, Abraham acts in a similar fashion when the couple moves to the Negev; however, he errs because he does not realize that here, in the southern portion of Canaan, the residents, like those in the rest of Canaan, are keenly aware of how dependent they are on God. As we can see from the Book of Genesis, the residents of the Negev are in a constant search for water. Because of their recognition of God's dominion, they are able to suppress the natural human instinct of violence and to behave in a moral manner.
A very different response of a society lacking water resources is demonstrated on the other side of the Jordan River, in the land of Ammon, where the worship of the god Molech develops. That form of idolatry expresses the utter dependence of human beings on God, but in a horrible fashion: The residents articulate their sense of dependence on and their utter devotion to their god by sacrificing their children to Molech and burning them to death. Jewish society in the First Temple period succumbed to this form of idolatry as well.
Against this background, we can understand the story of the Binding of Isaac, which contains echoes of words and phrases appearing in the previous narrative concerning Abimelech. A striking example is the occurrence of the root heit-sin-khaf. God informs Abimelech: "... for I also withheld [ekhsokh] thee from sinning against me" (Gen. 20:6), while God tells Abraham, "seeing thou hast not withheld [khasakhta] thy son, thine only son from me" (Gen. 22:12). The Torah is leading us from Abimelech's instinctive fear of God - expressed in his exclamation, "Lord, wilt thou slay also a righteous nation?" - to Abraham's more developed fear of God: Although Abraham is totally devoted to God, he is not estranged from the natural human code of morality.
The story of the Binding of Isaac presents the terrible tension between total obedience to God's commands and parents' total devotion to their children. When he orders Abraham not to sacrifice his son after all, God is teaching all of us that he does not want us to sacrifice our children, in the manner of the worshipers of Molech. We must combine our devotion to God and our obedience of the natural human moral code. The phrase "Her ways are ways of pleasantness, and all her paths are peace" (Proverbs 3:17) is not just a fine principle: It is a firm law that has penetrated every corner of Jewish life, which combines compliance with God's laws and compliance with the natural human moral code.
ICYMI
Ken Burns' Brilliant 'The U.S. and the Holocaust' Has Only One Problem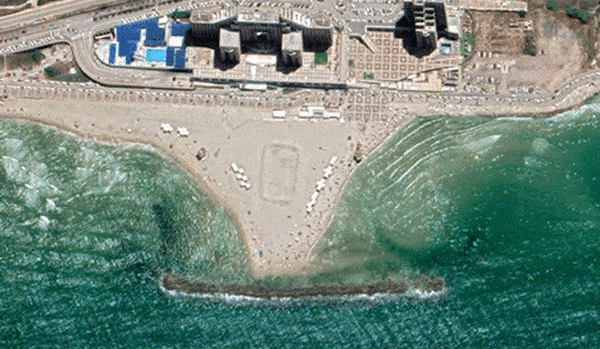 Facing Rapid Rise in Sea Levels, Israel Could Lose Large Parts of Its Coastline by 2050
Lapid to Haaretz: 'I Have Learned to Respect the Left'
The Mossad's Fateful 48 Hours Before the Yom Kippur War
As Israel Reins in Its Cyberarms Industry, an Ex-intel Officer Is Building a New Empire
How the Queen's Death Changes British Jewry's Most Distinctive Prayer