Like Finding a Long-lost Relative
An exhibition at Tefen's Open Museum allows visitors to experience all three stages that constitute an individual's connection to art, according to collector-curator Benno Kalev
A friend who is not necessarily an art lover accompanied me to the exhibition "Near and Apparent, Connections and Contexts - A Selection from the Benno Kalev Collection" at the Open Museum in Tefen. After spending a few minutes looking at Ya'acov Dorchin's sculpture "Iron" - a rusted piece of metal in the shape of a rectangle, eaten away on the rear side - she said: "This is breathtaking. He has something of the earth, this man. Like that feeling of the need to smell the soil and eat it. As a girl I would run into the field to smell and to eat, that's what this reminds me of."
A painting by Moshe Gershuni also excited her. The narrow, illuminated slit at the end of a gloomy black abstraction reminded her of the feeling of suffocation and anxiety that a person experiences inside a cave. "Have you ever felt imprisoned in a cave, unable to breathe? And suddenly you get to the light at the end, showing the way out? If only you can reach it, everything will be all right. That's in this painting," she said.
Benno Kalev, without a doubt would like my friend. He has often compared looking at art to falling in love. In his terms, she would have successfully passed the stage of "going through the emotional experience" - the first of the three stages that, according to Kalev, constitute the connection to a work of art. It is followed by "the stage of the intellectual experience," that is to say, learning. And the third is a "stage of personal conclusions."
Visitors to this exhibition, which is on until the end of the year, have the chance to experience all three stages. Curated by Kalev himself, the show is comprised of 126 of his collected works. It reveals the connections and contexts experienced by veteran and young artists and between abstract and figurative art, which gives rise to a general lexicon of forms and images not connected to one generation or another or to one genre or another, but rather to Israeli art in its entirety.
Wisely, Kalev does not allow the viewer to establish an immediate connection between the artist and the work. The works on display are not accompanied by any texts, evoking a momentary suspicion that this exhibition - like the tricky sort of show that Andrew Renton recently curated at Tel Aviv's Helena Rubinstein Pavilion - could give rise to a lot of confusion, causing the visitors to feel cheated.
But this is not the case. A short text explains that one need only look down at the floor, where the artists' names can be found. This break in viewing serves an important function: It frees the viewer a bit, allowing him to experience works before cataloging and arranging everything into familiar patterns: "Ah, here's Rafi Lavie, this is Aviva Uri, we can move on." It is at this moment that the learning process begins.
Pairing off
One of the outstanding features of this exhibition is the way it points out the reincarnations of an image, a shape or an idea, from one artist to another. For example, next to Dorchin's sculpture "Iron" hangs a drawing by Arieh Aroch. The two works feature shapes that are remarkably similar to each other. Was Dorchin directly influenced by this particular drawing or by Aroch's work in general, or did the shape he chose seep into his work unconsciously?
The fascinating connections between works by different artists are evident throughout the exhibition, forming its central theme. Next to a wonderful late-1980s painting by Gabi Klezmer, depicting a falling man, hangs a painting done in 2004 of a man who also is plummeting, by Shai Zurim. Next to an intense and very dark drawing by Tal Matzliah from 1995, showing two round faces, hangs a watercolor by Philip Rantzer, also depicting two faces. Another successful pairing is a 1990 photo by Michal Heiman, entitled "Woman, A Self-Portrait," in which she is seen holding her head in her hands, alongside a painting by Hillel Roman, from 2004, in which a seated figure holds its head in its hands. Another excellent duo is the collage by Yair Garbuz with a picture of Henry Schlezniak from 2003, next to a drawing of Schlezniak, done from the same photo, which Jossef Krispel drew five years later.
Another Garbuz painting hangs at the exhibition's entry, on a beautiful wall that is an homage to Aroch's "Red Table." Next to it hangs a work by Ido Bar-El, from 1998, and adjacent to that is the work surface from a schoolroom desk, found by Philip Rantzer, whose underside is covered with dozens of pieces of chewing gum. Finally, there is a picture by Rafi Lavie, painted at Kalev's request ("I told Rafi that I wanted to commission a work from him," Kalev is quoted in the catalog. "Rafi smiled, said 'Medici, eh?' and asked: 'Nu, what do you want?' I replied: 'A long table in a long, narrow rectangular format, about like this.'")
None of the groupings involve any copying. At times, the reference to the other work is a conscious quote - as in Bar-El and Garbuz's homages to Aroch - but in most cases Kalev reveals implicit influences, or a shared cultural reservoir of images that recur in the works without the artist knowing about its existence in a colleague's work.
This is exactly Kalev's focus in collecting works: the connections. "I go to the young artist with the aim of extending the chain of artists I collect," he says in the catalog. "Each extension opens a new window and joins the image of a veteran artist who is already part of the collection. I don't know in advance what will happen in the future, but I create the opportunity for the new work to connect with a work that is already in the collection."
"Seeing a work of yours with Benno always means discovering new relatives," says Gil Weinstein in the catalog. "Benno is sort of the 'Diaspora Museum' of Israeli art or, if you will, the 'Bureau for Missing Relatives.'"
And while on the subject of learning, this exhibit also succeeded in clarifying to my friend something about Rafi Lavie, many of whose works feature in Kalev's collection and whom she really does not like. "I have to say that in this context," she said of all the works displayed here, for example Yocheved Weinfeld's 'Collage' of the joint work by Yona Wallach and Ofra Cymbalista, "I understand his importance, his contribution to the possibility of creating art that is different, challenging, unique and not tailored. Many artists here have taken this to very interesting places."
ICYMI
Ken Burns' Brilliant 'The U.S. and the Holocaust' Has Only One Problem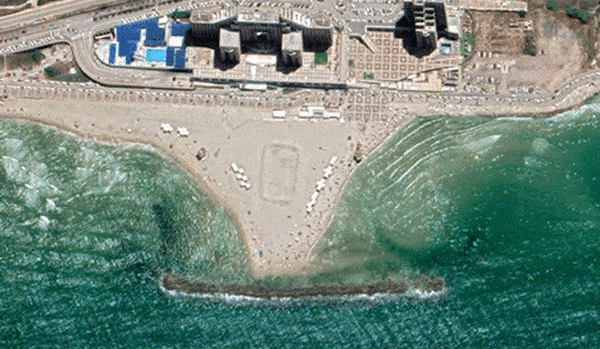 Facing Rapid Rise in Sea Levels, Israel Could Lose Large Parts of Its Coastline by 2050
Lapid to Haaretz: 'I Have Learned to Respect the Left'
The Mossad's Fateful 48 Hours Before the Yom Kippur War
As Israel Reins in Its Cyberarms Industry, an Ex-intel Officer Is Building a New Empire
How the Queen's Death Changes British Jewry's Most Distinctive Prayer