The Art of Art Collecting
Stories of artwork sold at public auctions for mind-boggling sums, interviews with tycoons who boast about their art collections, the steep price tags on the work of young artists in commercial art galleries - all these have contributed to the widespread notion that only the superrich can be art collectors. Not so.
Art can be purchased for less at events like "Open Studio," for instance, where artists recently opened their South Tel Aviv studios to the public. The hosts included Yuval Caspi, Dana Yoeli, Yehudit Raviv, Yoav Weiss, Tirza Freund, Uriel Miron, Devora Morag and Moshe Gershon.
Most of the participants in such events are talented young artists who are not represented by galleries, so their prices are not exorbitant. With a little searching, one can pick up some fine artwork for $500 to $1,000. In this price range, we are usually talking about small works on paper by young artists rather than oil paintings by renowned painters, but someone with a good eye can find worthy art that may even be worth something someday. Quite a few paintings that originally were bought for a few hundred dollars from artists at the start of their careers are worth thousands today.
From talks with curators, artists, gallery owners and collectors, it turns out there are many places where art can be purchased at reasonable prices, from small galleries like Tova Osman and group shows in alternative art spaces, to public auctions by small auction houses like Shorashim and Tirosh. Auctions sponsored by charity organizations like Elem or Ma'an are an excellent opportunity to buy work by artists who have already made a name for themselves.
Even at commercial galleries and major auction houses, where prices can run into the thousands of dollars, payments can be made in installments. "When you go into a gallery in Tel Aviv, there isn't such a thing as leaving without the picture you want," says gallery owner Naomi Givon. "Worst comes to worst, you pay it off in 12 installments of $500 a month. But that way, you can buy a $6,000 painting every year."
Little by little, through hunting, legwork, personal meetings with artists and constant learning - small art collections like those of Oded Shatil and David Glassman have been assembled, and even famous collections like Benno Calev's. We are not talking about business magnates like Doron Sabag, the Udi brothers, Avi Angel or Igal Ahouvi, who buy expensive pieces, store them in international warehouses and employ curators and art directors to handle them. Lack of capital has produced another kind of collector - modest, devoted and much less flamboyant.
Calev, Shatil and Glassman share a grand passion for art (some would call it an obsession), great confidence in their own taste, knowledge acquired over time, enormous commitment to the art world, close contact with artists and a willingness to spend endless hours on their hobby - reading, making the rounds of galleries, attending auctions, visiting artists' studios and keeping abreast of developments via the Internet. Talking to the three of them sheds light on how art lovers with average salaries can start a collection.
Benno Calev, born in 1938, is far from a classic art patron, but he owns one of the most important and unique collections of Israeli art. As the financial manager of the Moriah hotel chain, he has been a salaried worker all his life. He bought his first work of art - a painting by Jacob Steinhardt that he paid for in installments - when he was a student, and he has not stopped since. Quite a few of his acquisitions have been incorporated in the exhibits he curates.
Oded Shatil, 52, also works for the Moriah hotel chain ("When I was on the switchboard, Benno was already the chief accountant," he says with a smile). He discovered the art world relatively late in life. His first encounter was in New York in the early 1990s, on a gallery tour. "I came across some photographs of Jeff Koons with Cicciolina and that was all I needed. I said to myself 'Wow, art is cheap. You can be a culture consumer and it doesn't even cost a lot.'"
His first acquisition was a painting by Gilad Kedar at a kibbutz gallery. "They pretty much pushed me into it," he says. "They asked me how much I was willing to pay, I tossed off a figure - a couple of hundred dollars - and a few days later they called to tell me it was mine." In the eight years since then, he has acquired more than 200 pieces. Most cost him $200 to $500 apiece ("Some artists say: Make me an offer and you can have it").
David Glassman, 45, a married father of two who works in high-tech marketing and sales, has a different story. He was born in South Africa in a home filled with art.
"When my parents were young, art was affordable and they bought at art fairs," he says. The walls of his home in Jerusalem are also covered with paintings. He made the shift from looking at art in galleries and museums to buying art in the mid-1980s. Glassman was in his twenties at the time, a student and an El Al flight attendant.
He bought his first paintings from Jerusalem artists Jacob Pins and Ivan Schnabel. Later, he began to attend auctions, mainly at the Gordon Gallery. There he purchased a drawing by Leah Nikel (hanging in the foyer of his home) and a small work on paper by Moshe Kupferman, for $500 apiece. He spent $1,000 on a large painting by Michael Druk that hangs in his bedroom.
"Art collecting starts with the question of what you want to collect," says Calev. "When you start, the collection is eclectic, and it's hard to know. A person doesn't get up in the morning and say: 'Starting today, I'm an art collector.' Something has to win you over, and in order for that to happen, you have to see a lot."
What qualities do you need to be a collector?
"Determination and Sisyphean persistence. Collecting involves years of hard work with people always trying to break your spirit. I can't forget how I bought this amazing Aviva Uri drawing at an auction. I showed it to a gallery owner and she said: 'She deserves to have her hands broken. Where does she get the nerve to sell half-finished work like that?' I had just spent a good $200 on it and this so-called authority comes around and sticks a pin in all my excitement. The artists themselves can ruin things. I bought a painting by Rafi Lavie and I was so proud of it. So what does he say to me? 'Benno, come on. I wasn't even an artist back then.' You have to be tough and not listen to anyone."
Calev divides the act of purchasing art into three stages - falling in love ("the moment you find a painting that does something to you emotionally"), gathering information about the artist, and finally "grabbing the reins and reaching a conclusion based on everything you've heard."
What do you think about all these art consultants who have popped up in the last few years, who give collectors advice? Do they get in the way?
"On the contrary, some people need to know in advance what the artist wanted to say in order to enjoy a monumental work of art. Such consultants can help them. Without them, these people might not even go near a work of art."
Glassman and Shatil have developed their own taste over the years and do not use intermediaries. Much of their pleasure derives from meeting the artists personally and discovering their work. Shatil has become close friends with artists whose work he has purchased, and Glassman also tries to forge a personal relationship with the artist.
The story of how Glassman met the painter Aharon Messeg is a good example.
"A couple of years ago, when my wife Hadas and I were in the north, we popped in to the print workshop at Kibbutz Cabri," he says. "We saw Messeg's work and asked for his phone number. We called him and there was no answer so we decided to drive over to Clil, where he lives, and look him up. We went from house to house until we found him. We knocked on the door and introduced ourselves. We sat with him and his wife for 12 hours, and only left at 2:30 A.M. The next day, we came back and bought a painting."
Art collecting also involves nearly daily sacrifice - in terms of the amount of time one devotes to the hobby, and in terms of lifestyle. To manage his unique collection, Calev rented a studio in the Tel Aviv industrial zone next to the artists he loves, and he spends much of his time there. He stores many of his artworks there, catalogues them, conducts research, reads, curates exhibits, borrows paintings for shows and meets with anyone interested in talking to him about art and art collecting.
Glassman says that making art collecting his priority dictates sacrifice: "I have a pretty large collection because my top priority is buying art," he says. "I don't buy myself clothes and I don't have a car. I have friends who will spend NIS 1,000 on a meal at a fancy restaurant. We rarely go out to eat, and when we do, we never spend that kind of money. Some people like to spend three days at a B&B with their family. I go to galleries."
So collecting comes at the expense of the family?
"I wouldn't say that, but we travel only once a year."
Shatil says he does not have a car either, and does not spend a lot on clothes. Neither does he have a monthly budget set aside for buying art. His purchases depend on the state of his bank account. "When I have money, I buy. On average, I spend NIS 1,500 to 2,000 a month," he says.
Three years ago, he left his job at a convention management firm and began working as a manager at the Rosenfeld Gallery in Tel Aviv, to be as close as possible to his hobby. The salary is lower, but he thinks the move was worth it.
"I enjoy working among people I am interested in talking to," he says.
Hunting for work by well-known artists with an affordable price tag also takes up a large block of time. Glassman, who owns more than 300 paintings (half of which hang on the walls of his home and half of which are under the bed), is a pro at finding such bargains. Recently, he bought a piece by Ido Bar-el - a painting on a drawer - for $800. He picked up a drawing by Chen Shish for $250 at an auction in New York ("At the Segev Gallery in Tel Aviv, the prices start at $1,000").
"Sometimes you can buy art for the price of a cheap pair of shoes," says Glassman. "I bought a piece by Jake and Dinos Chapman for NIS 180." A few months ago, a drawing on a postcard by the British brothers was part of a display of anonymous postcards at the Fresh Paint art fair in Tel Aviv. The names of the artists were written on the back, and the buyer only found out who made the work after purchasing it. Somehow, it is not surprising that the most sought-after postcard at the fair, whose authorship many tried to guess, went to Glassman (he credits his 6-year-old son for choosing it; the work is now hanging in his children's bedroom). Glassman, by the way, bought 15 different works at the fair, and came away with quite a nice haul: Roee Rozen, Yoav Efrati, Karen Russo, Assaf Rahat, Eldar Farber, Maya Zak, Ido Bar-el and Smadar Eliasaf, among others.
Glassman recommends eBay as a bargain corner. Recently, he bought several pieces by Damien Hirst ("I'm crazy about him. Not as an artist but as a businessman"): a signed CD cover he designed ($25), an item in an unsigned numbered series ($200), and a signed photograph of the artist at age 16, for several hundred dollars ("It was offered for $2,000 to $4,000 at an auction," he says).
Glassman, incidentally, is the only one of these three collectors who speaks of art as an investment. Lately, he has even purchased artwork in order to resell it for a profit.
Bargains aside, there is always one work on which these collectors are prepared to spend what they consider a fortune. Glassman was prepared to open his wallet for a landscape painting by Daniel Elnekaveh, which he bought for $3,450 at an auction at the Dvir Gallery.
"I've been on the lookout for his work for a long time," he says. "It's the most expensive piece of art I have ever bought."
Not long ago, Shatil bought an oil painting by Moshe Gershuni at an auction sponsored by Golkonda Gallery at Bayit Banamal. He offered NIS 3,800 for it - the highest price he has ever paid for a painting. Which brings us to the greatest problem facing collectors with small budgets.
"There are a lot of black holes in my collection," says Calev. "Not because I didn't appreciate a certain artist enough, but because I couldn't afford his work. I was crazy about Arieh Aroch, but I couldn't get near anything he did. The same is true for Michal Neeman. When Rafi Lavie was selling paintings for $1,000, she was already selling for $5,000."
ICYMI
Ken Burns' Brilliant 'The U.S. and the Holocaust' Has Only One Problem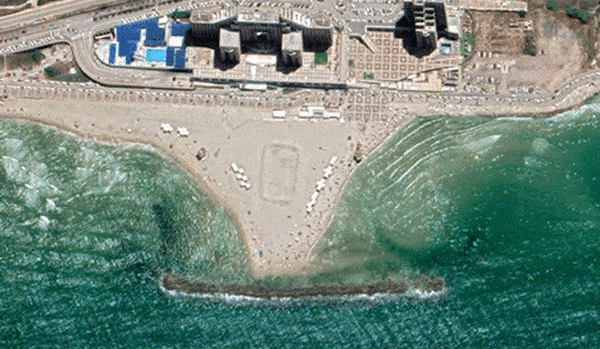 Facing Rapid Rise in Sea Levels, Israel Could Lose Large Parts of Its Coastline by 2050
Lapid to Haaretz: 'I Have Learned to Respect the Left'
The Mossad's Fateful 48 Hours Before the Yom Kippur War
As Israel Reins in Its Cyberarms Industry, an Ex-intel Officer Is Building a New Empire
How the Queen's Death Changes British Jewry's Most Distinctive Prayer