Fruits of His Labor
These days, Erez Komarovsky strokes sage, pats pumpkins, runs workshops and writes. After 12 years, the chef's life no longer centers around the Lehem Erez chain, where he fomented a revolution in bread baking: He's enjoying salad days in the Galilee.
Lehem Erez without Erez is like a salad without tomatoes. It's just not quite right. Chef Erez Komarovsky has gone the way of many trailblazers: He came up with the right idea at the right time, and began to fade out once his goal was reached. Today, he's not the only one who knows how to bake sourdough, nut and tomato-basil bread, so he can quietly move on to the next thing: a new house in Mitzpeh Matat in the Lower Galilee, a cooking school on the bottom floor, and a new book.
Komarovsky's baby, the 26-branch Lehem Erez enterprise, has undergone quite a few managerial and financial shake-ups in recent years, and is currently in the process of merging with the Coffee Bean cafe chain. Komarovsky is not involved; he already received his part of the eponymous company (10 percent), and will only work as a consultant on matters concerning the menu.
What is it like to see your life's work in someone else's hands?
Komarovsky: "It's like watching a child grow. He has childhood illnesses, and then you send him off to school and he makes friends, and then he grows older and goes on his way. There's something nice about seeing the fruit of your labor grow and stand on its own two legs."
But there's always something a bit painful about it.
"Of course - I created this thing with my own two hands. These breads are my children. On the other hand, because the process was organic and prolonged and real, the fact that I moved on is what's meaningful, not what was left behind."
It's easy to fall in love with the home in which Komarovsky lives with his partner, Prof. Michael Gluzman, in Mitzpeh Matat. It is the first locale built within the framework of the plan for mitzpim (the so-called outlook communities) in the Galilee, at the end of the 1970s. Through the attractively designed windows in the living room, you can see almost all the way to Damascus, and in the back of the house a vegetable garden covers the terraces. Everything is organic and merges naturally in a wild and lovely mix of colors and fragrances. There are dozens of types of sage, numerous exotic herbs, Sicilian and Uzbek tomatoes, purple Indian and Thai beans, heavenly apples and pears, and bay leaves growing on a tree, instead of in a plastic bag in the supermarket.
Mitzpeh Matat lies next to the Druze village of Hurfeish, roughly 700 meters from the border with Lebanon. "[Hezbollah leader Hassan] Nasrallah fired above our heads," Komarovsky recalls. "We bought the house before the war, and during the war I came here and lived in a hut, and all of the missiles went over our heads."
Komarovsky, 46, is an extremely talented farmer, and except for the cigarettes he smokes, his daily routine is perfectly suited to his surroundings. In the mornings, he examines the drip-irrigation system; strokes the sage; and checks out the pumpkins, the cucumbers and the eggs in the chicken coop. Twice a week, he holds four-hour cooking workshops, with 15 participants in each. The rest of the time, he writes, cooks and ponders life. Once or twice a week, he travels to Tel Aviv and soaks up the sights and the smells until the next time. Yes, he likes the loneliness of the Galilee, the separation, the quiet. But he also misses the intense activity at Lehem Erez, the urban experience and the espresso: "I miss coffee - yes, coffee. Here, I make do with Turkish coffee, which I drink like water."
The workshops came about naturally. People came to visit - friends from Tel Aviv on weekends, along with people in the area - and asked him to lead them. The sessions are completely relaxed: Participants head to the garden, pick whatever is growing, and sip wine. Everyone discusses their mother's home cooking, and Komarovsky cooks and displays food.
Komarovsky: "I don't give out recipes and they don't write them down. I explain that there's no need to be afraid, neither in life nor in cooking. You just need to dare. And to feel. To connect to the food through emotion. Food isn't just writing down recipes with quantities and measurements, but rather something that comes out of a deep place. For me, it's the experience that enables me to deal with myself on the most emotional level. Even in my writing, in my book, there's an interaction between words, emotion and food."
'Addicted to sourdough'
The bakery opened its doors in 1996, and helped Komarovsky change the perception of bread in Israel. Up until that point, plain brown bread was what was commonly sold in groceries, but he introduced a product that was complex, rich in taste and varied in shape and color. Other bakeries began to imitate him.
Just two and a half years beforehand, he had returned from a prolonged stay in San Francisco where Gluzman, who now heads the department of literature at Tel Aviv University, completed his doctorate. When they got back, Komarovsky brought with him a touch of California to a remote spot at the end of the sooty industrial zone of Herzliya.
"During that time in California, a revolution in global food was beginning," he says, "and even bread underwent a revolution. We became addicted to sourdough bread, and when I got back, I understood that I had a dream to realize, and I opened the bakery."
Lehem Erez turned into a synonym for good taste, and plays a starring role in many kitchens - at least in the immediate Tel Aviv area. Ilan Rom, a friend of Komarovsky's from the army, joined him, serving as a partner and as CEO, along with being a chef in his own right. Each of them invested $250,000. Roughly one year later, the restaurant opened next to the bakery, serving sophisticated yet simple local food that evidenced the first signs of fusion. In San Francisco, one of Komarovsky's jobs was in food design for magazines and books, and he designed a book for the so-called high priest of fusion, Hugh Carpenter, who was the first to coin that term.
With food comes appetite, as the saying goes, and demand dictated the expansion. In eight years, a small bread shop, bakery and restaurant turned into a chain with an annual turnover of $100 million, and sprouted 19 branches with 300 employees and a large bakery in Netanya that required an investment of NIS 3 million. But there were a lot of headaches: The dizzying pace of business caused a production surplus, and along with the slowdown of the economy, there were cash-flow and management problems.
Four and a half years ago, 60 percent of the chain was sold: 50 percent to businessman and Eden Springs shareholder Giora Naftali, and 10 percent to Haim Ben Shahar. Komarovsky's and Rom's shares dwindled to 20 percent each.
Eventually, the chain became franchised; it boasted 27 branches at its peak. Each franchisee paid $50,000, plus 5 percent of the turnover every month, and committed to acquiring the chain's products. The situation improved little. "We're suffering from misidentification," Meir Meirovitch, the CEO brought in by Naftali, said at the time. "It's not clear what we are - a cafe chain, a store, a restaurant or a bakery."
Meirovitch was dismissed after seven months. Nir Segel was brought in after him, and was also dismissed after eight months.
The company continued to sustain losses. The restaurant chain Spaghettim negotiated the acquisition of Lehem Erez, but nothing came of it. Three years ago, after Naftali became a partner in the Coffee Bean chain, a decision was made to merge the two companies to save operations costs. Komarovsky's and Rom's holdings are now 10 percent each; Naftali has acquired majority control over the chain.
"Advanced negotiations are taking place," says Ofer Shuval, Naftali's business manager and the acting CEO of Lehem Erez, regarding the merger. "We are making assessments, going over drafts of contracts, examining all the issues of the legal structure, but it's still in negotiation. Eventually, we'll have a joint holding company, but each entity will still be managed on its own, except they'll have the same CEO."
Regarding the management abilities of Komarovsky and his parter, Rom, Shuval says: "At some point, Erez moved away from management and concentrated on developing the products. He's an artist, part of the history of the company."
Shuval is optimistic that the merger will go through, maybe before the High Holy Days. The current market value of Lehem Erez is estimated at roughly $2 million - a fact that gave Komarovsky the luxury, when he sold his shares, to move from chef-star to teacher-chef-dishwasher, and to take life easy.
Gefilte-fish house
Komarovsky's new book, "Shana batzalahat: stav, horef, aviv, kayitz" ("A Year on the Plate: Fall, Winter, Spring, Summer"; Am Oved, in Hebrew) is dedicated to his mother, Ruti, who died this year of cancer. Almost every chapter starts with a bit of nostalgia that leads to a description of a hearty meal, and the recipes needed to make it. Even Shoshana, a lamb to which Komarovsky became attached during a two-hour drive in his car, made it onto the plate.
"On the way [to the new house], I knew I was going up in order to go up, not to come crashing down," Komarovsky writes in the first chapter, "even though there were some watersheds along the way. I decided to bring almost nothing from the city to the Galilee, but rather to buy everything from surrounding villages. I went there the way one goes camping: with shorts and two shirts. A pair of flip-flops. I put a single mattress wrapped in a sheet in the backseat. There was also a toothbrush and a duvet. A few fresh challahs filled the car with the scent of fresh pastries. I wanted to feel the lightness of life, without the heaviness of objects and habits. I wanted to feel naked, free of all belongings."
In the meantime, the house has filled up with belongings. There are many pieces of polished wooden furniture, old dishes and pots inherited from his two grandmothers, and a car parked in front - a black Chrysler that doesn't quite fit in.
Komarovsky was born in central Tel Aviv, in the same apartment where he now stays when he's in the city. When he was 11 years old, his family moved to Ramat Efal; he attended the Yehud comprehensive high school. His father, Menachem, helped spark his interest in food: He had olive groves near the village of Julis in the south and established the Almond Association.
"Because of him, I think, I'm a chef and a baker," says Komarovsky. "He would wake up at 3:30 A.M. every day and go to the fields. Every August, we would go almond picking, and families of workers from Yarka would be there. They would set up two Druze tents and cook lamb, partridge or rabbit. It was real food. We would eat with our hands, and I come from a house of gefilte fish without any olive oil because it gave Dad heartburn. So to hunt partridges, to watch the slaughter and to eat with our hands - that was very exciting for me."
Komarovsky also owes quite a bit to his maternal grandmother. At her house, he would use a small glass to cut circles out of dough for cookies. At his mother's, he loved, up until a certain age, to eat stuffed peppers. But they weren't so tasty, which lead him to understand that he would have to learn how to make them differently. His older brother is a veterinarian who owns a therapeutic farm in Kfar Shmuel, where his little sister, a kindergarten teacher, also lives. A second sister is an art director in Tel Aviv.
Not in the closet
At 18, Komarovsky told his parents he was gay. The sky didn't come crashing down: "I didn't spend a single day in the closet. When I told my parents, my father said that if I had a problem and wanted to go to therapy, he'd take care of it. I told him I didn't have a problem, but if he wanted to, he should go to therapy - and that was the end of that."
What about children?
"There was a time when I thought about children, but I don't know anymore. It doesn't burn inside me. What's certain is that I'll never be a young father. I think it's problematic to produce a child that isn't the product of love, and to adopt or to bring another player [a woman] into the family - that's a compromise. For now I raise cats and Sicilian tomatoes."
He cooked his first meal for friends in high school. "I decided to make stuffed chicken. I stuffed it with grapes and nuts, and I had a friend whose older brother was a medical student, so he stitched it up with surgical thread. I put it in the oven and grilled it for two hours. The grapes melted, and nothing was left of the stuffing, but it was tasty."
In the army, he served in the Armored Corps, and during the first war in Lebanon, while serving in the eastern sector, his tank caught on fire. "I had luck, from God. The entire crew was saved. But the whole war was one very big trauma. Like the rest of my generation, I was force-fed patriotic ideology and I regretted it later. After the war, I went to an officers' course, and during my last week in Bahad 1 [a training base], the massacre of Sabra and Chatila took place, and I refused to continue my military specialization. The army wouldn't forgive me, and sent me to the gulag. They exiled me to an Armored Corps base at Amiad Junction. There is a war-reserves storage unit there, one big scrap-iron storeroom, and I worked there under some first sergeant major, who severely abused me for an entire year, until my release. It almost broke me, but I wasn't ready to leave the army. I'm not sure I did the right thing, because on one hand, I rebelled, but on the other hand, I didn't follow through to the end. Today I wouldn't do that. I'd be released."
So are you sorry you rebelled?
"I'm happy I did it. It was the first time I understood that I'm an independent person, who can't endure stories like Sabra and Chatila in silence."
Out of salad
After his release, Komarovsky started to work at a restaurant in Jaffa called Hahazer, which specialized in French food. "Not exactly French," he says, but "creme caramel and steak with pepper and cream sauce - this was then considered culinary."
He later traveled to Paris to study cooking at the famous Cordon Bleu institute. In the forms he submitted to the embassy, he wrote he was a political refugee: "I felt that I was a refugee from the Lebanon War. I spent two years in Paris. I also studied philosophy at the Sorbonne, because a Pole can't study just cooking. I lived in Montparnasse in a one-room apartment the size of a peanut. Afterward, I moved to an apartment at Place de Vosges. I lived on 50 francs a day; it was a wonderful time. I became exposed to new tastes. I worked at a pasty shop at Boulevard Raspail. I would go there at 2 A.M. to bake brioche. During my last summer, I was in Nimes in southern France, where I did an internship at an authentic French restaurant."
When he got back to Israel, Komarovsky started a catering company in his mother's kitchen, which he called the Studio for Futuristic Cooking. The entire family would peal almonds for marzipan. A meal that he prepared for Israeli and Japanese business people led to an invitation to Japan, where he stayed for a few months. "I spent a good few months there and learned to cook their haute cuisine. They took me to amazing expensive restaurants. I won't forget how, when I landed at the airport after an extremely long flight, they took me straight to eat sushi. I had to take off my shoes, and my socks smelled terrible, and I sat all night in shame. But they are real gentlemen, and didn't give off any sign that something wasn't right."
Meeting Gluzman was a chance event that took place on a Tel Aviv street 22 years ago ("We were attracted to one another"); they have been together since. At the end of the 1980s, they traveled to California together. Gluzman completed his doctorate at Berkeley and Komarovsky worked in design and married an American woman to get a green card. "She lived with us because we were scared they'd come to the house to see if we were really married." After five years, in 1994, they came back to Israel and lived for a year in Klil in the Galilee. (Komarovsky's wife later died.)
"I was at a crossroads. Life in California brought me to the Galilee, but on the other hand, I wanted to go back to the city and open a restaurant or a bakery. Eventually I ruled in favor of the city, but I established Lehem Erez thanks to life in Klil. That was where I connected to the earth and to the chef within me, who cooks from the gut. I bought a tabun [oven] from the Druze in Kfar Yassif, I covered it in stone and began to work with bread. I understood that I had more to learn, so I went back to San Francisco and worked in bakeries, and then worked in Paris."
Komarovsky opened the Lehem Erez bakery in Herzliya in 1996. At that time, he was also writing a regular column on food for the Tel Aviv weekly Ha'ir.
He did three things after his mother fell ill with lung cancer. He went back to smoking after a difficult three-year withdrawal ("I understood that it's genetic, since my mother never smoked, so what does it matter"), moved to the Galilee ("I finally realized that you don't need to talk about things so much, but rather do them, because life is short and there are things to be done"), and wrote the book that had spent years "in storage." He wrote it by hand, not on the computer.
"It's a little like using a mortar and pestle instead of a food processor. I don't have a food processor. Moving here brought me back to doing things more basically. It's lovely to write by hand." But not as romantic as it sounds: Komarovsky is just afraid of the computer.
If you smoke, why do you grow organic food?
"It's not for health reasons, it's for the flavor. There's a huge difference."
When you want to eat well in Tel Aviv, where do you go?
"To [the restaurant of chef Jonathan] Roshfeld or Rafi Cohen. They cook Israeli food for me personally. Occasionally, I also eat at Mul Yam."
Regarding other chefs, large and small, Komarovsky won't say a word. Just that dishes with fancy presentations and nouvelle cuisine aren't for him. "I take care not to get into all this. I personally don't relate to those things. I don't paint food, but rather flow with it, throw it on the plate - the way it falls is the way it stays. Food doesn't come from the refrigerated section of the supermarket - for me, it's related to politics, love and libido."
And if you were to be invited to cook with big chefs, what would you make?
"Pumpkin carpaccio in olive oil, or Thai bean salad, or raw eggplant fillet with spearmint and chili. It depends on the season. I make a lot of things lately without cooking them, and treat each vegetable separately. I don't make salad anymore. Each vegetable is the star of the plate. "
At the end of this round, when you get tired of kohlrabi, will you return to Tel Aviv?
"Maybe. I've learned that life is dynamic, and when the climate of emotion changes, everything changes. It's a fact that I still feel the need to go down to Tel Aviv every week. That means I haven't been fully weaned from the madness."
ICYMI
Ken Burns' Brilliant 'The U.S. and the Holocaust' Has Only One Problem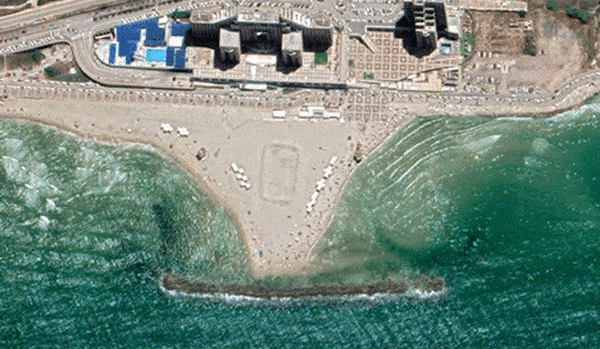 Facing Rapid Rise in Sea Levels, Israel Could Lose Large Parts of Its Coastline by 2050
As Israel Reins in Its Cyberarms Industry, an Ex-intel Officer Is Building a New Empire
How the Queen's Death Changes British Jewry's Most Distinctive Prayer
Chile Community Leaders 'Horrified' by Treatment of Israeli Envoy
Over 120 Countries, but Never Israel: Queen Elizabeth II's Unofficial Boycott