Not every young artist who deposits a portfolio on the desk of Kathy Ryan, the photo editor of The New York Times Magazine, receives a phone call a year later, asking him to photograph the Second Lebanon War.
"I was in France at the time and I got an e-mail: 'Where are you - we need you urgently, get on the first flight to Israel,'" relates photographer Shai Kremer. "Within 12 hours I found myself renting a flak jacket and heading north."
The photos he originally placed on Ryan's desk were from the series "Infected Landscape," now being published in an art-book format by Dewi Lewis Publishing. Photos from the series are also on display in two exhibitions that opened last week at the Herzliya Museum and at the Julie M. Gallery in Tel Aviv.
Kremer, 34, an Israeli who visits his birthplace frequently but lives in New York, worked for seven years documenting the Israel Defense Forces on the backdrop of the country's landscapes. There are places where this is done by implication: in photos of numerous footprints on the sand, of a trampled path through a field, of an enchanted landscape through the window of an abandoned Syrian building. There are also photos showing more of a real presence: for example, in a photo of a Negev army installation for training for combat in built-up areas, which looks like a ghost town.
"This is in fact what Ryan wanted when she sent me on the mission," says Kremer. "She didn't want war photography. She said: 'I don't want action, I want you to do your landscapes and through them you will transmit the feelings in Israel.' After all, before the war 90 percent of the people who live here were in favor of it. This is something psychotic. This is a society whose language is violence."
In the end, two photos by Kremer were chosen to accompany the article "My Views of Israel," by philosopher Bernard-Henri Levy, who was also sent on assignment by the Times. One shows a Cobra helicopter on a road, with another helicopter about to land, along with a flock of white birds ("For me the birds symbolize the Israelis flocking after militarism and power," says Kremer). There is a tank with a soldier in the turret in the second photo. In the background is the Kiryat Shmona cemetery; in the foreground, white munitions shells are scattered about. For this assignment, including the flight, lodging and remuneration for an assistant (Kremer's wife served in this role), the artist was paid $10,000. "The pay was double because after all I was sent on a mission to a high-risk country," he explains.
Panoramic perfection
Kremer's photographs are large, sometimes panoramic, and perfectly executed. "I am against violent journalistic photography that hits you in the face, that is there to shock you," he explains. "I believe it is necessary to step back a bit, to create compositions with a strong aesthetic. Ones that will make you stop and look, and pause and when they create that boom it will be a softened boom. I believe in beauty as a critical tool. I deal with this connection between terror and death and beauty. I think that terror and beauty are, in fact, the same thing. They both have tremendous power to influence."
By the time he completed his studies at the School of Visual Arts in New York (to which he went after attending the Camera Obscura school in Tel Aviv), Kremer had already been chosen to show in the prestigious exhibition of the Art + Commerce agency, which shows artists like Annie Leibovitz and Robert Mapplethorpe. At that exhibition he aroused the curiosity of Julie Saul, owner of the prominent gallery bearing her name in the Chelsea district of Manhattan - one of the two galleries that now represent Kremer in the United States (the other is Robert Koch, in San Francisco).
From an art student who supported himself by photographing diamond collections for ultra-Orthodox shop owners, he has become an artist who earns his living from his creative work. Not long ago he chalked up another achievement: The Metropolitan Museum of Art purchased a photo he made of the training base at Tze'elim, which comes from a smaller series. (Kremer prints in two editions: a smaller size made up of 10 prints, the price of the first being $7,000; and a larger series of five prints, the first starting at $14,000.)
"Nissan Perez, the photography curator at the Israel Museum, told me that I am the first Israeli photographer who has had a photograph purchased for the Metropolitan's collection," he notes proudly.
The genre of photographing landscapes as a reflection of the bullying character of society - whose forerunners were Gilad Ophir and Roi Kuper, who have many followers - has become almost a fashion. It looks good, the subjects photograph well and it is very much in demand in Israel (works by Kremer have been purchased by both the Israel Museum and the Tel Aviv Museum) and abroad. Kremer notes that today, there is actually no demand for political works in the United States: "The museums in the United States have not been doing their job properly in recent years. They have not been showing political works and they avoid strong statements. They will show thousands of photos by Ansel Adams, but not what they should be showing. They are supported nowadays by money from corporations and work under a lot of constraints. I have met many frustrated curators, who say to me: 'I like your work very much and I want to show it, but I know that tomorrow I will be fired and therefore I'm not going to do it.'"
From Kremer's next story, one can see just how sensitive Americans are to what happens in their country. "In New York I started photographing a project I called 'Architecture of Fear,'" he relates. "I intended to take pictures of all the chunks of concrete that have sprung up in Manhattan in front of public institutions in general and Jewish institutions in particular - sort of concrete barricades that are supposed to stop car bombs. I was very quickly forced to stop. Every time I set up a tripod - boom, along came a policeman. It was impossible to work there."
His work in Israel has been much easier, partly because Kremer, formerly a combat soldier ("I, too, used to believe in a system that used force as a method"), knew where to find the desirable locations for taking pictures and how they work. For example, he would sneak into the Tze'elim training base on weekends "because in the IDF, they don't train on the Sabbath," he says. "You take an SUV, you study the territory, you come late and you hide the car behind one of the buildings. After all, it's an entire city with 600 structures - buildings, 'mosques,' schools. When the patrol comes around, you hide and there is no chance that they will see you. That's what I did for a whole month."
On the few occasions he has been caught, "it always ended with a cigarette with the officer." This happened, for example, about a month ago when he went to photograph in the Golan Heights, where he was wounded during his military service. On this visit he was astonished to discover what he had not noticed then: "We trained in an artificial village that was built on an abandoned Arab village. It was already a rotten landscape and it makes me crazy that as a soldier I didn't realize that."
As he was taking pictures he encountered a sergeant who demanded to know the purpose of his visit. "He spoke to me in a way that was unpleasant and then he brought along an officer. I told the officer that I had been wounded in this place and I had come to heal the wounds."
In order to avoid embarrassing encounters in the future, Kremer has decided to take pictures again at Tze'elim, but with permission, and has contacted architect Shmuel Shilo, who planned the training camp. "I told him that I am a beginning photographer, who wants to be an architectural photographer and wants to build a portfolio. I told him I would be glad to collaborate with him and photograph his projects, but I wanted to start with this project. He agreed and arranged a permit for me. He also agreed that I could make use of it only if it passed the censor and that is what I have done."
Kremer's next project, in which he intends to photograph remains of past empires that once ruled Palestine, is also aimed at serving the same mission: "I want to say that violence does not work. I see this as my mission. People call me naive, a Palestinian - that is part of the price I pay."
Is that why you have chosen not to live in Israel?
Kremer: "No, in fact we tried. We came here for a year, but you can't make a living here from photography. Also my partner would not be prepared to raise a child in Israel - it's too dangerous for her and it's hard for me to offer a counter-argument."
ICYMI
Ken Burns' Brilliant 'The U.S. and the Holocaust' Has Only One Problem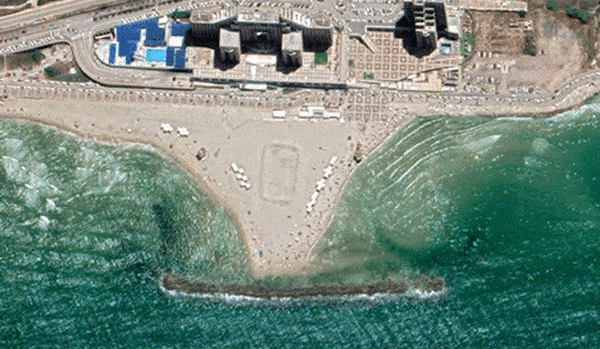 Facing Rapid Rise in Sea Levels, Israel Could Lose Large Parts of Its Coastline by 2050
Lapid to Haaretz: 'I Have Learned to Respect the Left'
The Mossad's Fateful 48 Hours Before the Yom Kippur War
As Israel Reins in Its Cyberarms Industry, an Ex-intel Officer Is Building a New Empire
How the Queen's Death Changes British Jewry's Most Distinctive Prayer