Where's the Passion?
How did the painter E.M. Lilien see women - if at all? Like the Zionist movement he worshiped, his drawings of them, now on show, also reflect a certain blindness.
Undoubtedly the decision to name the exhibition now at the Tal Gallery in Kfar Vradim "Ephraim Moshe Lilien: Women" was a marketing-based one. What could be more alluring than hinting at a little-known aspect of the works of someone who was among the founders of the Bezalel Academy of Arts and Design, and who earned the title of "the first Zionist artist"?
To dissipate any suspense it can already be said: The exhibition, running through the end of August, does not reveal any new perspective on Lilien's relationships with women, or any sensational information whatsoever. Nevertheless, Ady Greenfeld, a resident of Kfar Vradim and the gallery's owner, has managed to curate a minor albeit pleasant show, which also features wonderful and moving family portraits that Lilien drew of his wife Helena and their two children, Otto and Hannah. They justify a visit to the faraway location.
Established in 2002, the Tal Gallery operates out of a villa that Greenfeld built for her four children, in the newer part of Kfar Vradim. "Many of the locals build another home here for their children - it's considered the next generation's section," she explains.
After the death six years ago of her oldest son, Tal, at the age of 23, Greenfeld decided to transform the house into an exhibition space. The venue features about five shows a year, which attract locals and people from the North. Greenfeld, an economist by training, recently completed with distinction a program in museum studies at Tel Aviv University. Her final project, "The Color of Money," focused on how the images appearing on Israeli currency serve the ideology of the establishment and function covertly as a means for transmitting ideas and messages.
"When I came and said that in my final project I wanted to research the ties between the artist and the treasury, they put me in my place," she says. "They said: 'Mrs. Greenfeld, you come with a master's degree in economics and not in art, and therefore you won't curate art exhibitions but instead will find something in your field.'"
What she was not allowed to do as her final project, she did in her gallery. Her preoccupation with researching and writing, raising money and marketing, hosting lecturers and arranging events distracts her from the daily pain of mourning her son. The initial and permanent exhibition features drawings and sketches by Tal. She also presented a show by local artists - "and we have many artists in Kfar Vradim, over 50, more than in Ein Hod." At a certain stage she decided that the gallery would only feature high-quality and professional works. Exhibitions by local artists moved instead to improvised public spaces - local clinics, the library and "even the schools during vacation."
The current exhibition emerged from a lecture at the gallery some two years ago by the renowned art critic and curator Gideon Ofrat, on 100 years of Israeli art. "During the break, a woman came up to us and asked: 'Do you know who I am? I'm Hannah Lilien, the granddaughter of E.M. Lilien,'" relates Greenfeld. "I was stunned. She invited us to her home in Kfar Vradim, where she lives with her husband, Tal Kipnis [the son of writer Levin Kipnis]. The next day I realized: There's an exhibition."
Greenfeld, who describes herself as "seeing everything through feminist glasses," realized that women appear in many works by Lilien, who died in 1925 in Germany at age 51. Another detail that interested her was a letter Lilien wrote to his wife, when she was an art student in Munich. Helena asks what he thinks of the status of women, and he gives her a liberal answer that reflects support for equality. But in his paintings of her, some of which are in the exhibition, Helena is presented in the traditional wifely role.
"He was able to domesticate her very well," says Greenfeld. "He portrays his wife as a perfect housewife and smart (the daily paper is brought to her bedside), but devoting herself to the home and the children. The avant-garde art student disappears in his works and becomes a wife devoted to her home and husband. He writes about freedom and equality, but not in his home."
Another work that reflects Lilien's conservatism is a newspaper illustration from 1897: Under the heading "canned" is a picture of a sort of tin can; inside is a crouching, naked woman. "This is what he thinks of women's liberation at the turn of the century," smiles Greenfeld.
'Tragic hero'
But these are just two examples of many in the exhibition, which presents a clear statement on the part of the curator. The other works dealing with women are presented one after the other, according to general themes: paintings of women from the Bible, Jewish women, Middle Eastern women and nudes. The way they are hung does not, however, create any understanding regarding the artist's perspective per se. Greenfeld notes that in some of his paintings, such as that of the Polish farmer, he depicts women reading and thereby symbolizes their liberation by showing they have an education.
But one senses that the exhibition has actually failed in one respect. Most of the drawings reinforce the stereotypes and cliches of the time: Jewish women are covered from head to toe (which is also how Lilien dresses his wife in his works), the Middle Eastern women are shown in traditional dress, carrying pitchers on their heads and children on their shoulders. The exhibition also features some nude drawings, but they don't appear to embody a sense of sexuality or erotica, not to mention passion.
The more you see, the more you sense that Lilien did not even see the female model before him. This blindness could serve as a metaphor for the Zionist movement, of which he was an adherent. Indeed, his vision and hopes prevented him from seeing the complexities of the landscape around him.
Greenfeld herself has a hard time figuring out what she discovered in Lilien's drawings of women, but she can pinpoint what she did not find: "proof of the unfounded rumors about Lilien," she says. What rumors? "That he had an erotic connection with [Theodor] Herzl," she responds, referring to the written correspondence between them that fueled speculation by critics concerning the nature of their relationship. Lilien, it seems, admired Herzl. Indeed, he is the one who took the famous photo of Herzl leaning over the balcony of the Three Kings Hotel in Basel during the Fifth Zionist Congress. In the photo, which became an iconic image of the Zionist leader, Herzl appears at his peak: an undisputed, charming leader.
"I looked for images of 'feminine' men because I wanted to address this rumor and I didn't find any," explains Greenfeld. "On the contrary: He liked women, because there are a lot of them in his works." And she hints: "From the family, I know that he had many women. He was a wanderer."
In addition, she adds, "I reached the conclusion that Lilien was essentially a tragic hero. I even wanted to write that in the catalog, but his granddaughter asked me not to, she didn't see it that way. He did not realize his talent and did not fulfill his destiny. In 1900, he was a rising star, an admired artist, and his life ended in 1925 in a resort town after a heart attack. He was an avant-garde socialist and in the end, died as a bourgeois. Zionism embraced him, and afterward, when he didn't immigrate to Israel, forgot about him."
ICYMI
Ken Burns' Brilliant 'The U.S. and the Holocaust' Has Only One Problem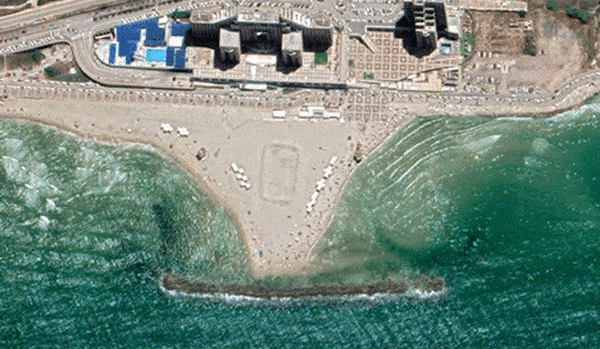 Facing Rapid Rise in Sea Levels, Israel Could Lose Large Parts of Its Coastline by 2050
Lapid to Haaretz: 'I Have Learned to Respect the Left'
The Mossad's Fateful 48 Hours Before the Yom Kippur War
As Israel Reins in Its Cyberarms Industry, an Ex-intel Officer Is Building a New Empire
How the Queen's Death Changes British Jewry's Most Distinctive Prayer